FRONT PAGE
About us





ON OTHER US PAGES
US mayoral elections November 2019 MORE

US Mayors running for President MORE

US cities are waking up to the harm done by trauma in childhood and adult life MORE

In the US, cities lead in fighting poverty MORE

Corrupt US mayors MORE

Mass shootings in the USA MORE

US mayors to protect DREAMers MORE

America's undocumented immigrants pay billions in taxes MORE

In the US, cities lead in fighting poverty MORE

Spatial Planning and Development in the USA:
Economic growth is of paramount importance MORE

The ups and downs of Amazon's
search for a second headquarter MORE

American public and mayors agree:
Keep Obamacare, forget Trumpcare MORE

More public involvement in law
enforcement needed to ease strain
between police and US communities MORE

American cities save money
by replacing obsolete urban
infrastructure with green spaces MORE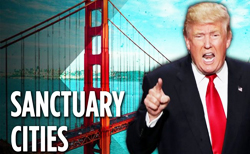 Chicago and other sanctuary cities
prepare to fight President Trump's
administration over immigration
8 August 2017: Chicago has joined a number of US cities and states suing the Trump administration over its threats to deny federal funding to so-called sanctuary cities, cities which provide undocumented immigrants with some protection against deportation. Chicago Mayor Rahm Emanuel said the city would not let police officers become political pawns in a debate on immigration. "Chicago will not let our residents have their fundamental rights isolated and violated. And Chicago will never relinquish our status as a welcoming city," the Mayor detailed. Jeff Sessions, America's Attorney General (justice minister), has said that his department would withhold justice assistance grants from cities that fail to comply with new requirements to allow federal Homeland Security officers to enter local prisons. In the past, cities have used the grants to finance police training programmes or buy police equipment.

In its lawsuit, Chicago argued that the new requirements would be 'federalising' local prisons and require cities to violate the Fourth Amendment of the US Constitution, which requires probable cause for an arrest and blocks what it calls unreasonable search and seizure.

Both, US President Donald Trump and his Attorney General have said that the actions of sanctuary cities were designed to frustrate the enforcement of immigrations laws. Mayor Emanuel has answered the attorney general by defending Chicago as a "welcoming city," one that encourages all of its residents to cooperate with police. Rather than frustrating law enforcement, as Jeff Sessions alleged, a spokesman for the Mayor said Chicago "promotes public safety by ensuring that no city resident, regardless of their status, is afraid to cooperate with law enforcement, report criminal activity to the police, serve as a witness in court or seek help as a victim of crime."

Recently, the beleaguered Attorney General - perhaps to please his boss - has increased his attacks on sanctuary cities. Cities that were singled out for 'punishment' include San Francisco, New York City, Philadelphia, Chicago, Baltimore, Albuquerque, San Bernardino and Stockton. The threat to withhold federal funding marks Jeff Sessions' latest effort to force local authorities to cooperate with federal immigration authorities. It is part of a push to reduce crime which the Attorney General believes is linked to illegal immigration. Jeff Sessions has pledged to make fighting street crime the Justice Department's top priority, but the strategy is putting him at odds with some city leaders, who say the best way to fight crime and build community trust is to keep local police out of federal immigration matters.

The Trump administration has claimed that blocking funding to sanctuary cities is necessary to combat crime and gang violence. Officials argue that by not using local police to aid the rounding up of illegal immigrants, cities like New York, Philadelphia, Los Angeles, and Chicago allow immigrants to live there illegally and contribute to crime. But most mayors of sanctuary cities, as well as police unions have rejected this assertion, arguing that it is easier for law enforcement to address crime by maintaining a peaceful relationship between local police and immigrant communities.

According to available data, this connection between sanctuary cities and crime is tenuous at best. An analysis of crime data by Tom Wong at the University of California at San Diego has found that sanctuary cities actually have lower crime rates than non-sanctuary cities. And studies have found that illegal immigrant populations do not show higher crime rates than citizens.

In July 2017, California's Attorney General, Xavier Becerra, has joined ten other US states and some Californian communities in arguing in court that that public safety is improved when local law enforcement agencies focus on crime prevention instead of helping federal authorities enforce immigration laws. "The Trump Administration does not have the right to coerce states, counties or municipalities to do the federal government's job," Becerra said in a statement. "California's state and local law enforcement officials are in the business of public safety, not of deportation. Threatening public safety funding to compel localities to do immigration work is a dangerous game that undermines public safety."

Sanctuary cities, counties and states
There is no legal definition of a 'sanctuary city'. Earlier this year, the US Department of Justice and the Attorney General defined a sanctuary city as any local government that does not comply with federal immigration law.

Despite the name, the term 'sanctuary city' can mean a city, a county and even a state. According to the San Diego-based legal news agency Dopplr, there are 171 jurisdictions that have officially enacted sanctuary policies - the most common of which is a refusal to honour Immigration and Customs Enforcement (ICE) detainers without a warrant for the individual's arrest. Of those 171 jurisdictions, 37 are cities, four are states while the rest are counties. The number of cities that have official policies of not fully co-operating with federal immigration deportation and detainer requests is growing - Berkley, Califonia, has said that it would strengthen its sanctuary city protocol - but there are also cities that don't like being labelled sanctuary city. Aurora, Colorado, which is on the Dopplr list of sanctuary cities, insists it is not a sanctuary city. Meanwhile, the Republican Governor of Texas has signed a 'sanctuary cities ban' that lets police ask during routine stops whether someone is in the US legally and threatens sheriffs with jail if they don't cooperate with federal immigration agents.

The word 'sanctuary' implies protection for certain immigrants, but it is not necessarily a protection that can be enforced legally. Dopplr adds: "In the United States, a sanctuary city is a city that limits it's cooperation with the federal government in order to help illegal immigrants (or undocumented immigrants) avoid deportation by Immigration and Customs Enforcement (ICE) agents. There is no uniform policy and different jurisdictions have varying degrees of pushback, but it may include not inquiring about immigration status, refusing to use local law enforcement resources to detain immigrants."

City Mayors' US Editor, Tony Favro, adds: "Federal immigration law requires local governments (LGs) to not withhold any information on immigrant status from the feds, but it does not require LGs to obtain such information. This is the crux of the municipalities' lawsuits; they maintain that the federal government is requiring them to obtain new information, rather than simply report what they have. Also, Chicago and other cities say that requiring LGs to obtain information will make local policing more difficult and cities less safe because people will not report crimes, refuse to testify as witnesses, be exploited, etc."

Sanctuary cities in the US offer a degree of safety to immigrants without work or residency permits. Leaders of sanctuary cities want to reduce the fear of deportation and possible family break-up, so that such residents will be more willing to report crimes, use health and social services, and enrol their children in school.

Most of the United States' estimated 11.1 million undocumented immigrants live in just 20 major metropolitan areas, with the largest populations in New York, Los Angeles and Houston, according to new Pew Research Center estimates based on government data. The analysis shows that the nation's undocumented immigrant population is highly concentrated, more so than the US population overall. In 2014, the 20 metro areas with most undocumented immigrants were home to 6.8 million of them, or 61 per cent of the estimated nationwide total. By contrast, only 36 per cent of the total US population lived in those metro areas.



Sanctuary cities pledge to continue
to protect undocumented immigrants
24 April 2017: The US Justice Department recently sent our letters to nine so-called Sanctuary Cities, including New York, Chicago, New Orleans and Philadelphia, warning them of the withdrawal of federal funding unless they publically participated in finding and deporting undocumented immigrants. Sanctuary cities in the US offer a degree of safety to immigrants without work or residency permits. Leaders of sanctuary cities want to reduce the fear of deportation and possible family break-up, so that such residents will be more willing to report crimes, use health and social services, and enrol their children in school.

Municipal policies include prohibiting police or city employees from questioning people about their immigration status and refusing requests by federal immigration authorities to detain people beyond their release date, if they were jailed for breaking local law. There are more than 140 sanctuary cities or counties in the US, including large cities such as San Francisco, New York, Chicago, Seattle and Los Angeles.

However, the Donald Trump administration argues that sanctuary cities hide and protect immigrants with criminal records. US Attorney General Jess Sessions said when cities and states refused to enforce immigrations laws, America was less safe. "Failure to deport aliens who are convicted of criminal offences puts whole communities at risk, especially immigrant communities in the very sanctuary jurisdictions that seek to protect the perpetrators."

With the exception of a few smaller sanctuary communities, US cities have so far rejected the Trump government's 'threat'. Milwaukee County Supervisor Marina Dimitrijevic said they would not give in to these threats and promised to go to court if any funding was withdrawn, while mayors of some of the USA's largest cities have publically stated that they would not be bullied by the federal government.

New York City
Mayor Bill de Blasio: "We're going to defend all of our people regardless of where they come from, regardless of their immigration status."

Chicago
Mayor Rahm Emanuel: "I want to be clear: We're going to stay a sanctuary city. There is no stranger among us. Whether you're from Poland or Pakistan, whether you're from Ireland or India or Israel and whether you're from Mexico or Moldova, where my grandfather came from, you are welcome in Chicago as you pursue the American dream."

Los Angeles
Mayor Eric Garcetti: "What we don't do is ask local police officers to enforce federal immigration laws - and that's an official Los Angeles Police Department policy that has been enforced for nearly 40 years. That is for everyone's good, because trust between police and the people they serve is absolutely essential to effective law enforcement."

Washington DC
Mayor Muriel Bowser: "Our city and our values did not change on Election Day in November 2016. Being a sanctuary city means we are not an agent of the federal government. It means that our police can focus on serving D.C. residents - protecting and serving them - no matter their immigration status."

Boston
Mayor Martin Walsh: "To anyone who feels threatened today, or vulnerable, you are safe in Boston. We will do everything lawful in our power to protect you. If necessary, we will use City Hall itself to shelter and protect anyone who's targeted unjustly."

Seattle
Mayor Ed Murray: "This city will not be bullied by this administration. We believe we have the rule of law and the courts on our side."

Baltimore
Mayor Catherine Pugh: "We don't walk around asking people where they're from. That's just not our policy. We don't do that. What we want is to help people become productive members of our community. We're a welcoming city. We want everybody here. We want to provide opportunities and jobs and careers for folks."

Denver
Mayor Michael Hancock: "We will value residents in this city. We won't take any unlawful or unconstitutional acts against residents of the city of Denver. It is our goal to make sure people in the city feel safe and know that this is a city that's open, welcoming and inclusive."

Boulder
Mayor Suzanne Jones: "We are not going to violate immigrants' constitutional rights just because the new president wants us to. And we stand behind our ordinance."

San Francisco, Oakland and San Jose
Mayors Ed Lee, Libby Schaaf and Sam Liccardo: "We will not give in to threats, or political grandstanding. Together, the Bay Area will stay true to our values of inclusiveness, compassion and equality, and united against any and all efforts to divide our residents, our cities, and our country."