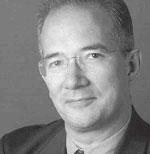 Karl-Heinz Merfeld, General Manager of the Cologne Tourist Board

Köln Tourismus GmbH
Overseas Marketing
Unter Fettenhennen 19
50667 Köln
Germany
Tel.: +49 (0)221 / 221 - 22008
Fax: +49 (0)221 / 221 - 23311
Internet:
www.koelntourismus.de
www.wjt2005.de

World Youth Day
World Youth Day was born in 1985, after Pope John Paul II had invited the Catholic youth of the world to travel to Rome for Palm Sunday. After that gathering of young people, the Pope declared that World Youth Day should become a regular event. The first international World Youth Day took place in Buenos Aires in 1987. Following events took place in Santiago di Compostela, Denver, Manila, Paris and Toronto. In 1991 young Catholics came together in the Polish city of Czestochowa to celebrate the end of a divided Europe. The 2005 celebrations, which take place in Cologne from 11 to 21 August, will be attended by Pope Benedict XVI. It will be the Pope's first visit to his homeland since becoming head of the Catholic Church.



FRONT PAGE
SiteSearch
About us
Directories

Cologne Mayor
Cologne City Hall


City Mayors reports news from towns and cities around the world. Worldwide | Elections | North America | Latin America | Europe | Asia | Africa | Events |




Mayors from The Americas, Europe. Asia, Australia and Africa are competing for the annual World Mayor Award. More




City Mayors ranks the world's largest as well as richest cities and urban areas. It also ranks the cities in individual countries, and provides a list of the capital cities of some 200 sovereign countries. More




City Mayors reports political events, analyses the issues and depicts the main players. More




City Mayors describes and explains the structures and workings of local government in Europe, The Americas, Asia, Australia and Africa. More




City Mayors profiles city leaders from around the world and questions them about their achievements, policies and aims. More




City Mayors deals with economic and investment issues affecting towns and cities. More




City Mayors reports on how business developments impact on cities and examines cooperation between cities and the private sector. More




City Mayors describes and explains financial issues affecting local government. More




City Mayors lists and features urban events, conferences and conventions aimed at urban decision makers and those with an interst in cities worldwide. More




City Mayors reports urban environmental developments and examines the challenges faced by cities worldwide. More




City Mayors reports on and discusses urban development issues in developed and developing countries. More



City Mayors reports on developments in urban society and behaviour and reviews relevant research. More




City Mayors deals with urban transport issues in developed and developing countries and features the world's greatest metro systems. More




City Mayors examines education issues and policies affecting children and adults in urban areas. More




City Mayors investigates health issues affecting urban areas with an emphasis on health in cities in developing countries. More




City Mayors examines the importance of urban tourism to city economies. More




City Mayors examines the contributions history and culture make to urban society and environment. More




City Mayors describes the history, architecture and politics of the greatest city halls in the world. More




City Mayors invites readers to write short stories about people in cities around the world. More




City Mayors questions those who govern the world's cities and talks to men and women who contribute to urban society and environment. More




City Mayors profiles national and international organisations representing cities as well as those dealing with urban issues. More




City Mayors reports on major national and international sporting events and their impact on cities. More




City Mayors lists cities and city organisations, profiles individual mayors and provides information on hundreds of urban events. More


This article was published in July 2005, before the Pope's visit to Cologne
Cologne ready to welcome Pope Benedict XVI
and hundreds of thousands of young Catholics
Gregor Gosciniak interviewed Karl-Heinz Merfeld, Head of Cologne Tourism

4 July 2005: Cologne, Germany's fourth largest city, will host the 2005 Catholic World Youth Day and welcome Pope Benedict XVI on his first visit to his homeland since being elected head of the Catholic Church. Originally, organisers forecast some 800,000 visitors but, with the election of the first German Pope in 500 years, the number of pilgrims, visitors and journalists could be above one million. City Mayors' German correspondent Gregor Gosciniak spoke to Karl-Heinz Merfeld, General Manager of the Cologne Tourist Board, and asked him why the city was chosen to host the 20th World Youth Day, how prepared it was for the hundreds of thousands of visitors and whether the event would provide any long-term benefits.

City Mayors: What do you think caused the Catholic Church to choose Cologne as host city for the 20th World Youth Day 2005?

Karl-Heinz Merfeld: I think the most important reasons to choose Cologne were that our City has 2000 years of rich and diverse history as well as the fact that Cologne always used to be a City for pilgrims. The gothic Cologne Cathedral, which a UNESCO World Heritage site, is not only the landmark of Cologne but also a worldwide- known symbol of the Catholic Church.

Last but not least, accessibility plays a major part in staging such a large-scale event in a city and region. If you expect more than 800,000 visitors, the region has to provide the necessary infrastructure. Cologne / Bonn Airport, for example, provides perfect access to the region, and the many no-frills connections make it interesting for young travellers coming from all over Europe, so does the airport of Düsseldorf which is only 30 minutes away from our City.

Cologne is one of Europe's most important railroad junctions, from Frankfurt it only takes 50 minutes to get here on high-speed trains. Certainly our location in the heart of Europe and our efficient public transportation system were also reasons for choosing Cologne.

City Mayors: After the decision for Cologne was made, how did the City Administration and the Tourist Board prepare themselves for an event of that scale?

Karl-Heinz Merfeld: Germany has a good reputation for hosting and efficiently organising big events. We will do our best to live up to that. In Cologne we already have much experience in this field. For example, Cologne hosted the EU and G8 summits in 1999. Recently we were a host city for the Football Confederation Cup, which worked out perfectly. Also Cologne Carnival attracts hundreds of thousands of visitors each year. But the World Youth Day is a special challenge. In order to prepare for it the specially founded Weltjugendtags gGmbH is doing an outstanding job and co-ordinates the event hand in hand with the people in charge of city administration. In regular meetings with staff members from a variety of administrative departments, problems are discussed and solved. Highly involved were departments like traffic control, event management, fire and rescue, building, school administration and many others. The police, which is a state agency in Germany, is involved to a high degree. Even though the city is facing a difficult financial situation at the moment, they pay for all the working hours of their staff. Furthermore, the city council granted 1.5m Euros as a welcome gift to the visitors.

The City will shine – it will put on a special cultural programme, and a big public welcome party is planned as well. The Cologne Tourist Board promoted the World Youth Day from the moment the decision for Cologne was made. We informed our partners in the industry early in advance so the WYD was on top of their lists at a very early planning stage. We also promoted the WYD during exhibitions, trade fairs and road shows all over the world. Besides this, our guests will be welcomed by Cologne's biggest treasure - the local people who are renowned for their open mindedness and friendliness. They enjoy being hosts!

City Mayors: What are the biggest challenges you will be facing during the event?

Karl-Heinz Merfeld: The biggest challenge will certainly be in logistics. Cologne only has a little choice of big places and streets. Our city is very dense and many streets and places are smaller and tighter than in other cities. So 800,000 people means we will have to keep a close eye on how masses move from one spot to the other. That amount of people in such a dense city make the WORLD Youth Day the biggest event of its kind ever staged in Germany. But we are very optimistic on coping with it because of our long years of experience with carnival and other events. The administrative departments in charge are well prepared, even in the unlikely case of unhappy scenarios. Unfortunately, that is always something we have to take into consideration.

City Mayors: How will the City benefit from the event?

Karl-Heinz Merfeld: Of course we are expecting a little financial benefit for our city, especially in the fields of tourism, hotels, gastronomy and shopping. But that is not the real important thing. Much more important is the unique chance to present our City as an open-minded culture metropolis to show 800,000 young people and 3,000 journalists from all over the world. This is priceless. It must be our goal to present our city good enough to convince the young people to come back here with their families after the World Youth Day is over. If we manage that, we would have done a good job.

City Mayors: Do you see any sustainable effects of the event for the City of Cologne?

Karl-Heinz Merfeld: Absolutely. In August Cologne will be in focus all over the world. Thousands of journalists will carry peaceful pictures of a beautiful city with young people enjoying themselves around the world. That kind of positive image transfer is great for promoting our city as one of Germany's most interesting tourist destinations. Hopefully, this will encourage lots of young people to visit our city on the Rhine River to explore its cultural treasures, its diversity and its incredible nightlife. Cologne is a host city for the FIFA World Championship 2006 – the next good reason to visit us....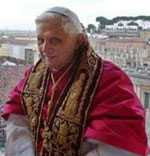 Pope Benedict XVI

Pope Benedict XVI
By Hyde Flippo
On 19 April 2005, 78-year-old German Cardinal Joseph Ratzinger became Pope Benedict XVI (Papst Benedikt XVI). No one was more surprised to see a German pope than the Germans themselves. His strict religious views are also nowhere more controversial than in the new pope's homeland, which generally takes a liberal stance in religious matters. (Germany is about evenly divided between Catholics and Protestants, few of whom ever set foot in a church.) Pope Benedict XVI is not the first Bavarian to become pope, but the Bavarian Pope Damasus II held his post for only a month, dying of malaria in 1048.

The successor to John Paul II was born in the small Bavarian town of Marktl am Inn on 16 April 1927. His father was a local policeman.

Young Ratzinger was drafted into the German army during World War II, but he deserted and ended up in an Allied POW camp before he was released. Only six years after the end of the war, Joseph Ratzinger was ordained a Catholic priest on 29 June 1951 in the diocese of Munich/Freising. In March 1977 he was appointed Archbishop of Munich, being elevated to cardinal only a few months later.

Ratzinger has also been a professor of theology at several German universities. He held professorships in Bonn, Münster, Tübingen, and Regensburg (in Bavaria). It was at Tübingen that Ratzinger moved to a more conservative position in his political/religious views—in reaction to the liberal and Marxist tendencies he saw there in the late 1960s.

Cardinal Ratzinger moved up consistently and rapidly in the Catholic hierarchy. He is only one of 14 remaining cardinals appointed by Pope Paul VI, but he became one of John Paul II's most trusted confidants. Many observers consider his election as pope a sign of the church's desire to continue the policies of John Paul II. Ratzinger has published about a dozen books related to Catholic theology, and he speaks several languages besides his native German, including Italian and English.

Joseph Ratzinger is the first German pope in about 500 years (depending on how you define "German"). To find previous German popes, you have to go back to the 10th and 11th centuries. Most of the German popes served short terms, dying of disease or being eliminated in papal cabals. Gregor V (996-999) was the first of seven German popes who served up until 1523, when Hadrian VI died. Pope Hadrian VI considered himself German, although he was born in Utrecht, then a part of the Holy Roman Empire of the German Nation (das Heilige Römische Reich Deutscher Nation). After that, all the popes were Italian until John Paul II, and now Benedict XVI.