FRONT PAGE
About us





METRO NEWS
• Worldwide
• Elections
• UK elections 2016
• North America
• Latin America
• Europe
• Asia
• Africa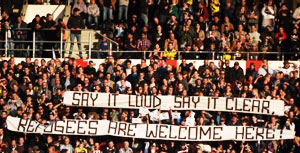 World Mayor longlist released
as Barcelona mayor criticises
European refugee policies
London, 1 April 2016: The first longlist of nominees for the 2016 World Mayor Prize includes mayors from Europe, North America and Turkey. Some of the names listed, such as the mayors of Munich (Germany), Lampedusa (Italy) or Lesbos (Greece), have had to cope with tens of thousands of arrivals since the mass influx of refugees started some three years ago. Others have implemented programmes that provide language and vocational training as well as civic courses. Athens Mayor Giorgos Kaminis, who is on the longlist, has for instance pledged to set up a seaside summer camp for refugee children, while Barcelona Mayor Ada Colau calls on European cities to join forces.

This year's World Mayor Prize will, according to the City Mayors Foundation, be conferred to a mayor who has accepted the challenges posed by migration but is also convinced of its longterm benefits. "He or she will be leading a community where past and/or more recent immigrants have contributed to the city's society, economy and culture."

Last month, the mayors of Barcelona, Lampedusa and Lesbos issued a joint statement that warns that the European project was in danger of failing if, during the current refugee crisis, the selfish attitude of some EU countries persisted. "We face a stark choice: we either accept our universal responsibility and strengthen the basic principles of the European project or we allow it to sink irrecoverably," the statement says.

Ada Colau, the Mayor of Barcelona, said one of the reasons Spaniards had a strong feeling of solidarity with refugees was the memory that, after the defeat of the republican side in the Spanish Civil War (1936-39), "we were the refugees".

The statement by the mayors of Barcelona, Lesbos and Lampedusa criticises the lack of feeling shown by some European countries – a lack which contrasts sharply with the welcoming attitude of many municipalities. "While governments haggle over quotas, we in the cities are implementing contingency and awareness-raising plans that show that, given adequate resources, we can create more reception capacity than previously recognised."

The Mayor of Barcelona also said that she and the Mayor of Athens would work together to pressure national governments to comply with their legal and moral obligations. She also appealed to other European cities to stop the inhuman policies practiced by the states and force them to change course in the face of the biggest humanitarian crisis since the end of World War II.

Meanwhile in the US, Dallas Mayor Mike Rawling said that welcoming refugees was crucial to Dallas becoming a global city.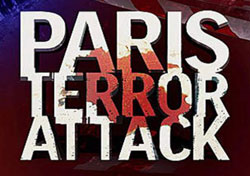 Paris, London and Madrid
lose appeal due to threat
of terrorism and unrest
London, 27 February 2016: Despite high costs, Europe's smaller business centres continue to offer some of the worlds' highest quality-of-living, according to Mercer's 2016 Quality of Living Survey. Safety, in particular, is a key factor for multinationals to consider when sending workers abroad. Vienna continues its reign in the top spot for overall quality of living, followed by Zurich (2), Auckland (3), and Munich (4). But some of Europe's major capital cities rank low in the survey's safety tables as many suffered either terrorist attacks or social unrest in the last few years. Examples include Paris (71), London (72), Madrid (84), and Athens (124).

Mercer's survey identifies the personal safety ranking for the full list of cities; it is based on internal stability, crime figures, performance of local law enforcement, and the home country's relationship with other countries. Luxembourg tops the personal safety list and is followed by Bern, Helsinki, and Zurich – all tied in 2nd place. Baghdad (230) and Damascus (229) are the world's least safe cities according to the ranking. The safest UK cities are Aberdeen, Edinburgh, and Glasgow – all ranked in 44th place.

Europe
Despite economic uncertainties, Western European cities continue to enjoy some of the highest quality of living worldwide; they fill seven places in the top-10 list. Vienna continues to lead the ranking and has done so in the last seven published rankings. It is followed by Zurich (2), Munich (4), Dusseldorf (6), Frankfurt (7), Geneva (8), and Copenhagen (9). In 69th place, Prague is the highest ranking city in Central and Eastern Europe, followed by Ljubljana (76) and Budapest (77). The lowest ranking cities in Europe are Kiev (176), Tirana (179), and Minsk (190).

European cities also dominate the top of the personal safety ranking with Luxembourg in the lead, followed by Bern, Helsinki, and Zurich, which are tied for the number-two spot. Vienna ranks 5th; Geneva and Stockholm are placed jointly in 6th; and Copenhagen, Dusseldorf, Frankfurt, Munich, and Nürnberg all share 11th place.

A number of key or capital cities do rank considerably lower as many suffered either terrorist attacks or social unrest in the last few years; examples include Paris (71), London (72), Madrid (84), and Athens (124). The recent political and economic turmoil in Greece, which resulted in violent demonstrations in Athens and other cities in the country, has undermined its safety ranking. Kiev (189), St. Petersburg (197), and Moscow (206) rank lowest for personal safety in the region.

Americas
Quality of Living remains high in North America, where Canadian cities dominate the top of the list. Vancouver (5) is the highest-ranking city, followed by Toronto (15) and Ottawa (17). In the United States, San Francisco (28) ranks highest for quality of living, followed by Boston (34), Honolulu (35), Chicago (43), and New York City (44). In Mexico, Monterrey (108) is the highest ranking city, whereas Mexico City ranks 127th. The lowest ranking cities in North America are Monterrey (108) and Mexico City (127) and for the Caribbean, Havana (191) and Port-au-Prince (227). In South America, Montevideo (78), Buenos Aires (93), and Santiago (94) remain the highest ranking cities for quality of living, whereas Bogota (130), La Paz (156), and Caracas (185) rank lowest.

Canadian cities all rank high for personal safety, with Calgary, Montreal, Ottawa, Toronto, and Vancouver sharing 16th place, whereas no US cities make the top 50. Kingston (199), Tegucigalpa (201), and Port-au-Prince (211) have the lowest levels of personal safety in the region. In 96th place, Montevideo is South America's highest ranking city for personal safety; Caracas (214) is the lowest.

Most North American cities remain fairly safe for expatriates. But Mexican cities are ranked relatively low, mainly because of drug-related violence. The recent increase of unemployment in Latin America and Caribbean countries, along with the economic downturn and political instability in some of these countries, explains relatively low rankings in personal safety across the region.

Asia-Pacific
The vast region of Asia has considerable variation in quality of living. In 26th place, Singapore remains its highest ranking city, whereas Dhaka (214) is the lowest. Following Singapore in Southeastern Asia is Kuala Lumpur (86). Other key cities include Bangkok (129), Manila (136), and Jakarta (142). Japanese cities rank highest in Eastern Asia, with Tokyo in 44th place. Other notable cities here are Hong Kong (70), Taipei (84), Shanghai (101), and Beijing (118).

For personal safety, the rankings for Asian cities again vary greatly. Singapore (8) ranks highest overall and is followed by five Japanese cities—Kobe, Nagoya, Osaka, Tokyo, and Yokohama—that are tied for 32nd place. Other key cities include Hong Kong (37), Taipei (78), Beijing (97), Seoul (115), New Delhi (142), and Jakarta (172). Following considerable political unrest and terrorist attacks in several tourist areas over the last few years, Bangkok ranked 173rd for personal safety.

New Zealand and Australia have some of the highest quality of living worldwide. Auckland ranks 3rd globally, Sydney 10th, Wellington 12th, and Melbourne 15th. For personal safety, Pacific cities also rank high, with Auckland and Wellington sharing 9th place. Canberra, Melbourne, Perth, and Sydney share 25th place.

Middle East and Africa
Dubai (75) continues to rank highest for quality of living across Africa and the Middle East, followed by Abu Dhabi (81) and Port Louis (83) in Mauritius. The South African cities of Durban, Cape Town, and Johannesburg rank 85th, 92nd, and 95th respectively. Baghdad (230) ranks lowest regionally and worldwide.

Only a handful of cities in this region place in the top 100 for personal safety -with Abu Dhabi ranking highest in 23rd place, followed by Muscat (29), Dubai (40), and Port Louis (59). Upcoming host of the 2022 FIFA World Cup, Doha, ranks 70th for personal safety. Regional geopolitics is highly volatile and characterised by safety concerns, political turmoil, and an elevated risk of terrorism. The lowest ranking cities in the region are Damascus (229) and Baghdad (230), both of which have witnessed continual violence and terrorist attacks that weigh upon the daily life of locals and expatriates.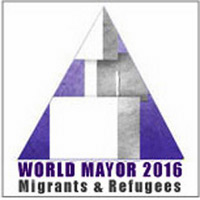 Mayors with courage and
compassion sought for the
2016 World Mayor Prize
London, 2 February 2016: The 2016 World Mayor Prize and Commendations will be awarded to mayors who have shown the compassion, courage and competence when dealing with immigrants and refugees. This year's World Mayor Project was launched today under the headline 'Wanted for the 2016 World Mayor Prize: Mayors with compassion, courage and competence'. A spokesman for the City Mayors Foundation, the organiser of World Mayor, said that his organisation will be looking for mayors who have recognised that people, whatever their origin, status or background, are the greatest capital the world has to offer.

In a press release, the City Mayors Foundation added: "At a time when there are some 60 million refugees worldwide, mayors to be considered for the World Mayor honours will need to have shown compassion, courage and competence. Compassion for people who have travelled great distances to find safety. Courage to fight prejudice even in the face of unpopularity. Competence to leverage the value and potential each person offers society."

Tann vom Hove, a senior fellow, added that City Mayors will also consider a mayor for the World Mayor Prize whose community has shown exceptional resilience during the recent arrival of refugees from desaster-torn regions of the world.

City Mayors is now inviting nominations for the 2016 World Mayor Prize from individuals and organisations.

The World Mayor Prize has been awarded since 2004. Recent winners include the mayors of Calgary, Bilbao and Mexico City.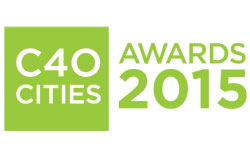 C40 sustainability
winners offer solutions
for other cities to follow
Paris, 5 December 2015: Winners of this year's C40 Cities Award have, according to the organisers, each demonstrated exceptional innovation and ambition to build low carbon and climate resilient urban communities. Former New York City Mayor Michael Bloomberg, whose Bloomberg Philanthropies provided finance and expertise to the project, said winners were recognised for a diverse set of world-class policies, projects or programmes. Janeiro Eduardo Paes, the Mayor of Rio de Janeiro, added that as leaders from around the world meet in Paris to agree binding emission targets, the efforts of the ten award-winning cities showed that innovation drives results and concrete solutions and actions can be implemented right now.

This year's winners in the ten award categories are:
• Boston (Smart Cities & Smart Community Engagement)
• Cape Town (Adaptation Implementation)
• Johannesburg (Finance & Economic Development)
• Nanjing (Transportation)
• New York (Building Energy Efficiency)
• Rotterdam (Adaptation Planning & Assessment)
• Stockholm (Sustainable Communities)
• Vancouver (Carbon Measurement & Planning)
• Washington, DC (Green Energy)
• Wuhan (Solid Waste)

At the award ceremony, which was held in Paris, Michael Bloomberg explained that the solutions the ten winning cities offered models for other cities to follow. "Cities are leading by example and tonight's winners are at the forefront of that work," he said.

The C40 organisers received more than 200 applications from 94 cities for the 2015 awards. They were reviewed by a panel of experts in partnership with sustainability think tank and consultancy Sustainia.

C40 is a network of 78 of the world's largest cities, dedicated to combating climate change.