• Poverty is a crime against humanity
• Support mayors who fight poverty
• Nominate the best for the 2020 World Mayor Prize
FRONT PAGE
About us





ON OTHER PAGES
World Mayor
• The 2018 World Mayor Honours List

Economics
• The ups and downs of Amazon's search for a second headquarter
• Guide to richest and most expensive cities
• Most expensive cities
• Richest cities
• Most powerful cities
• Big Mac Guide

Society
• US cities are waking up to the harm done by trauma in childhood and adult life
• Massacres in schools, churches and malls will not change America's gun culture
• Corrupt US mayors pose a threat to decency in society
• In the US, cities lead in fighting poverty

Development
• Spatial Planning in the USA: Economic growth is of paramount importance

Statistics
• Largest cities in the world (1 to 150)
• Largest cities in the world (151 to 300)
• A to Z to largest cities in the world
• Countries with the largest cities in the world
• Introduction to largest cities in the world

Government
• Women in US local government
• World Mayors and politics
• Voter turnout - an international comparison
• Mayors in Europe: Powers & Politics (2019)

Politics
• US Mayors running for President
• Largest cities in the world and their mayors (2017)
• Largest cities with women mayors (2017)
• Capital cities and their mayors (2017)

Finance
• Salaries of German mayors
• Salaries of British mayors
• Salaries of Japanese mayors

Mayors
• Belgian Mayors (2019)
• British Mayors (2019)
• Canadian Mayors (2019)
• French Mayors (2019)
• German mayors (2019)
• Italian mayors (2019)
• Japanese mayors (2019)
• Polish mayors (2019)
• Spanish mayors (2019)
• Turkish mayors (2019)
• US mayors (2019)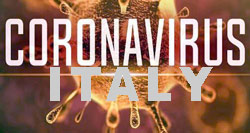 Coronavirus in Italy's
cities and regions
Bassano del Grappa, 13 March 2020: Italy, with more than 15,100 confirmed cases of coronavirus infections, has sufferd the largest outbreak of the virus pandemic in Europe and the second largest, after China, in the world. The Italian authorities' rigorous testing regime is thought to be one of the reasons why the number of cases in Italy is so much higher than in other European countries. According to the Department of Civil Protection, more than 60,000 tests have been performed since the first coronavirus case was reported. In comparison, the UK has so far carried out less than 30,000 tests, while the US is thought to have tested fewer than 10,000 people. Matteo Renzi, a former Mayor of Florence and Italian Prime Minister, has urged other European countries to learn from Italy's response to the pandemic.

The whole of Italy has now been declared a 'red zone'. Restaurants, cafés, and shops, other than food stores and pharmacies, have been ordered to stay closed. Most domestic travel has been outlawed.

Regions in the north of Italy suffered the largest number of infections. Almost half of the country's total number or coronavirus cases occurred in Lombardy, with the cities of Bergamo and Brescia particularly affected. Milan recorded some 920 cases.

Emilia-Romagna and Veneto, two other northern regions, reported 1,760 and 1,300 cases of infections respectively. In many of Italy's best known tourist destinations, like Venice, Parma, Padua and Bologna, the number of confirmed cases was in treble figures. In both Rome and Naples more than 100 people tested positive for the virus.

Number of coronavirus cases
in Italian regions and cities

Regions

Coronavirus cases

Cases in principal cities
Lombardy

6,896

Bergamo ca 1,810;
Brescia ca 1,350;
Cremona ca 1,060;
Lodi ca 1,030;
Milan ca 920
Emilia-Romagna

1,758

Piacenza ca 660;
Parma ca 375;
Rimini ca 240;
Bologna ca 160
Veneto

1,297

Padua ca 370;
Venice ca 175
Piedmont

554

Turin ca 155
March

570

Pesaro ca 340;
Ancona ca 100
Tuscany

352

Florence ca 70
Liguria

243

Campania

174

Naples ca 100
Lazio

172

Rome ca 100
Friuli Venezia Giulia

148

Puglia

98

Trento

102

Bolzano

103

Sicily

111

Umbria

62

Abruzzo

78

Sardinia

39

Aosta Valley

26

Calabria

32

Molise

16

Basilicata

8
Source: Dipartimento della Protezione Civile


Cities respond as the coronavirus
spreads rapidly across America
San Francisco, 13 March 2020: On Friday morning (13 March 2020) US authorities confirmed that the number of people infected by the coronavirus had risen to above 1,200. Baltimore's John Hopkins University, which has been running a national tally since the beginning of the outbreak, reported that 31 people had died after being infected by the virus. More than half of the 50 US states have now reported infections, including the first cases in Virginia, Connecticut and Iowa, in addition to US territory of Puerto Rico.

Cities with significant numbers of coronavirus cases include Seattle (including King County) 132 cases; San Jose (including Santa Clara County) 32 cases; San Francisco 30 cases; Los Angeles 14 cases; New York City 12 cases; Houston 11 cases; Chicago 5 cases; Boston 3 cases as well as San Diego, Dallas, Denver, Nashville and Baltimore all 2 cases. (All 09 March 2020 figures)

The United States Conference of Mayors, which represents cities with populations of 30,000 and more, called on the US Congress to prioritise the needs of cities. It also asked for US$2 billion to reimburse states and cities for uncompensated care. "The nation's mayors are pleased that Congress understands the urgency of the situation and is acting quickly on an emergency supplemental appropriation package to address the coronavirus outbreak. Cites are going to be central to this response effort, and federal resources directed to the frontline local responders will be critical to safeguarding our citizens," Bryan Barnett, the current USCM President and Mayor of Rochester Hills (MI) said in a statement.

New York Govenor Andrew Cuomo called on the US Centers for Disease Control and Prevention (CDC) to approve private labs to conduct coronavirus testing. "The testing capacity is now more than the New York state lab can handle," Cuomo said. Sixteen additional cases brought the New York state total to 105, Cuomo said Sunday, 8 March, 12 of them were in New York City and 82 in suburban Westchester. "We're testing aggressively and we are seeing the number of confirmed cases go up as expected," Cuomo said.

Mayors of most major US cities have assembled task forces to co-ordinate local responses to the virus outbreak. New York City's Mayor Bill de Blasio asked the US Centre for Disease Control to make more coronavirus testing kits available, after US Vice President Mike Pence admitted that there was a shortfall of the number of kits required. "Our single greatest challenge is the lack of fast federal action to increase testing capacity - without that, we cannot beat this epidemic back," the NYC Mayor told reporters. De Blasio also warned the city would have zero tolerance with anyone taking advantage of an epidemic to gouge prices."

In Seattle, Mayor Jenny Durkan acquired sweeping new powers after the City Council approved an emergency proclamation, which will allow the Mayor to bypass regulations and steps usually required for spending, contracting, borrowing and temporary hiring. The Mayor will also be able to open facilities without the permits and reviews usually required. The Mayor will also have the authority to close streets and businesses, cancel events, order curfews and impose price control.

San Francisco (CA) Mayor London Breed called on residents to remain calm and take reasonable precautions. She added the City had sufficient resources and manpower to deal with any widespread outbreak. "The City is in regular contact with all hospitals and health facilities in San Francisco and our health system is prepared to deliver care to everyone in need and provide a coordinated response as additional cases of the novel coronavirus are confirmed," the Mayor outlined.

San Antonio (TX) Mayor Ron Nirenberg declared a public health emergency to prevent the immediate release from quarantine of any of the evacuees from the Diamond Princess cruise ship, which was held up in Japan for two weeks. The Mayor suggested that all passengers, who arrived in San Antonio, must test negative for the coronavirus three times before they could be released. Earlier this week, the Centre for Disease Control released a woman who later tested positive. The episode led to our clash between the Mayor and the CDC over the amount of testing that should be done before releasing the evacuees from quarantine.

While Colorado has so far been spared any cases of the virus, Michael Hancock, the Mayor of Denver, has created a city task force to coordinate among public agencies. "The task force will coordinate plans with schools, shelters, medical providers, the airport and other organisations in case the virus does hit Colorado", the Mayor explained.

While most mayors have rightly prioritised health issues, there has been concern of the economic impact of the virus outbreak. Jerry Demings, the Mayor of Orange County (FL), said his community had lost some $154 million in potential economic impact after three conventions were cancelled.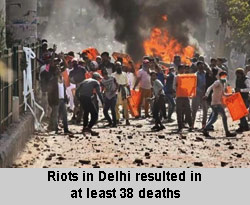 After deadly riots, Delhi hopes
Hindus and Muslims can
overcome mutual distrust
Delhi, 28 February 2020: It took Indian security forces more than four days to bring the worst rioting Delhi has experienced this century under control. The confrontation between Hindus and Muslims began on Sunday (23 February) after a group of mostly Muslim protesters, who objected to the government's new citizenship law, was challenged by Hindu counter demonstrators. According to media reports, Kapil Mishra, a local politician, demanded that the police removed the protestors and threatened, if they did not, he and his followers would do the job for them. Within hours of the initial confrontation between pro- and anti-government supporters, gangs of Hindus and Muslims fought each other, using an array of weapons including knifes, swords and bats. Shops were looted and cars set on fire. Four days later, the authorities estimated that at least 38 people were killed and some 200 injured.

While some properties belonging to Hindus were damaged, the majority of destruction was in Muslim areas of Delhi. Eyewitnesses reported that entire streets and markets were burned down. Delhi residents, particularly older ones who remember the 1984 riots in the city, now fear that this week's clashes may lead to more prolonged inter-community troubles. They hope that politicians from both sides, who this week have done little to restrain their followers, will now get together to find ways to prevent a further escalation of the antagonism between Hindus and Muslims.

The immediate cause of the Delhi riots and other demonstrations across India is the introduction of the government's new citizenship law, the Citizenship Amendment Act (CAA), which many Indian Muslims believe discriminates against their community. In December of last year, India's parliament passed the CAA, which offers amnesty to non-Muslim illegal immigrants from Afghanistan, Bangladesh and Pakistan and provides them with a path to citizenship.

The CAA replaces the previous Indian Citizenship law, which prohibited illegal immigrants from becoming Indian citizens. The new law, while still threatening illegal immigrants with jail and deportation, makes exception for six religious minority communities: Hindu, Sikh, Buddhist, Jain, Parsi and Christian - if they can prove that they are from Pakistan, Afghanistan or Bangladesh. They will only have to live or work in India for six years to be eligible for citizenship. India's Prime Minister Narendra Modi, the leader of the Hindu nationalist Bharatiya Janata Party (BJP) described the Act as one of the most humanitarian immigration laws in the world. "India offers sanctuary to people who flee religious persecution in Bangladesh, Pakistan and Afghanistan."

But government critics point out that most of the recently arrived undocumented immigrants were Rohingyas from Myanmar, where they faced persecution by extreme Buddhists. "If the government wanted to protect minorities, the Act should have included Muslim religious minorities who face persecution in their own countries." Opponents also add that the Indian constitution prohibits religious discrimination.
Further reading: Indian mayors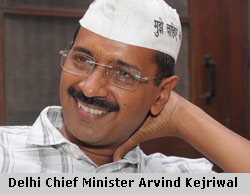 Voters in Delhi reject politics
of division and sectarianism
New Delhi, 13 February 2020: Just ten months after India's governing Bharatiya Janata Party (BJP) won all parliamentary seats in the capital territory Delhi, the Hindu nationalist party of Prime Minister Narendra Modi was resoundingly defeated in local elections. The Aam Aadmi Party (AAP), which has governed the Indian capital since 2015, won 62 of the 70 seats in the Legislative Assembly. The remaining eight seats were won by the BJP, with the once all-mighty Congress Party, which controlled Delhi until 2013, again failing to pick up any seats. Delhi's incumbent Chief Minister and AAP leader Arvind Kejriwal credited his party's victory to its 'politics of works'. "While the BJP sought to divide the city's communities, we built schools and provided electricity, water and healthcare," he said after his victory.

After months' of countrywide protests against Prime Minister Modi's Hindu nationalist policies, the government had set it sights of taking control of the Indian capital. Most of Modi's cabinet ministers campaigned using the same vitriolic sectarian language that had won them the May 2019 general election. Delhi's incumbent administration was accused of supporting Islamic terrorism or committing treason. One member of the Indian BJP government even encouraged a crowd of supporters to 'shoot the traitors', while other government officials branded the AAP leader a Pakistani agent.

Chief Minister Arvind Kejriwal responded by championing religious co-existance and diversity, while also emphasising his own Hindu background. During the campaign, the AAP, or Common Man Party, accused its opponents of resorting to sectarianism instead of offering any policies to improve the lives of Delhi's 20 million citizens.

In an interview prior to the election, Arvind Kejriwal said that it was time to choose what patriotism is. "Is educating children patriotism or is it stressing the Hindu-Muslim debate? Is providing affordable health care patriotism or is it sowing seeds of distrust", the Chief Minister asked.

In the Delhi Legislative Assembly election held on 8 February 2020, the AAP's share of the vote was 53.6 per cent (54.2% in 2015), while the BJP was supported by 38.5 per cent of voters (32.3% in 2015). The Indian National Congress' share of the vote fell from 9.7 per cent in 2015 to 4.3 per cent now. In 2008, when Sheila Dikshit was Delhi's Chief Minister, Congress was supported by more than 40 per cent of voters.

The Aam Aadmi Party was formed in 2012 as an anti-corruption party. The Party has it origins in the 'India against Corruption' movement, which called for citizens' ombudsmen to investigate corruption cases. In 2013, the AAP contested the Delhi elections for the first time, winning 28 seats. In 2015 it won 67 seats. AAP leader Arvind Kejriwal has been Delhi's Chief Minister since February 2013. He was also the Chief Minister of Delhi from December 2013 to February 2014, stepping down after 49 days of assuming power after his minority administration failed to win the support of other parties.
Further reading: Mayors of India's largest cities.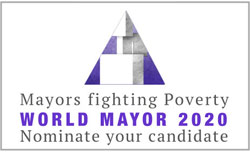 Mayors fighting poverty sought
for the 2020 World Mayor Prize
London, 24 January 2020: The 2020 World Mayor Project, which was launched on 21 January, is dedicated to mayors who have made helping the poor and disadvantaged in their communities one of their top priorities. The Project's authors call poverty 'a crime against humanity' and say that human society, despite all its achievements, will have failed if it cannot work toward ending poverty. The World Mayor website provides examples of poverty in developed and developing countries. "Poverty", the authors say "is prevalent across the world, found in the richest cities and festering in the poorest villages."

There is no universal solution to dealing with poverty. Deprivation, neglect and inequality take many forms. They affect communities and individuals in hundreds of different ways. Fighting poverty, like all the big issues that concern society, requires global actions. However, it has long been acknowledged that national governments alone cannot bring about the necessary changes and conditions under which this can be achieved and therefore city leadership has a crucial role to play in setting ambitious goals and policies to combat poverty, especially in communities.

This year's World Mayor Prize and Commendations will be awarded to mayors who have developed proven programmes to alleviate the effects of poverty on a daily basis. The chosen mayors will also have conceived policies and concepts to reduce poverty, neglect, isolation and inequality long-term. Above all, they must have a passionate belief that poverty is neither inevitable nor acceptable.

The World Mayor Project is now inviting the public to propose mayors, who are 'fighters against poverty'. Nominations from all world regions are accepted until the summer of this year. A dedicated nomination form is accessible from PCs, tablets and smart phones. In addition to providing supporting information about the suggested mayors, participants are also asked to provide examples of poverty in their cities.

Based on the reports from across the world, World Mayor will be able to show how poverty, in all its variations, affects people and communities. Best-practise examples of anti-poverty measures that are relevant to and can be emulated by other cities will be described and explained.

The bi-annual World Mayor Prize and Commendations have been awarded since 2004 by the City Mayors Foundation.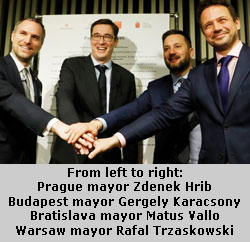 Four Eastern European mayors
united against right-wing populism
Budapest, 19 December 2019: This week, the mayors of the capital cities of Poland, Hungary, Slovakia and the Czech Republic met in Budapest to challenge the politics of their respective governments. In a joint statement they said that the rise of extremism and populism in their countries did not reflect society in their four cities – Warsaw, Budapest, Bratislava and Prague. Matus Vallo, the Mayor of Bratislava, described how in the four capitals social, political, religious and ethnic diversity thrived. But he also warned that right-wing politics advocated and performed by national governments would lead to a widening rift between eastern and western Europe. One commentator spoke of a new curtain dividing Europe.

The four mayors called on the European Union (EU) to open direct channels of communication with the major cities of Eastern Europe. Gergely Karacsony, the Mayor of Budapest who hosted the meeting, said: "Cities can do miracles in the areas of climate change and innovation. This makes the old adage of 'Think globally, act locally' especially acute." He added that many projects, close to the heart of the EU, could be carried out more efficiently if Brussels recognised and used the wealth of knowledge and skills that local governments possessed.

Ideally, all four mayors would like to see some of the EU funds, that support development in the former Communist countries, to be given directly to cities. Warsaw's Mayor Rafal Trzaskowski said he would like to explain to Poland's friends in Brussels that it would be good for Polish cities to access EU money despite the fact that the government infringes European law. The four mayors agreed that their cities, which are all governed by opposition parties, should not be made to suffer for policies that were not their responsibility. They pointed out that populist governments often used EU funds to entrench their positions and enrich friends, therefore urgently needed development aid should be channelled directly to cities where in any case the most pressing social and environmental problems are often concentrated.

The Mayor of Warsaw acknowledged that money must be allocated to poorer rural areas to allow them to catch up economically. But, he pointed out, that the cities were the engines of growth. "Governments that take money away from cities for political reasons hurt the entire region," he said.

In their final declaration, the mayors Warsaw, Budapest, Bratislava and Prague committed their cities to protect and promote the common European values of freedom, human dignity, democracy, equality, rule of law, social justice, tolerance and cultural diversity.

The four mayors:
Budapest's Mayor Gergely Karacsony was elected in October 2019, defeating the government-back incumbent mayor in the process. Warsaw's mayor Rafal Trzaskowski, a member of the centrist Civic Platform, has been in office since October 2018. Matus Vallo, the independent Mayor of Bratislavia, won his city's mayoral election in December 2018. Zdenek Hrib, a member of the Pirate Party, has been Mayor of Prague since November 2018.