FRONT PAGE
About us





METRO NEWS
• Worldwide
• Elections
• North America
• Latin America
• Europe
• Asia
• Africa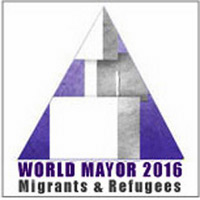 Mayors with courage and
compassion sought for the
2016 World Mayor Prize
London, 2 February 2016: The 2016 World Mayor Prize and Commendations will be awarded to mayors who have shown the compassion, courage and competence when dealing with immigrants and refugees. This year's World Mayor Project was launched today under the headline 'Wanted for the 2016 World Mayor Prize: Mayors with compassion, courage and competence'. A spokesman for the City Mayors Foundation, the organiser of World Mayor, said that his organisation will be looking for mayors who have recognised that people, whatever their origin, status or background, are the greatest capital the world has to offer.

In a press release, the City Mayors Foundation added: "At a time when there are some 60 million refugees worldwide, mayors to be considered for the World Mayor honours will need to have shown compassion, courage and competence. Compassion for people who have travelled great distances to find safety. Courage to fight prejudice even in the face of unpopularity. Competence to leverage the value and potential each person offers society."

Tann vom Hove, a senior fellow, added that City Mayors will also consider a mayor for the World Mayor Prize whose community has shown exceptional resilience during the recent arrival of refugees from desaster-torn regions of the world.

City Mayors is now inviting nominations for the 2016 World Mayor Prize from individuals and organisations.

The World Mayor Prize has been awarded since 2004. Recent winners include the mayors of Calgary, Bilbao and Mexico City.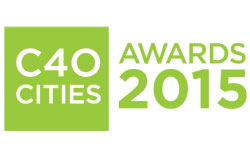 C40 sustainability
winners offer solutions
for other cities to follow
Paris, 5 December 2015: Winners of this year's C40 Cities Award have, according to the organisers, each demonstrated exceptional innovation and ambition to build low carbon and climate resilient urban communities. Former New York City Mayor Michael Bloomberg, whose Bloomberg Philanthropies provided finance and expertise to the project, said winners were recognised for a diverse set of world-class policies, projects or programmes. Janeiro Eduardo Paes, the Mayor of Rio de Janeiro, added that as leaders from around the world meet in Paris to agree binding emission targets, the efforts of the ten award-winning cities showed that innovation drives results and concrete solutions and actions can be implemented right now.

This year's winners in the ten award categories are:
• Boston (Smart Cities & Smart Community Engagement)
• Cape Town (Adaptation Implementation)
• Johannesburg (Finance & Economic Development)
• Nanjing (Transportation)
• New York (Building Energy Efficiency)
• Rotterdam (Adaptation Planning & Assessment)
• Stockholm (Sustainable Communities)
• Vancouver (Carbon Measurement & Planning)
• Washington, DC (Green Energy)
• Wuhan (Solid Waste)

At the award ceremony, which was held in Paris, Michael Bloomberg explained that the solutions the ten winning cities offered models for other cities to follow. "Cities are leading by example and tonight's winners are at the forefront of that work," he said.

The C40 organisers received more than 200 applications from 94 cities for the 2015 awards. They were reviewed by a panel of experts in partnership with sustainability think tank and consultancy Sustainia.

C40 is a network of 78 of the world's largest cities, dedicated to combating climate change.