• Poverty is a crime against humanity
• Support mayors who fight poverty
• Nominate the best for the 2020 World Mayor Prize
FRONT PAGE
About us





ON OTHER PAGES
World Mayor
• The 2018 World Mayor Honours List

Economics
• The ups and downs of Amazon's search for a second headquarter
• Guide to richest and most expensive cities
• Most expensive cities
• Richest cities
• Most powerful cities
• Big Mac Guide

Society
• US cities are waking up to the harm done by trauma in childhood and adult life
• Massacres in schools, churches and malls will not change America's gun culture
• Corrupt US mayors pose a threat to decency in society
• In the US, cities lead in fighting poverty

Development
• Spatial Planning in the USA: Economic growth is of paramount importance

Statistics
• Largest cities in the world (1 to 150)
• Largest cities in the world (151 to 300)
• A to Z to largest cities in the world
• Countries with the largest cities in the world
• Introduction to largest cities in the world

Government
• Women in US local government
• World Mayors and politics
• Voter turnout - an international comparison
• Mayors in Europe: Powers & Politics (2019)

Politics
• US Mayors running for President
• Largest cities in the world and their mayors (2017)
• Largest cities with women mayors (2017)
• Capital cities and their mayors (2017)

Finance
• Salaries of German mayors
• Salaries of British mayors
• Salaries of Japanese mayors

Mayors
• Belgian Mayors (2019)
• British Mayors (2019)
• Canadian Mayors (2019)
• French Mayors (2019)
• German mayors (2019)
• Italian mayors (2019)
• Japanese mayors (2019)
• Polish mayors (2019)
• Spanish mayors (2019)
• Turkish mayors (2019)
• US mayors (2019)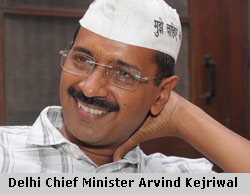 Voters in Delhi reject politics
of division and sectarianism
New Delhi, 13 February 2020: Just ten months after India's governing Bharatiya Janata Party (BJP) won all parliamentary seats in the capital territory Delhi, the Hindu nationalist party of Prime Minister Narendra Modi was resoundingly defeated in local elections. The Aam Aadmi Party (AAP), which has governed the Indian capital since 2015, won 62 of the 70 seats in the Legislative Assembly. The remaining eight seats were won by the BJP, with the once all-mighty Congress Party, which controlled Delhi until 2013, again failing to pick up any seats. Delhi's incumbent Chief Minister and AAP leader Arvind Kejriwal credited his party's victory to its 'politics of works'. "While the BJP sought to divide the city's communities, we built schools and provided electricity, water and healthcare," he said after his victory.

After months' of countrywide protests against Prime Minister Modi's Hindu nationalist policies, the government had set it sights of taking control of the Indian capital. Most of Modi's cabinet ministers campaigned using the same vitriolic sectarian language that had won them the May 2019 general election. Delhi's incumbent administration was accused of supporting Islamic terrorism or committing treason. One member of the Indian BJP government even encouraged a crowd of supporters to 'shoot the traitors', while other government officials branded the AAP leader a Pakistani agent.

Chief Minister Arvind Kejriwal responded by championing religious co-existance and diversity, while also emphasising his own Hindu background. During the campaign, the AAP, or Common Man Party, accused its opponents of resorting to sectarianism instead of offering any policies to improve the lives of Delhi's 20 million citizens.

In an interview prior to the election, Arvind Kejriwal said that it was time to choose what patriotism is. "Is educating children patriotism or is it stressing the Hindu-Muslim debate? Is providing affordable health care patriotism or is it sowing seeds of distrust", the Chief Minister asked.

In the Delhi Legislative Assembly election held on 8 February 2020, the AAP's share of the vote was 53.6 per cent (54.2% in 2015), while the BJP was supported by 38.5 per cent of voters (32.3% in 2015). The Indian National Congress' share of the vote fell from 9.7 per cent in 2015 to 4.3 per cent now. In 2008, when Sheila Dikshit was Delhi's Chief Minister, Congress was supported by more than 40 per cent of voters.

The Aam Aadmi Party was formed in 2012 as an anti-corruption party. The Party has it origins in the 'India against Corruption' movement, which called for citizens' ombudsmen to investigate corruption cases. In 2013, the AAP contested the Delhi elections for the first time, winning 28 seats. In 2015 it won 67 seats. AAP leader Arvind Kejriwal has been Delhi's Chief Minister since February 2013. He was also the Chief Minister of Delhi from December 2013 to February 2014, stepping down after 49 days of assuming power after his minority administration failed to win the support of other parties.

Further reading: Mayors of India's largest cities.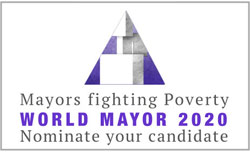 Mayors fighting poverty sought
for the 2020 World Mayor Prize
London, 24 January 2020: The 2020 World Mayor Project, which was launched on 21 January, is dedicated to mayors who have made helping the poor and disadvantaged in their communities one of their top priorities. The Project's authors call poverty 'a crime against humanity' and say that human society, despite all its achievements, will have failed if it cannot work toward ending poverty. The World Mayor website provides examples of poverty in developed and developing countries. "Poverty", the authors say "is prevalent across the world, found in the richest cities and festering in the poorest villages."

There is no universal solution to dealing with poverty. Deprivation, neglect and inequality take many forms. They affect communities and individuals in hundreds of different ways. Fighting poverty, like all the big issues that concern society, requires global actions. However, it has long been acknowledged that national governments alone cannot bring about the necessary changes and conditions under which this can be achieved and therefore city leadership has a crucial role to play in setting ambitious goals and policies to combat poverty, especially in communities.

This year's World Mayor Prize and Commendations will be awarded to mayors who have developed proven programmes to alleviate the effects of poverty on a daily basis. The chosen mayors will also have conceived policies and concepts to reduce poverty, neglect, isolation and inequality long-term. Above all, they must have a passionate belief that poverty is neither inevitable nor acceptable.

The World Mayor Project is now inviting the public to propose mayors, who are 'fighters against poverty'. Nominations from all world regions are accepted until the summer of this year. A dedicated nomination form is accessible from PCs, tablets and smart phones. In addition to providing supporting information about the suggested mayors, participants are also asked to provide examples of poverty in their cities.

Based on the reports from across the world, World Mayor will be able to show how poverty, in all its variations, affects people and communities. Best-practise examples of anti-poverty measures that are relevant to and can be emulated by other cities will be described and explained.

The bi-annual World Mayor Prize and Commendations have been awarded since 2004 by the City Mayors Foundation.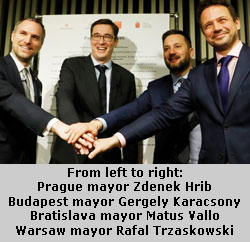 Four Eastern European mayors
united against right-wing populism
Budapest, 19 December 2019: This week, the mayors of the capital cities of Poland, Hungary, Slovakia and the Czech Republic met in Budapest to challenge the politics of their respective governments. In a joint statement they said that the rise of extremism and populism in their countries did not reflect society in their four cities – Warsaw, Budapest, Bratislava and Prague. Matus Vallo, the Mayor of Bratislava, described how in the four capitals social, political, religious and ethnic diversity thrived. But he also warned that right-wing politics advocated and performed by national governments would lead to a widening rift between eastern and western Europe. One commentator spoke of a new curtain dividing Europe.

The four mayors called on the European Union (EU) to open direct channels of communication with the major cities of Eastern Europe. Gergely Karacsony, the Mayor of Budapest who hosted the meeting, said: "Cities can do miracles in the areas of climate change and innovation. This makes the old adage of 'Think globally, act locally' especially acute." He added that many projects, close to the heart of the EU, could be carried out more efficiently if Brussels recognised and used the wealth of knowledge and skills that local governments possessed.

Ideally, all four mayors would like to see some of the EU funds, that support development in the former Communist countries, to be given directly to cities. Warsaw's Mayor Rafal Trzaskowski said he would like to explain to Poland's friends in Brussels that it would be good for Polish cities to access EU money despite the fact that the government infringes European law. The four mayors agreed that their cities, which are all governed by opposition parties, should not be made to suffer for policies that were not their responsibility. They pointed out that populist governments often used EU funds to entrench their positions and enrich friends, therefore urgently needed development aid should be channelled directly to cities where in any case the most pressing social and environmental problems are often concentrated.

The Mayor of Warsaw acknowledged that money must be allocated to poorer rural areas to allow them to catch up economically. But, he pointed out, that the cities were the engines of growth. "Governments that take money away from cities for political reasons hurt the entire region," he said.

In their final declaration, the mayors Warsaw, Budapest, Bratislava and Prague committed their cities to protect and promote the common European values of freedom, human dignity, democracy, equality, rule of law, social justice, tolerance and cultural diversity.

The four mayors:
Budapest's Mayor Gergely Karacsony was elected in October 2019, defeating the government-back incumbent mayor in the process. Warsaw's mayor Rafal Trzaskowski, a member of the centrist Civic Platform, has been in office since October 2018. Matus Vallo, the independent Mayor of Bratislavia, won his city's mayoral election in December 2018. Zdenek Hrib, a member of the Pirate Party, has been Mayor of Prague since November 2018.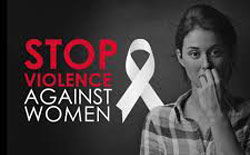 Mexico City Mayor declares
state of emergency over
violence against women
Mexico City / Vienna, 22 November 2019: Mexico City's first elected female mayor has declared a state of emergency because of the increasing violence against women. During the first nine months of this year, more than 150 women were murdered in the Mexican capital. In forty instances the women were killed because of their gender. During the same nine-months period, the police also received more than 500 emergency calls for rape. Claudia Sheinbaum, who has been mayor for little over one year, said yesterday in a statement that the violence against women has to stop. "Every woman has the right to live in safety. It is totally unacceptable that more and more women are not safe at home or on the streets" As part of the measures proposed by the Mayor, the city administration will introduce legislation allowing the public naming of sex offenders.

Violence against women is not unique to Mexico City. Since 2015, some 18 cities have launched special programmes to protect women from sexual predators. The German newspaper Die Zeit recently interviewed the women's rights activist Julia Escalante De Haro, who said that assaults on women were commonplace throughout Mexico. "In the past ten years, the murders of women have more than doubled, today 270 femicides are counted each month." She added that the sexual abuse of girls under five had more than tripled. "Every year, more than 11,000 girls between the ages of ten and 14 get pregnant after experiencing sexual violence."

According to government figures, from 2015 to June 2019, at least 3,080 women were murdered in Mexico. The victim rate per 100,000 in 2015 was 0.66 per cent. By 2019 the rate had risen to 1.19, nearly doubling in just three years.

But official figures don't tell the full story. According to UN research, more than half of assaults against women are committed by partners or family members. And this type of violence is often underreported.

In its 2019 global study on homicide, the United Nations Office of Drugs and Crime reported that in 2017 that a total of 87,000 women were intentionally killed in 2017. More than half of them (58 per cent) were killed by intimate partners or other family members, meaning that 137 women across the world are killed by a member of their own family every day.

The largest number (20,000) of all women killed worldwide by intimate partners or other family members in 2017 was in Asia, followed by Africa (19,000), the Americas (8,000), Europe (3,000) and Oceania (300). However, with an intimate partner/family-related homicide rate of 3.1 per 100,000 female population, Africa is the region where women run the greatest risk of being killed by an intimate partner or other family member, while Europe (0.7 per 100,000 female population) is the region where the risk is lowest. The intimate partner/family-related homicide rate was also high in the Americas in 2017, at 1.6 per 100,000 female population, as well as Oceania, at 1.3, and Asia, at 0.9.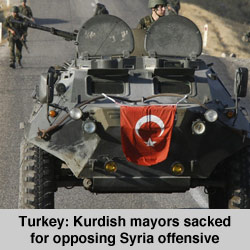 Turkish government sacks
Kurdish mayors critical of
offensive into northern Syria
Istanbul, 23 October 2019: As part of the Turkish government's ongoing campaign against elected officials from the pro-Kurdish Peoples' Democratic Party (HDP), police authorities have dismissed and arrested four mayors from the Diyarbakir province in southeastern Turkey. Three of the mayors were detained on terror charges following their opposition to Turkey's invasion of Kurdish-controlled areas in northern Syria. Turkish forces moved across the border after American President Trump ordered the withdrawal of US military from the area. The Turkish operation, code named Peace Spring, was strongly criticised by the HDP leadership. Pervin Buldan, the party's co-chair accused the Turkish government of trying to suffocate Kurds wherever they may be breathing. The HDP is the only major opposition party that has condemned the offensive into northern Syria.

The mayors of Bismil, Kocakoy, and Kaypinar in the Diyarbakir province were dismissed and detained, as was the mayor of Ercis in the province of Van. The mayor of Bismil was later released under judicial supervision. All the dismissed officials were replaced by pro-government deputies. In a separate move, Turkish security forces detained Adnan Selcuk Mizrakli, who was dismissed from his position as mayor of metropolitan Diyarbakir in August, and formally arrested him for his alleged links to the Kurdistan Workers' Party (PKK). Turkey and the US regard the PKK as a terrorist organisation. Turkish prosecutors have also launched an investigation into the HDP co-leaders leaders, Buldan and Sezai Temelli, following their condemnation of the Syria operation by the Turkish military.

According to opposition sources, some 12 HDP mayors have been replaced with pro-government officials since their election victories on 31 March 2019. Turkish media also reported that since the start of operation Peace Spring hundreds of people have been detained over criticism of the Turkish government.

While Turkey's main opposition party, the centre-left Republican People's Party (CHP), has supported the military's action in Syria, it has been critical of the sacking of elected mayors. Ekrem Imamoglu, the new CHP Mayor of Istanbul, said it was unacceptable to discriminate against political parties that oppose government policies. In September, after he visited the Diyarbakir province and met with two sacked Kurdish mayors, the Mayor of Istanbul was warned by Turkey's interior minister: "Do your job. If you are too busy with other things besides doing your job, we will ruin you."

Since the 2016 coup attempt by junior army officers, the Turkish government has replaced more than 90 elected HDP mayors.
FURTHER READING: TURKISH MAYORS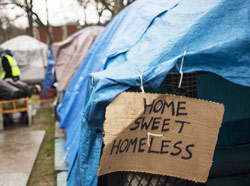 Appeal Court ruling forces
cities in western USA
to rethink homeless policies
Los Angeles, 21 October 2019: Idaho's state capital Boise has been joined by Los Angeles and 32 other Californian cities and counties in an appeal to the US Supreme Court over a federal court ruling that said that cities cannot arrest or punish people for sleeping on public property unless adequate shelter space is available. In a lawsuit that dates back to 2009, six individuals filed a complaint against the City of Boise after being convicted for sleeping and camping on public spaces. The claimants argued that the enforcement of the city's ordinances violated the US Constitution's 8th Amendment, particularly its 'Cruel and Unusual Punishment Clause'.

Lawyers for the City of Boise replied that the ordinances were needed to protect public health. "The tragedy is that the 9th Federal Court of Appeal's decision harms the very people it purports to protect. It takes away an important tool cities have to stop the proliferation of permanent encampments, which undermine cities' efforts to provide shelter and services to the most vulnerable."

The petition by Boise and others to the Supreme Court argues that the 9th Circuit's unprecedented decision creates a de facto constitutional right to live on public sidewalks and in public parks, the court's decision cripples the ability of the more than 1,600 municipalities in the 9th Circuit to protect the health and safety of their communities. (The 9th Circuit covers Hawaii as well as eight states in western USA, including, Idaho, California, Alaska, Washington, Oregon, Montana, Nevada and Arizona.)

Until the Supreme Court has agreed to hear the petition and made a decision, the judgement by the 9th Federal Court of Appeal sets a legal precedent, requiring many cities in the US states covered by the Court to re-examine their regulations covering rough sleeping. Boise has suspended ticketing for public camping when local homeless shelters are full up. The police department of Portland (OR) said that following the Boise decision, it will not cite homeless people sleeping on the streets, while Eureka (CA) has suspended enforcing its anti-camping ordinance. Berkeley (CA) has abandoned proposals to prohibit sleeping on pavements but imposes a ban on 'objects blocking sidewalks'. Meanwhile back in Boise, the city recently opened its first 'housing first' complex where repeat offenders have managed to stay off the streets.

In a statement, Los Angeles said that the court ruling placed an unworkable burden on the county. According to Supervisor Kathryn Barger it would take decades to build enough alternative shelters for the nearly 60,000 homeless people in the county. She added: "Local governments need to have the ability to regulate public camping to protect everyone. Unregulated encampments can create a public health crisis to those inside and outside those encampments. The county has already seen the spread of communicable diseases in public areas, with recent outbreaks of medieval-era illnesses such as typhus and tuberculosis."

But Eric Tars, a lawyer who represented the plaintiffs in the original lawsuit against the City of Boise, argued that the 9th Circuit ruling does not handcuff local governments in dealing with the homeless. He told an Idaho newspaper that the simple fact was that every human being needed a safe, legal place to sleep. "Far from crippling cities, the 9th Circuit's decision recognizes this truth and leaves cities a wide range of constructive ways of addressing homelessness, which are more effective and cost-effective than continuing to lock people up or give them fines for simply needing to sleep safely at night."