FRONT PAGE
About us





METRO NEWS
• Worldwide
• Elections
• North America
• Latin America
• Europe
• Asia
• Africa





Tactical voting thwarted
National Front in French
regional elections
Paris, 14 December 2015: The decision of the French socialists to withdraw their candidates in two regions prevented the far-right National Front from winning in their most promising strongholds in northern France and on the Côte d'Azur in yesterday's second round of regional elections. In the first round, in both regions, the party of Marine Le Pen was well ahead of the centre-right Republicans and the centre-left Socialists, attracting more than 40 per cent of the vote. Marine Le Pen ran for President of the northern region, which stretches from Calais to the outskirts of Paris, while her niece Marion Maréchal-Le Pen sought the same post in the south, a region, which encompasses the Provence and the Côte d'Azur. After the withdrawal of the Socialists, both regions were won by former President Nicolas Sarkozy's Republicans.

Elsewhere in France, the Socialist did better than expected by winning five regions, while the results were disappointing for the Republicans who had high hopes of gaining control of ten out of 12 regions, but in the end were only victorious in seven.

With the Socialists claiming the high ground for withdrawing their candidates to prevent any far-right victories, the refusal of Nicolas Sarkozy to consider a pre-election anti-National Front pact now seems to have been a serious tactical error, an error which may well hurt his chances of becoming the Republican candidate for president in 2017.

French regional elections
Second round on 13 December 2015
(First round results in brackets)
Nord-Pas-de-Calais-Picardie
Union of the Right: 59% (25%)
National Front: 42% (41%)
(Socialists withdrew in the second round)

Normandie:
Union of the Left: 36% (24%)
Union of the Right: 36% (28%)
National Front: 27% (28%)
(The right won the region by less than 0.4%)

Ile-de-France
Turn out: 54%
Union of the Left: 42%
Union of the Right: 44%
National Front: 14%

Alsace-Champagne-Ardenne-Lorraine:
Union of the Left: 16% (16%)
Union of the Right: 48% (26%)
National Front: 36% (36%)

Bretagne:
Union of the Left: 51% (35%)
Union of the Right: 30% (23%)
National Front: 19% (18%)

Pays-de-la-Loire
Union of the Left: 38% (26%)
Union of the Right: 43% (33%)
National Front: 20% (21%)

Centre-Val-de-Loire
Turn out: 50%
Union of the Left: 35% (24%)
Union of the Right: 35% (26%)
National Front: 30% (30%)
(The Left won the region by less than 1%)

Bourgogne-Franche-Comté:
Union of the Left: 35% (23%)
Union of the Right: 33% (24%)
National Front: 32% (31%)

Aquitaine Limousin Poitou Charentes
Union of the Left: 44% (30%)
Union of the Right: 34% (27%)
National Front: 22% (23%)

Auvergne Rhone-Alpes:
Union of the Left: 37% (24%)
Union of the Right: 41% (32%)
National Front: 23% (26%)

Languedoc-Roussillion:
Union of the Left: 45% (24%)
Union of the Right: 21% (19%)
National Front: 34% (32%)

Provence-Alpes-Cote d'Azure
Union of the Right: 55% (26%)
National Front: 45% (41%)
(Socialists withdrew in second round)





Saudi Arabia elects
first women to
municipal councils
Jeddah, 14 December 2015: In Saudi Arabia's first-ever elections open to female voters and candidates, some 18 women have won seats. According to SPA, the country's official news agency, the successful female candidates come from large cities as well as villages. Some 980 women ran for seats, as did almost 6,000 men. They competed for seats in 284 local councils, whose powers and responsibilities include garbage collection, road maintenance and the up-keep of public parks.

The success of the 18 female candidates - there could be a few more when final results are published during the course of this week - is remarkable considering that the Saudi authorities introduced several procedural hurdles, which made it very difficult for women to register as candidates. For example, women were asked to provide proof of residence in a society where the majority live with their families. They had to produce national identity cards, even though almost half of women use family cards of their husband or male guardians. In addition, disqualified candidates were practically barred from appealing against the decisions of the electoral authorities.

During the short, two-week long election campaign, the Mufti of Saudi-Arabia, the country's highest religious figure, issued a televised edict against female participation in the municipal elections. The edict and the utterances of other religious hardliners led to several attacks on the campaigns of female contestants.

Nevertheless, a number of women candidates interviewed by the news network Al Jazeera said that they were exited and felt positive about running. "Even if women don't gain many seats, just going through the process is important." Al Jazeera was also told that recognising women's votes in decision-making was a step towards equality.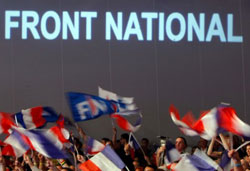 French Socialists propose
tactical withdrawal to block
right-wing National Front
Paris, 7 December 2015: France's Socialist Party will withdraw from the second round of regional elections in areas where the right-wing National Front made its largest gains yesterday. The Socialist leader said the move would be an attempt to block the far-right from gaining control in the north, east and southeast of France. "Socialist voters would be left to back former president Nicolas Sarkozy's conservative Republican Party on 13 December," Jean-Christophe Cambadélis said.

Across France, the country's governing Socialists only took 23 per cent of the vote, while the Republican Party (formerly UMP) won 27 per cent. The National Front, led by Marine Le Pen, performed particularly well in the northern Nord-Pas-de-Calais-Picardie region and in Provence-Alpes-Côte-d'Azur in the southeast, scoring over 40 percent of the vote in both regions.

Meanwhile, former French president Sarkozy and leader of the rightist Republican Party said his party would not form an anti-National-Front alliance with the Socialists, nor would his party withdraw from certain regions to stop the National Front from winning.

French regional elections
First round on 6 December 2015
Nord-Pas-de-Calais-Picardie
Turn out: 45%
Union of the Left: 18%
Union of the Right: 25%
National Front: 41%
(Socialists to withdraw in second round)

Normandie:
Turn out: 50%
Union of the Left: 24%
Union of the Right: 28%
National Front: 28%

Ile-de-France
Turn out: 54%
Union of the Left: 25%
Union of the Right: 31%
National Front: 18%

Alsace-Champagne-Ardenne-Lorraine:
Turn out: 52%
Union of the Left: 16%
Union of the Right: 26%
National Front: 36%
(Socialists to withdraw in second round)

Bretagne:
Turn out: 51%
Union of the Left: 35%
Union of the Right: 23%
National Front: 18%

Pays-de-la-Loire
Union of the Left: 26%
Union of the Right: 3%
National Front: 21%

Centre-Val-de-Loire
Turn out: 50%
Union of the Left: 24%
Union of the Right: 26%
National Front: 30%

Bourgogne-Franche-Comté:
Turn out: 49%
Union of the Left: 23%
Union of the Right: 24%
National Front: 31%

Aquitaine Limousin Poitou Charentes
Union of the Left: 30%
Union of the Right: 27%
National Front: 23%

Auvergne Rhone-Alpes:
Turn out: 51%
Union of the Left: 24%
Union of the Right: 32%
National Front: 26%

Languedoc-Roussillion:
Turn out: 48%
Union of the Left: 24%
Union of the Right: 19%
National Front: 32%

Provence-Alpes-Cote d'Azure
Union of the Left: 17%
Union of the Right: 26%
National Front: 41%
(Socialists to withdraw in second round)



Saudi women contest
local elections but
restrictions remain
Jeddah, 30 November 2015: When polling stations open on 12 December in Saudi Arabia, it will be the first time that women will be allowed to vote and compete in the country's municipal elections. Last week some 900 female candidates began campaigning but their activities face numerous restrictions. For example, they are not allowed to hold election meetings that are attended by men. A spokesman for the Saudi election commission said women candidates could only communicate with male voters through a male spokesperson. Women are also barred from displaying their pictures on posters or leaflets.

The restrictions and the laws forbidding women to travel without a male family member mean that much of their campaigning will be conducted over the internet and on social media sites such as Twitter, Facebook or Instagram.

Saudi Arabia has some 1.5 million registered voters, including 136,000 women. There have been suggestions that the government deliberately tried to prevent women from signing up to vote by only allowing registration during three weeks at the height of the country's summer holiday period. "Logistical constraints prevented thousands of women to register as voters."

Some 6,200 candidates will take part in December's local elections. Two-thirds of the seats of Saudi Arabia's 284 municipal councils are contested, while the rest are reserved for government appointees. Local councils have no powers to raise money and their duties are restricted to garbage collection, street maintenance and the up-keep of public spaces.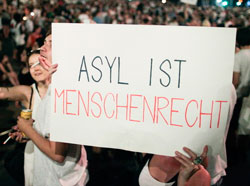 Vienna's Social Democrats
win election with message
of tolerance and humanity
Vienna, 13 October 2015: Despite loosing five percentage points, Vienna's Social Democrats (SPÖ) expressed relief when first results showed that they were the clear winner in Sunday's municipal elections. Right up to polling, opinion surveys predicted a very tight outcome between the centre-left party, which had governed the Austrian capital since 1945, and the populist, rightwing Freedom Party (FPÖ). Michael Häupl, who, first elected 21 years ago, is the longest-serving mayor of any European capital, praised the Viennese people for not succumbing to the siren calls of xenophobia and intolerance. During the election campaign, FPÖ candidates portrait themselves as Christian soldiers fighting the infidels (aka refugees) and their agents (aka all moderate candidates), while Mayor Häupl pleaded for tolerance, humanity and decency.

The election was fought during the height of September's migrant crisis, which saw thousands of Syrian refugees arrive in Vienna every week. Together with Germany, Austria opened its borders to tens of thousands of refugees trapped in neighbouring Hungary. Michael Häupl, unlike many other centrist politicians in Austrian and other European countries, decided to confront the populist right head on. He dismissed arguments that rich countries like Austria did not have the resources to cope with the refugees seeking asylum in his country or passing through to Germany. The FPÖ meanwhile campaigned with slogans like "Security for Austrians and not open borders for criminals".

The Social Democrats (SPÖ), which have ruled Vienna uninterrupted since 1945, won more than 39 per cent of the vote, down five percentage points, while the Freedom Party (FPÖ) rose 5.3 points to 31 per cent. The Green party, which is the Social Democrats preferred coalition partner, is projected to have won 11.6 per cent (down 1 point) and the centre-right People's Party (ÖVP) 8.7 per cent (down 5.3) - its worst ever result.

The moderate Neos party made the most gains and looks set to win 6.2 percent and its first seat in the city council. Opinion polls before the election had forecast a much closer result, with even a victory for the FPÖ on the back of unease among voters about Europe's refugee crisis. The result, would make possible a continuation of the SPÖ's coalition in Vienna with the ecologist Greens.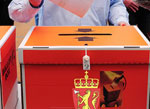 Pro-immigration stance
helps Norwegian Labour
Party to election victory
Oslo, 16 September 2015: In Monday's local elections in Norway, pro-immigrations parties made significant gains, while the right-wing, anti-immigrant Progress Party was heading for its worst election result in 22 years. The Progress Party, which is the junior partner in the government coalition led by the Conservatives, saw its share of the vote fall to below ten per cent, which has not happened since 1993. The Conservative Party, which won the 2013 general election, was punished by voters over its failure to manage the economy during a time when oil and natural gas prices were falling. Oil and gas are Norway's main export commodities. The party lost control of the country's tow largest cities, Oslo and Bergen.

The big winner in Monday's elections was the centre-left Labour Party, which had argued that Norway, one of the richest countries in the world, could easily afford to welcome more refugees from Syria and other war-torn countries. The party's proposal to accept some 8,000 Syrian refugees by 2017, which had won the tacit support of the Conservatives, was condemned by the Progress Party. The right-wing party went as far as to suggest that local authorities could and should refuse to accept any refugees. In contrast, the leader of the Labour Party said Norway would help, receive and give protection to those who were fleeing from war and terror.

The Conservative Party is likely to lose control of the country's capital city Oslo as well as of Bergen, the hometown of its leader. Oslo's conservative mayor, Fabian Stang, who has run the city since 2007, has already said that it would be impossible for him to continue as mayor. "I assume that either the Green Party will take the mayor's job after negotiations with Labour or that Labour will take it itself," he told reporters.

Norway's Green Party, which advocated converting whole streets into bicycle lanes and introducing toll charges for car in Oslo, won more than four percent of the vote, one of its best election results ever.