FRONT PAGE
About us





METRO NEWS
• Worldwide
• Elections
• North America
• Latin America
• Europe
• Asia
• Africa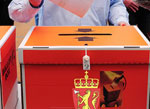 Pro-immigration stance
helps Norwegian Labour
Party to election victory
Oslo, 16 September 2015: In Monday's local elections in Norway, pro-immigrations parties made significant gains, while the right-wing, anti-immigrant Progress Party was heading for its worst election result in 22 years. The Progress Party, which is the junior partner in the government coalition led by the Conservatives, saw its share of the vote fall to below ten per cent, which has not happened since 1993. The Conservative Party, which won the 2013 general election, was punished by voters over its failure to manage the economy during a time when oil and natural gas prices were falling. Oil and gas are Norway's main export commodities. The party lost control of the country's tow largest cities, Oslo and Bergen.

The big winner in Monday's elections was the centre-left Labour Party, which had argued that Norway, one of the richest countries in the world, could easily afford to welcome more refugees from Syria and other war-torn countries. The party's proposal to accept some 8,000 Syrian refugees by 2017, which had won the tacit support of the Conservatives, was condemned by the Progress Party. The right-wing party went as far as to suggest that local authorities could and should refuse to accept any refugees. In contrast, the leader of the Labour Party said Norway would help, receive and give protection to those who were fleeing from war and terror.

The Conservative Party is likely to lose control of the country's capital city Oslo as well as of Bergen, the hometown of its leader. Oslo's conservative mayor, Fabian Stang, who has run the city since 2007, has already said that it would be impossible for him to continue as mayor. "I assume that either the Green Party will take the mayor's job after negotiations with Labour or that Labour will take it itself," he told reporters.

Norway's Green Party, which advocated converting whole streets into bicycle lanes and introducing toll charges for car in Oslo, won more than four percent of the vote, one of its best election results ever.