FRONT PAGE
About us





METRO NEWS
• Worldwide
• Elections
• North America
• Latin America
• Europe
• Asia
• Africa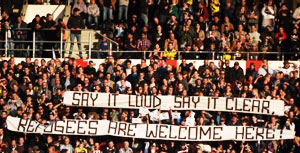 German mayors welcome
refugees despite the
immediate challenges
Berlin, 23 September 2015: Yesterday, Cologne's mayor went to the city's airport to personally greet some 200 refugees. He said it was important that after an arduous journey across many countries, people should feel they are welcome. Like mayors in many German cities, Jürgen Roters regards the arrival of several hundred newcomers every week as a great challenge but also as a long-term opportunity. Many of the refugees he met, the mayor said, were well-educated and eager to work. "Our immediate task is to find housing for the thousands of refugees expected to arrive by the end of the year."

The German ministry responsible for housing has announced that it would be funding the construction of 350,000 public-housing units for refugees this year and a similar number next year. "The current budget of €600 million for public housing in municipalities would be doubled," the minister said. Two weeks ago, German ministers met to rewrite the country's meticulous building regulations to allow for lower standards of housing so that hundreds of thousands of prefab homes can be built under government contracts by the end of the year.

However, many city leaders like Hannover's Mayor Stefan Schostok doubt whether the money promised by the government would be enough. When he presented his budget for 2016, Mayor Schostok told councillors that, compared to 2013, the annual cost of housing and caring for refugees would increase tenfold. In 2013, the city spent some €10 million on refugees. Next year, the city will have to find at least €75 million for the building and acquisition of housing and budget for another €144 million for food, medical care, education and other social services. "The €42 million promised so far by the government are woefully inadequate," the mayor said.

Despite the immediate financial and organisational challenges, many mayors are eager to receive refugees. In Leipzig - a city that has lost some 250,000 people since the re-unification of West and East Germany - Mayor Burkhard Jung said he wanted to house as many refugees as possible. "It is both a responsibility and an opportunity for us," he said. Other German cities plan to house refugees in military barracks left empty after the withdrawal of US forces from Germany.

Cities like Munich, Düsseldorf, Stuttgart and Freiburg have established 'welcome departments' within their city halls to prepare for the arrival of refugees and to co-ordinate the employment of volunteers. It is estimated that since the German government announced that the country would accept refugees from Syria and other war zones in the Middle East, some 150,000 Germans have donated money, food, clothing and offered to volunteer at the many refugee reception centres. The national charity Flüchtlinge Willkommen (Refugees Welcome), which was set up by Berlin students in January, encourages people to offer their spare rooms to refugees. It has operational centres in more than 20 cities, including in smaller ones like Offenburg, Hildesheim, Norderstedt and Konstanz.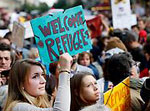 Munich welcomes refugees
but mayor accuses some
EU countries of selfishness
Munich, 10 September 2015: Last weekend some 10,000 refugees arrived in Munich via Hungary from war-torn countries like Syria, Iraq, and Afghanistan. TV news channels across Europe showed cheering crowds welcoming the arrivals, with German and foreign journalists commenting about the effectiveness with which the Bavarian capital responded to the crisis. Dieter Reiter, the city's mayor, said at a news conference that he was surprised how well the city had coped. When asked how many more refugees Munich could accommodate, he replied that, of course, there were limits to the number of people the city could look after at short notice but that was not the question he was asking himself right now.

"Every day I am asking myself how can we accommodate these people, these refugees, how can we give them a feeling that they are safe here in Munich, here in Germany. I am not really thinking about how many people can we afford and can we take here in Munich," the mayor explained.

In an interview with the German newspaper Die Welt, Mayor Reiter, a Social Democrat, said that his city had shown the whole of Germany and indeed Europe how refugees should be treated. But he also criticised the 'head-in-the-sand' attitude of the conservative Bavarian government and other EU countries. "Many, many thousands of refugees will continue to arrive in Europe and every country, every city will need to prepare for their arrival."

The mayor added he was disappointed about the selfish attitude of several EU member states, that were happy to accept the economic benefits of the Union, but turned their backs as soon as they were asked to contribute to one of the most severe human challenges Europe in decades. "I did not expect that so-called European values were forgotten as soon as sacrifices were demanded."

Meanwhile the Mayor of Calais, northern France, criticised the British government for only wanting to accept a small number Syrian refugees from camps close to the Syrian border, when 3,000 people were camped outside her city waiting for an opportunity to cross to Britain. Natacha Bouchart said she was disgusted by the attitude of the British Prime Minister David Cameron and accused him of despising the people of Calais.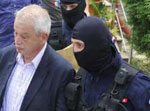 Bucharest mayor faces
charges of bribery
and profiteering
Bucharest, 10 September 2015: The Mayor of Bucharest was arrested over allegations of taking bribes and now faces an investigation by Romania's anti-corruption agency DNA. The prosecutor's office issued a statement saying that from 2013-2015, companies, which had contracts with Bucharest City Hall, were obliged to pay up to 70 per cent of their profits from work they did for the City Hall to high-ranking officials. Of that, ten per cent went allegedly directly to Mayor Sorin Oprescu. The mayor's lawyer denied that his client hat ever taken or solicited bribes.

Romania's news agency Agerpres reported that Mayor Oprescu was filmed taking bribes and that the police found €25,000 (US$28,000) on him and in his home. The prosecution, which was tipped of by informers, alleged that the €25,000 was a first instalment of a €60,000 bribe the mayor demanded from city contractors.

According to Transparency International, Romania is the most corrupt country in the European Union. Not only does the country's Prime Minister, Victor Ponta, face charges of tax evasion, money laundering and fraud, the anti-corruption agency DNA is also investigating alleged fraud by several mayors and city councillors, including two Bucharest district mayors who are accused of taking bribes totalling millions of dollars.

Sorin Oprescu has been mayor since 2008 and ran for President in 2009.
(Photo: Vlad Stavrica / Agerpres)