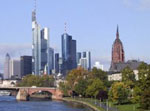 Frankfurt skyline with the river Main in the foreground

Office of the Mayor of Frankfurt
Römerberg 23
60311 Frankfurt/Main
Germany
Tel +49 69 212 33333
Internet: www.frankfurt.de



FRONT PAGE
SiteSearch
About us
Directories

German business cities
German business locations
German population
German trade fairs


City Mayors reports news from towns and cities around the world. Worldwide | Elections | North America | Latin America | Europe | Asia | Africa | Events |




Mayors from The Americas, Europe. Asia, Australia and Africa are competing for the annual World Mayor Award. More




City Mayors ranks the world's largest as well as richest cities and urban areas. It also ranks the cities in individual countries, and provides a list of the capital cities of some 200 sovereign countries. More




City Mayors reports political events, analyses the issues and depicts the main players. More




City Mayors describes and explains the structures and workings of local government in Europe, The Americas, Asia, Australia and Africa. More




City Mayors profiles city leaders from around the world and questions them about their achievements, policies and aims. More




City Mayors deals with economic and investment issues affecting towns and cities. More




City Mayors reports on how business developments impact on cities and examines cooperation between cities and the private sector. More




City Mayors describes and explains financial issues affecting local government. More




City Mayors lists and features urban events, conferences and conventions aimed at urban decision makers and those with an interst in cities worldwide. More




City Mayors reports urban environmental developments and examines the challenges faced by cities worldwide. More




City Mayors reports on and discusses urban development issues in developed and developing countries. More



City Mayors reports on developments in urban society and behaviour and reviews relevant research. More




City Mayors deals with urban transport issues in developed and developing countries and features the world's greatest metro systems. More




City Mayors examines education issues and policies affecting children and adults in urban areas. More




City Mayors investigates health issues affecting urban areas with an emphasis on health in cities in developing countries. More




City Mayors examines the importance of urban tourism to city economies. More




City Mayors examines the contributions history and culture make to urban society and environment. More




City Mayors describes the history, architecture and politics of the greatest city halls in the world. More




City Mayors invites readers to write short stories about people in cities around the world. More




City Mayors questions those who govern the world's cities and talks to men and women who contribute to urban society and environment. More




City Mayors profiles national and international organisations representing cities as well as those dealing with urban issues. More




City Mayors reports on major national and international sporting events and their impact on cities. More




City Mayors lists cities and city organisations, profiles individual mayors and provides information on hundreds of urban events. More


This is an archived article published in November 2003
German data highways
cross at Frankfurt/Main

Frankfurt is Germany's internet capital, according to a report by the research organisation TSN emnid. In Frankfurt, home to the European Central Bank (ECB), some 61 per cent of the population are connected to the internet. The figures for Munich and Berlin are 58 and 57 per cent respectively.

Michael Klein, director of the Frankfurt Institute of New Media (INM), told CityMayors that the internet had become an integral part of most of Frankfurt's citizens' lifes. The Institute is located next door to the German Internet Exchange (De-Cix) on a site previously occupied by Messer Griesheim a company which produced industrial gases. Frankfurt's city government point to this example as evidence that Frankfurt is successfully transforming itself from an industrial to a financial and technological service centre. More than 2,200 technology companies are already located in Frankfurt. The De-Cix channels most of Germany's national and international internet traffic.

The era of fast data links via fibreglass cable began earlier in Frankfurt than anywhere else in Germany. In 1995 the City allowed the first cable companies to lay their cables under the city's streets. Today more than 600 kilometres of fibreglass cable have been laid, corresponding to almost half of Frankfurt's street network. Almost all German data highways intersect in the city.

Arnold Nipper from the German Internet Economy told CityMayors that during the past 12 months Germany had experienced a data stream explosion. "Whereas in September 2002 four gigabits per second were registered, 12 months later the peak throughput is ten gigabits per second," he said. The capacity of De-Cix is currently being increased to 16 gigabits per second at a cost of almost one million euro. A second internet exchange is also planned for late 2003.

The huge quantities of data originate from various sources. First, there are the private clients who, thanks to the faster DSL data lines, can receive ever larger amounts of data in a short space of time. Then there are internet services like emails, without which whole branches of industry and business could no longer function. In addition, business clients are benefiting from a number of software developments which were developed during the past two years and whose advantages are only now being felt on the internet.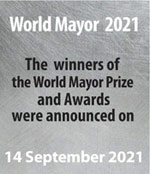 • Poverty is a crime against humanity
• Support mayors who fight poverty
• Nominate the best for the 2020 World Mayor Prize