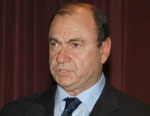 Rio de Janeiro Mayor Cesar Maia at the Washington seminar in October 2003




FRONT PAGE
SiteSearch
About us
Directories

Mayor of Rio de Janeiro
Brazilian Mayors
Belo Horizonte food programs
World Urban Forum
World education
Urban slums
Urban poor
Participatory budgeting
Direct democracy
Guatemala 2020


City Mayors reports news from towns and cities around the world. Worldwide | Elections | North America | Latin America | Europe | Asia | Africa | Events |




Mayors from The Americas, Europe. Asia, Australia and Africa are competing for the annual World Mayor Award. More




City Mayors ranks the world's largest as well as richest cities and urban areas. It also ranks the cities in individual countries, and provides a list of the capital cities of some 200 sovereign countries. More




City Mayors reports political events, analyses the issues and depicts the main players. More




City Mayors describes and explains the structures and workings of local government in Europe, The Americas, Asia, Australia and Africa. More




City Mayors profiles city leaders from around the world and questions them about their achievements, policies and aims. More




City Mayors deals with economic and investment issues affecting towns and cities. More




City Mayors reports on how business developments impact on cities and examines cooperation between cities and the private sector. More




City Mayors describes and explains financial issues affecting local government. More




City Mayors lists and features urban events, conferences and conventions aimed at urban decision makers and those with an interst in cities worldwide. More




City Mayors reports urban environmental developments and examines the challenges faced by cities worldwide. More




City Mayors reports on and discusses urban development issues in developed and developing countries. More



City Mayors reports on developments in urban society and behaviour and reviews relevant research. More




City Mayors deals with urban transport issues in developed and developing countries and features the world's greatest metro systems. More




City Mayors examines education issues and policies affecting children and adults in urban areas. More




City Mayors investigates health issues affecting urban areas with an emphasis on health in cities in developing countries. More




City Mayors examines the importance of urban tourism to city economies. More




City Mayors examines the contributions history and culture make to urban society and environment. More




City Mayors describes the history, architecture and politics of the greatest city halls in the world. More




City Mayors invites readers to write short stories about people in cities around the world. More




City Mayors questions those who govern the world's cities and talks to men and women who contribute to urban society and environment. More




City Mayors profiles national and international organisations representing cities as well as those dealing with urban issues. More




City Mayors reports on major national and international sporting events and their impact on cities. More




City Mayors lists cities and city organisations, profiles individual mayors and provides information on hundreds of urban events. More


Rio de Janeiro to spend US$1 billion on
innovative slum improvement programme
By Paulo Bótas
5 December 2003: Rio de Janeiro aims to invest a total of US$1 billion in its internationally acclaimed 'Favela-Bairro' neighbourhood improvement programme, Rio city leaders told City Mayors at a seminar held at the Inter-American Development Bank's Washington headquarters in October 2003. Favela-Bairro is the name given to a programme that brings basic infrastructure as well as municipal and social services to favelas, Rio's urban squatter settlements.

Favela-Bairro, which has inspired at least ten urban improvement programmes in other Latin American cities, departed from the traditional policies of eradicating slums. Rather than razing poor people's homes, Rio's municipal government decided to improve living conditions in their neighbourhoods by providing them with basic infrastructure and social services.

Rio de Janeiro Mayor Mr Cesar Maia and Housing Secretary Ms Solange Amaral told the seminar participants that they expected Favela-Bairro to go into a third phase. The Inter-American Development Bank (IDB) has supported the first two phases of this programme designed to integrate poor neighbourhoods with the rest of the city.

"Favela-Bairro is without any doubt the most important project for Rio. It's a programme that 'cariocas' (people born in Rio de Janeiro) recognise as their own. And I'm not the one who says so. It's the city itself," Cesar Maia said. The project's name symbolises the idea of turning slums into formal neighbourhoods by providing them with basic infrastructure and public and social services.

The programme had a total budget of US$600 million for its first two phases, to which the IDB has contributed $360 million in loans. According to Ms Amaral, the municipal government expects to invest $400 million more in Favela-Bairro to cover more than 330 neighbourhoods.

"In the first two phases we have reached 168 communities, counting favelas and informal urban developments," she said, adding that Favela-Bairro had served as a basis for other programmes aimed at the city's smallest and largest marginal settlements.

Some 1.7 million people live in Rio's slums. Ms Amaral said the programme supported by the IDB had already benefited nearly 500,000 people.

The programme, which focuses on medium-size settlements with 500 to 2,500 homes, relies on a participative method that involves beneficiaries in all stages of the projects. It builds roads, drainage systems, sports facilities and leisure areas; stabilises hillsides, and brings services such as water and sanitation, garbage collection, street cleaning and public lighting to the city's poor neighbourhoods.

It also offers communities a menu of social services such as day care centres, school retention and reinforcement programmes for children and teenagers, programmes for at-risk adolescents, activities to foster women and youth leadership, and counselling on domestic violence, substance addictions and sexual abuse. An income-generation component provides adult education and job training.

"Evaluations of Favela-Bairro suggest that communities that have taken part in the programme have improved significantly in terms of coverage of drinking water, sewerage and garbage collection services," Ms Amaral said.

The Rio de Janeiro Mayor also underscored the programme's continuity, noting that it had been carried out by three successive administrations. According to recent opinion polls, Rio residents picked Favela-Bairro as the top priority programme for the city's government.


Typical hillside favela


Favelas
Favelas are squatter settlements named after the first such settlement on the slopes of the hill Morro da Favela near the centre of Rio de Janeiro. Their original inhabitants mostly were rural poor emigrating to cities in search for work. In Rio de Janeiro favelas usually exist along the steep hill sides surrounding the city or on the outer fringes of built-up areas. The best known favelas are those built on the steep slopes of the hills encircling Rio de Janeiro.

The first favela on Morro da Favela was began in the 1920s. Today, it is estimated, that one third or Rio's urban population live in more than 500 favelas. The number of people living in favelas is growing at an annual rate of some 7.5 per cent, whereas the overall population of Rio de Janeiro is only increasing by 2.5 per cent per year. Rio de Janeiro is not the only South American city with this type of squatter settlements. But what makes Rio's favelas unique is their locations. Most of them are situated on hillsides offering panoramic views over the city and the ocean, while the affluent areas are located at the bottom of the hills. In most other cities in the world, it the rich who occupy hillside locations while the poor live in less favourable low-lying areas.