Fukuoka waterfront (Photo: Yoshiwara Diary)

More information:
asiabiz.city.fukuoka.jp/en/

www.city.fukuoka.jp/index-e.html



FRONT PAGE
SiteSearch
About us
Directories

Fukuoka (Japan)
Madurai (India)
Vishnupur (India)
Nanjing (China)
Historic Cities: Western Europe
Historic Cities: Eastern Europe
Historic Cities: The Americas
Historic Cities: Asia
Historic Cities: Africa


City Mayors reports news from towns and cities around the world. Worldwide | Elections | North America | Latin America | Europe | Asia | Africa | Events |




Mayors from The Americas, Europe. Asia, Australia and Africa are competing for the annual World Mayor Award. More




City Mayors ranks the world's largest as well as richest cities and urban areas. It also ranks the cities in individual countries, and provides a list of the capital cities of some 200 sovereign countries. More




City Mayors reports political events, analyses the issues and depicts the main players. More




City Mayors describes and explains the structures and workings of local government in Europe, The Americas, Asia, Australia and Africa. More




City Mayors profiles city leaders from around the world and questions them about their achievements, policies and aims. More




City Mayors deals with economic and investment issues affecting towns and cities. More




City Mayors reports on how business developments impact on cities and examines cooperation between cities and the private sector. More




City Mayors describes and explains financial issues affecting local government. More




City Mayors lists and features urban events, conferences and conventions aimed at urban decision makers and those with an interst in cities worldwide. More




City Mayors reports urban environmental developments and examines the challenges faced by cities worldwide. More




City Mayors reports on and discusses urban development issues in developed and developing countries. More



City Mayors reports on developments in urban society and behaviour and reviews relevant research. More




City Mayors deals with urban transport issues in developed and developing countries and features the world's greatest metro systems. More




City Mayors examines education issues and policies affecting children and adults in urban areas. More




City Mayors investigates health issues affecting urban areas with an emphasis on health in cities in developing countries. More




City Mayors examines the importance of urban tourism to city economies. More




City Mayors examines the contributions history and culture make to urban society and environment. More




City Mayors describes the history, architecture and politics of the greatest city halls in the world. More




City Mayors invites readers to write short stories about people in cities around the world. More




City Mayors questions those who govern the world's cities and talks to men and women who contribute to urban society and environment. More




City Mayors profiles national and international organisations representing cities as well as those dealing with urban issues. More




City Mayors reports on major national and international sporting events and their impact on cities. More




City Mayors lists cities and city organisations, profiles individual mayors and provides information on hundreds of urban events. More


Fukuoka – one of Japan's doors to
the world for more than 1000 years
19 August 2006: Fukuoka, with a population of some 1.4 million people Japan's eighth largest city, traces its history back to the 8th century. In medieval times, Fukuoka became one of the few active international trade cities, hosting many foreign merchants, and in the 16th century, wealthy merchants went overseas to seek more profitable business. In May 2006, the city announced that it would bid to become the official Japanese candidate for the 2016 Summer Olympics.

Fukuoka, Japan, is located about the same distance from the major cities of Osaka, Tokyo, and Sapporo, as it is from other key Asian cities, such as Busan, Seoul, Shanghai, Beijing, and Taipei.

There are numerous scheduled international flights, which have provided Fukuoka with an advantageous position for trade and exchanges with Korea, China, and other Asian countries. Fukuoka City is located in the heart of the Fukuoka Plain, between the peninsula-embraced Hakata Bay in the north, and a cascade of mountains in the south. The climate is relatively warm with an average temperature of 17 degrees centigrade.

Fukuoka enjoys the geographical advantage of being in close proximity to both the Korean peninsula and the Asian continent, and accordingly prospered by being the first region in Japan to be exposed to the civilisation of continental Asia.

In the 4th century BC the first rice cultivation was begun in this area. The "Golden Seal", presented to the then ruler of Japan by the Han Emperor, was excavated from a small island in Hakata Bay, and is positive evidence of trade with China in the 1st century. From the 7th to 11th centuries, "Korokan," a guesthouse, functioned as the centre of international exchange and entertainment for Asian guests.

In medieval times, Fukuoka became one of the few active international trade cities, hosting many foreign merchants, and in the 16th century, wealthy merchants went overseas to seek more profitable business. At that time, the city was called Hakata.

How the two names of Fukuoka and Hakata became distinct is difficult for residents to explain, and is even more difficult for visitors to understand. The name of Fukuoka's airport is "Fukuoka International Airport" while the train station is called "Hakata Station". Although the city's name is Fukuoka, "Hakata" is often used to describe things that are well known nationwide; words like Hakataism, Hakata merchants, Hakata textiles, and Hakata dolls are well known across Japan.

"Hakata" has been an important node in Asia since ancient times, and Hakata was also one of the most dynamic, active, and wealthy cities in Japan during medieval times. Hakata has long been depicted as being an "autonomous city, a free-thinking city."

The autonomous City of Hakata
It was in the year 759 when the name "Hakata" first appeared in Japanese history books, where it was written that the security of Hakata Otsu should be tighter because of the fear of invasion from foreign countries. As the gateway to the Asian continent, goods, people, and new cultures passed through Hakata and spread all over Japan.

In the 13th and 14th centuries, many Zen and Buddhist temples were constructed to provide warriors and merchants with both meeting and gathering places. Shofuku-ji temple was the first Zen temple in Japan, and was built on land given by the founder of the Kamakura Shogunate (first military ruler of the country) in eastern Hakata, with financial support from wealthy merchants.

These temples were also the places where commodities originated that became an important part of Japanese culture – such as tea, udon (wheat noodle), soba (buckwheat noodle, Hakata textiles and Manju (steamed bean-jam bun). Hakata Gion Yamakasa, the leading festival in Fukuoka, was also started during this period.

Powerful military families seeking control often attacked Hakata, known for its wealth and deep culture. However, it was Toyotomi Hideyoshi who eventually defeated them and unified the nation. He ordered the reconstruction of Hakata as soon as possible, as the city played a key role in trade with Asia, and was also the linchpin of Kyushu, western Japan.

Innovative city planning was undertaken to reconstruct the town and tempt back those merchants who had fled the battles. A new law was implemented, exempting property taxes and opening the market. An organisation consisting of Hakata merchants and local residents was formed to promote self-governance through discussions and consensus. Fukuoka City has since taken this idea as the basis of its city planning.

A place of warm hospitality
In the 16th century, the feudal lord Kuroda established a castle town in the western part of Fukuoka. After that the western side of the area, divided by the Nakagawa River, was called "Fukuoka" while the eastern side was known as "Hakata". This is why the city of today has two faces with different characteristics. Since the end of the 19th century, modern buildings and industries have been concentrated in the Fukuoka area, attracting many people.

The history of the Hakata merchants has taken root in Fukuoka. Tertiary industry is a major part of Fukuoka's industrial structure. More than 70 per cent of its enterprises are related to the wholesale, retail, food, and service industries. Fukuoka has developed as the political and economic centre of Kyushu. Many national government agencies, large companies and financial institutions have established branches in Fukuoka.

This industrial structure helps Fukuoka's citizens to respond to things with an open-mind, which shows in its hospitality toward visitors. Taking advantage of what it has to offer, Fukuoka will continue to activate existing industries and create more innovative urban industries, including conventions and IT-related industries, in order to facilitate economic independence and diversify industrial structures.

A combination of serene nature, particularly in Hakata Bay, urban characteristics and traditional culture cultivated over a long history, are key characteristics of Fukuoka City. Diversified tourism is offered to visitors, from resorts with the natural beauty of the coastline and islands in the bay to urban-oriented tourism offering professional baseball, soccer and Sumo tournaments, art performances and shopping.

There is also festival-focused tourism such as Hakata Gion Yamakasa, the Hakata Dontaku Port Festival, Hojoya Festival, the Asian Month, as well as gourmet tourism where one can enjoy delicious seafood, Motsunabe (beef offal and vegetable hot pot) and ramen (noodles) at open-air stalls.

Future of Fukuoka City
In the dawn of the 21st century, the paradigm of society and our sense of values have rapidly changed as we witness this period of transition. As citizens' demands and challenges for each community have become diversified and complicated, real autonomous management of the region is required.

Strength, uniqueness, and community creativity will be essential for success in the new era. With such changes in mind, Fukuoka City must promote its policies with long-term perspectives and utilise limited resources effectively through a drastic review of local government methods. For that purpose, it is important that the government promotes strategic plans for city management by working together with its citizens and the private sector.

The strategic management plan of Fukuoka City sets a goal to create a "Free and vital autonomy in Fukuoka". During this enormous transition, we should bear in mind the history of medieval Hakata, which thrived as both a self-governing, free city and a base of overseas exchange, and incorporate its dynamism into our present city development.

The power of citizens, local communities, NPOs and the private sector will help create a comfortable place in which to live and facilitate free economic activities, thus contributing to a more vital city. The local government will develop a base for supporting these activities, and each citizen should be aware of the autonomous management of the city and act upon it vigorously. This is what Fukuoka City is truly striving to achieve.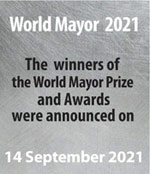 The best Mayors for Stronger | Fairer | Greener cities. Elect your candidate for the 20/21 World Mayor Prize and Honours