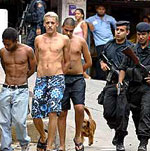 Many wealthy Brazilians try to escape from street violence...




FRONT PAGE
SiteSearch
About us
Directories

Gated community Alphaville
Brasilia, Capital of Brazil
Brazilian Mayors
Brazilian cities
Linear cities
Age-friendly cities
Urban crime 2007
Europe's cities and suburbs


City Mayors reports news from towns and cities around the world. Worldwide | Elections | North America | Latin America | Europe | Asia | Africa | Events |




Mayors from The Americas, Europe. Asia, Australia and Africa are competing for the annual World Mayor Award. More




City Mayors ranks the world's largest as well as richest cities and urban areas. It also ranks the cities in individual countries, and provides a list of the capital cities of some 200 sovereign countries. More




City Mayors reports political events, analyses the issues and depicts the main players. More




City Mayors describes and explains the structures and workings of local government in Europe, The Americas, Asia, Australia and Africa. More




City Mayors profiles city leaders from around the world and questions them about their achievements, policies and aims. More




City Mayors deals with economic and investment issues affecting towns and cities. More




City Mayors reports on how business developments impact on cities and examines cooperation between cities and the private sector. More




City Mayors describes and explains financial issues affecting local government. More




City Mayors lists and features urban events, conferences and conventions aimed at urban decision makers and those with an interst in cities worldwide. More




City Mayors reports urban environmental developments and examines the challenges faced by cities worldwide. More




City Mayors reports on and discusses urban development issues in developed and developing countries. More



City Mayors reports on developments in urban society and behaviour and reviews relevant research. More




City Mayors deals with urban transport issues in developed and developing countries and features the world's greatest metro systems. More




City Mayors examines education issues and policies affecting children and adults in urban areas. More




City Mayors investigates health issues affecting urban areas with an emphasis on health in cities in developing countries. More




City Mayors examines the contributions history and culture make to urban society and environment. More




City Mayors examines the importance of urban tourism to city economies. More




City Mayors describes the history, architecture and politics of the greatest city halls in the world. More




City Mayors invites readers to write short stories about people in cities around the world. More




City Mayors questions those who govern the world's cities and talks to men and women who contribute to urban society and environment. More




City Mayors profiles national and international organisations representing cities as well as those dealing with urban issues. More




City Mayors reports on major national and international sporting events and their impact on cities. More




City Mayors lists cities and city organisations, profiles individual mayors and provides information on hundreds of urban events. More


Sao Paulo's Alphaville gated community -
an early answer to middle-class insecurity
By Andrew Stevens and Elisangela Fracaroli
14 October 2007: The rise of the 'gated community' has been in tandem with the urbanisation of society and the realisation that rising disposable incomes can provide the means to defend life and property against rising crime. Simultaneously, those who seek to live behind such methods of enforced security can often be viewed as contributing to a wider sense of marginalisation. In a country such as Brazil, highly urbanised and with internationally reputed high crime rates, this tendency is proving nothing short of a phenomena. The Alphaville community of Sao Paulo is one such manifestation worth considering.

Add your comment and observations

A rising and global phenomena of the late 20th century, gated communities have been satirised in the novels of J. G. Ballard (the mere existence of gated communities could be seen as giving rise to the Ballardian adjective) and generally proven of interest more to sociologists than the media. While economic disparity in Brazil lends itself to a continued sense of, as President Lula put it at his inauguration, apartheid, rising conspicuous consumption is positively unabated, regardless of growth rates.

Sao Paulo's economic elite avoid the city's infamous jams and car-jackings in favour of journeying by helicopter (there are 240 helipads compared to New York's 10) and travel around its opulent Daslu mall in golf carts. By Latin American standards, the disparities in Brazil are particularly unnerving, with a political system that in the two decades since the negotiated end of its military dictatorship has been saddled with instability through corruption and inertia. Brazil's elites, in place since colonial times, have remained above reproach throughout its modern history, under both dictatorship and democracy, and have long enjoyed security from commonplace criminality. The rise of gated communities in Brazil therefore is a manifestation of a growing middle class, which in itself would ordinarily be taken as a sign of progress were it not for the structural deficiencies that prevent wider economic and social mobility.

The condominium fechado (closed estate) can be seen as an extension of the widespread measures put in place by many members of the more affluent working classes, particularly in areas of Sao Paulo with stable local industries, where private security arrangements are the norm (given a notoriously unresponsive police force).

The 30,000 strong Alphaville community however is a particularly interesting and curious example of both urban development and the manifestation of this trend. Alphaville (or first city) is one of the world's earliest and best known gated communities and its origins lie in a number of co-determinants, namely rising crime in Sao Paulo, improvements in infrastructure under a massive public works programme and new modes of urban planning around the city, such as the ABC Region. The brainchild of the Albuquerque and Takaoka company, the settlement was founded on farm land in counties 23km to the west of the city. Now in its third decade and comprising 20,000 dwellings in 33 zones, it even boasts its own university and supports 150,000 retail and domestic workers.

Alphaville is a statistical anomaly in Sao Paulo's notoriously sky-high homicide and violence figures (60 murders per 100,000 citizens compared to New York's 7.8) - a more telling statistic is that there is one armed security guard for 30 citizens. Similarly, its residents are not troubled by the widespread kidnappings that take place elsewhere in metropolitan Sao Paulo - constant surveillance by CCTV and patrols, even around school playing fields, by armed security personnel reassure its compound-dwelling inhabitants. Further reassurance is provided by self-defence classes on offer at local gyms. Residents of Alphaville, some executives of multinationals, rebut claims of paranoia and claim that it enables them to live in conventional housing rather than apartment blocks equally as shut off from urban ills and allows children to play freely in the street.

The city is managed by Alpahville Urbanismo, incorporated in 1995. The company provides all utilities and requires no public services. In addition to the monthly residence fees, residents are reliant on private education and healthcare provision, placing Alphaville living well beyond the reach of the average Brazilian family.

Without city governance, ironic given Brazil's 'ungovernable' society in ungated areas, residents are required to participate in communal affairs through regulatory committees. Alphaville's founders Albuquerque and Takaoka believe the concept has been a proven success, so much so that they now plan to extend it to lower income Brazilian families in new affordable in-fill developments amid Brazil's metropolises elsewhere. Not unsurprisingly given Godard's 1960s masterpiece of the same name, Alphaville has now lent itself to cinematic depiction with a bruising satire by young Brazilian director Paulo Caruso's short film, which performed well at festivals in 2007.


---
Comment & Debate
City Mayors is inviting its readers to engage in a debate on the issues raised in the article on this page. Please post your comments below. Your comments should deal with the topics of this article and must be legal and ethical. You may also reply to and/or challenge comments of other readers. While we endeavour to publish all relevant comments, we reserve the right to edit them and to reject unsuitable contributions.
Please add your comment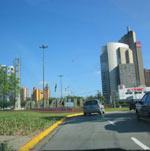 ...by moving to the relative security of gated communities like Sao Paulo's Alphaville


On other pages
Conceived by an Italian saint, Brasilia is the world's most striking capital city
First conceived of in a 'prophetic' dream by Saint John Bosco of Italy*, Brasília is the federal capital of the Latin American republic resembling its name. It was inaugurated in 1960 by President Juscelino Kubitschek de Oliveira and took only 41 months to construct. It is regarded as one of the most visually striking cities in the world on account of its Le Corbusier-inspired architecture by the renowned modernist Oscar Niemeyer and was planned by Lúcio Costa. It is a World Heritage Site.

Brazil's capital was relocated to the Federal District in 1960, this being carved out of the state of Goiás in central Brazil. The Distrito Federal (designated as DF among the states' initials) is the site of the nation's legislature, chief courts and ministerial headquarters. Constisting of 26 states, the Brazilian constitution is heavily modelled on that of the United States. The previous capital was Rio de Janeiro, which remains the country's best known city. It was designated the federal capital during the creation of the republic in 1889. However, following the relocation of the legislature, judiciary and civil service to Brasília, the former capital was designated as Guanabara state. In 1975 however, Guanabara merged with Rio de Janeiro to form one state.

On becoming president in 1956, Juscelino Kubitschek de Oliveira ordered the construction of the new distrito federal in the state of Goiás in order to have the branches of government located in one neutral territory. Rivalry between the cities of Sao Paulo and Rio De Janeiro was, and remains, strong. Another equally plausible theory is that the military regime wanted to relocate the capital to the less populous interior so as to remove it from any possible uprising in the industrial south east. The military regime remained in place for several more decades until the phased introduction of direct civilian rule in the 1980s. More