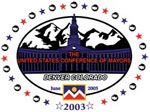 PAGE ONE
SiteSearch
About us
Directories

Urban poverty in the US
US cities in fiscal crisis
US Conference of Mayors
Mayors' Institute on City Design
National League of Cities


City Mayors reports news from towns and cities around the world. Worldwide | Elections | North America | Latin America | Europe | Asia | Africa | Events |




Mayors from The Americas, Europe. Asia, Australia and Africa are competing for the annual World Mayor Award. More




City Mayors ranks the world's largest as well as richest cities and urban areas. It also ranks the cities in individual countries, and provides a list of the capital cities of some 200 sovereign countries. More




City Mayors lists and features urban events, conferences and conventions aimed at urban decision makers and those with an interst in cities worldwide. More




City Mayors reports political events, analyses the issues and depicts the main players. More




City Mayors describes and explains the structures and workings of local government in Europe, The Americas, Asia, Australia and Africa. More




City Mayors profiles city leaders from around the world and questions them about their achievements, policies and aims. More




City Mayors deals with economic and investment issues affecting towns and cities. More




City Mayors reports on how business developments impact on cities and examines cooperation between cities and the private sector. More




City Mayors describes and explains financial issues affecting local government. More




City Mayors reports urban environmental developments and examines the challenges faced by cities worldwide. More




City Mayors reports on and discusses urban development issues in developed and developing countries. More



City Mayors reports on developments in urban society and behaviour and reviews relevant research. More




City Mayors deals with urban transport issues in developed and developing countries and features the world's greatest metro systems. More




City Mayors examines education issues and policies affecting children and adults in urban areas. More




City Mayors investigates health issues affecting urban areas with an emphasis on health in cities in developing countries. More




City Mayors examines the contributions history and culture make to urban society and environment. More




City Mayors describes the history, architecture and politics of the greatest city halls in the world. More




City Mayors invites readers to write short stories about people in cities around the world. More




City Mayors questions those who govern the world's cities and talks to men and women who contribute to urban society and environment. More




City Mayors profiles national and international organisations representing cities as well as those dealing with urban issues. More




City Mayors reports on major national and international sporting events and their impact on cities. More




City Mayors lists cities and city organisations, profiles individual mayors and provides information on hundreds of urban events. More


This is an archived article published in June 2003
Economic situation in US cities
worse than originally thought

A report by the US Conference of Mayors and the Conference's Council for Investment in the New American City finds that US metropolitan areas, the engines that drive the US economy, lost more than one million jobs in 2001 and 2002, three times the job loss reported in preliminary government estimates in January.

In the nation's 20 largest metropolitan areas, the report, which was presented to the delegates of the 2003 US Conference of Mayors, predicts overall employment growth in 2003 at a scant 0.1 per cent – with nine of the metro areas experiencing either no job growth or continued employment contraction. This represents a significant downward revision from the January report, which predicted a 0.9 per cent job growth rate in 2003.

"The unemployment rate will creep up in the middle of 2003 before coming back down to present rates," states the report produced by Global Insight, a economic consulting firm. The unemployment rate is unlikely to decline until jobs grow at an annual rate of one per cent, predicted to occur in 2003 in only two of the nation's 20 largest metro areas, Phoenix-Mesa (1.6%) and San Diego (1.0%). A sector-by-sector analysis forecasts significant 2003 job losses in manufacturing (-2.9%), transportation-communications-utilities (-1.4%), and construction-mining (-0.6%).

The report assumes a strong pick-up in national economic growth during the second half of 2003, due in part to fiscal stimulus from the recent tax package. If a strong second-half recovery does not materialize (35% probability), then the top 20 metro areas may actually lose jobs overall.

"The weak national economy has hit US metro areas hard," said Boston Mayor Thomas Menino, President of the US Conference of Mayors. "We don't see any help for cities coming down the road. The recent tax package provided assistance to states, which mayors support, but left out any help for the nation's cities, which drive our national economy. We need strategic investments now in housing, transportation, homeland security, and job training to spur economic growth and put people back to work again."

According to the report, the top 20 US metro areas will generate $4 trillion in output in 2003, or 36 per cent of the national economy. Metro areas generate more than 80 per cent of the nation's employment, income, and production of goods and services. "They drive US growth during good times, but their continued weakness has stalled the nation's recovery since early 2002," states the report.

"Until metro areas, the locomotive of the US economy, revives, the national economy will continue to stall," said Detroit Mayor Kwame Kilpatrick, who chairs the Conference's Council for Investment in the New American City, a coalition of mayors, business people, and non-profit organizations, that promotes a new urban renaissance in America's cities. "Mayors know that as cities go, so goes our nation."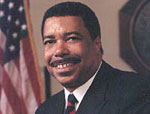 Wellington E Webb, former Mayor of Denver


Denver Mayor receives award for outstanding public service
At their 2003 conference in Denver, US mayors awarded Denver Mayor Wellington E. Webb their highest honor, the Mayors Award for Distinguished Public Service.

President Harry Truman presented the first US Conference of Mayors Award for distinguished public service to General George C. Marshall at the White House on 25 November 1949. The award, given to individuals for "outstanding and meritorious public service" to the nation's cities, has only been awarded to 17 people. "This award honors not only me, but the people of Denver who have supported my vision," said Mayor Webb. "I'm pleased to be recognized by my peers." Mayor Webb served as President of the US Conference of Mayors from 1999-2000. Former Denver Mayor William McNichols is the only other Denver Mayor to have served as conference president.

In addition to his successes in Denver, Mayor Webb led the collective efforts of the nation's Mayors to enact new federal legislation to fight crime and establish common sense gun laws. He has also encouraged Mayors around the world to exchange ideas and information to combat shared challenges. He was the first Mayor and only the third American to speak before the German Parliament in Berlin.