The National League of Cities
1301 Pennsylvania Avenue NW
Suite 550
Washington DC 20004
USA
Tel: +1 202 626-3000
Fax:+1 202 626-3043
Internet: www.nlc.org



FRONT PAGE
SiteSearch
About us
Directories

US metro economies 2006
US municipal bonds
Large US cities hardest hit by recession
2004/05 job prospects in US cities
Safest US cities

NYC budget
US metro agenda
Urban poverty in the US
US cities in fiscal crisis
US mayoral elections
US Conference of Mayors
Mayors' Institute on City Design
National League of Cities


City Mayors reports news from towns and cities around the world. Worldwide | Elections | North America | Latin America | Europe | Asia | Africa | Events |




Mayors from The Americas, Europe. Asia, Australia and Africa are competing for the annual World Mayor Award. More




City Mayors ranks the world's largest as well as richest cities and urban areas. It also ranks the cities in individual countries, and provides a list of the capital cities of some 200 sovereign countries. More




City Mayors reports political events, analyses the issues and depicts the main players. More




City Mayors describes and explains the structures and workings of local government in Europe, The Americas, Asia, Australia and Africa. More




City Mayors profiles city leaders from around the world and questions them about their achievements, policies and aims. More




City Mayors deals with economic and investment issues affecting towns and cities. More




City Mayors reports on how business developments impact on cities and examines cooperation between cities and the private sector. More




City Mayors describes and explains financial issues affecting local government. More




City Mayors lists and features urban events, conferences and conventions aimed at urban decision makers and those with an interst in cities worldwide. More




City Mayors reports urban environmental developments and examines the challenges faced by cities worldwide. More




City Mayors reports on and discusses urban development issues in developed and developing countries. More



City Mayors reports on developments in urban society and behaviour and reviews relevant research. More




City Mayors deals with urban transport issues in developed and developing countries and features the world's greatest metro systems. More




City Mayors examines education issues and policies affecting children and adults in urban areas. More




City Mayors investigates health issues affecting urban areas with an emphasis on health in cities in developing countries. More




City Mayors examines the importance of urban tourism to city economies. More




City Mayors examines the contributions history and culture make to urban society and environment. More




City Mayors describes the history, architecture and politics of the greatest city halls in the world. More




City Mayors invites readers to write short stories about people in cities around the world. More




City Mayors questions those who govern the world's cities and talks to men and women who contribute to urban society and environment. More




City Mayors profiles national and international organisations representing cities as well as those dealing with urban issues. More




City Mayors reports on major national and international sporting events and their impact on cities. More




City Mayors lists cities and city organisations, profiles individual mayors and provides information on hundreds of urban events. More


This is an archived article published in December 2003
US cities cut civic services and
staff to confront financial crisis

As a result of an increasing squeeze on municipal budgets, many US cities and towns are cutting staff and services and increasing fees, according to survey of 328 cities by the National League of Cities (NLC), the oldest and largest organization representing US cities.

The NLC's 19th annual survey of city finances found more than four out of five finance directors surveyed (81%) said their cities were less able to meet financial needs compared with the previous year, the largest proportion since 1990.

Spending increases outpaced revenue increases in cities' 2002-2003 fiscal year by 3.1 per cent compared with the previous year. The gap in revenues and expenditures was fuelled by rising employee health care and pension costs, declines in sales, income and tourist tax revenues, cuts in state aid, and increased demands for spending on public safety and homeland security.

US city finance officers said the biggest negative factors affecting budgets were:
• Costs of city workers' health benefits (cited by 63 per cent),
• Costs of city workers' pensions (30 per cent),
• Reduction in state aid (29 per cent),
• The local economy (25 per cent), and
• Infrastructure needs (25 per cent).

American cities are responding by cutting back personnel and government spending in areas other than public safety, curtailing capital and infrastructure investment, raising user fees and charges, and drawing down ending balances, or rainy day funds, which cities set aside for emergencies.

In response to the deteriorating fiscal condition of cities:
• Nearly half (47 per cent) of all cities increased fee rates in 2003,
• 30 per cent reduced city employment,
• 29 per cent imposed new fees or charges on services,
• 21 per cent reduced actual levels of capital spending, and
• 11 per cent reduced city service levels.

Many US Cities have drawn down their ending balances, or rainy day funds, which cities set aside for emergencies. Ending balances as a percentage of expenditures dropped to 17.9 per cent, the lowest level in five years.

In November 2003, National League of Cities President John DeStefano, Mayor of New Haven, Connecticut, said the US was under-investing in cities and towns and called for a stronger federal-local partnership to fund programs that help build and preserve the middle class in America. "Under-funded public schools, smaller police forces, deteriorating transportation systems, expensive health care, sprawl — these are public choices that increasingly subvert our American ideal, even as we fight for it overseas," Mr DeStefano stressed.

While there are signs of an improving economy, the effects are unlikely to be felt by cities and towns soon and city officials are anticipating that budgets will be equally pinched in 2004.

Michael Pagano, Professor of Public Administration at the University of Illinois at Chicago, said that even if the economy fully recovered tomorrow, cities would still be facing increased fiscal stress over the next year. He added: "This is because of rising costs for cities and towns such as healthcare and pensions, new responsibilities such as homeland security, cuts in state aid to cover state shortfalls, and continued need to invest in infrastructure."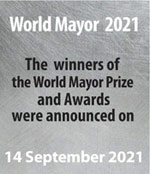 The best Mayors for Stronger | Fairer | Greener cities. Elect your candidate for the 20/21 World Mayor Prize and Honours. The Prize has been awarded since 2004