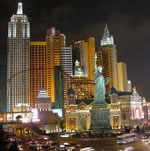 In 2006, Las Vegas will have one of the fastest growing metro economies (Photo: Phil Wherry)




FRONT PAGE
SiteSearch
About us
Directories

US metro economies 2006
US metro economies 2011
US metro employment
World's top start-up locations
Big pharma versus US cities
Real estate USA
NYC prepares for future
Stimulus package for US cities
LA in real estate crisis
Strong local government
US population reaches 300m
USA: Demolition as planning tool
Global Cities Index
World's top cities
World's richest cities (GDP)
US migration
Big-box retailers
US urban homelessness
US metro agenda
Urban poverty in the US
US cities in fiscal crisis
US local government


City Mayors reports news from towns and cities around the world. Worldwide | Elections | North America | Latin America | Europe | Asia | Africa | Events |




Mayors from The Americas, Europe. Asia, Australia and Africa are competing for the annual World Mayor Award. More




City Mayors ranks the world's largest as well as richest cities and urban areas. It also ranks the cities in individual countries, and provides a list of the capital cities of some 200 sovereign countries. More




City Mayors lists and features urban events, conferences and conventions aimed at urban decision makers and those with an interst in cities worldwide. More




City Mayors reports political events, analyses the issues and depicts the main players. More




City Mayors describes and explains the structures and workings of local government in Europe, The Americas, Asia, Australia and Africa. More




City Mayors profiles city leaders from around the world and questions them about their achievements, policies and aims. More




City Mayors deals with economic and investment issues affecting towns and cities. More




City Mayors reports on how business developments impact on cities and examines cooperation between cities and the private sector. More




City Mayors describes and explains financial issues affecting local government. More




City Mayors reports urban environmental developments and examines the challenges faced by cities worldwide. More




City Mayors reports on and discusses urban development issues in developed and developing countries. More



City Mayors reports on developments in urban society and behaviour and reviews relevant research. More




City Mayors deals with urban transport issues in developed and developing countries and features the world's greatest metro systems. More




City Mayors examines education issues and policies affecting children and adults in urban areas. More




City Mayors investigates health issues affecting urban areas with an emphasis on health in cities in developing countries. More




City Mayors examines the contributions history and culture make to urban society and environment. More




City Mayors examines the importance of urban tourism to city economies. More




City Mayors describes the history, architecture and politics of the greatest city halls in the world. More




City Mayors invites readers to write short stories about people in cities around the world. More




City Mayors questions those who govern the world's cities and talks to men and women who contribute to urban society and environment. More




City Mayors profiles national and international organisations representing cities as well as those dealing with urban issues. More




City Mayors reports on major national and international sporting events and their impact on cities. More




City Mayors lists cities and city organisations, profiles individual mayors and provides information on hundreds of urban events. More


American metro areas remain nation's
economic engine but new jobs pay less
A report by Global Insight for the US Conference of Mayors
29 January 2006: America's metropolitan areas are responsible for more than 86 per cent of US GDP, says a report published for the US Conference of Mayors in January 2006. However, unlike states and nations, metro economies are primarily defined and shaped by the nature of their economic activity. For example, New York was well known for its financial industry, Boston for its high-tech industry, and Detroit for the automobile industry. Indeed, most major industries in the US started in cities, including automobile manufacturing (Detroit), television (New York), and personal computer manufacturing (San Jose).

A key element behind the economic development and success of metro areas is the close proximity of businesses and skilled labor. The easy access to resources such as labor, extensive business networks, and cutting-edge research performed at institutes of higher learning attracts both capital and entrepreneurs to metro areas. As a result, metro areas are often at the center of the development of many new technologies, such as biotechnology, and play a major role in shaping the future economic direction of the US economy and its global competitiveness.

The rebound of the US labor market and increasing economic activity in metro areas generally has been a key factor behind the robust growth in national output in 2004-2005. Metro economies now account for more than 86 per cent of national output, a statistic, which dramatically highlights the importance of the metro areas to the nation. In 2005, according to the research organization Global Insight, inflation-adjusted output in the metro areas increased by 3.7 per cent, following 2004 growth of 4.4 per cent, the highest rate of the decade. These results mark the completion of the recovery from the 2001 recession, when real gross metropolitan product (GMP) growth was a meager 1.3 per cent.

Real GDP growth for the entire US in 2004, 4.2 per cent, was lower than that for metro areas. This underscores the key role played by the metro areas in pulling the national economy out of the long, jobless recovery of this decade. Indeed, 65 per cent of the 361 US metro areas grew faster than the nation in inflation adjusted terms in 2003, followed by 52 per cent in 2004. With the metro areas growing slightly faster than the nation in 2003 and 2004, non-metro area growth lagged behind the national economy during this period. Over those years 87.4 per cent of US economic growth was generated in metro areas. In 2005 Global Insight estimates that 86.9 per cent of GDP growth occurred in metro areas. Inflation-adjusted GMP increased by 3.7 per cent in 2005, slightly ahead of the 3.6 per cent rate of GDP growth.

The total size of the metro economies has grown significantly since the early 1990s. Aggregate metro output stood at US$10.7 trillion in 2005, having exceeded the $10 trillion mark in 2004. This translates into average annual growth of 5.4 per cent from the $6.0 trillion value in 1994. As a result of this rapid expansion, metro economies now account for 86.3 per cent of the nation's output of goods and services, compared with 84.8 per cent in 1994. That growth over the decade resulted in metro production of an additional $190 billion in 2004. This trend is expected to continue through the next decade as the focus of economic growth and activity in the nation remains on the metro areas. By 2015 Global Insight forecasts that 88.5 per cent of US gross domestic product, around $21 trillion, will be derived from the nation's metro areas. By 2030, metro areas will produce over 91 per cent of the value of all goods and services of the US

Due to the jobless nature of the recovery from the 2001 recession, employment growth in the nation's metro areas slowed rapidly in 2001 and fell in the subsequent two years, by 1.1 per cent in 2002, and 0.2 per cent in 2003. These declines essentially matched the percentage decline in payrolls across the entire United States during these two years. But as economic activity accelerated, metro area payroll jobs advanced by 1.1 per cent in 2004. As a result, by the end of 2004 metro areas had regained all of the jobs lost during the downturn and once again employed over 113 million workers, a peak last climbed in early 2001. Robust job growth has continued in 2005, at a rate of 1.4 per cent through the third quarter. In 2005, 86.6 per cent of new employment creation took place in metro areas, which added over 1.5 million jobs.

In 2006, the sunbelt metro areas of Las Vegas, Orlando, and Phoenix will lead the nation in job growth by wide margins over other large metro areas. Charlotte, Miami, Jacksonville, Tampa, Salt Lake City, and Riverside will generate gains in excess of 5 per cent over the 2004-2006 period. Smaller metros in the top ten gainers over this time also include Naples, Cape Coral, Reno, Yuma, El Centro, Prescott, St. George, Coeur d'Alene, and Sioux Falls.

The 1990s were in many ways an era of rebirth for the nation's cities, as many attracted residents for the first time in decades. While the recession this decade was a large step backwards, the job gains of the past two years have rekindled optimism. By the end of 2004, 220 of the 361 metros had regained all of the jobs lost since 2000. An additional 24 recovered their losses in 2005, bringing the total to 244, 68 per cent of all metros.

But labor markets have not improved uniformly across the country. Recovery has become harder--we project that only 18 more metros will regain 2000 employment levels in 2006. The small number is not insignificant, however, as it includes some of the nation's largest: Atlanta, Dallas-Fort Worth, Kansas City, New York, Seattle, and St. Louis are all expected to return to pre-recessionary job totals this year. That will still leave 99 metros, or 27 per cent of the total, with payrolls yet to recover, including Boston, Denver, and San Francisco—which took a major hit after the burst of the high-tech bubble--and Midwestern, manufacturing-heavy, metros such as Chicago, Cleveland, Detroit, and Pittsburgh.

Along with output and employment, the metro areas are also responsible for most of the nation's income growth. In 2004, workers in the nation's metro areas earned a combined $4.8 trillion in wages and salaries, compared with $558 billion that went to those employed in the non-metro areas of the country. In 2005 Global Insight estimates that metro area workers earned $5.1 trillion, versus $587 billion elsewhere. With higher paying jobs, such as those in the financial, information, and professional and business services sectors, being clustered in the metros, these workers also tend to have considerably higher wages. In 2004, a metro area worker earned an average of $42,300 in wages and benefits, while the average non-metro area worker earned $29,200. Part of the reason behind this disparity is the higher productivity of workers and businesses in metro areas.

While, like job growth, wage growth has been uneven across metros, the average wage in metro areas has grown, by 4.3 per cent in 2004 and by 5.1 per cent in 2005. Nevertheless, recovery from the 2001 recession has also been characterized by wage pressures that have caused a gap between wage levels of jobs lost in the recession and jobs gained in the recovery. In 2003 Global Insight and the US Conference of Mayors examined the quality of jobs lost and gained over the recent business cycle in the nation as a whole. The report highlighted a wage gap between the jobs lost from the beginning of the recession through the end of 2003, and those that were projected to be added back to the economy during 2004 and 2005.

Global Insight projected that the average annual wage of $43,629 in the top ten sectors that lost jobs during the 2001–03 period, would not be matched by the average wage of $35,855 in those sectors adding jobs through 2005. Job gains would come in those sectors where wages average only 82 per cent of those in the sectors hit hardest by the recession. This projected 18 per cent gap reflected, in part, the higher-than-average wages paid in the declining manufacturing sectors. Many of those manufacturing jobs and others lost in the information sector, had been sent overseas due to outsourcing, or were lost due to firm and plant closings because of oversupply as demand waned. Indeed, the measured wage gap given the composition of actual job gains in 2004 and 2005 is substantially higher than earlier projection. The average wage, measured in 2003, of those added jobs in the leading expanding sectors has been just $34,378, 4.1 per cent lower than anticipated in the recovery. The wage gap between jobs lost and jobs gained is 21 per cent.

With few exceptions, most major industries in the US started in cities, including automobile manufacturing (Detroit), television broadcasting (New York), and personal computer manufacturing (San Jose). Metro areas provide new industries with crucial amenities, including a diverse and ample supply of labor, financial and physical capital, access to national and international markets, and a local base of technical knowledge, which are essential for their initial development and eventual success. The transportation and telecommunications infrastructure available in metro areas directly reduces operating costs, a crucial competitive advantage. As an industry matures, technological advances often allow companies within that industry to move to non-urban locations. As a consequence, newer, faster-growing industries tend to cluster within metro areas, while older, slower-growing industries are less tied to urban locations.

Two key segments of the US economy—financial services and professional and business services—are almost entirely concentrated within metro areas. In particular, the professional and business services sector contains some of the nation's newest and most innovative industries including computer systems design, management consulting, and biotechnology research. Despite the recent dot-com bust and high-tech slowdown, it is still desirable to have these fast-growing industries within a metro area. Nevertheless, maintaining a high level of diversity is also critical to help insulate a metro area from the sector-specific slowdowns that inevitably occur.

The 361 US metropolitan areas are an integral, indeed dominant, force in the economy, generating more than 85 per cent of its jobs, income, and output. During the recent recession, metro areas outpaced the national economy, helping to drive the recovery and return the country to solid growth. The pace of jobs recovery was slow, but the nation has indeed achieved record employment levels and is poised for further growth. However, many of the gains have been in low-wage sectors. There exists a wage gap, of 21 per cent, between the average wage in sectors which lost jobs though 2003, and the leading sectors which have subsequently expanded payrolls. Thirty-two states and 244 metro areas have regained all of the jobs they lost in the recession, and 18 more, including New York, Dallas, and Atlanta, are expected to surpass their previous peaks in the coming year. Metro areas will continue drive the US economy, generating its highest-paying jobs in the years ahead.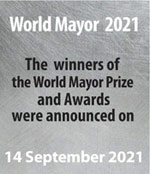 The best Mayors for Stronger | Fairer | Greener cities. Elect your candidate for the 20/21 World Mayor Prize and Honours. The Prize has been awarded since 2004.