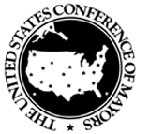 The United States Conference of Mayors
J. Thomas Cochran
Executive Director
1620 Eye Street, NW, Washington
DC 20006
USA
Tel: +1 202 293-7330
Fax: +1 202 293-2352
Internet: www.usmayors.org



FRONT PAGE
SiteSearch
About us
Directories

Power relations in US cities
Mayors for US presicency
US politcs and consumerism
US elections 2010: Results
US elections 2009: Results
Obamas' urban policies
Politically neglected US cities
Large US cities hardest hit by recession
Safest US cities
NYC fights noise pollution
US cities on the internet
Urban poverty in the US
US cities in fiscal crisis
US Conference of Mayors
Mayors' Institute on City Design
National League of Cities
LA Mayor Villaraigosa
US mayors


City Mayors reports news from towns and cities around the world. Worldwide | Elections | North America | Latin America | Europe | Asia | Africa | Events |




Mayors from The Americas, Europe. Asia, Australia and Africa are competing for the annual World Mayor Award. More




City Mayors ranks the world's largest as well as richest cities and urban areas. It also ranks the cities in individual countries, and provides a list of the capital cities of some 200 sovereign countries. More




City Mayors lists and features urban events, conferences and conventions aimed at urban decision makers and those with an interst in cities worldwide. More




City Mayors reports political events, analyses the issues and depicts the main players. More




City Mayors describes and explains the structures and workings of local government in Europe, The Americas, Asia, Australia and Africa. More




City Mayors profiles city leaders from around the world and questions them about their achievements, policies and aims. More




City Mayors deals with economic and investment issues affecting towns and cities. More




City Mayors reports on how business developments impact on cities and examines cooperation between cities and the private sector. More




City Mayors describes and explains financial issues affecting local government. More




City Mayors reports urban environmental developments and examines the challenges faced by cities worldwide. More




City Mayors reports on and discusses urban development issues in developed and developing countries. More



City Mayors reports on developments in urban society and behaviour and reviews relevant research. More




City Mayors deals with urban transport issues in developed and developing countries and features the world's greatest metro systems. More




City Mayors examines education issues and policies affecting children and adults in urban areas. More




City Mayors investigates health issues affecting urban areas with an emphasis on health in cities in developing countries. More




City Mayors examines the contributions history and culture make to urban society and environment. More




City Mayors describes the history, architecture and politics of the greatest city halls in the world. More




City Mayors invites readers to write short stories about people in cities around the world. More




City Mayors questions those who govern the world's cities and talks to men and women who contribute to urban society and environment. More




City Mayors profiles national and international organisations representing cities as well as those dealing with urban issues. More




City Mayors reports on major national and international sporting events and their impact on cities. More




City Mayors lists cities and city organisations, profiles individual mayors and provides information on hundreds of urban events. More



This is an archived article published in February 2004
US presidential candidates
need to make cities a priority

At the beginning of America's 2004 election campaign, the US Conference of Mayors unveiled its 'Presidential Agenda for America's Future'. Nearly 300 mayors of America's largest cities met in Washington DC to launch a five-point plan outlining key priorities for US cities. US mayors called on the country's next President to recognise the economic importance of US metropolitan areas and to join mayors in partnership to develop urban security, health, transport and education structures worthy of the cities of the world's number one economy.

The US Conference of Mayors is the official nonpartisan organization of US cities with populations of more than 30,000. There are 1,139 such cities in the US, each represented in the Conference by its chief elected official, the Mayor.

Hempstead Mayor and former President of the US Conference of Mayors, James A Garner, urged the presidential candidates to seriously consider and respond to the organisation's agenda. "US presidential elections are the single greatest opportunity for the country to direct its future. This means America's metro economies strong," Mr Garner said.

The Hempstead Mayor continued to explain that America's metro areas, its cities and suburbs, were the engines of the nation's economy. "US urban areas have generated 87 per cent of US economic growth, which translates into more than $3.8 trillion. US cities generate more than 85 per cent of the nation's economic output, labor income and jobs. In the global market place, US metropolitan areas represent 48 of the world's largest 100 economies," Mr Garner emphasized.

James Garner stressed that sustainable growth of US metro economies was dependent on a President who would work closely with mayors to develop the most innovative and creative policies for the country. "America's strength has always been locally driven, in its communities. We do not need a federal government that delivers unfunded mandates. Instead we need true partnership and real results for the American people and its cities," Mr Garner said.

The former President of the US Conference of Mayors invited the American public to consider the organisation's agenda and ask tough questions before they go to the polls in November 2004.

'The US Mayors 2004 Presidential Agenda for America's Future' made recommendations in five key areas.
Homeland security: - keeping America safe
As a nation, America's future requires a strong, comprehensive homeland security system to protect every US community from terrorism.

• Create a new, more productive partnership between the Federal government and cities that cuts through needless bureaucratic delay and funds cities directly based on threat vulnerability assessments.

• Create a new communication and coordination system that links Federal officials with local officials and effectively uses the 600,000 local law enforcement officers already protecting our communities.

• Establish an independent, national commission to evaluate American readiness to prevent and respond to terrorism. To keep Americans safe, the federal government must renew its commitment to fight both terrorism and traditional crime.

• Fight terrorism without abandoning the fight against crime by putting more police officers on the streets.

• Support the local law enforcement grant.
- Completely reform the juvenile justice system.
- Provide drug treatment to every American who needs it.

Smart investment: New infrastructure for a New Economy
US metro economies need modern infrastructure to secure the nation's future economic growth, yet the American Society of Civil Engineers gives the vast majority of US infrastructure a failing grade (D or F).

• Build a 21th Century transportation system with modern high speed rail, transit, bus system with new technology which will link major metro areas, cut the time people spend in traffic, create more jobs, and move goods and services more productively.

• Develop a new, modern infrastructure investment plan, creatively using pension funds, insurance guarantees, infrastructure bonds, and creative public/private partnerships to help finance major projects in US cities.

• Develop a new, innovative energy plan that frees us and our allies from dependence on oil, undercuts the financing of terrorists, and secures our economic future.

Jobs for the future: Keeping America at work in a global economy
The US government must be responsive to the new realities that current and future workers face with shrinking manufacturing jobs, the anemic job recovery, and global competition.

• Develop small business tax incentives that will encourage innovation, create new jobs, and train workers.
• Dramatically improve public schools by forming smaller public high schools, fully funding 'Head Start' and keeping federal government's commitment to fund 100 per cent of special education costs, freeing up local resources for public schools.

Tax incentives to foster public/private partnerships
Keeping metro economies growing also depends on the creation of innovative public/private partnerships to invest wisely in infrastructure and sustainable development projects.

• Provide targeted tax incentives to attract investments in the nation's 600,000 brownfields, to help build low- and moderate- income single and multifamily housing, and to foster private investment in modern infrastructure development including transportation and water projects.

Caring for the health of people
America's medical research is the best in the world. Yet disparity of health care among our citizens is dramatic and access to quality health care remains out of reach for many.

• Require universal health care for all children by helping families secure medial coverage through refundable tax credits, the CHIPS programme or other means; and guarantee every American family,
individual, or small business owner should be guaranteed affordable health care through access to the medical coverage enjoyed by representatives in Congress.

• Spend tax dollars wisely by allowing federal, state and local government authorities to negotiate cheaper drug prices from the pharmaceutical industry.

• Participate or develop a global system of distributing drugs cost-effectively for the millions of lives threatened by global pandemics such as HIV/AIDS. As we move through the process of selecting our next President, mayors look forward to going back to their cities and engaging with the presidential candidates on these five key issues throughout the upcoming primaries and into the general election.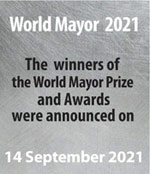 The best Mayors for Stronger | Fairer | Greener cities. Elect your candidate for the 20/21 World Mayor Prize and Honours. The Prize has been awarded since 2004