London Taxis of North America
80 Union Avenue
Sudbury
MA 01776
USA
Tel: +1-978-579-8944
Fax: +1-978-579-8945
E-mail: info@londontaxisna.com
Internet: www.londontaxisna.com



FRONT PAGE
SiteSearch
About us
Directories

Hydrogen buses
Emergency call systems
ICLEI Energy Services
Urban pollution
Smart cars


City Mayors reports news from towns and cities around the world. Worldwide | Elections | North America | Latin America | Europe | Asia | Africa | Events |




Mayors from The Americas, Europe. Asia, Australia and Africa are competing for the annual World Mayor Award. More




City Mayors ranks the world's largest as well as richest cities and urban areas. It also ranks the cities in individual countries, and provides a list of the capital cities of some 200 sovereign countries. More




City Mayors reports political events, analyses the issues and depicts the main players. More




City Mayors describes and explains the structures and workings of local government in Europe, The Americas, Asia, Australia and Africa. More




City Mayors profiles city leaders from around the world and questions them about their achievements, policies and aims. More




City Mayors deals with economic and investment issues affecting towns and cities. More




City Mayors reports on how business developments impact on cities and examines cooperation between cities and the private sector. More




City Mayors describes and explains financial issues affecting local government. More




City Mayors lists and features urban events, conferences and conventions aimed at urban decision makers and those with an interst in cities worldwide. More




City Mayors reports urban environmental developments and examines the challenges faced by cities worldwide. More




City Mayors reports on and discusses urban development issues in developed and developing countries. More



City Mayors reports on developments in urban society and behaviour and reviews relevant research. More




City Mayors deals with urban transport issues in developed and developing countries and features the world's greatest metro systems. More




City Mayors examines education issues and policies affecting children and adults in urban areas. More




City Mayors investigates health issues affecting urban areas with an emphasis on health in cities in developing countries. More




City Mayors examines the importance of urban tourism to city economies. More




City Mayors examines the contributions history and culture make to urban society and environment. More




City Mayors describes the history, architecture and politics of the greatest city halls in the world. More




City Mayors invites readers to write short stories about people in cities around the world. More




City Mayors questions those who govern the world's cities and talks to men and women who contribute to urban society and environment. More




City Mayors profiles national and international organisations representing cities as well as those dealing with urban issues. More




City Mayors reports on major national and international sporting events and their impact on cities. More




City Mayors lists cities and city organisations, profiles individual mayors and provides information on hundreds of urban events. More


This is an archived article published in September 2003
London taxis ply their trade
on the streets of US cities

The traditional London Taxi, famous for transporting the public in England for more than 50 years, is now available to taxi and livery fleet owners, hotels and resorts, and private consumers in North America. Massachusetts-based London Taxis North America Inc (LTNA), the vehicles' exclusive distributor in the US and Canada, took delivery of their first North American production vehicles when they arrived in Boston in late August 2003. The vehicle is available in two models: the 'Civilized Taxi', designed for the commercial taxi market and the 'London Executive Sedan, designed for the private livery market.

Larry Smith, CEO of LTNA, told City Mayors that his company was pleased to offer an alternative to the traditional taxis and livery cars. "We wanted to bring an internationally recognized brand, the London Taxi, to an underserved industry. We have invested enormous resources to meet the regulatory requirements needed to operate these vehicles here, and are confident that consumers will appreciate the unique styling, quality, and features of the London Taxi," he added.

Mr Smith, along with his investor group, has acquired the exclusive rights from London Taxis International in Coventry, England, the original maker of the taxis, to market and distribute the vehicles in the North America. To date, 125 London Taxis have been ordered by taxi and livery companies, as well as resorts, real estate companies and some private consumers. A few have started service in Chicago where they are painted yellow. By the end of 2003, they made their debut in Boston, Washington DC, Los Angeles and Detroit. But, so far, there are no plans to introduce them in New York City.

In North America, a London Taxi costs around US$48,000 twice the price for standard taxis. But while the typical US taxi needs to be replaced every three years, Larry Smith predicts that London Taxis will have a lifespan of five to six years.

The engineers of LTNA have successfully re-worked the taxis to meet US specifications. They have passed the US Department of Transportation's myriad of stringent regulations, and they comply with all the requirements of the Environmental Protection Agency and the California Air Resource Board.

The process began more than two years ago, when Mr Smith and his investor group began testing the vehicles at various auto proving grounds throughout North America. To meet US and Canadian requirements, LTNA added a driver's airbag, redesigned the lighting system, recalibrated the engine and added other component redesigns to comply with all standards. The cars have undergone extensive road, crash, climatic, and environmental testing.

Features of the vehicle include: a fuel-efficient, Ford-produced 2.4 litre turbo diesel engine which averages 24 miles per gallon in the city and 28 miles per gallon on the highway; bolt-on, bolt-off exterior steel panels; an incomparable 25ft. turning radius; comfortable seating for five adults, providing them with more leg room than that of a first-class airline seat; a built-in child safety/booster seat; independent passenger rear heating and air conditioning systems; wheelchair accessibility and a driver-to-passenger intercom system.

"Not only are London Taxis stylish and fun to ride in," said Mr Smith, "they also are truly practical cars that will meet the needs and exceed the expectations of taxi and livery fleet owners and their customers. These cars are extremely durable with an average life of more than 500,000 miles."

London Taxis also offer senior citizens and people with disabilities a number of features typically not available in most taxi and livery vehicles, including: wheelchair accessibility via an integrated access ramp; wheelchair security belts; a securable and easy-to-use swivel seat for access and egress; highly visible yellow grab handles and seat edges to assist visually impaired persons; and a hearing induction loop built into the intercom system for hearing impaired persons.

The taxis still retain much of what makes them uniquely British. The generous headroom dates back to an old English law that required enough space so that gentlemen did not need to remove their top hats while riding in taxis. The 25ft. turning circle has its roots in tradition as well: taxi drivers were required to have the ability to drop off a fare at one kerb and immediately pick up the next fare directly across the street by making a u-turn on the narrow streets of London.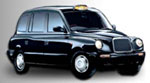 The London Taxi seats up to five passengers and provides storage space next to the driver.

A short history of the London Taxi
The story of London Taxis really begins in 1919 when Robert 'Bobby' Jones started building bodies for the fast-growing motor industry on behalf of timber merchants Gooderham and Company of Coventry, England. He quickly took over this side of the business for himself with a silent partner. Trading under the mane 'Carbodies', the firm built bodies for Crouch, Alvis and MG, as well as adapting their standard bodies for bespoke jobs, for Bobby would not turn away work.

By 1921 he had moved into his own premises and in the harsh economic climate of those years survived by a combination of hard work and determination, buying out his partner on the way, becoming sole proprietor and bringing his son, Ernst, into the business. In the 1930's the company built bodies on a contract basis for the newly-formed Rootes Group and for Railton, specializing in sports bodies and drophead coupes.

Like many other companies, Carbodies spent 1935-45 on war work where their expertise was suited to making specialist military vehicles and aircraft components. Under the Lease-Lend scheme they obtained heavy presses and Pratt and Whitney Keller die machines, and gained expertise in using Kirksite, an alloy used fir die making which although softer than steel, was ideal for the short run work that suited Carbodies so well.

Post war, they survived by making all manner of vehicle, but soon evolved a system to convert all steel saloon cars into drophead coupes. From 1954, ownership by the giant BSA Group led to one of the most diverse periods in Carbodies' history. Most importantly, in 1947 they began a long association with London Taxis, and following their acquisition by Manganese Bronze Holding in 1973, concentrated solely on taxi manufacture, leading up to the new TX1 which was unveiled at the 1997 London Motor Show.