Siemens Business Services
81730 München
Germany
Tel.: +49-89 636 43734
Fax: +49 89 636 42162
Internet: www.siemens.com



FRONT PAGE
SiteSearch
About us
Directories

Lewisham technology
Low-cost internet access
Turin interview
Wireless internet access
Hydrogen buses
Brownfield sites
ICLEI Energy Services
London taxis for US cities
Smart cars
NYC streetlight competition


City Mayors reports news from towns and cities around the world. Worldwide | Elections | North America | Latin America | Europe | Asia | Africa | Events |




Mayors from The Americas, Europe. Asia, Australia and Africa are competing for the annual World Mayor Award. More




City Mayors ranks the world's largest as well as richest cities and urban areas. It also ranks the cities in individual countries, and provides a list of the capital cities of some 200 sovereign countries. More




City Mayors reports political events, analyses the issues and depicts the main players. More




City Mayors describes and explains the structures and workings of local government in Europe, The Americas, Asia, Australia and Africa. More




City Mayors profiles city leaders from around the world and questions them about their achievements, policies and aims. More




City Mayors deals with economic and investment issues affecting towns and cities. More




City Mayors reports on how business developments impact on cities and examines cooperation between cities and the private sector. More




City Mayors describes and explains financial issues affecting local government. More




City Mayors lists and features urban events, conferences and conventions aimed at urban decision makers and those with an interst in cities worldwide. More




City Mayors reports urban environmental developments and examines the challenges faced by cities worldwide. More




City Mayors reports on and discusses urban development issues in developed and developing countries. More



City Mayors reports on developments in urban society and behaviour and reviews relevant research. More




City Mayors deals with urban transport issues in developed and developing countries and features the world's greatest metro systems. More




City Mayors examines education issues and policies affecting children and adults in urban areas. More




City Mayors investigates health issues affecting urban areas with an emphasis on health in cities in developing countries. More




City Mayors examines the importance of urban tourism to city economies. More




City Mayors examines the contributions history and culture make to urban society and environment. More




City Mayors describes the history, architecture and politics of the greatest city halls in the world. More




City Mayors invites readers to write short stories about people in cities around the world. More




City Mayors questions those who govern the world's cities and talks to men and women who contribute to urban society and environment. More




City Mayors profiles national and international organisations representing cities as well as those dealing with urban issues. More




City Mayors reports on major national and international sporting events and their impact on cities. More




City Mayors lists cities and city organisations, profiles individual mayors and provides information on hundreds of urban events. More



This archived article was published 5 November 2003
Siemens installs emergency
call system in 113 Italian cities
Siemens Business Services, a subsidiary of Munich-based Siemens AG, has implemented Europe's largest mobile emergency call system for the Italian police force (Carabinieri). The order for the system, which has gone live in 113 Italian cities, is worth nearly 80 million euro. A total of 102 provincial command centres have been equipped with state-of-the-art call centre technology and linked up via GSM to some 8,000 Carabinieri vehicles, which are in turn equipped with the GPS satellite navigation system.

Since the solution was introduced, there have been clear improvements both in the efficiency with which the Italian police monitor their national territory and in the level of security enjoyed by the Italian population. Initially launched in 2000 as a pilot project, the system devised by the Siemens subsidiary first went live in May 2001 in 65 Italian cities. In the meantime, this figure has grown to 113 cities.

The solution functions in the same way in each city. When a call is received in the control centre, the system automatically identifies the name and address of the caller on the basis of the telephone number and displays this data immediately on the digital street map shown on the screen. The current location and subsequent movements of the alerted vehicles are displayed on this map in real time. The operator then prepares an operations data sheet with all the relevant information and specifying the level of urgency of the particular emergency. This allows the Carabinieri control centre to respond promptly and carry out the necessary action with the proper resources. The data relating to the position of the patrol cars is transmitted to the centre via the GSM network by SMS or via the Carabinieri's radio transmission channels. Conversely, the operations centre can send text messages to vehicles with detailed information on the scene and type of emergency. It is also possible for some vehicle functions to be 'controlled' remotely from the operations centre. For example, if the officers have to leave the vehicle, the operations centre can lock the doors and turn off the engine with a simple mouseclick.

The project has been further refined by the introduction of the 'Carabiniere di quartiere' - similar to a 'cop on the beat' who patrols a particular district on foot. These police officers are equipped with pocket PCs with a direct connection to headquarters, enabling them to be located at any time and to carry out a variety of routine tasks.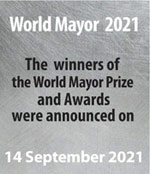 • Poverty is a crime against humanity
• Support mayors who fight poverty
• Nominate the best for the 2020 World Mayor Prize