NORISC
c/o Lord Mayor's Office
Office for European Affairs
City of Cologne
Willy-Brandt-Platz 3
50679 Köln
Germany
Tel: +49 221 221 215 94, Fax: +49 221 221 218 49
Internet:
www.norisc.com
Contacts:
Michael Kremer
Email:
Michael.kremer
@stadt-koeln.de
Dr Barbara Möhlendick (NORISC Project Coordinator)



FRONT PAGE
SiteSearch
About us
Directories

Hydrogen buses
Emergency call systems
ICLEI Energy Services
ICLEI Environment
London taxis for US cities
Smart cars


City Mayors reports news from towns and cities around the world. Worldwide | Elections | North America | Latin America | Europe | Asia | Africa | Events |




Mayors from The Americas, Europe. Asia, Australia and Africa are competing for the annual World Mayor Award. More




City Mayors ranks the world's largest as well as richest cities and urban areas. It also ranks the cities in individual countries, and provides a list of the capital cities of some 200 sovereign countries. More




City Mayors reports political events, analyses the issues and depicts the main players. More




City Mayors describes and explains the structures and workings of local government in Europe, The Americas, Asia, Australia and Africa. More




City Mayors profiles city leaders from around the world and questions them about their achievements, policies and aims. More




City Mayors deals with economic and investment issues affecting towns and cities. More




City Mayors reports on how business developments impact on cities and examines cooperation between cities and the private sector. More




City Mayors describes and explains financial issues affecting local government. More




City Mayors lists and features urban events, conferences and conventions aimed at urban decision makers and those with an interst in cities worldwide. More




City Mayors reports urban environmental developments and examines the challenges faced by cities worldwide. More




City Mayors reports on and discusses urban development issues in developed and developing countries. More



City Mayors reports on developments in urban society and behaviour and reviews relevant research. More




City Mayors deals with urban transport issues in developed and developing countries and features the world's greatest metro systems. More




City Mayors examines education issues and policies affecting children and adults in urban areas. More




City Mayors investigates health issues affecting urban areas with an emphasis on health in cities in developing countries. More




City Mayors examines the importance of urban tourism to city economies. More




City Mayors examines the contributions history and culture make to urban society and environment. More




City Mayors describes the history, architecture and politics of the greatest city halls in the world. More




City Mayors invites readers to write short stories about people in cities around the world. More




City Mayors questions those who govern the world's cities and talks to men and women who contribute to urban society and environment. More




City Mayors profiles national and international organisations representing cities as well as those dealing with urban issues. More




City Mayors reports on major national and international sporting events and their impact on cities. More




City Mayors lists cities and city organisations, profiles individual mayors and provides information on hundreds of urban events. More


This is an archived article published in October 2003
NORISC seeks private investors to further
promote revitalisation of brownfield sites

Due to massive structural changes in the economies of all major industrial countries, many former industrial sites have been abandoned and, consequently, thousands of jobs have been lost. These abondoned brownfield sites are mostly situated in central urban locations and have therefore excellent access to public transport. Brownfield revitalisation is essential if cities want to make up job losses in old industries by creating employment opportunities in new industries and the service sector. Making brownfield sites once again productive and liveable will bring improvements to the social structure or urban communities.

With this in mind, as an initiative by the environmental department of the City of Cologne, the three-year NORISC project was launched in January 2001. The project was intended to promote the revitalisation of contaminated sites in urban areas. The acronym NORISC shows how this project attempts to improve current policies: NORISC stands for Network Oriented Risk-assessment by In-situ Screening of Contaminated sites. An interdisciplinary approach was developed within a network of cities and organisations. Sampling and analysis are intended to be carried out on-site. The NORISC consortium consists of cities, research institutes and universities from Germany, Hungary, Sweden, Greece, Italy, Poland and the USA.

The revitalisation of abandoned sites is necessary for the establishment of new industries but is often impaired by investment risks such as the contamination of soil. For investors, planning certainty at the early stage of development is crucial. As a result, businesses tend to invest on greenfield sites lying on the outskirts of communities. Cities lose jobs, potential tax revenue and, moreover, unspoiled land is used excessively.

Efforts to promote the revitalisation of brownfield properties are hampered by a number of problems. For instance, current environmental assessment techniques are extremely cost and time-consuming and do not provide spatial results. The rejuvenation of sites with potentially high re-usage values takes an unacceptably long time. Without a targeted recycling of the sites, urban structures will suffer while social and cultural life will deteriorate.

The NORISC project combines and integrates new and existing site investigation techniques in order to provide strategies for efficient risk assessment of contaminated sites. These techniques were derived from geophysics, geochemistry, geology and hydrogeology and include data processing with GIS. Measuring techniques focus on on-site analysis. A guideline for site investigation was established in the form of a decision support software. This valuable tool is of interest to city planners, decision-makers, landowners and investors. The software integrates data management which is compatible to common GIS systems. NORISC significantly contributes to improvements in site characterisation and risk assessment by minimising time and cost taken for investigation, redevelopment and remedial work.

Under its Fifth Framework Programme, the European Commission provided NORISC with some initial funding. This support will cease at the end of 2003 and the consortium is now looking into the possibility of attracting private investment. The project's coodinator, Dr Barbara Möhlendick, told City Mayors that there was a strong possibility that in 2004 NORISC would be re-formed as a limited company with a private sector investor as significant shareholder. Dr. Möhlendick said that while the software developed by NORISC would continue to be provided free of charge, a new company would also seek to act as paid consultants to municipal authorities and others involved in the revitalisation of brownfield sites.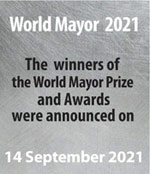 • Poverty is a crime against humanity
• Support mayors who fight poverty
• Nominate the best for the 2020 World Mayor Prize