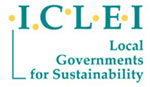 ICLEI World Secretariat
City Hall
West Tower 16th Floor
100 Queen Street
West Toronto
Ontario M5H 2N2
Canada
Tel: +1-416/392-1462
Fax: +1-416/392-1478
Email:
iclei@iclei.org
Internet:
www.iclei.org
ICLEI has Regional Offices and Secretariats around the world. For contact details, visit: www.iclei.org




FRONT PAGE
Site Search
About us | Quiénes somos |
A propos de nous | Über uns |
Mayor Monitor
Directories
Events
Debate



International
City Mayors Foundation
United Nations Alliance of Civilizations
International Organization for Migration
Integration: Building Inclusive Societies
United Cities
Sister Cities International
Glocal
Mayors for Peace
Urban pollution
ICLEI
The Americas
Canadian Municipalities
Association of Mexican cities
Conference of Black Mayors
National Urban League
National League of Cities
US Conference of Mayors
Mayors' Institute on City Design
Europe
Austrian Cities Association
French Association of Mayors
German Cities Association
UK LGA
Asia & Australia
Australia ALGA
Africa
Africa MDP


City Mayors reports news from towns and cities around the world. Worldwide | Elections | North America | Latin America | Europe | Asia | Africa | Events |




Mayors from The Americas, Europe. Asia, Australia and Africa are competing for the annual World Mayor Award. More




City Mayors ranks the world's largest as well as richest cities and urban areas. It also ranks the cities in individual countries, and provides a list of the capital cities of some 200 sovereign countries. More




City Mayors reports political events, analyses the issues and depicts the main players. More




City Mayors describes and explains the structures and workings of local government in Europe, The Americas, Asia, Australia and Africa. More




City Mayors profiles city leaders from around the world and questions them about their achievements, policies and aims. More




City Mayors deals with economic and investment issues affecting towns and cities. More




City Mayors reports on how business developments impact on cities and examines cooperation between cities and the private sector. More




City Mayors describes and explains financial issues affecting local government. More




City Mayors lists and features urban events, conferences and conventions aimed at urban decision makers and those with an interst in cities worldwide. More




City Mayors reports urban environmental developments and examines the challenges faced by cities worldwide. More




City Mayors reports on and discusses urban development issues in developed and developing countries. More



City Mayors reports on developments in urban society and behaviour and reviews relevant research. More




City Mayors deals with urban transport issues in developed and developing countries and features the world's greatest metro systems. More




City Mayors examines education issues and policies affecting children and adults in urban areas. More




City Mayors investigates health issues affecting urban areas with an emphasis on health in cities in developing countries. More




City Mayors examines the importance of urban tourism to city economies. More




City Mayors examines the contributions history and culture make to urban society and environment. More




City Mayors describes the history, architecture and politics of the greatest city halls in the world. More




City Mayors invites readers to write short stories about people in cities around the world. More




City Mayors questions those who govern the world's cities and talks to men and women who contribute to urban society and environment. More




City Mayors profiles national and international organisations representing cities as well as those dealing with urban issues. More




City Mayors reports on major national and international sporting events and their impact on cities. More




City Mayors lists cities and city organisations, profiles individual mayors and provides information on hundreds of urban events. More


ICLEI
Local Governments for Sustainability
14 November 2008: ICLEI is an international association of local governments and national and regional local government organisations that have made a commitment to sustainable development. Some 1000 cities, towns, counties, and their associations comprise ICLEI's growing international membership.

ICLEI works with these and hundreds of other local governments through international performance-based, results-oriented campaigns and programs. ICLEI has official consultative status with the UN and has represented local governments at UN conferences and workshops on sustainable development. Its mission is to build and serve a worldwide movement of local governments to achieve tangible improvements in global environmental and sustainable development conditions through cumulative local actions.

In November 2008, ICLEI announced that Mumbai had become its 1000th member. ICLEI Secretary General, Konrad Otto-Zimmermann and the South Asia Director Emani Kumar made the announcement in Nanjing at the World Urban Forum organized by UN-HABITAT. "We are proud that Mumbai joins ICLEI," declared Otto-Zimmermann. With the addition of Mumbai, ICLEI's membership has doubled since 2007. ICLEI now represents over 420 million people worldwide, with 100 of its members boasting populations of one million or more. Mumbai is the 15th Indian city to join ICLEI, along with metropolises like Delhi and Hyderabad. "Indian cities are in rapid development. They are looking for more efficient and sustainable ways to grow," said Emani Kumar.

ICLEI provides technical consulting, training, and information services to build capacity, share knowledge, and support local government in the implementation of sustainable development at the local level. The organisation's basic premise is that locally designed initiatives can provide an effective and cost-efficient way to achieve local, national, and global sustainability objectives. ICLEI was founded in 1990 as the International Council for Local Environmental Initiatives. The council was established when more than 200 local governments from 43 countries convened at the World Congress of Local Governments for a Sustainable Future, at the United Nations in New York.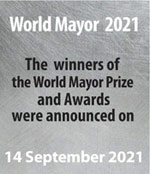 The best Mayors for Stronger | Fairer | Greener cities. Elect your candidate for the 20/21 World Mayor Prize and Honours. The Prize has been awarded since 2004