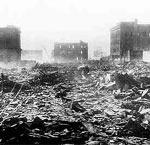 Hiroshima shortly after it was destroyed by an atomic bomb on 6 August 1945.

Mayors for Peace
1-2 Nakajima-cho
Naka-ku
Hiroshima
Japan
Tel: +81-82-241-2352
Fax: +81-82-242-7452
Email:
mayors@pcf.city.hiroshima.jp
Internet:
www.pcf.city.hiroshima.jp/
mayors/english/
President: Mr Tadatoshi Akiba, Mayor of Hiroshima




FRONT PAGE
Site Search
About us | Quiénes somos |
A propos de nous | Über uns |
Mayor Monitor
Directories
Events
Debate



International
City Mayors Foundation
United Nations Alliance of Civilizations
International Organization for Migration
Integration: Building Inclusive Societies
United Cities
Sister Cities International
Glocal
Mayors for Peace
Urban pollution
ICLEI
The Americas
Canadian Municipalities
Association of Mexican cities
Conference of Black Mayors
National Urban League
National League of Cities
US Conference of Mayors
Mayors' Institute on City Design
Europe
Austrian Cities Association
French Association of Mayors
German Cities Association
UK LGA
Asia & Australia
Australia ALGA
Africa
Africa MDP


City Mayors reports news from towns and cities around the world. Worldwide | Elections | North America | Latin America | Europe | Asia | Africa | Events |




Mayors from The Americas, Europe. Asia, Australia and Africa are competing for the annual World Mayor Award. More




City Mayors ranks the world's largest as well as richest cities and urban areas. It also ranks the cities in individual countries, and provides a list of the capital cities of some 200 sovereign countries. More




City Mayors reports political events, analyses the issues and depicts the main players. More




City Mayors describes and explains the structures and workings of local government in Europe, The Americas, Asia, Australia and Africa. More




City Mayors profiles city leaders from around the world and questions them about their achievements, policies and aims. More




City Mayors deals with economic and investment issues affecting towns and cities. More




City Mayors reports on how business developments impact on cities and examines cooperation between cities and the private sector. More




City Mayors describes and explains financial issues affecting local government. More




City Mayors lists and features urban events, conferences and conventions aimed at urban decision makers and those with an interst in cities worldwide. More




City Mayors reports urban environmental developments and examines the challenges faced by cities worldwide. More




City Mayors reports on and discusses urban development issues in developed and developing countries. More



City Mayors reports on developments in urban society and behaviour and reviews relevant research. More




City Mayors deals with urban transport issues in developed and developing countries and features the world's greatest metro systems. More




City Mayors examines education issues and policies affecting children and adults in urban areas. More




City Mayors investigates health issues affecting urban areas with an emphasis on health in cities in developing countries. More




City Mayors examines the importance of urban tourism to city economies. More




City Mayors examines the contributions history and culture make to urban society and environment. More




City Mayors describes the history, architecture and politics of the greatest city halls in the world. More




City Mayors invites readers to write short stories about people in cities around the world. More




City Mayors questions those who govern the world's cities and talks to men and women who contribute to urban society and environment. More




City Mayors profiles national and international organisations representing cities as well as those dealing with urban issues. More




City Mayors reports on major national and international sporting events and their impact on cities. More




City Mayors lists cities and city organisations, profiles individual mayors and provides information on hundreds of urban events. More


Mayors from 554 cities united
against nuclear weapons
In August 1945, atomic bombs reduced the cities of Hiroshima and Nagasaki within minutes to rubble and killed hundreds of thousands of its citizens. Today, almost 60 years after the war, thousands of people in both cities still suffer from the trauma and the devastating after-effects of radiation. To prevent any repetition of the use of atomic bombs, the cities of Hiroshima and Nagasaki have continually sought to remind the world of the inhuman cruelty of nuclear weapons and have consistently urged the abolition of such weapons.

On 24 June 1982 at the 2nd UN Special Session on Disarmament, Takeshi Araki, the then Mayor of Hiroshima, proposed a 'Programme to Promote the Solidarity of Cities toward the Total Abolition of Nuclear Weapons'. This proposal offered cities a way to transcend national borders and work together to press for the abolition of all nuclear weapons. Subsequently, the Mayors of Hiroshima and Nagasaki called on mayors around the world to support this programme.

The Mayors for Peace is composed of cities around the world that have formally expressed support for the programme announced by Mayor Araki in 1982. The organisation is now supported by 554 cities in 107 countries and regions. Mayors for Peace is recognised by the UN as an official NGO (non-governmental organisation).

Mayors for Peace aims to build solidarity and facilitate coordination among the cities that support the Programme to Promote the Solidarity of Cities toward the Total Abolition of Nuclear Weapons. Its primary goal is to work internationally to raise consciousness regarding nuclear weapons abolition. It is also formally committed to pursuing lasting world peace by working to address starvation, poverty, refugee welfare, human rights abuses and environmental destruction.

The executive council of Mayors for Peace is made up of the cities of Hiroshima, Nagasaki, Como (Italy), Hannover (Germany), Malakoff (France), Manchester (United Kingdom), Muntinlupa (Philippines) and Volgograd (Russia).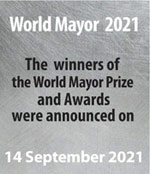 The best Mayors for Stronger | Fairer | Greener cities. Elect your candidate for the 20/21 World Mayor Prize and Honours. The Prize has been awarded since 2004