Municipal Development Partnership (MDP)
116 Rue des Amoureux
Zongo Nima
01 BP 3445 Cotonou
BENIN
Tel: +229 30 05 60 / 30 42 42
Fax: +229 30 19 76
Email: pdm@pdm-net.org





FRONT PAGE
Site Search
About us | Quiénes somos |
A propos de nous | Über uns |
Mayor Monitor
Directories
Events
Debate



International
City Mayors Foundation
United Nations Alliance of Civilizations
International Organization for Migration
Integration: Building Inclusive Societies
United Cities
Sister Cities International
Glocal
Mayors for Peace
Urban pollution
ICLEI
The Americas
Canadian Municipalities
Association of Mexican cities
Conference of Black Mayors
National Urban League
National League of Cities
US Conference of Mayors
Mayors' Institute on City Design
Europe
Austrian Cities Association
French Association of Mayors
German Cities Association
UK LGA
Asia & Australia
Australia ALGA
Africa
Africa MDP


City Mayors reports news from towns and cities around the world. Worldwide | Elections | North America | Latin America | Europe | Asia | Africa | Events |




Mayors from The Americas, Europe. Asia, Australia and Africa are competing for the annual World Mayor Award. More




City Mayors ranks the world's largest as well as richest cities and urban areas. It also ranks the cities in individual countries, and provides a list of the capital cities of some 200 sovereign countries. More




City Mayors reports political events, analyses the issues and depicts the main players. More




City Mayors describes and explains the structures and workings of local government in Europe, The Americas, Asia, Australia and Africa. More




City Mayors profiles city leaders from around the world and questions them about their achievements, policies and aims. More




City Mayors deals with economic and investment issues affecting towns and cities. More




City Mayors reports on how business developments impact on cities and examines cooperation between cities and the private sector. More




City Mayors describes and explains financial issues affecting local government. More




City Mayors lists and features urban events, conferences and conventions aimed at urban decision makers and those with an interst in cities worldwide. More




City Mayors reports urban environmental developments and examines the challenges faced by cities worldwide. More




City Mayors reports on and discusses urban development issues in developed and developing countries. More



City Mayors reports on developments in urban society and behaviour and reviews relevant research. More




City Mayors deals with urban transport issues in developed and developing countries and features the world's greatest metro systems. More




City Mayors examines education issues and policies affecting children and adults in urban areas. More




City Mayors investigates health issues affecting urban areas with an emphasis on health in cities in developing countries. More




City Mayors examines the importance of urban tourism to city economies. More




City Mayors examines the contributions history and culture make to urban society and environment. More




City Mayors describes the history, architecture and politics of the greatest city halls in the world. More




City Mayors invites readers to write short stories about people in cities around the world. More




City Mayors questions those who govern the world's cities and talks to men and women who contribute to urban society and environment. More




City Mayors profiles national and international organisations representing cities as well as those dealing with urban issues. More




City Mayors reports on major national and international sporting events and their impact on cities. More




City Mayors lists cities and city organisations, profiles individual mayors and provides information on hundreds of urban events. More


African cities demand
access to basic services
The Municipal Development Partnership (MDP) was set up in 1991 to promote decentralisation policies and strengthen the role played by local communities in African society.

The MDP is a regional association whose members are national associations of local authorities in West and Central Africa. Out of 24 countries of the region, some 18 have already national associations of local authorities and 15 national associations are members of the MDP. The MDP is managed by a board of directors made up of eight national authorities. The MDP regional offices are in Harare (Zimbabwe) and Cotonou (Benin).

In December 2003, national associations of African local authorities met in Yaounde (Cameroon) for the third Africities summit. It was described as the most popular event ever organised to discuss decentralisation and local development in Africa.

Some 1,500 delegates attended the summit, including representatives from local government, international development organisations and financial institutions. Organisations such as the World Bank, the European Union, the Canadian International Development Agency and the UN Human Settlements Programme met with mayors from African cities.

The central theme of the summit was 'Ensuring access to basic services by African local governments'. Following on from the 2002 World Summit in Johannesburg (South Africa), the Africities summit discussed the right of African communities of access to clean water, energy, transport, health and education services. City Mayors was told that access to such basic amenities was vital to improve the living conditions of inhabitants of African communities, as well as increasing their economic productivity. Conference observers were hopeful that tripartite meetings between government ministers, mayors and development partners would succeed in creating a powerful pan-continental force to strengthen the political and economic roles played by urban communities in Africa.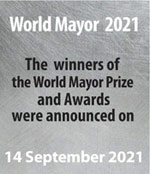 The best Mayors for Stronger | Fairer | Greener cities. Elect your candidate for the 20/21 World Mayor Prize and Honours. The Prize has been awarded since 2004