United Cities and Local Governments
Carrer Avinyó, 15
08002 Barcelona
Spain
Tel: +34 93 34 28 750
Fax: +34 93 34 28 760
Email:
info@cities-
localgovernments.org
Internet:
www.cities-
localgovernments.org

Contact:
Elisabeth Gateau, Secretary General




FRONT PAGE
Site Search
About us | Quiénes somos |
A propos de nous | Über uns |
Mayor Monitor
Directories
Events
Debate



International
City Mayors Foundation
United Nations Alliance of Civilizations
International Organization for Migration
Integration: Building Inclusive Societies
United Cities
Sister Cities International
Glocal
Mayors for Peace
Urban pollution
ICLEI
The Americas
Canadian Municipalities
Association of Mexican cities
Conference of Black Mayors
National Urban League
National League of Cities
US Conference of Mayors
Mayors' Institute on City Design
Europe
Austrian Cities Association
French Association of Mayors
German Cities Association
UK LGA
Asia & Australia
Australia ALGA
Africa
Africa MDP


City Mayors reports news from towns and cities around the world. Worldwide | Elections | North America | Latin America | Europe | Asia | Africa | Events |




Mayors from The Americas, Europe. Asia, Australia and Africa are competing for the annual World Mayor Award. More




City Mayors ranks the world's largest as well as richest cities and urban areas. It also ranks the cities in individual countries, and provides a list of the capital cities of some 200 sovereign countries. More




City Mayors reports political events, analyses the issues and depicts the main players. More




City Mayors describes and explains the structures and workings of local government in Europe, The Americas, Asia, Australia and Africa. More




City Mayors profiles city leaders from around the world and questions them about their achievements, policies and aims. More




City Mayors deals with economic and investment issues affecting towns and cities. More




City Mayors reports on how business developments impact on cities and examines cooperation between cities and the private sector. More




City Mayors describes and explains financial issues affecting local government. More




City Mayors lists and features urban events, conferences and conventions aimed at urban decision makers and those with an interst in cities worldwide. More




City Mayors reports urban environmental developments and examines the challenges faced by cities worldwide. More




City Mayors reports on and discusses urban development issues in developed and developing countries. More



City Mayors reports on developments in urban society and behaviour and reviews relevant research. More




City Mayors deals with urban transport issues in developed and developing countries and features the world's greatest metro systems. More




City Mayors examines education issues and policies affecting children and adults in urban areas. More




City Mayors investigates health issues affecting urban areas with an emphasis on health in cities in developing countries. More




City Mayors examines the importance of urban tourism to city economies. More




City Mayors examines the contributions history and culture make to urban society and environment. More




City Mayors describes the history, architecture and politics of the greatest city halls in the world. More




City Mayors invites readers to write short stories about people in cities around the world. More




City Mayors questions those who govern the world's cities and talks to men and women who contribute to urban society and environment. More




City Mayors profiles national and international organisations representing cities as well as those dealing with urban issues. More




City Mayors reports on major national and international sporting events and their impact on cities. More




City Mayors lists cities and city organisations, profiles individual mayors and provides information on hundreds of urban events. More



Unification of IULA and UTO creates largest
international local government association
By Guy Kervella, European Editor
The new, Barcelona-based, international local government association United Cities and Local Governments is the result of the unification of the two largest international local government associations, the International Union of Local Authorities (IULA) and the United Towns Organisation (UTO/FMCU). The new organisation, which has members in more than 100 countries and represents both associations and cities, brings together the national local government associations that formed the majority of IULA's membership, and the individual city members of UTO.

The inspiration for creating a new world organisation of local government came from the 1996 United Nations Istanbul Conference on Human Settlements. Here, international recognition was given to the importance of decentralisation and the strengthening of local authorities.

Therefore, at the World Assembly of Cities and Local Authorities (WACLA) in Istanbul, participants called upon the international local government organisations to strengthen their coordination and create the basis for a unified world organisation.

Since then, IULA and UTO have been working together to create United Cities and Local Governments. In May 2001, the IULA-UTO Unity Congress took place in Rio de Janeiro, Brazil, where the decision to unify the two organisations was formally taken.

United Cities and Local Governments is a new world organisation dedicated to promoting the values, objectives and interests of cities and local governments across the globe. It is the largest local government organisation in the world, with a diverse membership that includes both individual cities and national associations of local governments.

United Cities and Local Governments promotes itself as the global voice of cities and the main local government partner of the United Nations. It promotes the policies and experiences of local governments in key areas such as poverty, sustainable development and social inclusion.

United Cities and Local Governments supports international cooperation between cities and their associations, and facilitates programmes, networks and partnerships to build the capacity of local governments. It promotes the role of women in local decision-making, and is a gateway to relevant information on local government across the world.

United Cities and Local Governments has members in over 100 countries in all world regions. Its membership includes cities, small and large, and national associations, which represent local government members in a single country. Local government members either join directly, or by becoming members of the regional or metropolitan sections.
This gives United Cities and Local Governments a broad, global membership which includes local governments of all types, as well as our international partners.

Organisations interested in becoming members of United Cities and Local Governments, can apply under one of the following categories:

Local government membership is open to individual cities and local governments, and national Local Government Associations

International organisation membership is open to international local government organisations which represent specific categories of local governments, and/or whose purposes relate to specific sectoral or thematic issues

Associate membership is open to organisations which, though not themselves local government organisations, are strongly concerned with or involved in local government matters

Local government members, international organisation members and associate members pay an annual membership fee. The membership fees for local government members take into consideration the number of inhabitants represented by the member, and the state of the country's economic development.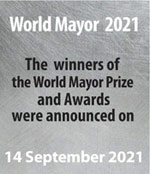 The best Mayors for Stronger | Fairer | Greener cities. Elect your candidate for the 20/21 World Mayor Prize and Honours. The Prize has been awarded since 2004