Österreichischer Städtebund
(Association of Austrian Cities)
Rathaus
1082 Wien
Austria
Tel: +43 1 4000 89980
Email: post@stb.or.at
Internet:
www.staedtebund.at



FRONT PAGE
SiteSearch
About us
Directories



International
United Cities
Sister Cities International
Glocal
Mayors for Peace

The Americas
Canadian Municipalities
Association of Mexican cities
Conference of Black Mayors
National Urban League
National League of Cities
US Conference of Mayors
Mayors' Institute on City Design
ICLEI

Europe
Austrian Cities Association
French Association of Mayors
German Cities Association
UK LGA

Asia & Australia
Australia ALGA

Africa
Africa MDP




City Mayors reports news from towns and cities around the world. Worldwide | Elections | North America | Latin America | Europe | Asia | Africa | Events |




Mayors from The Americas, Europe. Asia, Australia and Africa are competing for the annual World Mayor Award. More




City Mayors ranks the world's largest as well as richest cities and urban areas. It also ranks the cities in individual countries, and provides a list of the capital cities of some 200 sovereign countries. More




City Mayors lists and features urban events, conferences and conventions aimed at urban decision makers and those with an interst in cities worldwide. More




City Mayors reports political events, analyses the issues and depicts the main players. More




City Mayors describes and explains the structures and workings of local government in Europe, The Americas, Asia, Australia and Africa. More




City Mayors profiles city leaders from around the world and questions them about their achievements, policies and aims. More




City Mayors deals with economic and investment issues affecting towns and cities. More




City Mayors reports on how business developments impact on cities and examines cooperation between cities and the private sector. More




City Mayors describes and explains financial issues affecting local government. More




City Mayors reports urban environmental developments and examines the challenges faced by cities worldwide. More




City Mayors reports on and discusses urban development issues in developed and developing countries. More



City Mayors reports on developments in urban society and behaviour and reviews relevant research. More




City Mayors deals with urban transport issues in developed and developing countries and features the world's greatest metro systems. More




City Mayors examines education issues and policies affecting children and adults in urban areas. More




City Mayors investigates health issues affecting urban areas with an emphasis on health in cities in developing countries. More




City Mayors examines the contributions history and culture make to urban society and environment. More




City Mayors describes the history, architecture and politics of the greatest city halls in the world. More




City Mayors invites readers to write short stories about people in cities around the world. More




City Mayors questions those who govern the world's cities and talks to men and women who contribute to urban society and environment. More




City Mayors profiles national and international organisations representing cities as well as those dealing with urban issues. More




City Mayors reports on major national and international sporting events and their impact on cities. More




City Mayors lists cities and city organisations, profiles individual mayors and provides information on hundreds of urban events. More


Austrian association supports
cities in eastern Europe
25 August 2003: The Association of Austrian Cities (Österreichischer Städtebund) represents Austria's larger cities, although any local authority is free to join. The Association has some 250 members among a total of 2,359 local authorities in Austria. However, more than 55 per cent of Austrians live in communities represented by the Association. Member communities include Vienna and all of Austria's provincial capitals such as Innsbruck and Salzburg. In addition, virtually all towns and cities with more than 10,000 inhabitants are members of the Austrian Association. The smallest member has fewer than 1,000 inhabitants.

The Association goes back to 1887, when regular 'Städtetage' (General assemblies of Cities) were held to discuss issues of common interest, particularly financial concerns. In September 1915 the Österreichischer Städtebund was formally set up. Then, it also represented German-speaking towns in today's Czech Republic and Slovenia.

The Association sees its main task as representing the interests of local government in discussions about the sharing of tax revenues between the federal and provincial governments and local communities. In 2000, the share of total public revenue received by local government in Austria amounted to 11.8 per cent. If Vienna, the state capital and a province in its own right, was excluded, the figure would read 6.1 per cent.

The Association of Austrian Cities opened an office in Brussels in 1994. It was the first European local government organisation to do so. The office, housed within Austria's embassy to the EU, monitors and takes part in discussions affecting local authorities in Europe. The Association is also a member of the Council of European Municipalities and Regions (CEMR) and of the International Union of Local Authorities (IULA).

Since the fall of totalitarian communism in eastern Europe, the Association of Austrian Cities has made cooperation with countries such as Hungary and the Czech and Slovak Republics a top priority. During the past 13 years some 3,000 Mayors and other local government decision makers from former communist countries have visited Austria to study the work of local government within a democratic country. Funds provided by Austria's federal government have also allowed some additional 15,000 local government experts from eastern Europe to take part in training programmes organised by the Know How Transfer Centre (KTC) which is run by the Association of Austrian Cities.

The Association's day-to-day business is run by its Management Board which consists of 19 members. Traditionally, the Mayor of Vienna acts as President. The Secretary General, Erich Pramböck, together with a staff of 20, prepares and/or implements decisions by the Management Board.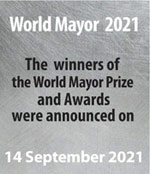 The best Mayors for Stronger | Fairer | Greener cities. Elect your candidate for the 20/21 World Mayor Prize and Honours. The Prize has been awarded since 2004