Sister Cities International
1301 Pennsylvania Ave NW
Suite 850
Washington
DC 20004
USA
Tel: + 1 202-347-8630
Fax: +1 202-393-6524
Email:
info@sister-cities.org
Internet:
www.sister-cities.org




FRONT PAGE
Site Search
About us | Quiénes somos |
A propos de nous | Über uns |
Mayor Monitor
Directories
Events
Debate



International
City Mayors Foundation
United Nations Alliance of Civilizations
International Organization for Migration
Integration: Building Inclusive Societies
United Cities
Sister Cities International
Glocal
Mayors for Peace
Urban pollution
ICLEI
The Americas
Canadian Municipalities
Association of Mexican cities
Conference of Black Mayors
National Urban League
National League of Cities
US Conference of Mayors
Mayors' Institute on City Design
Europe
Austrian Cities Association
French Association of Mayors
German Cities Association
UK LGA
Asia & Australia
Australia ALGA
Africa
Africa MDP


City Mayors reports news from towns and cities around the world. Worldwide | Elections | North America | Latin America | Europe | Asia | Africa | Events |




Mayors from The Americas, Europe. Asia, Australia and Africa are competing for the annual World Mayor Award. More




City Mayors ranks the world's largest as well as richest cities and urban areas. It also ranks the cities in individual countries, and provides a list of the capital cities of some 200 sovereign countries. More




City Mayors reports political events, analyses the issues and depicts the main players. More




City Mayors describes and explains the structures and workings of local government in Europe, The Americas, Asia, Australia and Africa. More




City Mayors profiles city leaders from around the world and questions them about their achievements, policies and aims. More




City Mayors deals with economic and investment issues affecting towns and cities. More




City Mayors reports on how business developments impact on cities and examines cooperation between cities and the private sector. More




City Mayors describes and explains financial issues affecting local government. More




City Mayors lists and features urban events, conferences and conventions aimed at urban decision makers and those with an interst in cities worldwide. More




City Mayors reports urban environmental developments and examines the challenges faced by cities worldwide. More




City Mayors reports on and discusses urban development issues in developed and developing countries. More



City Mayors reports on developments in urban society and behaviour and reviews relevant research. More




City Mayors deals with urban transport issues in developed and developing countries and features the world's greatest metro systems. More




City Mayors examines education issues and policies affecting children and adults in urban areas. More




City Mayors investigates health issues affecting urban areas with an emphasis on health in cities in developing countries. More




City Mayors examines the importance of urban tourism to city economies. More




City Mayors examines the contributions history and culture make to urban society and environment. More




City Mayors describes the history, architecture and politics of the greatest city halls in the world. More




City Mayors invites readers to write short stories about people in cities around the world. More




City Mayors questions those who govern the world's cities and talks to men and women who contribute to urban society and environment. More




City Mayors profiles national and international organisations representing cities as well as those dealing with urban issues. More




City Mayors reports on major national and international sporting events and their impact on cities. More




City Mayors lists cities and city organisations, profiles individual mayors and provides information on hundreds of urban events. More


Communities in some 125 countries
work for peace through Sister Cities
Sister Cities International is a nonprofit, citizen diplomacy network that creates and strengthens partnerships between US and international communities. Citizen diplomacy can be described as the concerted attempt to increase global cooperation through unofficial contacts at the primary and individual level.

The sister city movement goes back to 1956 when US President Dwight D. Eisenhower called for people-to-people exchanges at a special White House Summit on citizen diplomacy. The calling of Sister Cities International is to promote peace through mutual respect, understanding and cooperation - one individual, one community at a time.

Similar to the European 'twinning' concept, the partnerships help US cities develop deeper connections with countries in Asia, The Americas, Africa, the Caribbean, Eurasia, Oceania, the Middle East, and Europe. The network represents more than 2,500 communities in 125 countries around the world. As an international membership organization, Sister Cities International officially certifies, represents, and supports partnerships between US cities, counties, states, and similar jurisdictions in other countries to ensure their continued commitment and success.

As an official member of Sister Cities International, members acquire many benefits. They gain the opportunity of networking with all members of Sister Cities International. Through the network, members can gain access to a comprehensive database and search engine that enables them to share information on existing programs. Members can also use an instantaneous translation service in 10 different languages for emails and documents. In addition, the expert professional staff at Sister Cities International provides private consultation services for program development and sustainability.

An elected board of directors governs the organization. A professional staff and an executive director provide membership and program support from the Washington, DC, headquarters. Sister Cities International promotes programs for sustainable development, youth involvement, cultural understanding, and humanitarian assistance.

These are a few of the projects that Sister Cities International has developed:
Sustainable Development
• Sister Cities Network for Sustainable Development
The Network for Sustainable Development assists with capacity building and aids sister city partnerships in expanding or developing new projects based upon the United Nations 2002 World Summit on Sustainable Development. Using the Sister Cities International "model," sister city partnerships promote the participation of local citizens at all levels of project development. This includes identifying project areas, suggesting and drafting proposed solutions, overseeing their implementation and evaluating the results. Within this network the organization promotes programs in areas such as HIV/AIDS Education and Prevention; Emergency Preparedness; Transparency and Openness; Information and Communication Technology; and Urban Management.

• Millennium Development Goals Challenge Pilot Program
The Millennium Development Goals (MDGs) City-to-City Challenge Pilot Program mobilizes and enlists the aid of city-to-city relationships to promote sustainable development. Sister Cities International, in cooperation with the World Bank Institute (WBI), selected three sister city partnerships for this exciting project. These cities agreed to focus on MDGs as part of their active membership in the Sister Cities Network for Sustainable Development.

• Open World Leadership Program
The Open World Leadership Program aims to advance ideas on accountability, transparency, and citizen participation in governments in Eurasia. The program brings Russian, Ukrainian, and Uzbek elected officials, political candidates, and emerging political and civic leaders to the United States. The Academy for Educational Development (AED), in partnership with Sister Cities International, administers the program. The Open World Leadership Center at the US Library of Congress sponsors the program.

Humanitarian Assistance
• Wheelchairs for Peace
In 2002, Sister Cities International and the Wheelchair Foundation embarked upon a five-year initiative to distribute wheelchairs to sister city communities throughout the world. The Wheelchair Foundation has committed a total of $4.5 million in matching funds to be combined with funds raised by sister city chapters to deliver wheelchairs to children and adults in their sister cities living with disabilities.

• US-Iraqi International Partners for Peace Initiative
The "International Partners for Peace" initiative is a new public-private partnership between the US and Iraqi communities. It is designed to strengthen relationships with people in order to cultivate more extensive communications with them, leading in turn to greater cooperation and understanding. Initial efforts will concentrate on humanitarian aid programs. Sister Cities International will organize this initiative with funding support from the US Department of State.

Arts and Culture
• Young Artists Competition
Since 1988, the Sister Cities International Young Artist Competition has engaged youth from around the world in the sister city mission. Young artists use the competition's yearly theme to express their concept of the quest. Applying their imagination and thoughts to the theme, they creatively convey the significance of sister city partnerships through various images. Recent themes have been "Coming Together to Build a Better World;" "Reach for a Hand, Touch a Heart;" and "No Borders, No Fences… Just Friends."

Youth and Education
• The Youth and Education Network
Sister Cities International recognizes the role of youth in sustaining current sister city relationships and fostering future partnerships. The Network increases the ability of member communities to design and deliver effective youth and education programs. Members can also find funding opportunities through foundations, government grants, and other potential projects.

• Sister Cities International/Academic Year in the USA (AYUSA) Partnership for Youth Exchange
Sister Cities International and AYUSA International formed a strategic partnership to offer exciting new youth exchange opportunities to its members. Sister Cities International/AYUSA Partnership for Youth Exchange facilitates exchange programs for youth to promote long-term, substantive partnerships between US and international communities.

• Islamic Youth Initiative and Youth Exchange and Study (YES) Program
The Youth Exchange and Study (Yes) program, sponsored by the US Department of State, provides full scholarships for students from the Islamic world to travel to the United States for an academic year. The students live with host families, attend school, engage in activities to learn about American society and values, and help educate Americans about their own countries and cultures. The 2004-2005 program includes 220 students from Iraq, Israel, Kuwait, Jordan, Lebanon, Morocco, Oman, Pakistan, Syria, Tunisia, West Bank and Yemen. Sister Cities International has formed partnerships with AYUSA, ASSE, and AMIDEAST and iEARN for this initiative.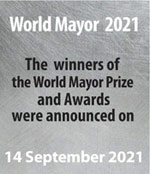 The best Mayors for Stronger | Fairer | Greener cities. Elect your candidate for the 20/21 World Mayor Prize and Honours. The Prize has been awarded since 2004