London Mayor says western policies partly to blame for bombings




FRONT PAGE
SiteSearch
About us
Directories


City Mayors reports news from towns and cities around the world. Worldwide | Elections | North America | Latin America | Europe | Asia | Africa | Events |




Mayors from The Americas, Europe. Asia, Australia and Africa are competing for the annual World Mayor Award. More




City Mayors ranks the world's largest as well as richest cities and urban areas. It also ranks the cities in individual countries, and provides a list of the capital cities of some 200 sovereign countries. More




City Mayors lists and features urban events, conferences and conventions aimed at urban decision makers and those with an interst in cities worldwide. More




City Mayors reports political events, analyses the issues and depicts the main players. More




City Mayors describes and explains the structures and workings of local government in Europe, The Americas, Asia, Australia and Africa. More




City Mayors profiles city leaders from around the world and questions them about their achievements, policies and aims. More




City Mayors deals with economic and investment issues affecting towns and cities. More




City Mayors reports on how business developments impact on cities and examines cooperation between cities and the private sector. More




City Mayors describes and explains financial issues affecting local government. More




City Mayors reports urban environmental developments and examines the challenges faced by cities worldwide. More




City Mayors reports on and discusses urban development issues in developed and developing countries. More



City Mayors reports on developments in urban society and behaviour and reviews relevant research. More




City Mayors deals with urban transport issues in developed and developing countries and features the world's greatest metro systems. More




City Mayors examines education issues and policies affecting children and adults in urban areas. More




City Mayors investigates health issues affecting urban areas with an emphasis on health in cities in developing countries. More




City Mayors examines the contributions history and culture make to urban society and environment. More




City Mayors describes the history, architecture and politics of the greatest city halls in the world. More




City Mayors invites readers to write short stories about people in cities around the world. More




City Mayors questions those who govern the world's cities and talks to men and women who contribute to urban society and environment. More




City Mayors profiles national and international organisations representing cities as well as those dealing with urban issues. More




City Mayors reports on major national and international sporting events and their impact on cities. More




City Mayors lists cities and city organisations, profiles individual mayors and provides information on hundreds of urban events. More

Terrorist attack on London
NEWS SECTIONS: World news | Local elections | News from Europe | News from North America | News from Latin America | News from Asia and Australia | News from Africa | Urban events | NEWS SPECIALS: The 2010 Love Parade tragedy | French riots | Terrorist attack on London | Hurricane Katrina | Pakistan earthquake | Latest news story | London and Glasgow terrorist attacks 2007 |

NEWS ON THIS PAGE
Report on London bombings finds fault with communications system
All five failed bombers under arrest
Police arrest four men in Birmingham
Tony Blair apologises for killing of innocent Brazilian
Man killed by London police had no links to bombings
London police kills man at tube station
London again hit by wave of blasts
The West partly to blame for London bombings, says London Mayor
Speculations about mastermind behind London attack
London police identifies suspected bombers
Military-quality material used in London bombs
London tube bombs went off simultaneously
London bombs described as crude
British government blames al Qaeda for London attacks
London hit by bomb explosions

Report on London bombings finds
fault with communication systems
London, 5 June 2006: A report by the London Assembly on the response to the bomb attacks carried out in the British capital on 7 July 2005 has singled out the communications systems of the capital's emergency service crews for criticism and called for better planning in case of any future incident. The inquiry's report is the only investigation into the attacks to have been carried out in public so far, with the government resisting demands for a public inquiry.

The inquiry found that in the aftermath of the suicide bombings, which killed 56 people, no effort was made to collect the details of the walking wounded on the part of the emergency services, leaving at least 700 hundred people to cope with the effects of the attacks without any support. The report also found that years after the Kings Cross fire of 1987, London's emergency services are still not able to use their radio equipment below ground.

The London Resilience Partnership, jointly chaired by Local Government Minister Phil Woolas MP and Mayor Ken Livingstone said: "We shall study the report's recommendations closely and take on board any additional lessons, whilst never forgetting the professionalism and individual acts of heroism that characterised London's response to the bombings."

Conservative MP Patrick Mercer, the Shadow 'Homeland Security' Minister, used the report to criticise the government's handling of security issues: "There's no doubt that the response by the emergency services last July was effective and brave. However, there were lessons to be learnt and it is a disgrace that many of the inadequacies that emerged on that day have still not been rectified nearly a year later." Liberal Democrats Home Affairs spokesman Nick Clegg MP added: "Given that London is now in the front line in the battle against terrorism, this report underlines exactly which shortcomings that need to be addressed as a matter of urgency."

After arrests in London and Rome
all failed bomb suspects in custody
London, 29 July 2005: After raids in London and Rome, London's Metropolitan Police now believe all five terrorists from the failed bomb attacks in London on 21 July are now in custody. Two of the suspected bombers were arrested in an apartment in west London. Dramatic film footage shows two men stripped to the waist emerging at gunpoint on a balcony. Another man was arrested at an address nearby. Meanwhile in Rome, Italian police arrested a British citizen, originally from Somali, in connection with the events of 21 July. The first of the five suspected failed bombers was arrested in Birmingham on Wednesday, 27 July.

Nine more arrested in London, while family
of police victim questions original statement
London, 28 July 2005: Following the dramatic raid on a house in Birmingham, which culminated in the arrest of a 24-year old man, suspected of being one of the four men involved in the failed bomb attacks of 21 July, police arrested nine more people in south London. A police spokesman said that the nine men were arrested under the Prevention of Terrorism Act and held in a central London police station. The Birmingham man, arrested on Wednesday, 27 July, was transferred to London's high security Paddington Green police station for questioning.

Meanwhile, at a press conference, Vivien Figueiredo, a cousin of Jean Charles de Menezes, the young Brazilian mistakenly shot dead by London police at Stockwell underground station, claimed that, contrary to original reports, Jean was not wearing a bulky jacket, which might have concealed a bomb, nor did he jumped the ticket barrier. Mr Figueiredo said his cousin was using a travel card.

Britain's Independent Police Complaints Commission has begun an inquiry, which may take several months to reach a conclusion. So far, no CCTV pictures of Jean Charles de Menezes at Stockwell station have been released. His body will be flown to Brazil today to be buried on Friday, 29 July. Simultaneously, a memorial service will be held at Westminster Cathedral, which will be shown live on Brazilian TV.

Police make four arrests
in taser gun dawn raids
London, 27 July 2005: British police arrested four men in Birmingham in connection with the failed bomb attacks in London on 21 July. One of the four men was captured after police stormed a house using a taser stun gun. Occupants of some 100 residences were asked to leave their nearby homes, while officers, some dressed in armoured suits, moved into the raided house. The other three men were arrested at an address some three kilometres away. Police would not confirm whether the man subdued with the taser gun was one of the four men suspected of participating in last week's failed bomb attacks. Meanwhile, at Luton airport, north of London, police arrested a man who was about to board a plane destined for Nimes in southern France.

Tony Blair apologises for shooting
while family considers legal action
London, 25 July 2005: British Prime Minister Tony Blair apologised to the family of a young Brazilian killed by police at Stockwell underground station. Mr Blair said said he was "desperately sorry" an innocent man was shot by police on the Tube on 22 July. Earlier, London's Police Commissioner Sir Ian Blair had offered his regrets to the family of Jean Charles de Menezes, the young Brazilian who was mistakenly shot dead by police officers. However, the Commissioner confirmed that his force's shoot-to-kill policy would continue and warned that more innocent people could be killed as armed officers are forced to make split-second decisions when pursuing suspected bombers.

Britain's politicians and the press largely supported police policy but Brazil's Foreign Minister Celso Amorim told his British counterpart, Jack Straw, that he was shocked and perplexed by the killing. The family of Mr de Menezes is reported to be considering legal action against the police. Mr Amorim said that compensation from London's police was important for what was a humble family.

London's Mayor, Ken Livingstone, also defended the police action, saying that the terrorists were to blame and not the police. "This tragedy has added another victim to the toll of deaths for which the terrorists bear responsibility," the Mayor added.

Meanwhile, on Monday 25 July, police raided an apartment in north London in connection with the investigation into the failed bomb attacks on 21 July. No arrests were made. London's police have already three men in custody, none of whom are believed to include the suspected bombers.

Man shot dead by London Police
had no connection with bombings
London, 23 July 2005: The man shot dead by London police at Stockwell underground station had no connection with any of the bombings which took place in London on 7 and 21 July. He was in fact a 27-year-old Brazilian living in London. On the day of the shooting, the police was adamant that the victim was connected to the London terrorist attacks. London's Police Commissioner spoke of a "direct link". A spokesman for the Brazilian government said that his authorities were extremely concerned about the killing of one of their citizens but reserved judgment until they had seen the police report.

Before the tragic circumstances of the shooting were known, London Mayor Ken Livingstone defended the shoot-to-kill policy. In circumstances where police is dealing with someone who might be a suicide bomber a shoot-to-kill policy was overwhelmingly the way to deal with the threat, the Mayor said.

Meanwhile, London police confirmed that it had arrested two men in connection with the incidents of 21 July. Both men were arrested in Stockwell near the underground station where the tragic police shooting took place. Police also raided addresses near the Oval underground station but no arrests were made.

Police kills man at underground station
as hunt for London bombers continues
London, 22 July 2005: After a short chase, police shot dead a man of Asian appearance at Stockwell underground station in south London. Transport staff evacuated passengers from the station and ordered the closure of the Northern and Victoria lines, the city's main north-south underground arteries. Meanwhile, police cordoned off and searched a mosque in east London after a bomb threat.

London again hit
by wave of blasts
London, 21 July 2005: Two weeks after four terrorist bombs killed 53 people, London was hit by another wave of blasts. But, unlike on 7 July, there were no fatalities with only one person being slightly injured. Four small bombs were detonated in what appears to have been a co-ordinated attack. Three exploded on London's underground network, while one bomb went off on a bus. Part of the underground network was shut, with the Northern and Victoria lines worst affected.

Ian Blair, London's police chief, told the press that he knew of four explosions or attempted explosions. "It is still pretty unclear what's happened. The bombs appear to be smaller than two weeks ago," he added.

One eyewitness reported a young man whose rucksack suddenly exploded. Other witnesses spoke of small explosions, which could have been detonators going off but failing to set off the actual bomb. According to BBC news, the police is hunting several fugitives.

Livingstone says western foreign policy
is partly to blame for London bombings
London, 20 July 2005: In a BBC interview, London Mayor Ken Livingstone suggested that decades of British and US intervention in the oil-rich Middle East partly motivated the London bombers. The Mayor stressed that he had no sympathy with the bombers and that he opposed all violence. However, he argued that the attacks would not have happened, had the West left Arab countries free to decide their own affairs after the First World War.

Mayor Livingstone was asked by the BBC interviewer what he thought had motivated the bombers. In his reply he said that, because of the West's need for oil, we propped up unsavoury governments and we overthrew ones we did not consider sympathetic. "And I think the particular problem we have at the moment is that in the 1980s the Americans recruited and trained Osama Bin Laden, taught him how to kill, to make bombs, and set him off to kill the Russians and drive them out of Afghanistan. They didn't give any thought to the fact that once he'd done that he might turn on his creators."

The London Mayor also attacked "double standards" by western countries and cited the initial welcome given to Saddam Hussein when he came to power. Pointing out Guantanamo Bay, the Mayor said that a lot of young people saw the double standards and they just thought that there was not a just foreign policy.

In the interview, Ken Livingstone denounced suicide bombers but also "those governments which use indiscriminate slaughter to advance their foreign policy, as we have occasionally seen with the Israeli government bombing areas from which a terrorist group will have come, irrespective of the casualties it inflicts, women, children and men".

The London Mayor went further: "Under foreign occupation and denied the right to vote, denied the right to run your own affairs, often denied the right to work for three generations, I suspect that if it had happened here in England, we would have produced a lot of suicide bombers ourselves."

Newspapers speculate about
mastermind behind bombings
London, 14 July 2005: One week after four explosions in central London killed more than 50 people and injured hundreds, London's Metropolitan Police renewed its appeals for witnesses and information. While the identities of the suspected bombers have been established, it still remains unclear whether they had the backing of any terrorist groups such as al Queda. There was also some media speculation about a 'mastermind' who arrived in Britain in June and left the country the day after the bombings. According to one British newspaper, the individual is a male in his mid-thirties.

The British government is now convinced that the attacks on London were the actions of al Queda or related groups. On the internet downing Street listed the London bombings as al Queda's 31st terrorist action, the first one being the attack on New York's World Trade Center in 1993.

The suspected bombers include two 19-year olds and one 30- year old father. All are British nationals.

At midday, Thursday 14 July, London observed a two-minute silence in rememberance of those killed and injured in the bombings one week earlier.

London police identifies
four suspected terrorists
London, 12 July 2005: London's Metropolitan Police confirmed that they had identified four men whom they suspected of being responsible for the London bombings on 7 July. It is now assumed that all four bombers died in the blasts. If confirmed, it would be the first suicide attack in western Europe.

In the early hours of Tuesday, 12 July, police searched six houses, including the homes of three of the four suspects. One relative of one of the suspects was arrested. It is also believed that the police found explosives during the searches. Separately, police discovered explosives in a car left in a railway station car park in Luton, north of London. It is thought that, on the morning of the blasts, the bombers travelled together from Luton to London's King Cross Station. All four were picked up on CCTV cameras at the station. Personal belongings of the four, such as credit cards, were found at the scene of the bombings.

After being scorned by London's police chief, Sir Ian Blair and ridiculed in public, the US Air Force reversed its decision, which banned US personnel stationed in Britain to visit London.

London bombs now suspected to have
contained 'military-quality' explosives
London, 12 July 2005: Experts investigating the London bombings of 7 July 2005, now believe that the explosives used in the bombs were of 'military high-grade quality'. Initially some investigators described the bombs as crude and homemade. It now appears that the material used to make the bombs was similar to the kind used for military or sophisticated commercial purposes. A French official, working with the British police, called the findings very disturbing. "Where did the terrorists get hold of the material," he asked. There are some speculations that the material might have been smuggled to Britain from the Balkans or, even worse, that it might have been supplied by someone from within the British armed forces.

Meanwhile in the early hours on Tuesday, 12 July, British police raided houses in West Yorkshire, including one in Leeds. But no arrests were made. Sir Ian Blair, the head of London's Metropolitan Police, confirmed that the raids were part of the investigation into the bombings. Sir Ian also said that he was convinced that New York and London remained major terrorist targets. "Another attack is likely, there's no question about that. When, who knows," he added.

While the people of London have been urged to resume and continue their normal activities, family members of US Airforce personnel stationed in the UK have been told not to visit London. An Airforce spokesman said the safety of US soldiers and their families was paramount.

London Police now says all tube bombs
went off within 50 seconds of each other
London, 10 July 2005: Senior officers of London's Metropolitan Police revised their estimates as to the time span of the four London bombings. Originally, the police said that the bombs went off over a period of 26 minutes. However, senior investigators now believe that that the three bombs on the underground trains went off almost simultaneously, with the bomb on the double-decker bus exploding some 56 later. At the moment, the police have no explanation for the time lag between the explosions on the underground trains and the one on the bus in Tavistock Square.

Andy Trotter from the British Transport Police said that the investigation and forensic examination continued at the four sites of the explosions. "Search teams are still trying to recover bodies trapped underground on the Piccadilly Line train at Russell Square, which has proved difficult and will take more time. The conditions are hot, dusty and dangerous and it is impossible to say how many bodies still need to be brought out," Mr Trotter added.

The Police warned that identification of the bodies would be a slow process. "The recovery of bodies and identification of those who had died was both complex and harrowing. Many people had suffered extensive injuries and it could take longer formally identify these victims," Detective Superintendent Jim Dickie said.

The official death toll now stands at 49, with 70 people still in hospital and 20 people missing.

London bombs described as low tech
as al Qaeda connection is questioned
London, 9 July 2005: Two days after four bombs killed more than 50 people in the morning rush hour in London, the British government's initial response to blame al Qaeda is increasingly being questioned by explosive experts from Britain and the US. In particular, US investigators have said that the low-tech nature of the operation pointed to inexperienced Britain-based extremists rather than foreign terrorists.

Some investigators are also convinced that the bombing of the No 30 bus in Tavistock Square was the result of a mistimed explosion. "The bomber probably accidentally detonated the device en route to its intended target.

Officially however, British investigating authorities have urged the media not to jump to any premature conclusions. One investigator said there was simply not enough evidence to make "even a sensible guess".

The authorities are hopeful that the examination of CCTV cameras may produce some clues as to the identity of the bombers. Platforms, corridors and escalators in central London underground stations are all closely monitored by cameras. A spokesman for British Transport Police said that if they weren't suicide bombers, then they must have got on and off the targeted trains. ""That means their pictures can be grabbed from CCTV cameras. The underground network is a CCTV-rich environment, so this is going to be an intense investigation to look at the images," he explained.

Al Qaeda blamed for attack on London
while death toll could be as high as 52
London, 8 July 2005: The British government is convinced that al Qaeda is behind the terrorist bombings in London, which, according to Scotland Yard, killed 37 people, although the Australian Prime Minister said that he was given a death toll of 52, and left hundreds badly wounded. Jack Straw, the British Foreign Minister said that the coordinated blasts in trains and a bus bore the hallmarks of an al Qaeda-related attack. "Investigators were examining a statement by a previously unknown group calling itself the 'Secret Group of al Qaeda's Jihad in Europe'," the Minister added. Meanwhile on Friday, London's underground train system was returning to normal, although Euston mainline station was briefly evacuated after a security alert.

The terrorist attacks on Thursday, 7 July were deadlier than any of the IRA bombings in London during the height of the 'troubles' in Northern Ireland. British Interior Minister, Charles Clarke, said that the possibility of suicide bombings was being considered as were other forms of detonations.

Forty dead and hundreds injured
as explosions hit central London
London, 7 July 2005: A number of explosions on underground trains and double-decker buses brought chaos to the centre of London today. The police spoke of blasts at four locations, with 33 people confirmed killed on the underground and several others killed when a bomb ripped off the top of a double-decker bus. Several hundred people were badly injured. Prime Minister Tony Blair, who returned to London from the G8 meeting in Scotland, called the bomb attacks barbaric. Pope Benedict XVI spoke of acts against humanity.

Speaking from Singapore, London Mayor Ken Livingstone called the attack on his city cowardly. "My thoughts are with everyone who has been injured, or lost loved ones," the Mayor added. He also thanked Londoners for the calm way in which they responded to one of the most serious terrorist attaccks the city has experienced.

The first explosion happened just before 9 o'clock, in the middle of the morning rush hour, on an underground train heading towards the City of London, the capital's financial centre.

An hour later an explosion ripped the top off a double-decker bus in Tavistock Square, near London's West End. The police is investigating whether the blast on the bus was the work of a suicide bomber.

Shortly after the first explosion, Transport for London closed down the entire underground network and stopped most of the buses in central London.

Telephone communications on most cell phone networks, including Vodafone, T-Mobile and Orange, was nearly impossible. Vodafone, said it had devoted much of its network to emergency services, making it impossible for private subscribers to get in touch with their relatives and friends.

According to the BBC, an Islamic website posted a statement claiming al-Qaeda was behind the attack.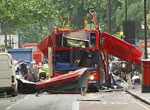 A terrorist bomb killed more than ten people on a bus in central London


London boroughs praised for their response to bomb attacks
An evaluation has praised the emergency to co-ordinate the response of the 33 local authorities in Greater London put into practice for the first time on 7 July when four bombers struck the capital's public transport system during the morning rush hour, killing 56. The Association of London Government, which represents the 32 London Boroughs and the City Corporation, said that the system, which was set up in response to 9/11 in acknowledgement of the city's at-risk status, had performed according to plan.

The resilience measures involve a designated council chief executive, who operates on a rota system, co-ordinating all 33 councils' efforts collectively alongside the emergency services in the case of any major incident such as a terrorist attack or natural disaster. On July 7, most council chief executives were out of London attending the Local Government Association's annual conference in Harrogate, with Croydon chief executive David Wechsler on duty in London that day. Following the incidents, Mr Wechsler was taken from Croydon town hall to the co-ordination response centre in Hendon, North London.

The Boroughs contributed in a number of ways to the response. This included setting up a temporary mortuary in central London and a family assistance centre for victims' relatives. They have also provided temporary rest centres where needed and helped manage a central dedicated area for flowers left in memory of the victims. Some also made special arrangements for children to be transported safely home from schools. In some instances schools remained open longer or alternative arrangements were made to take pupils home. Boroughs have also played a key part in communicating information updates on the incident to their local communities.

The incidents reveal the somewhat fragmented operational workings of the emergency services in the capital. The Metropolitan Police Service is indirectly supervised by the Mayor of London, as is the London Fire Brigade. The British Transport Police and the City of London Police are both independent of the Mayor while the London Ambulance Service is part of the National Health Service. However, on the day itself there were no reported difficulties and the framework designed to provide an over-arching resilience response appears to have performed well.

All of London's public services meet regularly to plan disaster scenario response as part of the London Resilience inter-agency partnership, which is co-ordinated by the Government Office for London (a division of the Office of the Deputy Prime Minister). The central government response to civil emergencies is dealt with by COBRA, the committee chaired by the Prime Minister which includes the police, military and intelligence services. Its name comes from the room inside Downing Street where it meets, Cabinet Office Briefing Room. Report by Andrew Stevens, Political Editor