Toronto City Hall




FRONT PAGE
SiteSearch
About us
Directories

Canada election 2011
Canadian Mayors
Calgary and Toronto mayors
British Columbia's local & regional government
Canadian local government
Canada: Cities and provinces
Canada's big cities need more power
Canada high-speed rail
Montréal bikes go global
Canadians and their cities
Directory of Canadian cities


City Mayors reports news from towns and cities around the world. Worldwide | Elections | North America | Latin America | Europe | Asia | Africa | Events |




Mayors from The Americas, Europe. Asia, Australia and Africa are competing for the annual World Mayor Award. More




City Mayors ranks the world's largest as well as richest cities and urban areas. It also ranks the cities in individual countries, and provides a list of the capital cities of some 200 sovereign countries. More




City Mayors lists and features urban events, conferences and conventions aimed at urban decision makers and those with an interst in cities worldwide. More




City Mayors reports political events, analyses the issues and depicts the main players. More




City Mayors describes and explains the structures and workings of local government in Europe, The Americas, Asia, Australia and Africa. More




City Mayors profiles city leaders from around the world and questions them about their achievements, policies and aims. More




City Mayors deals with economic and investment issues affecting towns and cities. More




City Mayors reports on how business developments impact on cities and examines cooperation between cities and the private sector. More




City Mayors describes and explains financial issues affecting local government. More




City Mayors reports urban environmental developments and examines the challenges faced by cities worldwide. More




City Mayors reports on and discusses urban development issues in developed and developing countries. More



City Mayors reports on developments in urban society and behaviour and reviews relevant research. More




City Mayors deals with urban transport issues in developed and developing countries and features the world's greatest metro systems. More




City Mayors examines education issues and policies affecting children and adults in urban areas. More




City Mayors investigates health issues affecting urban areas with an emphasis on health in cities in developing countries. More




City Mayors examines the contributions history and culture make to urban society and environment. More




City Mayors describes the history, architecture and politics of the greatest city halls in the world. More




City Mayors examines the importance of urban tourism to city economies. More




City Mayors invites readers to write short stories about people in cities around the world. More




City Mayors questions those who govern the world's cities and talks to men and women who contribute to urban society and environment. More




City Mayors profiles national and international organisations representing cities as well as those dealing with urban issues. More




City Mayors reports on major national and international sporting events and their impact on cities. More




City Mayors lists cities and city organisations, profiles individual mayors and provides information on hundreds of urban events. More



This is an archived article published in 2004
Toronto Mayor demands
a special role for his city
By Nick Swift
10 February 2004: The rising of municipalities in Ontario, Canada out of a strictly tertiary status in the Canadian federal system of government has seen a harmonic emerge in the context of the relationship between the Ontario provincial government and its capital and Canada's largest city, Toronto, with Toronto Mayor David Miller expressing outrage at the decision of Ontario Premier Dalton McGuinty's government that it will deal with communities exclusively through the Association of Municipalities of Ontario (AMO). It is Mr. Miller's (and not only his) firm persuasion that Toronto deserves and needs unique consideration in its relationship with the province.

Communities of all sizes and their leaders, including Mayor Miller, were encouraged in May 2004 by the delivery by Canada's Prime Minister Paul Martin of the federal Liberals' fulfilment of the promises made in their Budget 2004 when Mr. Martin addressed the Annual General Meeting in Edmonton of the Federation of Canadian Municipalities (FCM). A portion of the gasoline tax worth up to CAN$2 billion a year was one major part; another was $1.5 billion more for affordable housing. Further points are the rebate, in its entirety, of the Goods and Services Tax (GST) to cities, expected to amount to some $7 billion over the next decade, and the acceleration of the disbursement of the Municipal Rural Infrastructure Fund – worth $100 million – twice as quickly as the 10-year period that had been formulated.

The Green Municipal Funds, with investment in technologies friendly to the environment (including $4 billion to make contaminated sites safe and $600 million for wholesome water in Aboriginal communities), were also described by FCM President (and Mayor of Gatineau) Yves Ducharme as an example of the federal and municipal levels of government working together effectively. Montreal Mayor Gerard Tremblay acclaimed the Prime Minister's New Deal as enabling municipalities to access larger revenue sources.

There are also discrete development agreements, such as with Winnipeg and Vancouver, with programmes for intergovernmental cooperation on a number of issues.

"As we look to improve the places we live," said the Prime Minister then, "we must never forget that our major cities are this nation's key generation points for economic progress. They are the focal points around which economic, social and cultural innovation takes place, and as a result they have special needs."

In late July, John Godfrey, Minister of Infrastructure and Communities (a position that last existed in the 1970s under then-Prime Minister Pierre Trudeau), announced that the premiers of Alberta, British Columbia, Ontario and Saskatchewan had requested that the programme for sharing the gas tax with municipalities should begin with their provinces, and he further said that several such deals would be in place and working by the end of 2004. Each, he explained, would be distinct and according to the needs of the location.

The federal gas tax is to be relayed to municipalities by provincial governments. While most Canadian mayors naturally agree that they would rather get it directly, mayors of smaller cities and communities have been keen to ensure that the enormous difference in size between their constituencies and megalopolises like Toronto does not mean they do not get their fair share. The question, of course, is about what 'fair' means.

The wrinkle that threatens to become a chasm appeared in early August when Mr. Godfrey stated his view that the money from the gas tax that the federal government had promised should be allocated among municipalities according to population numbers. His opinion (which must have come as a shock to David Miller, who applauded Mr. Godfrey's appointment, while expressing misgivings about the significance of the word 'communities') was at variance with the one that Paul Martin put forth, when he was still Minister of Finance, that the country's largest cities have special needs, especially in such matters as public transit. Since the new federal Liberal government is a minority one that will probably not be able to govern without making concessions to the leftist New Democratic Party (NDP), which was far more generous in the portion of the gas tax it offered, specifically, for transport, that aspect of the problem may yet be resolved in a way opposite to the wishes of the other party, the Conservatives, whose leader, Stephen Harper, during the recent election campaign surreally referred to cities as a "special interest group". (He was also overheard remarking, "We don't need the cities to win".)

Simultaneously, the infrastructure scheme of the also-new, also-Liberal Ontario government was revealed. In the course of 30 years, $100 billion are to be spent repairing, replacing, expanding and upgrading all forms of infrastructure throughout Canada's most populous province.

On August 23, a 'Memorandum of Understanding between the Association of Municipalities of Ontario and the Province of Ontario as represented by the Minister of Municipal Affairs and Housing' was issued (revoking the Memorandum of Understanding of December 2001). It sets forth the responsibilities, the commitments, the principles and the programme for implementation of the terms "regarding consultation between Ontario and the Association of Municipalities of Ontario". Schedule C does state: "Consultation with AMO under the terms of this Protocol does not preclude Ontario from consulting directly with specific municipalities. In addition, Ontario may request selected municipalities to participate in provincial/municipal funding and service delivery initiatives". It also says that "AMO will endeavour to consult within its membership, such groups as but not limited to, the Large Urban Mayors' Caucus of Ontario (LUMCO), the Mayors and Regional Chairs of Ontario (MARCO) and L'Association francaise des municipalities de l'Ontario (AFMO), and to take into consideration the full range of municipal opinion. AMO will seek to consolidate these views, align municipal perspectives and present these perspectives for discussions with Ontario".

The Memorandum also grants municipal governments in Ontario what amounts to a new level of authority with the phrase, "Consultation with AMO with respect to the negotiation of agreements between Canada and Ontario on matters that have a direct municipal impact".

The victory felt by Ontario mayors was registered as worse than hollow by David Miller, whose response was to threaten to take Toronto out of the AMO altogether. He said, and repeated, that it is Toronto, and only Toronto – not any other organization – that "speaks for the needs" of the city acknowledged to be the 'economic engine' of the country. Across the province, opinions on the question filled the spectrum, from the satisfied chuckles of mayors of smaller towns who resent big city folk and their fancy ideas to more sophisticated participants and observers to whom it is plain that an urban entity the size of the city by the lake is simply too large and too complicated for its problems to be adequately dealt with by pretending they are on a level with those of Ontario's many 'communities', whether they are called cities or not.

In May Mayor Miller elaborated on his vision for Toronto, frankly admitting that, "to put it bluntly, we are not where we should be. In the past ten years, this city's responsibilities have grown and grown while its ability to meet those responsibilities has remained static. I'm talking about everything from housing to daycare to public transit. And as our existing infrastructure strains to meet ever-expanding demands, there are other warning signs that suggest things could get even worse".

Expressing a wish to go beyond speaking of the problems, though, he said: "I believe we can turn this good city into a great city... We have to make sure that all of our initiatives and plans and programmes leave room for the city to develop its own character – the city needs to find its soul.

"One thing," he continued, " is certain: the path to this city's future begins at the shore of Lake Ontario... Why the waterfront? Is this an arbitrary place to begin development? Is it merely where my own passions lie? Absolutely not. The need to make the waterfront a place where people can live, work and play is anything but a whim. It has been demonstrated time and again that when a city turns its back on its waterfront, it cripples its own prosperity. When the waterfront thrives, so does the city." Citing historical examples from Mesopotamia to New York, Mr. Miller explained: "There comes a time when cities have to take responsibility for how they relate to the water".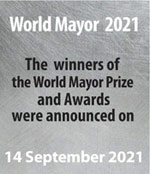 The best Mayors for Stronger | Fairer | Greener cities. Elect your candidate for the 20/21 World Mayor Prize and Honours. The Prize has been awarded since 2004