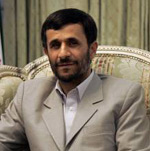 Iranian President Mahmoud Ahmadinejad




FRONT PAGE
SiteSearch
About us
Directories

Iranian local elections 2006
Local democracy Malaysia
Local government in Malaysia
Philippines propose to cancel elections
Karachi local government structure


City Mayors reports news from towns and cities around the world. Worldwide | Elections | North America | Latin America | Europe | Asia | Africa | Events |




Mayors from The Americas, Europe. Asia, Australia and Africa are competing for the annual World Mayor Award. More




City Mayors ranks the world's largest as well as richest cities and urban areas. It also ranks the cities in individual countries, and provides a list of the capital cities of some 200 sovereign countries. More




City Mayors lists and features urban events, conferences and conventions aimed at urban decision makers and those with an interst in cities worldwide. More




City Mayors reports political events, analyses the issues and depicts the main players. More




City Mayors describes and explains the structures and workings of local government in Europe, The Americas, Asia, Australia and Africa. More




City Mayors profiles city leaders from around the world and questions them about their achievements, policies and aims. More




City Mayors deals with economic and investment issues affecting towns and cities. More




City Mayors reports on how business developments impact on cities and examines cooperation between cities and the private sector. More




City Mayors describes and explains financial issues affecting local government. More




City Mayors reports urban environmental developments and examines the challenges faced by cities worldwide. More




City Mayors reports on and discusses urban development issues in developed and developing countries. More



City Mayors reports on developments in urban society and behaviour and reviews relevant research. More




City Mayors deals with urban transport issues in developed and developing countries and features the world's greatest metro systems. More




City Mayors examines education issues and policies affecting children and adults in urban areas. More




City Mayors investigates health issues affecting urban areas with an emphasis on health in cities in developing countries. More




City Mayors examines the contributions history and culture make to urban society and environment. More




City Mayors examines the importance of urban tourism to city economies. More




City Mayors describes the history, architecture and politics of the greatest city halls in the world. More




City Mayors invites readers to write short stories about people in cities around the world. More




City Mayors questions those who govern the world's cities and talks to men and women who contribute to urban society and environment. More




City Mayors profiles national and international organisations representing cities as well as those dealing with urban issues. More




City Mayors reports on major national and international sporting events and their impact on cities. More




City Mayors lists cities and city organisations, profiles individual mayors and provides information on hundreds of urban events. More




Iranian President suffers
defeat in local elections
Report by Al Jazeera
21 December 2006: Final results announced by the Iranian interior ministry show that the Iranian president's opponents have won local elections held on 15 December. Moderate conservatives opposed to President Mahmoud Ahmadinejad won a majority of the seats, followed by reformists, whose chances of electoral success were severely handicapped in 2004 by ultra-conservatives loyal to Ahmadinejad.

The vote is being seen as a sign of public discontent with Ahmadinejad's constant fights with the West, which have led Iran closer to UN sanctions. His anti-Israel rhetoric and unbending stand on the nuclear programme are believed to have divided Iranians who voted him into power in 2005.

Some conservatives feel Ahmadinejad has spent too much time confronting the US and its allies and failed to deal with Iran's struggling economy. The voting also represented a partial comeback for reformists, who favour closer ties with the West and further loosening of social and political restrictions under the Islamic government. Leading reformist Saeed Shariati said the results of the election was a "big no" to Ahmadinejad and his allies.

Similar anti-Ahmadinejad sentiment was visible in the final results of a parallel election held to select members of the Assembly of Experts, a conservative body of 86 senior clerics that monitors Iran's supreme leader and chooses his successor. A big boost for moderates within the ruling Islamic establishment was visible in the big number of votes for Hashemi Rafsanjani, who lost to Ahmadinejad in the 2005 presidential election run-off.

Rafsanjani, who supports dialogue with the US, received the most votes of any Tehran candidate to win re-election to the assembly. Also re-elected was Hasan Rowhani, Iran's former top nuclear negotiator whom Ahmadinejad repeatedly accused of making too many concessions to the Europeans.

In Tehran, the capital, candidates supporting Mohammed Bagher Qalibaf, the city's moderate-conservative mayor, won seven of the 15 council seats. Reformists won four, while Ahmadinejad's allies won three. The last seat went to Ali Reza Dabir, a wrestling champion who won a gold medal in the 2000 Sydney Olympics and is considered an independent.

Final results for the rest of the country also showed a heavy defeat for Ahmadinejad supporters, and analysts said his allies won less than 20 per cent of local council seats nationwide. None of his candidates won seats on the councils in the cities of Shiraz, Bandar Abbas, Sari, Zanjan, Rasht, Islam, Sanandaj and Kerman. Many councils in other cities were divided along similar proportions as Tehran's.

Iran started having council elections after a reform introduced in 1999 by Mohammed Khatami, the then president. More than 233,000 candidates ran for more than 113,000 council seats in cities, towns and villages across the vast nation on Friday.

All municipal council candidates, including some 5,000 women, were vetted by parliamentary committees dominated by ultra-conservatives. "The committees disqualified about 10,000 nominees," reports said.

The election does not directly effect Ahmadinejad's administration and is not expected to bring immediate policy changes. The local councils handle community matters in cities and town across the country. But it represented the first time the public has weighed in on Ahmadinejad's stormy presidency since he took office in June 2005.