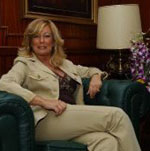 Marbella's disgraced Mayor Marisol Yagüe




FRONT PAGE
SiteSearch
About us
Directories

Corruption in Spanish local government
The Marbella scandal
Spanish elections 2007
Spanish mayor at the Vatican
The Puebla case


City Mayors reports news from towns and cities around the world. Worldwide | Elections | North America | Latin America | Europe | Asia | Africa | Events |




Mayors from The Americas, Europe. Asia, Australia and Africa are competing for the annual World Mayor Award. More




City Mayors ranks the world's largest as well as richest cities and urban areas. It also ranks the cities in individual countries, and provides a list of the capital cities of some 200 sovereign countries. More




City Mayors reports political events, analyses the issues and depicts the main players. More




City Mayors describes and explains the structures and workings of local government in Europe, The Americas, Asia, Australia and Africa. More




City Mayors profiles city leaders from around the world and questions them about their achievements, policies and aims. More




City Mayors deals with economic and investment issues affecting towns and cities. More




City Mayors reports on how business developments impact on cities and examines cooperation between cities and the private sector. More




City Mayors describes and explains financial issues affecting local government. More




City Mayors lists and features urban events, conferences and conventions aimed at urban decision makers and those with an interst in cities worldwide. More




City Mayors reports urban environmental developments and examines the challenges faced by cities worldwide. More




City Mayors reports on and discusses urban development issues in developed and developing countries. More



City Mayors reports on developments in urban society and behaviour and reviews relevant research. More




City Mayors deals with urban transport issues in developed and developing countries and features the world's greatest metro systems. More




City Mayors examines education issues and policies affecting children and adults in urban areas. More




City Mayors investigates health issues affecting urban areas with an emphasis on health in cities in developing countries. More




City Mayors examines the importance of urban tourism to city economies. More




City Mayors examines the contributions history and culture make to urban society and environment. More




City Mayors describes the history, architecture and politics of the greatest city halls in the world. More




City Mayors invites readers to write short stories about people in cities around the world. More




City Mayors questions those who govern the world's cities and talks to men and women who contribute to urban society and environment. More




City Mayors profiles national and international organisations representing cities as well as those dealing with urban issues. More




City Mayors reports on major national and international sporting events and their impact on cities. More




City Mayors lists cities and city organisations, profiles individual mayors and provides information on hundreds of urban events. More


Marbella awaits new elections after most
local politicians are accused of corruption
By Daniel González Herrera, Spain Editor
16 November 2006: The sleaze scandal, which hit the southern Spanish resort city Marbella in spring 2006, soon proved to be only the tip of a massive corruption iceberg. During the spring operation, codenamed Operation Malaya, the police arrested the city's mayor and deputy mayor amid allegations of money laundering, property development offences, including building on land protected from development, manipulation of public tenders, the acceptance of bribes as well as schemes to alter the price of municipal services.

During a second investigation, 'Operation Malaya 2' new offences came to light, resulting in some 30 city councillors and business people being accused of massive corruption. These accusations were in addition to the arrests made earlier in the year. Then. 29 people were arrested, including Mayor Marisol Yagüe, her deputy, Isabel García Marcos and José Antonio Roca, who was town planning advisor. During the investigation, Judge Miguel Ángel Torres said of Mr Roca that he was the driving force in Marbella City Hall and that the Mayor performed a mere symbolic role. In September 2006, the former mayor and her deputy were released from custody on 60,000-euro bail.

Those arrested as part of 'Malaya 2' included the former chief of Marbella's police Rafael del Pozo and Tomás Reñones, the city's second deputy mayor. Mr Reñones became acting mayor after the arrest of the mayor and the first deputy mayor. However, his involvement in the scandals became clear during the following-up investigations and Judge Torres ordered his unconditional detention. Tomás Reñones was football player and captain of Atlético de Madrid, the football club owned by the late Jesús Gil, the first of the big corrupted mayors of Marbella and founder of GIL, the political party whose members included the disgraced mayor Marisol Yagüe.

Also arrested during this summer was Julián Muñoz,, another former mayor of Marbella, on charges of bribery and misappropriation of public funds. Mr Muñoz, also a member of the GIL party, became mayor in 2002. During his short term of office he fell publicly out with the all-powerful town planner José Antonio Roca. Mr Roca was dismissed only to organise a 'coup' one month later, which resulted in Mayor Muñoz being expelled from City Hall on a vote of censure.

In the latest move in Operation Malaya on 14 November 2006, Mayte Zaldívar, ex-wife of the former mayor of Marbella Julián Muñoz, was detained in her home. She is accused of having helped her former husband to hide the money that he supposedly misappropriated from Marbella City Council. She is not the only one arrested: her brother, five businessmen, a judicial employee and the director of a bank branch are also being detained.

Today, until the forthcoming local elections in May 2007, Marbella is governed by an administrative commission appointed by Malaga's provincial government.

Marbella: Corruption, sleazy politics
and shady real estate developments
5 April 2006: The southern Spanish city of Marbella, often described as the tourist jewel of Andalusia, is again in the centre of a political scandal, with the mayor and deputy mayor having been arrested amid allegations of bribery and corruption. Since the late Jesús Gil became its mayor in 1991, the city has gained a reputation for corruption, sleazy politics and dubious real estate developments.

The latest scandal has its origin in Operation White Whale (Operación Ballena Blanca). In March 2005, Spain's national police force set out to put an end to the laundering of profits made from drug trafficking. The examining magistrate, overseeing the operation, allowed phone tapping of some of the suspects. During the recordings, the investigators intercepted another possible case of money laundering, this time related to Marbella City Hall. Judge Miguel Ángel Torres consequently ordered a parallel investigation into possible cases of corruption and bribery.

This investigation, codenamed 'Operation Malaya', was overseen by court authorities in Marbella and the public prosecutor's office against corruption. Investigators soon discovered a structure of companies, which were in a position to carry out illegal activities with potentially million-euro profits. On 29 March 2006, some 150 police officers carried out searches in Marbella City Hall and other municipal offices. Searches were also carried out at the home of Marbella Mayor Marisol Yagüe as well as at addresses in other Spanish cities.

As part of the operation the police froze more than 1,000 bank accounts and seized a large number of valuables among them paintings by Salvador Dalí and Pablo Picasso as well as luxury cars. The police also took over several large houses, including a small palace in Madrid. The investigators are now examining huge quantities of paper and computer-based records to gain an idea about the spread of the alleged corruption plot. By 31 March, some 21 arrests had been made, including those of the Marbella Mayor Marisol Yagüe and her deputy Isabel García Marco, who had just returned from a honeymoon in Russia. A spokesman for the Andalusia regional government said that more arrests were possible.

Background
The individuals arrested by the police are being investigated of alleged criminal activities such as money laundering, property development offences, including building on land protected from development, manipulation of public tenders, the acceptance of bribes as well as schemes to alter the price of municipal services. Any profits from these activities, which could run into millions of euros, are suspected to be laundered by shady companies, which are often headed by front men to give them some respectability.

Because of the frequency of property development scandals in Marbella, the regional government of Andalusia has stripped the city of its jurisdiction over building projects.

The most prominent person to be arrested in Marbella's latest scandal is Mayor Marisol Yagüe. A member of the Independent Liberal Group (GIL), she is the first woman to lead the city and heads a coalition administration made up of the PSOE (Socialist Party of Spain), PP (People's Party) and the regional Pro-Andalusia Party. She took over the post of Mayor in August 2003 after her predecessor, Julián Muñoz (GIL), was censured by the city council. GIL was founded by the late Jesús Gil.

Between 1991 and 2002, GIL had the absolute majority on the city council. In 2002, Mr Gil resigned after numerous financial and influence peddling scandals. Shortly before his resignation Spain's Supreme Court issued a judgment, barring him from carrying out any public office for 28 years. He was accused of diverting more than 270,000 euro of public funds, belonging to Marbella, to Atlético de Madrid, a football club he managed. Jesús Gil died in Madrid on 14 May 2004.

Jesús Gil was succeeded by Julián Muñoz, whose time in office only lasted a little more than one year. Even a change of mayor did not bring an end to the string of property development scandals. The new mayor was also constantly in the media spotlight because of his association with the Spanish singer Isabel Pantoja. In March 2005, a court in Malaga sentenced Mr Muñoz to six months in prison and barred him from holding a public office for eight years because he allowed illegal building in Banana Beach, an area of Marbella.

In August 2003, Marisol Yagüe became Mayor of Marbella, after councillors from the PSOE and the Pro-Andalusia Party succeeded in a censure vote against Julián Muñoz. The vote was also supported by some members of GIL, who felt more loyal to the party founder than the then mayor.

Marisol Yagüe, who was being described as a populist, was the chosen successor of the disgraced GIL founder Jesús Gil. After her election, she became quickly accused of distancing herself from the people. Visitors had to wait for hours before being allowed into the mayor's office. She also attracted unfavourable publicity for extended and luxurious holidays.

Mayor Yagüe also became involved in a dispute with a building company working on her own house in an up-market development of Marbella. The company accused her of non-payment of one million euro. The company owner also alleged that Ms Yagüe tried to pay him out of public funds and that the Mayor suggested the use of municipal construction material for her private residence.

Attention of the current investigation is also again focusing on Juan Antonio Roca, advisor on urban development to the city council. It has been said that Mr Roca pulls all the string in Marbella and is the real power in the city after the death of Jesús Gil. Apparently, no major business deal can be done in Marbella without his approval. It has also been suggested that he profits from many such deals. The fortune he amassed during the past 15 years, is said to be one of the largest in Andalusia. Nevertheless, Mr Roca came through the investigation unscathed after Jesús Gil's fall from grace.

Mayor Gil's successor, Julián Muñoz, dismissed Juan Roca, believing that he had been too closely linked to too many property scandals. Politically, however, this proved to be a bad mistake. Soon after his dismissal, Juan Roca became the driving force behind the censure vote against the mayor and within two months Marisol Yagüe replaced Julián Muñoz as city leader.

In a sign that the people of Marbella had finally enough of their local politicians, citizens groups, supported by the main political parties, staged a large demonstration on 30 March 2006. It's motto: 'For our dignity – against corruption'.