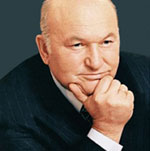 While Moscow Mayor Yuri Luzhkov have retained the confidence of the Kremlin,,,,




FRONT PAGE
SiteSearch
About us
Directories

Russian mayors
Ukrainian mayors call for revolt
Local government in Russia
Mayor of Moscow
Russian libraries


City Mayors reports news from towns and cities around the world. Worldwide | Elections | North America | Latin America | Europe | Asia | Africa | Events |




Mayors from The Americas, Europe. Asia, Australia and Africa are competing for the annual World Mayor Award. More




City Mayors ranks the world's largest as well as richest cities and urban areas. It also ranks the cities in individual countries, and provides a list of the capital cities of some 200 sovereign countries. More




City Mayors reports political events, analyses the issues and depicts the main players. More




City Mayors describes and explains the structures and workings of local government in Europe, The Americas, Asia, Australia and Africa. More




City Mayors profiles city leaders from around the world and questions them about their achievements, policies and aims. More




City Mayors deals with economic and investment issues affecting towns and cities. More




City Mayors reports on how business developments impact on cities and examines cooperation between cities and the private sector. More




City Mayors describes and explains financial issues affecting local government. More




City Mayors lists and features urban events, conferences and conventions aimed at urban decision makers and those with an interst in cities worldwide. More




City Mayors reports urban environmental developments and examines the challenges faced by cities worldwide. More




City Mayors reports on and discusses urban development issues in developed and developing countries. More



City Mayors reports on developments in urban society and behaviour and reviews relevant research. More




City Mayors deals with urban transport issues in developed and developing countries and features the world's greatest metro systems. More




City Mayors examines education issues and policies affecting children and adults in urban areas. More




City Mayors investigates health issues affecting urban areas with an emphasis on health in cities in developing countries. More




City Mayors examines the importance of urban tourism to city economies. More




City Mayors examines the contributions history and culture make to urban society and environment. More




City Mayors describes the history, architecture and politics of the greatest city halls in the world. More




City Mayors invites readers to write short stories about people in cities around the world. More




City Mayors questions those who govern the world's cities and talks to men and women who contribute to urban society and environment. More




City Mayors profiles national and international organisations representing cities as well as those dealing with urban issues. More




City Mayors reports on major national and international sporting events and their impact on cities. More




City Mayors lists cities and city organisations, profiles individual mayors and provides information on hundreds of urban events. More


Russian mayors in the spotlight
ahead of key national elections
By Claire Bigg*
22 June 2007: High-profile lawsuits against city mayors have been a prominent feature of Russia's political life in the past year. Prosecutors say they are combating rampant corruption in municipal administrations. But the lawsuits are widely seen as part of another, ongoing battle - one aimed at muzzling dissent in the regions ahead of key elections.

Comment & Debate

In December 2006, Aleksandr Makarov, the mayor of the Siberian city of Tomsk, was visited by police at his office. He was accused of receiving bribes in exchange for lucrative construction contracts and taken to a detention center. Further corruption charges were pressed against him after police allegedly found large amounts of cash in his home.

Makarov has been in jail awaiting a court verdict ever since. He was suspended from his post and is recovering from a heart attack suffered during the search of his home. He rejects all charges and has lodged a complaint with the European Court of Human Rights.

Makarov's case is not isolated. Over the past year, a dozen mayors in Russia have been detained and taken to court on corruption-related charges. Russian political analyst Mark Urnov says less noble motives lurk behind what appears to be a clampdown on corruption. "What is most likely to be happening here is a replacement of mayors who are disliked either by the governor of the federal government," Urnov said. "As a rule, relations between mayors of regional capitals and governors are not very good. Governors - because they are directly connected to the federal government - now have many possibilities to put pressure on elected mayors who displease them."

This view is shared by Dmitry Oreshkin, director of the Mercator Research Group, which specializes in political monitoring in Russia's regions. Oreshkin says money is also a driving force in the battle for control of the cities.

"In Russia, 73 per cent of the population lives in cities, and Russia's main economic riches are generated in cities," Oreshkin said. "City elites control the chief industries, the chief source of the gross regional product. So governors, who are part of the vertical of power, have no control over the main section of financial flows. This is why there is a huge drive to make [mayors] dependent on gubernatorial elites, to integrate them into the vertical of power."

Since assuming power in 2000, Russian President Vladimir Putin has sought to consolidate what he likes to refer to as the "vertical of power" - top-down, centralized administration.

In 2004, he scrapped the popular election of regional governors. Candidates are now nominated by the president for approval by regional assemblies. Securing loyalty in the regions is particularly important for the Kremlin as Russia prepares to elect a new federal parliament in December 2007 and a new president in March 2008.

With the governors now under control, Moscow is eager to rein in mayors, who remain elected by popular vote and have influence over millions of rural voters. "This is really a systemic phenomenon," Oreshkin said. "The authorities are trying to deal a severe blow to the mayors' independence. The easiest way of achieving that is to frighten them, to accuse mayors of real or fabricated abuses. These violations can be simply ridiculous, for instance with the mayor of Arkhangelsk, of Volgograd, and many other mayors."

Arkhangelsk's 37-year-old mayor, Aleksandr Donskoi, fell from grace in February, when prosecutors indicted him on four counts - faking a university diploma, using it to obtain a second higher education, using budget funds to pay for his son's bodyguards, and authorizing a company to build a shopping center without governmental clearance. He maintains that the charges against him are retaliation for his plans to run for president in 2008.

"I declared in October that I would run for president," Donskoi said. "After this, criminal cases were opened. What's more, I was made to understand that these criminal cases are connected to my declaration that I planned to run. The people who commissioned these criminal cases are federal officials, together with the governor of the Arkhangelsk Oblast."

Donskoi has not given up his presidential ambitions. But he predicts that he will soon be dismissed from his mayoral post and blocked from participating in any election.

Volgograd's former mayor, Yevgeny Ishchenko, seems equally unlikely to make a strong political comeback after his trial. Ishchenko was sentenced to one year in prison on 13 June 2007 on charges of possessing ammunition and engaging in illegal business activities. He was freed in the courtroom since he had already spent more than one year in preliminary detention. As mayor, Ishchenko had repeatedly clashed with the local branch of Russia's ruling pro-Kremlin party, Unified Russia, and with the regional governor.

But after a year in jail, the once firebrand mayor is shying away from the spotlight - and from commenting on who could have initiated the charges against him.

"Honestly, I can't judge, I don't know," Ishchenko said. "What happened, happened. But I don't consider myself guilty of what I've been accused of. I don't exclude the possibility of a political order, I can't name those behind it. It's hard for me to judge, and to be honest, I'm very tired of this whole story, I don't want to go back to it. I want to have a quiet, private life, because I'm very tired of this story."

A few more heads are likely to roll ahead of the upcoming elections. Mayors could then vanish altogether from Russia's political landscape - Unified Russia deputies are expected to wait until after the elections to move ahead with a controversial draft law, giving governors to option of scrapping the post of mayor in their region.

*This article was originally published by Radio Free Europe/Radio Liberty, who retain the copyright.


---
Comment & Debate
City Mayors is inviting its readers to engage in a debate on the issues raised in the article on this page. Please post your comments below. Your comments should deal with the topics of this article and must be legal and ethical. You may also reply to and/or challenge comments of other readers. While we endeavour to publish all relevant comments, we reserve the right to edit them and to reject unsuitable contributions.
Please add your comment