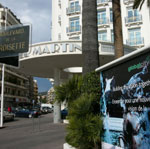 Cannes' Martinez Hotel, venue of Global City 2005

Global City
Tel: +33 (0)1 41 90 45 17
Fax: +33 (0)1 41 90 45 30
Email:
nathalie.depetro@
reedmidem.com
Internet:
www.globalcityforum.com

Reed MIDEM Paris Headquarters
11 rue du Colonel Pierre Avia
75726 Paris Cedex 15
FRANCE



FRONT PAGE
SiteSearch
About us
Directories


Global City 2006
Global City 2005
Urban events
World Urban Forum 2004
UCLG Congress 2004
Glocal
Glocal conference 2004
Slow Cities




City Mayors reports news from towns and cities around the world. Worldwide | Elections | North America | Latin America | Europe | Asia | Africa | Events |




Mayors from The Americas, Europe. Asia, Australia and Africa are competing for the annual World Mayor Award. More




City Mayors ranks the world's largest as well as richest cities and urban areas. It also ranks the cities in individual countries, and provides a list of the capital cities of some 200 sovereign countries. More




City Mayors reports political events, analyses the issues and depicts the main players. More




City Mayors describes and explains the structures and workings of local government in Europe, The Americas, Asia, Australia and Africa. More




City Mayors profiles city leaders from around the world and questions them about their achievements, policies and aims. More




City Mayors deals with economic and investment issues affecting towns and cities. More




City Mayors reports on how business developments impact on cities and examines cooperation between cities and the private sector. More




City Mayors describes and explains financial issues affecting local government. More




City Mayors lists and features urban events, conferences and conventions aimed at urban decision makers and those with an interst in cities worldwide. More




City Mayors reports urban environmental developments and examines the challenges faced by cities worldwide. More




City Mayors reports on and discusses urban development issues in developed and developing countries. More



City Mayors reports on developments in urban society and behaviour and reviews relevant research. More




City Mayors deals with urban transport issues in developed and developing countries and features the world's greatest metro systems. More




City Mayors examines education issues and policies affecting children and adults in urban areas. More




City Mayors investigates health issues affecting urban areas with an emphasis on health in cities in developing countries. More




City Mayors examines the importance of urban tourism to city economies. More




City Mayors examines the contributions history and culture make to urban society and environment. More




City Mayors describes the history, architecture and politics of the greatest city halls in the world. More




City Mayors invites readers to write short stories about people in cities around the world. More




City Mayors questions those who govern the world's cities and talks to men and women who contribute to urban society and environment. More




City Mayors profiles national and international organisations representing cities as well as those dealing with urban issues. More




City Mayors reports on major national and international sporting events and their impact on cities. More




City Mayors lists cities and city organisations, profiles individual mayors and provides information on hundreds of urban events. More


First Global City offered varied programme
and in 2006 plans to move away from MIPIM
By Guy Kervella, European Editor
Preceding MIPIM, Europe's biggest real estate event, and overlapping it by one day, the first Global City, a forum for 'urban decision makers', could not fail. MIPIM, one of the main attractions of Cannes' annual events calendar, has always been attended by large numbers of representatives from cities around the world, eager to showcase their communities to potential investors.

So why stage a separate event for local government? Reed MIDEM, the organisers of both MIPIM and Global City, say that cities attending MIPIM suggested and demanded an event with a wider remit. Nathalie Depetro, Director of Global City, told City Mayors that local governments valued MIPIM because the show allowed them to meet and talk to all the important people in real estate. "Then numerous urban decision makers came to us and said we need an event that allowed us to discuss among ourselves and with representatives from the private sector all the issues which cities have to confront today," Ms Depetro added.

So Global City was born. The first forum was held in early March 2005 and attracted more than 900 participants, half of them from local government, the other half from the private sector. The event was not short of big names. The advisory committee was made up of some of Europe's best-known mayors, including Walter Veltroni (Rome), Petra Roth (Frankfurt), Wolfgang Schuster (Stuttgart), Gérard Collomb (Lyon), Jean Marie Bockel (Mulhouse), Alfredo Sanchez Monteseiring (Seville) and Arturas Zuokas (Vilnius).

However, while the organisers claim that participants came from 33 countries, there were few representatives from cities outside Europe. No mayors from North or South America and no mayors from Asia. So the first Global City event was more European than global, a fact freely admitted by Ms Depetro. She told City Mayors that for the first year Reed MIDEM decided to concentrate its marketing efforts in Europe. "We did not want to overreach ourselves this year. In 2006 you will see many more local authority participants from The Americas, Asia and Africa," she added.

Most participants City Mayors spoke to, praised Reed for staging a well-organised event and for putting together a varied and interesting programme, which included topics such as 'Making our cities safe', the 'Flemish public transport model' and the 'Pitfalls of public-private partnerships'.

Peter Batchelor, State Minister for Transport, from Victoria, Australia presented an overview of Melbourne's transport plan up to 2030. He also described how his Labor government inherited from the previous administration a privatised transport system, which had been introduced two months before the election. He told an audience of transport experts that, while Labor decided to keep the system privatised, he had to renegotiate some of the contracts. "According to the World Bank two-thirds of public private partnerships have to be renegotiated within five years," the Minister pointed out.

Ingrid Lieten, Director General of the VVM De Lijn public transport company, explained details of the Flemish Pegasus Plan 2003-2025. The plan applied to the densely populated Antwerp region of Belgium aims to encourage people to switch from car use to public transport by offering them mobility rights. For example, all urban citizens should have a bus stop within 500 metres, while people living in rural areas should not have to walk further than 750 metres to pick up a bus.

Carol Sirou, Managing Director of Standard & Poor in France, pointed out that in the US more than 10,000 communities have a credit rating, compared to only 300 in Europe. Ms Sirou told City Mayors that a good credit rating helped local authorities to negotiate favourable terms with investors, suppliers and lenders. At the Global City Forum, several cities, which had applied for and given a credit rating, extolled the virtues of an AAA or AA rating.

At the seminar 'Making our cities safe', speakers explained that in the past cities in 'Anglo-Saxon' countries introduced more and more CCTV cameras to fight street crime, while communities in Latin countries favoured social and crime prevention policies. But it is now recognised by most local authorities, that successful crime prevention required both systems, City Mayors was told by speakers at the Forum.

In 2006, Global City will have to prove that it can succeed without being associated with MIPIM. Nathalie Depetro, the event's director, expressed confidence. "Next year we will be in Lyon on 16 to 18 May," she told City Mayors. She also added that she saw no reasons why subsequent events could not be held outside France.

New forum aims to showcase
development success stories
Interview with Nathalie Depetro, Director of Global City,
conducted before the event

Each March, the world of commercial real estate descends on Cannes to attend MIPIM, Europe's biggest property event. In 2005, MIPIM will be preceded by Global City, a forum for 'urban decision-makers'. City Mayors spoke to Global City's director Nathalie Depetro to find out whether the purpose behind the new event was merely commercial or whether it could become an annual showcase for successful urban development projects.

City Mayors: Are the reasons for starting Global City mainly commercial?
Nathalie Depetro: Reed MIDEM is a leading organiser of professional, international trade shows. It organises MIPIM, the international property market, which brings together real estate professionals and cities from all over the world. The idea of creating Global City came after numerous requests from cities attending MIPIM for an event more focussed on urban strategies and not only property matters. Therefore Reed MIDEM decided to support urban decision makers with its full range of skills and expertise and organise an annual show, which also sustains contacts and dialogue throughout the year. As Reed MIDEM's initiative is not financed by any public or European institutions, we had to create a forum which generates revenues.

City Mayors: What differentiates Global City from other discussion forums such as Glocal or forums held by organisations such as United Cities and the World Urban Forum?
Nathalie Depetro: Global City is an innovative forum because it is the only one to gather the key elements :
• a global approach to urban issues.
• a place where public and private partners come together to show their projects, developments and solutions.
• an annual event allowing participants to follow up their contacts.
The organiser of Global city, Reed MIDEM, is not a city nor an affiliate of any urban organisation. Therefore it is totally non-political when selecting cities to present their urban strategies. The aim of Global city is to show as many effective solutions and experiences as possible.

City Mayors: Whom does Global City aim to address?
Nathalie Depetro: Global City aims to gather together mayors and council leaders, elected people in charge of urbanism, environment and transport, development agencies, architects, experts in urban development and private companies coming to present global solutions together with cities.

City Mayors: The mayors and cities on your list … how were they selected.
Nathalie Depetro: The programme of Global City is featuring two kinds of cities :
• cities that have a global success story in their urban development
• cities showcasing with their private partners innovative solutions in the fields of economic development, quality of the environment, and transportation and high tech connectivity in the city.

Therefore it was a big research effort to select cities which are going to be part of the programme. For example, we will have the city of Ghent presenting its approach to urban lighting with its partner Philips, while the city of London will be reporting on its radical project to use a toll to cut city-centre traffic congestion.
But there is no selection process at all for Mayors or cities attending GLOBAL CITY as the aim is to facilitate communication and exchange of ideas and solutions among cities.

City Mayors: What do the participating mayors/cities expect to achieve at Global City?
Nathalie Depetro: Participating cities come to Global City to share ideas, case-studies and best practice. Attending this event will provide mayors with innovative solutions or ideas they can implement in their own cities. It will also help them gain time by seeing in place solutions already tried and tested in other cities. This annual event will also be an excellent networking and promotion tool. More generally, Global City will provide mayors with information and examples of their changing role in the context of new governance models.

City Mayors: Do they pay Global City to participate or are they being paid?
Nathalie Depetro: All mayors are invited to attend Global City, whether they speak during a conference or not. All the other participants pay their entrance fees.

City Mayors: What kind of audience do you expect?
Nathalie Depetro: We are expecting around 1,000 participants with 80 per cent of public participants and 20 per cent of private partners, which seems to us a good balance between public and private participants. The audience will be totally international, if mainly European in this first edition. However, we will have the City of Melbourne from further afield, for example, which will tell the story of its experiences in sustainable growth.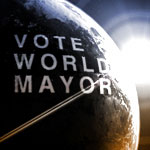 Who are the world's most outstanding mayors? If you know of mayors who have the vision, passion and skills to make their cities amazing places to live in, work in and visit nominate him or her now for World Mayor 2006.

World Mayor 2006
Please vote now
The World Mayor project is now in its third year. This year, as in 2004 and 2005, the World Mayor project is seeking out mayors who have the vision, passion and skills to make their cities amazing places to live in, work in and visit.

The World Mayor project aims to show what outstanding mayors can achieve and raise their profiles. It honours those who have served their communities well and who have made contributions to the well-being of cities nationally and internationally. The most outstanding mayor of 2006 will be presented with the World Mayor Award.

You are now invited to nominate mayors who you think should be among the finalists of World Mayor 2006.
Please vote now