LOCAL GOVERNMENT

Freedom Mayors: Istanbul
By City Mayors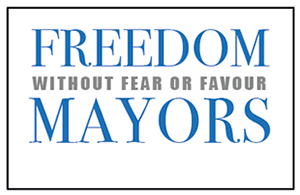 ON THIS PAGE: Freedom Mayors - Preamble ||| Brief description ||| Participation ||| Mayor of Istanbul

ON OTHER PAGES: Code of Ethics for mayors ||| Women mayors ||| Corrupt American mayors

Freedom Mayors
Without Fear or Favour
- Mayors must act at all times in the interest of their citizens. They must do so without Fear or Favour.
- Mayors must not be intimidated, directly or by implication, in the conduct of their duties.
- Mayors must not be offered incentives that contravene their oath of office.

The Freedom Mayors Project will be launched to support the independence, integrity and public accountability of mayors worldwide. We will celebrate mayors who stand up to intimidation whether the threats originate from authoritarian regimes, criminal organisations, powerful corporations or political interest groups. We will side with mayors who have become victims of coercion and violence.

The Freedom Mayors Project encourages and will rely on public participation. Please suggest mayors who, in your opinion, are or have been obstructed in carrying out their public duties without fear or favour. Freedom.Mayors@gmail.com


---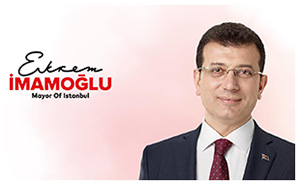 Istanbul mayor:
Turkish prosecutor calls for political
ban for President Erdogan's rival
November 2022: Istanbul's popular mayor and a possible candidate in next year's Turkish presidential election has been put on trial and threatened with a lengthy prison sentence as well as a ban from politics.

Mayor Ekrem Imamoglu, from Turkey's main opposition Republican People's Party (CHP), was elected to lead Turkey's largest city in March 2019. His win was a historic blow to President Recep Tayyip Erdogan's Justice and Development Party, which had controlled Istanbul for a quarter-century. The ruling party pushed to void the municipal election results in the city of 16 million, alleging irregularities. The challenge resulted in a repeat of the election a few months later, which Imamoglu won with an increased majority.

A prosecutor called for the mayor to be convicted on charges of insulting members of Turkey's Supreme Electoral Council, during the trial which critics say is an attempt to remove a prominent opponent of the Turkish President from the political scene. The mayor's trial is based on accusations that he insulted members of the electoral council when he described the cancelling of legitimate elections as "foolishness".

The mayor denies insulting members of the council, insisting his words were a response to Interior Minister Suleyman Soylu calling him "a fool" and accusing Imamoglu of criticising Turkey during a visit to the European Parliament. A reporter, who testified as a defence witness, told the court that Mayor Imamoglu made the statement after she asked him to respond to Soylu calling him "a fool". A request for the court to hear two further defence witnesses was rejected.

Before the trial began, the roads leading to the court building were cordoned off and a district-wide protest ban was imposed. More than 1,000 people gathered in a square outside the district to support Imamoglu. The crowd held up his party's banners and chanted "you'll never walk alone".

Government critics regard the trial as an attempt to prevent the popular mayor from running against President Erdogan in presidential and parliamentary elections currently scheduled for June 2023.

If convicted, Imamoglu could lose his post as mayor and be replaced by someone close to Erdogan's ruling party.

In 2020, the Turkish authorities detained a number of popularly elected mayors in Turkey's Kurdish-majority southeast, which part of a campaign against the Kurdish-friendly People's Democratic Party (HDP), the third largest party in the Turkish parliament. At the time, the arrests raised the number of HDP mayors in prison to at least 21. The government appointed administrators to 45 of a total of 65 municipalities won by the HDP in 2019.

© Copyright: All content of the City Mayors and World Mayor websites are protected by worldwide copyright. Please contact the editor if you wish to use any material from the City Mayors, World Mayor or Women Mayors websites.