FREEDOM MAYORS

Tel Aviv Mayor Huldai fears
threat to Israel's democracy
By City Mayors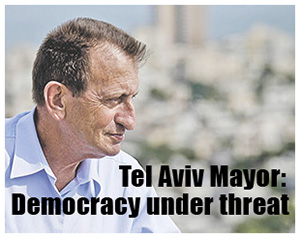 ON OTHER PAGES: Freedom Mayors | Israeli mayors condemn 'reforms' of judiciary | Mayor of Istanbul | Philippine mayors killed | The killing of Mexican mayors

WORLD MAYOR 2023: The 2023 World Mayor Prize is dedicated to Friendship between Cities. The Honours will be awarded to mayors and cities that have made outstanding contributions to friendship, partnership and cooperation between towns and cities at home and across borders. PLEASE NOMINATE YOUR CANDIDATES


The danger posed by far-right
religious ideology in Israel
December 2022: In an outspoken interview, Tel Aviv Mayor Ron Huldai warned that Israel's new government was on the verge of transforming the country into a fascist-style theocracy. The mayor condemned Prime Minister Benjamin Netanyahu's decision to put Avi Maoz from the far-right religious Noam party in charge of key education programmes.

Avi Maoz, a member of the Israeli parliament (Knesset), is known for his strident anti-LGBT and misogynistic views. He has described LGBT people as a threat to the family and has said he wants to cancel gay pride parades. His party ran a poster campaign in 2019 with the words "Israel chooses to be normal". He has also said a woman's greatest's contribution is in marriage and raising a family.

Ron Huldai spoke out after several other Israeli mayors and more than 50 municipal officials as well as some 300 school principals notified Benjamin Netanyahu that they would not co-operate with any politician who endangered pluralism and democratic values. Several local authorities have said they will not allow Maoz to dictate their educational curricula.

When reminded that Netanyahu's Likud party and its coalition partners had won the November 2022 elections, Mayor Huldai elaborated that in all the fascist states, the leaders were chosen by the people. "There are elections in Iran. Is that country a democracy? No."

"Democracy stems from a person having rights that nobody can take from them - not the majority and not God. That's democracy," he explained. "Democracy is not the majority taking control of the minority and telling it what to think, how to eat and what to do."

"Tel Aviv is democratic, tolerant, pluralistic, respectful of every minority. We'll defend that. We'll keep Tel Aviv free," the mayor vowed.

According to the coalition government agreement, the education ministry unit responsible for external teaching and partnerships will be placed under Avi Maoz's control, giving him authority over non-official bodies enlisted to teach or lecture at schools. The unit will also receive an annual budget of some US$29 million and be responsible for art, science social and political programmes offered by external organisations. A number of Israel's local authorities have announced they will rather self-fund courses than accept programmes that do not reflect their values.

Among those communities voicing their intention to go against Avi Maoz were Ramat Hasharon, Eshkol, Emek Hefer, Mateh Yehuda, Jezreel Valley, Gezer, Kiryat Tivon, Darom Hasharon, Kfar Yona, Neve Monosson, Tel Mond, Savyon, Pardess Hanna, Gilboa, Hof HaCarmel, Megiddo, Givat Brenner, Ramat Yishai, Pardesiya, Meta Asher, Ramat Yishai, Yoav, Kochav Yair-Tzur Yigal, Yehud, Bnei Shimon, Ibn Yehuda, Upper Galilee, Zebulon and Menashe.

The new government's coalition agreement was also condemned by women's organisations. The 14th Forum, which is composed of women who head local authorities, told the incoming prime minister that the country's education system must remain free of political interests and give expression to the variety of opinions and voices that exist in Israeli society. "It cannot be divided like a puzzle for the 'need for a coalition agreement' of one kind or another."

Separately, under the coalition agreement, Netanyahu's Likud party has also accepted its right-wing partners' demand not to ratify the Istanbul Convention on Violence against Women. The country will thus not join what is widely considered the most advanced of all international treaties on the fight against gender-based violence.


© Copyright: All content of the City Mayors and World Mayor websites are protected by worldwide copyright. Please contact the editor if you wish to use any material from the City Mayors, World Mayor or Women Mayors websites.