FREEDOM MAYORS

Louisville mass shooting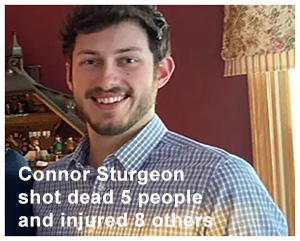 RELATED PAGES: US mayors push for stricter gun laws | Mass killings in US cities

WORLD MAYOR 2023: The 2023 World Mayor Prize is dedicated to Friendship between Cities. The Honours will be awarded to mayors and cities that have made outstanding contributions to friendship, partnership and cooperation between towns and cities at home and across borders. PLEASE NOMINATE YOUR CANDIDATES






After two mass shootings in
a week, US mayor condemns
America's ludicrous gun laws
April 2023: Four days after, in Louisville (Kentucky), a 25-year old bank employee walked into his place of work with a newly acquired AR-15 rifle and shot dead five colleagues, 100 miles to the north in Indianapolis, a string of prominent Republicans told the annual meeting of the National Rifle Association (NRA) that gun ownership made America safe.

Former US President Donald Trump promised his audience that no one would lay a finger on Americans guns, with him back at the White House, while his erstwhile Vice-President Mike Pence said that as a Christian he supported every American's right to bear arms. South Dakota Governor Kristi Noem proudly declared that her 2-year old granddaughter Adie already had several guns. "Now Addie, who you know – soon will need them, I wanna reassure you, she already has a shotgun and she already has a rifle. So, the girl is set up."

Meanwhile, back in Louisville, barely a week after the shooting at the Old National Bank branch, a gun man killed two people and injured four others in a local park.

In America, which has more guns per capita than any other country in the world, not many politicians dare to question gun ownership. To them and, probably, to a majority of Americans the Second Amendment*, ratified in 1791, is sacrosanct and interpreted as to protect every citizen's right to keep and bear arms, never mind the consequences. There have been 130 mass shootings so far in 2023, the highest number of shootings recorded at this point in any year since at least 2013. Children and teenagers are more likely to be killed by guns than anything else, including by car accidents.

It almost always requires a killing spree for politicians to speak out. Louisville Mayor Craig Greenberg did so after the bank shooting. He called for and proposed immediate action to end the gun violence epidemic.

In a speech, he highlighted the ludicrousness of some of the current state and federal laws including a law that makes it possible for a gun used in a deadly shooting to be sold off to the public.

"Under current Kentucky law, the assault rifle that was used to murder five of our neighbors and shoot at rescuing police officers will one day be auctioned off. Think about that. That murder weapon will be back on the streets one day under Kentucky's current law.

My administration has already taken action to remove the firing pin before turning confiscated guns over to the state because that's all that the current law allows us to do. That's not enough. It's time to change this law and let us destroy illegal guns and destroy the guns that have been used to kill our friends and kill our neighbors."

The Mayor also called for communities to be given the authority to deal with gun violence at a local level.

"Let us, the people of Louisville, make our own choices about how we reduce gun violence in our city. Other communities should be able to make the policies that work for them.

Let us implement policies that work for us, so please change our state law to let Louisville make its own decisions about reducing the amount of illegal guns on our streets and gun violence that is killing far too many people in mass shootings, in individual shootings, in any shootings. Let me be clear. I don't care about finger pointing. I don't care about blame. I don't care about politics.

I'm only interested in working together with our state legislators to take meaningful action to save lives, to prevent more tragic injuries and more death. Arguing is not a strategy. Doing nothing is not a strategy. It's not a solution," the Mayor concluded.


* The Second Amendment to the US Constitution:
"A well-regulated Militia, being necessary to the security of a free State, the right of the people to keep and bear Arms, shall not be infringed."

Comment by Cedric Alexander, a law enforcement analyst:
"In 1939 U.S. v. Miller, the Supreme Court decided that the obvious purpose of the Second Amendment was to "assure the continuation and render possible the effectiveness of state militias and must be interpreted and applied narrowly in that context. This was effectively nullified by a 2008 decision in District of Columbia v. Heller, which held that the Second Amendment confers on an individual the right to possess firearms unrelated to service in a state militia. Even so, a subsequent ruling in 2010, McDonald v. Chicago, kept the door open to common sense gun laws, including state and federal laws prohibiting felons and the mentally ill from possessing firearms and regulations prohibiting firearms inside public schools."




© Copyright: All content of the City Mayors and World Mayor websites are protected by worldwide copyright. Please contact the editor if you wish to use any material from the City Mayors, World Mayor or Women Mayors websites.