FREEDOM MAYORS

Syrian refugee elected
mayor of German town
By German Brief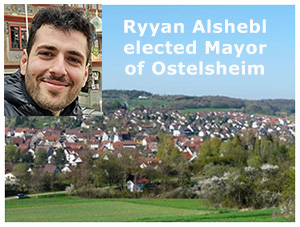 RELATED PAGES: Freedom Mayors | Israeli mayors condemn 'reforms' of judiciary | The murdered mayors of the Philippines | The killing of Mexican mayors | Mayor of Tel Aviv warns | Mayors' Code of Ethics

WORLD MAYOR 2023: The 2023 World Mayor Prize is dedicated to Friendship between Cities. The Honours will be awarded to mayors and cities that have made outstanding contributions to friendship, partnership and cooperation between towns and cities at home and across borders. PLEASE NOMINATE YOUR CANDIDATES




Ryyan Alshebl, elected
Mayor of Ostelsheim
April 2023: It is not often that a German small-town mayor makes the national and international news. But Ryyan Alshebl, the newly elected mayor of Ostelsheim, near Stuttgart in southern Germany, did. The US broadcaster CNN led with the headline "Syrian refugee elected mayor of German town, years after fleeing war", while The Guardian in London wrote "Syrian refugee celebrates 'sensational' win in German mayoral race." Der Spiegel, Germany's most influential news magazine, described Ryyan Alshebl's journey from Sweida, in southern Syria, to his new home in Baden-Württemberg. London-based German Brief quoted the newly elected mayor as saying "Today Ostelsheim has set a sign of tolerance and openness for all of Germany."

Asked about the arrival of some half a million refugees from the Middle East in 2015, Germany's former chancellor Angela Merkel famously said of Germany "we will manage, wir schaffen das". Ryyan Alshebl is a success story of her policies.

The now 29-year-old, who fled Syria in 2015, is now responsible for a town of 2,500 people. Although a member of the German Green party, Ryyan Alshebl stood as an independent candidate. He secured an absolute majority of more than 55 per cent of the vote in the early-April poll. In an interview with the German press agency DPA, the newly elected mayor described the election campaign as overwhelmingly positive.

Born in 1994, Ryyan Alshebl graduated from high school aged 18 before taking up studies in finance and banking. In his election campaign manifesto Alshebl described how, in 2015 at the age of 20 he was faced with two options: either be drafted into the Syrian army and fight for President Bashar al-Assad or flee the country. He chose to plan his escape and surrender his future to an uncertain fate.

After several weeks of fleeing and being transferred from one refugee camp to another, Alshebl ended up in southern Germany where, in his own words, he met and was supported by many great and generous people who made it easier for him to stand on his own two feet again. Believing that one should always face reality in every situation of life and make the best of it, Alshebl is fond of quoting the ancient Greek philosopher Aristoteles "We cannot change the wind, but we can set the sails differently."

Ryyan Alshebl is bemused when he hears his peers from big cities talk about the concept of 15-minutes cities. "People living in rural areas often spend half a day or more travelling to the nearest town or city in search for basic necessities and services like shopping, education, healthcare and leisure." One of the new mayor's top priorities is therefore to facilitate the establishment of a supermarket and attract a pharmacy to Ostelsheim.


© Copyright: All content of the City Mayors and World Mayor websites are protected by worldwide copyright. Please contact the editor if you wish to use any material from the City Mayors, World Mayor or Women Mayors websites.