Burnt down store in North London




FRONT PAGE
Site Search
About us




Worldwide | Elections | North America | Latin America | Europe | Asia | Africa |


























Riots in London and other English cities
NEWS SECTIONS: World news | Election news | News from Europe | News from North America | News from Latin America | News from Asia and Australia | News from Africa | Urban events | NEWS SPECIALS: The 2011 London riots | The 2010 Love Parade tragedy | Latest news story |


Has Britain become
a lawless society?
12 August 2011: Has Britain become a lawless society? The question was asked by a French journalist some weeks before the recent riots in London and other English cities in an article he wrote about the Westminster parliamentary expenses affair in 2009 and this year's phone hacking and police bribery scandal. No doubt, had he composed his piece this week, the writer would have made a link between the greed in high places and the looting in the streets of Tottenham, Hackney and Croydon.

The English riots in August 2011 made front-page news and received top billing in newspapers and on TV across the world and would have featured even more prominently had it not been for the financial crisis in the US and Europe.

Depending on the politics of their media outlets, foreign commentators provided their readers with different analysis of the violence, destruction and looting in many London boroughs and other English cities. Conservative and centre-right media described large sections of British youth as hooligans living in a society that has long ceased to offer them any prospects.

Liberal and left-leaning newspapers, TV stations and internet blogs featured Britain as a country that has lost faith in any authority – the politicians, the church, the media and the police.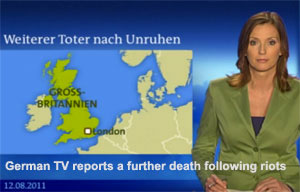 The Financial Times Deutschland (FTD) wrote that the British elite had systematically compromised themselves in recent years. They ceased to be a role model or trustworthy. The newspaper said that in the 2008 economic crisis the financial establishment declared bankruptcy and British politicians became mired in the expenses scandal of 2009. Then this year the media and politicians have been damaged by the Murdoch scandal. "When the country's elites don't take the law seriously, why should the rest of us? No question is more dangerous for a society," the FTD declared.

Germany's leading business daily Handelsblatt believes that the riots revealed the decay of society at its edges, brought on by the erosion of social norm, great frustration and a lack of opportunity for the lower classes.

The centre-left Süddeutsche Zeitung described the two faces of Britain today. "Who would believe that only three months separate this year's Royal Wedding from events that made large parts of London resemble a war zone," the newspaper asked.

In the US, all media dedicated extensive coverage to the London riots. The most damning piece was written by a retired British prison doctor and psychiatrist. In an article for the New York Daily News. Anthony Daniels described young British people as among the most unpleasant and potentially violent in the world. "It took determination on the part of my countrymen not to notice it," he continued.

Daniels believes that the rioting is only the extreme end of the spectrum of bad behaviour by British youth and young adults. "The characteristics, common to all classes, are arrogance, a sense of entitlement and an unwillingness to moderate their behaviour for the convenience of others. The main difference between the classes is that the rich can pay for what they feel entitled to, while the poor have to wheedle, cajole, swindle and steal it. But the inflamed sense of entitlement is the same," he argues.

Daniels does not consider that poverty explains the quick resort to violence or the obvious taste for vandalism of the modern British. "This is now the British way of life. We are afraid of our own children; many carry knives. The number of knifing injuries in London rose from 941 in the three months between November 2010 and January 2011 to 1,070 in the three months between February and April 2011; that is to say, by nearly 14 per cent. And knifings with victims ages 13 to 24 rose 30 per cent over this equivalent period between 2008-09 and 2010-11," he explained in his article.

City Mayors' Scotland correspondent observed that whilst the children and teenagers involved in the riots were mixed girls and boys, the adults were nearly all male. " I'm not remotely surprised by that. Even women who were wild teenagers tend to become more sensible and responsible as adults and think about consequences," he writes.

Many Brazilian newspapers reported that the London riots were triggered by the police shooting of Mark Duggan and the force's initial attempt to claim self-defense. They compared the death of the young man from Tottenham, North London, to the shooting in July 2005 of Jean Charles de Menezes, who was killed by police on a London subway train. Officers from Scotland Yard's anti-terrorist unit mistakenly identified the young Brazilian as a terror suspect.

London let down by inept politicians
and an overstretched police force
By City Mayors' London columnist
10 August 2011: Even before the current crisis, which has engulfed daily life in the capital began, London's police were already stretched to budgetary breaking point and found themselves without steady leadership following the unprecedented resignation of its most senior officer Sir Paul Stephenson and one of his key assistants.

Regardless of the circumstances in which weekend protests at the lack of public information regarding the death of a young man by armed police turned into opportunistic looting over successive nights, questions are now asked by Londoners as to why its police simply cannot cope or prevent wide-scale looting and burning across the capital.


Questions were also being asked of both UK Prime Minister David Cameron and London Mayor Boris Johnson, both of whom initially refused to cut short their holidays as London burned.

The initial response to the crisis, which quickly flared up as a protest march in the North London district of Tottenham turned to violent anger when police refused to meet the deceased Mark Duggan's family, was handled by a succession of Metropolitan Police assistant commissioners who took to the airwaves to attempt to provide public reassurance.

In truth the Met has been without a Commissioner since the resignation of Sir Paul Stephenson last month, with his deputy Tim Godwin acting up until a successor can be recruited from among the narrow pool of qualified senior police officers in the UK. While several commentators have denied a leadership crisis in the Met and rallied to its support, a number of retired senior police accused it of lacking any kind of strategy.

The August vacation season has therefore delayed this process and even seen the UK authorities caught napping by dint of being overseas, assuming their juniors were capable of deputising in their absence. It was only by the fourth day of the crisis that UK Prime Minister was able to return from holiday to convene the top-level COBRA security committee to coordinate a response.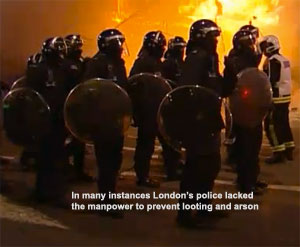 The scale of the violence and theft across London has led to a number of calls for a more robust response from police, from calling in the armed forces as back-up (who in truth are overstretched by overseas commitments in Afghanistan and Libya, not to mention recent troop cuts) or deploying Northern Ireland-style water-cannon and armoured vehicles.

Both demands have been faced down by the Met and the UK government, who prefer an escalation in numbers of available police from surrounding counties and reservists. While a robust and timely response from the London mayor has definitely been lacking, his Deputy Mayor for Policing Kit Malthouse attempted to calm nerves and appeal for restraint. Although the Prime Minister claimed that rioters would "feel the full force of the law", police sources admitted that England's overcrowded jails and congested courts system was one reason young people felt secure enough to loot and burn at will.

The issue is likely to re-ignite the debate over whether or not to split the Met between its constituent functions of territorial policing for the capital and its national role in organised and serious crime, with current untidy arrangements remaining in place for administrative and political convenience.

As local residents stayed at home and relied on Twitter to monitor the spread of riots, pondering the lack of police response, one Met source admitted to City Mayors that many officers felt powerless to intervene, as recent prosecutions of police over the 2009 G20 London Summit policing meant that they were simply too afraid to risk confrontation.



Politicians accused of simplifying
causes of London riots and looting
By Selah Hennessy*
9 August 2011: Britain has been hit by several nights of riots, which took place across London but also in Birmingham, Liverpool and Bristol. While government politicians and the police insisted that the violence had been carried out by opportunistic criminals, underlying social issues probably also played a role. Britain's Deputy Prime Minister Nick Clegg said it was needless, opportunistic theft and violence - nothing more, nothing less, while the police spoke of copycat criminality. But Rodney Barker, professor of government at the London School of Economics, accused the authorities of simplification.

"One will have seen across the world, quite recently actually, that whenever there is public unrest - whether it's in Iran, or Syria, or the United States, or the United Kingdom, the government says 'this is all the work of a small group of agitators, criminal elements, terrorists.' Governments always say that. But it isn't a criminal conspiracy. Any crowd in civil unrest is made up of all kinds of people with all kinds of motivations," he explained.

Prof Barker continued to say that the shooting by police of Mark Duggan last week was a trigger. The broader context, he says, is social and economic. He says spending cuts implemented by Britain's current Conservative government have created a volatile situation.


The riots come as Britain's economy is suffering and the government is making deep public spending cuts and hiking up taxes. Neil Prothero, an economist at London's Economist Intelligence Unit, says the austerity measures, aimed at reducing Britain's debt, are taking their toll on a local level. "In real terms the actual spending reduction programme is the most painful if it all came to fruition since the 1940s in terms of its actual squeeze on the levels of public spending," said Prothero. "It's something that the UK has not endured for many, many years." He says austerity is only just beginning and in the coming years spending cuts will have an ever larger impact.

"This is our slight concern is that the actual spending cut-backs, which affect vast swathes of the population in one way or another, whether it's through benefits or just reduced public services in general - that is still to flow through over the coming years," he said. "It's a concern and it's a worry as to what may happen in terms of the social unrest and the general economic weakness going forward."

A columnist with the London-based Economist warns that it would be wrong to just blame the riots on groups of youths and opportunistic looters. "It is reasonable to ask why people are doing this now and not five years ago. The high level of youth unemployment (20% of those aged 16 to 24 are out of work), the inequality of incomes and wealth and the effect of local authority spending cuts on youth services are all factors that might have contributed," he writes.

The Economist also warns of wider implications for Britain and London. "There has been a kind of smug British attitude towards the problems of Europe - those rioting Greeks with their corrupt economy - that ought to be challenged. There was talk, as recently as yesterday, of Britain as a safe haven: a big economy with an AAA rating and a liquid bond market. London has been advertised by estate agents as a bolthole for wealthy Europeans to buy property; that appeal might look a little hollow today."

The Economist columnist believes that the image of London around the world has already suffered. "Tourists will be put off and those considering buying UK government bonds may have second thoughts."
* This article contains contributions from additional writers


America's 'supercop' will not
become boss at Scotland Yard
London, 17 August 2011: While US 'supercop' Bill Bratton has now definitely been ruled out as new head of London's Metropolitan Police, senior British police officers are still dismayed about his appointment as adviser to the government on combating gangs and urban violence. The appointment follows feverish speculation in the UK press, not to mention hints by Bratton himself, that he would be appointed by the UK government to the vacant position of Metropolitan Police Commissioner for the capital, the top job in British law and order.

The idea seemed to have had the support of Prime Minister David Cameron, following widespread rioting in London and other English cities last week but was dismissed from the start by Home Secretary Theresa May, who rightly pointed out the boss of Scotland Yard needed to be a British citizen. She was supported by Hugh Orde of the Association of Chief Police Officers, a leading contender for the top job, who said the idea of a foreign commissioner was "simply stupid". He added that the UK could learn little from the US, where gang violence was far more widespread.

It is believed that there are now four senior police officers in the running to become London's Metropolitan Police Commissioner. According to the BBC, Strathclyde chief Stephen House, Acting Metropolitan Commissioner Tim Godwin, ex-Northern Ireland head Sir Hugh Orde and former Merseyside head Bernard Hogan-Howe have all applied. Applications must reach the Home Secretary by midday today.

The post of Commisioner became vacant last month after Paul Stephenson resigned amid allegations of phone hacking and improper relations between Scotland Yard and Rupert Murdoch's News International.


'London's international
standing harmed by riots'
London, 13 August 2011: In the aftermath of the riots, which gripped the UK capital this week, a significant majority of London businesses surveyed believe the disorder has damaged the capital's reputation globally. The survey conducted by ComRes on behalf of the London Chamber of Commerce and Industry (LCCI), found 83 per cent of firms believed the riots had caused substantial damage to the capital's reputation, while 73 per cent agreed that there was the potential for civil disorder during the Olympic Games next year. The UK government is currently refusing to reconsider its plans to cut police funding, even in light of recent events, insisting that efficiencies can be made in bureaucracy without harming the frontline response, despite the resources required for a safe 2012 games.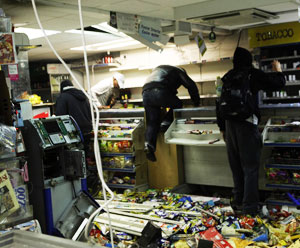 The survey also uncovered that over one quarter of businesses (27%) were considering closing early for the foreseeable future, damaging the capital's fragile economic recovery. In the days that followed, several masked rioters spoke to TV crews to argue that economic policies and government cuts had given them little hope in the future, with university or decent careers seen as pipedreams by most London teenagers. The vast majority (91%) of firms however said they supported more robust police tactics to deal with wide-scale civil unrest in future.

Colin Stanbridge, Chief Executive of the LCCI, said: "With the Olympics only a year away, the eyes of the world were already turning to London and unfortunately the events of the last few days are what international audiences have seen." "At a time when the capital's businesses should be focusing on growth and job creation, the riots have prevented them from going about their day-to-day business. Many firms have had to put contingency plans in place, with some forced to close early in order to save their property from possible criminal damage." The London Mayor's office refused to be drawn on whether it would make extra funds available for the capital's promotion agency London & Partners to mount a campaign to deal with the negative perceptions raised, pointing instead to his announcement of £50m in funding for Outer London's recently hit shopping centres. The LCCI welcomed the announcement however.

British Prime Minister says
country ready to fight back
London, 11 August 2011: British Prime Minister David Cameron has authorised police to use water cannons after four nights of rioting, looting and arson - saying a fightback was under way to restore law and order to Britain's streets. Cameron said Britain will not let a culture of fear take control of the country, vowing to punish those responsible for the violence that has left parts of London looking like a war zone. He said police would be provided with whatever resources they needed to quell the unrest, adding they had already been authorized to use plastic batons. He will address an emergency session of parliament today.

London was largely calm Wednesday night, with 16,000 police officers patrolling streets littered with glass, torched cars and debris from burned-out buildings. But fresh violence broke out in other cities, including Manchester and Birmingham, where witnesses say hundreds of rampaging youths smashed windows, looted stores and burned buildings. Birmingham police opened a murder investigation after three men were killed when they were struck by a car during riots. The three were trying to protect their community from looters. Police have a suspect in custody.

Police have arrested more than 1,100 people across the country, including 800 in London, since the riots erupted on Saturday. The unrest broke out after the fatal police shooting of a 29-year-old man in London's economically depressed Tottenham neighbourhood.

Some reports say the man shot a handgun at police when they stopped his taxicab. But a police investigative report Tuesday said a handgun found at the scene had not been fired. The reason why police shot the victim is still unclear.

Tottenham is home to a large number of ethnic minorities and has a history of racial tensions. In 1985, a police officer was hacked to death when Afro-Caribbean youths in a deprived housing estate went on a rampage.

Many London residents say the riots were spurred by anger over the gloomy economic situation in north London, including high unemployment and cuts in public services.

The only other fatality of the riots was a man who died Wednesday of gunshot wounds in South London. At least 58 other people have been injured, mostly police officers.

The violence has raised questions about security as London prepares to host the 2012 Olympic Games. A Wednesday match between England and the Netherlands at London's Wembley stadium was cancelled. (Report by VoA News) More

Rioting spreads
across England
London, 10 August 2011: Last night Manchester, Birmingham and Nottingham bore the brunt of England's summer of rioting and looting but London was quiet for the first time after three straight nights of troubles. Looting also occurred in Liverpool, Salford, West Bromwich, Wolverhampton, Bristol and Gloucester. Witnesses say hundreds of rampaging youths smashed windows, looted stores, and burned buildings in Manchester, Britain's third largest city. More violence was also reported for a second night in Birmingham.

But in London, 16,000 police filled the streets. Many storekeepers closed early, and commuters flooded out of the city long before nightfall. Much of the British capital was quiet.

Two girls who took part in Monday night's riots in South London boasted to a BBC reporter that they were showing police and the rich that they could do what they wanted. The pair spoke to the BBC who while drinking wine looted from a local shop on Tuesday morning.

Prime Minister David Cameron vowed to restore law and order and and punish those responsible for the violence that left parts London looking like a war zone. Burned out buildings, the charred skeletons of cars, and glass line the streets. The prime minister called the violence "criminality pure and simple."

The London riots left one person dead and 58 hurt, mostly police officers.

The violence broke out last week after police shot and killed a 29-year-old father of four in the economically-depressed Tottenham neighborhood.

Some reports say the man shot a handgun at police when they stopped his taxicab. But a police investigative report Tuesday says a handgun found at the scene had not been fired. The reason why police shot the victim is still unclear.

Tottenham is home to a large number of ethnic minorities and has a history of racial tensions. In 1985, a police officer was hacked to death when Afro-Caribbean youths in a deprived housing estate went on a rampage.

Many London residents say the riots were spurred by anger over the gloomy economic situation in north London, including high unemployment and cuts in public services. (Report by VoA News and local reporters)

International football called off
after third night of London riots
London, 9 August 2011: The Football Association (FA) called off a friendly game between England and Holland, which was scheduled to be played at Wembley Stadium in North London. A spokesman for the FA said with more than 14,000 police officers on duty across London, the Metropolitan Police did not have the resources to police an international football game with thousands of fans drinking alcohol. A number of football clubs, including West Ham United, Carlton Athletic and Crystal Palace, have also cancelled cup games.

Last night rioting and looting spread across London and to other English cities including Birmingham. Liverpool, Nottingham and Bristol. During last night Ealing (West London), Croydon (South London), Enfield (North London) and Clapham (South-West London) all saw looting, arson and mass acts of violence. Several journalists were beaten up and had their recording equipment destroyed.

In Croydon the furniture store House of Reeves has been complete destroyed by fire. Other stores, including Currys in Brixton, Carpetright in Tottenham and Debenhams in Clapham Junction, suffered extensive damage from looters, with people walking out carrying armfuls of stolen stock.

The UK Prime Minister David Cameron and London Mayor Boris Johnson have cut short their holidays and are expected back in London today. In London more than 400 people have been arrested, while Birmingham police said some 100 people had been taken into custody after youths smashed shop windows and looted on a grand scale.

The BBC website list verified incidents of rioting and looting in almost 50 different locations across London. The violence is no longer solely confined to socially deprived parts of the British capital but has spread to middle-class areas like Camden, Notting Hill, Ealing, East Dulwich and Blackheath.

More than 200 people
arrested in London riots
London, 9 August 2011: Groups of young people attacked police and broke into shops yesterday and last night, after some of the worst rioting over the weekend in London in years. Media reports said the latest violence began when police tried to carry out a stop-and-search operation. British authorities say at least 215 people have been arrested in the city and around 35 police officers injured - including three hit by a car while trying to make arrests in northeast London. The latest riots come as London prepares to host the 2012 Olympic Games.

British Deputy Prime Minister Nick Clegg described the violence and theft as "needless," "opportunistic" and "completely unacceptable." Home Secretary Theresa May condemned the riots as "sheer criminality."

The violence broke out after the death of a local 29-year-old man in a police shooting in London's depressed Tottenham neighbourhood on Thursday. Two days later, a peaceful demonstration held to mark his death turned violent by Saturday evening, with protesters throwing stones at police, smashing store windows and setting fire to cars. Several buildings and a double-decker bus also were set ablaze.

Police said the violence spread to other parts of the city Sunday night and early Monday in what they called "copycat criminality." Looting spread to Enfield in the north, Brixton in the south and Hackney in the east of Britain's capital city.

But analysts say last week's death in Tottenham was a trigger for what is already a volatile situation, with government austerity measures aimed at reducing Britain's debt taking a toll at the local level.

Some residents say the riots were spurred by anger over the gloomy economic situation in north London, specifically high unemployment and reduced public services.

Tottenham is home to a large number of ethnic minorities and has a history of racial tensions. In 1985, a police officer was hacked to death there when Afro-Caribbean youths in a deprived housing estate went on a rampage.

London Mayor Boris Johnson has sought to assure the world that the city is safe. But less than a year before London hosts the Games, scenes of rioting and looting a few miles from the main Olympic site have raised concerns about security and policing for the event. Images of buildings and vehicles in flames broadcast around the world are also damaging the London brand. (Report by VoA and local reporters)

North London in shock
after night of violence
London, 7 August 2011: This morning, large numbers of police were still on the streets of Tottenham in north London, after a night of rioting. Buildings, police cars and buses were set on fire. The police also reported that a number of shops were looted and that eight of its officers were taken to hospital, one with serious head injuries. The trouble flared when about 200 people gathered outside a police station to protest about the death of a black man who was shot by police on Thursday.

The London-based Guardian newspaper wrote that It was revealed that Mark Duggan, the killed man, had been shot in an exchange of fire after the police's Trident unit, which dealt with gun crime, had stopped the vehicle he was travelling in.

London Mayor Boris Johnson said where there were real concerns in the Norht London community and it was right there was a proper investigation of Duggan's death. "But the violence to property will do nothing to facilitate that investigation," the mayor warned. David Lammy, the local Member of Parliament, appealed for calm. "The scenes currently taking place in our community are not representative of the vast majority of people in Tottenham," he said.

One local resident told City Mayors that yesterday's violence reminded him of the Broadwater Farm riots in October 1985, when street violence was triggered by the death of Cynthia Jarrett after police raided her flat while looking for a suspect. Her death from heart failure sparked outrage among members of the local community against London's Metropolitan Police. There was a belief among the black community that the police were institutionally racist. During the riots one officer, Police Constable Keith Blakelock, was hacked to death with a machete, after he was set upon by a mob. Despite a trial in which his alleged killer was wrongly imprisoned on the basis of a fabricated confession, the perpertrators have never been brought to justice, despite re-opened investigations.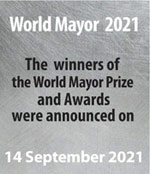 The best Mayors for Stronger | Fairer | Greener cities. Elect your candidate for the 20/21 World Mayor Prize and Honours. The Prize has been awarded since 2004