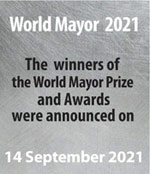 • Poverty is a crime against humanity
• Support mayors who fight poverty
• Nominate the best for the 2020 World Mayor Prize

FRONT PAGE
SiteSearch
About us

Directories

Canada's 2006 election
Canada election 2011
Canadian Mayors
Calgary and Toronto mayors
British Columbia's local & regional government
Canadian local government
Canada: Cities and provinces
Canada's big cities need more power
Canada high-speed rail
Montréal bikes go global
Canadians and their cities
Directory of Canadian cities


City Mayors reports news from towns and cities around the world. Worldwide | Elections | North America | Latin America | Europe | Asia | Africa | Events |




Mayors from The Americas, Europe. Asia, Australia and Africa are competing for the annual World Mayor Award. More




City Mayors ranks the world's largest as well as richest cities and urban areas. It also ranks the cities in individual countries, and provides a list of the capital cities of some 200 sovereign countries. More




City Mayors reports political events, analyses the issues and depicts the main players. More




City Mayors describes and explains the structures and workings of local government in Europe, The Americas, Asia, Australia and Africa. More




City Mayors profiles city leaders from around the world and questions them about their achievements, policies and aims. More




City Mayors deals with economic and investment issues affecting towns and cities. More




City Mayors reports on how business developments impact on cities and examines cooperation between cities and the private sector. More




City Mayors describes and explains financial issues affecting local government. More




City Mayors lists and features urban events, conferences and conventions aimed at urban decision makers and those with an interst in cities worldwide. More




City Mayors reports urban environmental developments and examines the challenges faced by cities worldwide. More




City Mayors reports on and discusses urban development issues in developed and developing countries. More



City Mayors reports on developments in urban society and behaviour and reviews relevant research. More




City Mayors deals with urban transport issues in developed and developing countries and features the world's greatest metro systems. More




City Mayors examines education issues and policies affecting children and adults in urban areas. More




City Mayors investigates health issues affecting urban areas with an emphasis on health in cities in developing countries. More




City Mayors examines the importance of urban tourism to city economies. More




City Mayors examines the contributions history and culture make to urban society and environment. More




City Mayors describes the history, architecture and politics of the greatest city halls in the world. More




City Mayors invites readers to write short stories about people in cities around the world. More




City Mayors questions those who govern the world's cities and talks to men and women who contribute to urban society and environment. More




City Mayors profiles national and international organisations representing cities as well as those dealing with urban issues. More




City Mayors reports on major national and international sporting events and their impact on cities. More




City Mayors lists cities and city organisations, profiles individual mayors and provides information on hundreds of urban events. More



Canada's big cities
buck election trend
By Andrew Stevens, Political Editor
27 January 2006: Canada's new Conservative-led minority government will not be able to speak for a single large city, with voting patterns being touted as showing an urban-rural chasm. The results of the 23 January poll show the Conservative Party on 124 seats out of 308 in the Canadian House of Commons, short of a majority. The election, precipitated by a damning report concerning government sleaze, means that Canada's new union of Conservative parties under Stephen Harper will be invited to form a government by Governor General Michaelle Jean.

Political map of Canada after the January 2006 election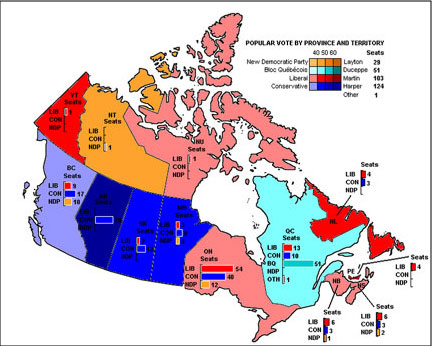 The Conservatives slowly regained their position after the nadir of the 1993 election when they lost all but two seats, having merged the two leading parties of the right in 2003. The Liberal Party's 12-year dominance of Canadian politics under Prime Ministers Jean Chretien and Paul Martin was attributed to electoral splits on the right, especially during the latter half of that decade. Harper's Conservatives fought an aggressive campaign on the issue of tax cuts, border controls, crime and closer links with the US.

The Conservative Party was unable to gain any seats in Canada's three largest cities, Toronto, Montreal and Vancouver, suggesting an increased polarisation between the parties, particularly on the questions of same-sex marriage and gun control. Toronto remained solidly liberal in its results, returning 19 Liberal Party MPs and three from the left-leaning New Democrats in its 22 ridings. Voters in Vancouver failed to show any enthusiasm for Mr Harper's challenge to the Liberals, while in the remainder of British Columbia his party polled better, with the blue collar New Democrats outpolling the Liberals also.

Key figures within the Liberal Party, particularly in local government, have expressed concern that the new federal government may abandon recent good relations in the cities, which were shored up by large subsidies from the Liberal government. Jack Layton, a former Federation of Canadian Municipalities president, saw the New Democrats under his leadership substantially increase its number of urban seats, thanks partly to his popularity with the public. Paul Martin has tendered his resignation as Liberal Party leader. The newly elected Toronto MP and prominent intellectual Michael Ignatieff is tipped as a possible successor in the leadership election to be staged later this year.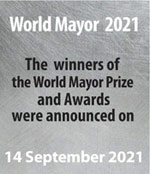 • Poverty is a crime against humanity
• Support mayors who fight poverty
• Nominate the best for the 2020 World Mayor Prize