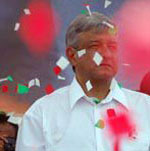 Former Mexico City Mayor López Obrador leads battle for Mexican presidency




FRONT PAGE
SiteSearch
About us
Directories

Mexico's 2012 elections
Mexico City mayoral elections 2012
Mexico's 2010 elections
Mexican election - final phase
Mexican battle for presidency
Mexican Mayors
Mexico's de facto powers
Drug war in Mexican cities
Mexico City market
Mexico's urban poor
Some 1.2 million march for Mayor
The Puebla case
Mexico local government
Direct democracy in South America


City Mayors reports news from towns and cities around the world. Worldwide | Elections | North America | Latin America | Europe | Asia | Africa | Events |




Mayors from The Americas, Europe. Asia, Australia and Africa are competing for the annual World Mayor Award. More




City Mayors ranks the world's largest as well as richest cities and urban areas. It also ranks the cities in individual countries, and provides a list of the capital cities of some 200 sovereign countries. More




City Mayors lists and features urban events, conferences and conventions aimed at urban decision makers and those with an interst in cities worldwide. More




City Mayors reports political events, analyses the issues and depicts the main players. More




City Mayors describes and explains the structures and workings of local government in Europe, The Americas, Asia, Australia and Africa. More




City Mayors profiles city leaders from around the world and questions them about their achievements, policies and aims. More




City Mayors deals with economic and investment issues affecting towns and cities. More




City Mayors reports on how business developments impact on cities and examines cooperation between cities and the private sector. More




City Mayors describes and explains financial issues affecting local government. More




City Mayors reports urban environmental developments and examines the challenges faced by cities worldwide. More




City Mayors reports on and discusses urban development issues in developed and developing countries. More



City Mayors reports on developments in urban society and behaviour and reviews relevant research. More




City Mayors deals with urban transport issues in developed and developing countries and features the world's greatest metro systems. More




City Mayors examines education issues and policies affecting children and adults in urban areas. More




City Mayors investigates health issues affecting urban areas with an emphasis on health in cities in developing countries. More




City Mayors examines the contributions history and culture make to urban society and environment. More




City Mayors describes the history, architecture and politics of the greatest city halls in the world. More




City Mayors examines the importance of urban tourism to city economies. More




City Mayors invites readers to write short stories about people in cities around the world. More




City Mayors questions those who govern the world's cities and talks to men and women who contribute to urban society and environment. More




City Mayors profiles national and international organisations representing cities as well as those dealing with urban issues. More




City Mayors reports on major national and international sporting events and their impact on cities. More




City Mayors lists cities and city organisations, profiles individual mayors and provides information on hundreds of urban events. More



López Obrador leads in battle for presidency
but Zapatistas disapprove of all candidates
By Dr Baldemar Méndez Antonio, Mexico Correspondent
28 February 2006: Mexico's presidential election campaign is gaining speed with five officially declared candidates. Three of them, including Mexico City's former Mayor Andrés Manuel López Obrador, enjoy combined opinion poll ratings of 97 per cent. Mr López Obrador of the left-wing Party of the Democratic Revolution (PRD) is still the front-runner. The other two main contenders for the Mexican Presidency are Roberto Madrazo Pintado of the Institutional Revolutionary Party (PRI) and Felipe Calderón Hinojosa of the National Action Party (PAN). The election will be held on 2 July 2006.

Early in this year's election campaign several interested parties have emerged and clashed with each other. First there are the political parties with their legitimate agendas. Then there are media and business groups whose main interest often seems to be to smear candidates who are not to their liking. There are also the Zapatistas (EZLN) under their leader Marcos, who are operating outside party politics and finally, there is the supposedly neutral Electoral Federal Institute (IFE) whose members, however, are all PRI and PAN appointees. At the end of 2005, the IFE recommended a four-week pause in political campaigning, a move that was widely regarded to slow down the current front-runner López Obrador.

The candidates
Andrés Manuel López Obrador (PRD)
Mr López Obrador, who until August 2005 was the popular Mayor of Mexico City and who in 2004 was runner-up in that year's World Mayor contest, was involved with a political power struggle with Mexican President Fox and the country's right-of-centre parties PRI and PAN. His opponents accused him of an illegal property deal while Mayor. The accusation was seen nationally and internationally as a political move to prevent left-wing Mayor from running for president. Large demonstrations in Mexico City forced the President to climb down. The former Mayor is widely regarded an honest politician in an environment plagued by corruption. However, he will have difficulties in finding suitable people to fight alongside him.

Most of Mexico's media is opposed to Mr López Obrador. Political observers also say that the mainstream media rather than engage in a political debate with the former Mayor, dismiss his proposals out of hand. For example, Mr López Obrador's plans to combat poverty by generating employment rather than providing more hand-outs are hardly ever discussed.

Felipe Calderón Hinojosa (PAN)
Mr Felipe Calderón, who belongs to same party as the incumbent President, is running second to the former Mexico City Mayor in the opinion polls. The PAN candidate is said to spend four times as much on his election campaign than the other runners put together. Mr Felipe Calderón, a former banker, allegedly authorized himself a loan of half a million dollars when director of the Federal Bank Banobras. The loan was re-paid after its existence was reported in the media.

Felipe Calderón has also been implicated in one of the world's most costly bank rescue operation. The bail out of a number of Mexican banks in the late 1990s cost the country some one trillion dollars, almost the same as the Mexican GDP, and has landed it with five billion dollars or interest payments. Critics of Mr Calderón argue that servicing this debt is severely reducing Mexico's ability to grow economically.

Roberto Madrazo (PRI)
Roberto Madrazo is controversial even in his own party. Observers say that he acted pretty ruthless against other potential PRI members in his efforts to be named the official party candidate. However, there are moves within the PRI to replace Roberto Madrazo with another candidate if he remains in third place in the opinion polls.

His campaign has also been marred by unfortunate incidents. On one occasion, students, who were specifically asked to support him on one of his election rallies, booed him and called for López Obrador to be the country's next president.

The 'other' campaign
The Zapatistas movement (EZLN) is running a parallel battle to the official election campaign to highlight the plight of Mexico's native people who make up ten per cent of the country's population. The EZLN leader Subcomandante Marcos is dismissive of all presidential candidates. He criticizes politicians for promising much during election campaigns but delivering little afterwards. Some people have questioned why the EZLN also criticises the left-wing former Mexico City Mayor López Obrador. The answer is, the country's poor, and specially Mexican natives, are sceptical of all politicians. Indigenous Mexicans have been waiting for hundreds of years to be heard and to have their concerns of inequality, health and education addressed. Campaign pledges mean little to Mexico's social underclass until such time when a president actually delivers what he promised.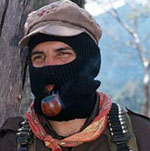 The EZLN leader Subcomandante Marcos is dismissive of all presidential candidates


Introducing
the Zapatistas
Zapatista originally referred to a member of the revolutionary guerrilla movement founded around 1910 by Emiliano Zapata, whose Liberation Army of the South (Ejército Libertador del Sur) fought during the Mexican Revolution for the redistribution of agricultural land. Zapata, his army and allies, including Pancho Villa fought for agrarian reform in Mexico, specifically the establishment of communal land rights for Mexico's indigenous population.

Like its predecessor, the modern Zapatista movement (EZLN) started in southern Mexico, this time in the state of Chiapas. It remains most popular with the poor indigenous peoples of that area. It appeared shortly after (and in response to) the signing of NAFTA - the North American Free Trade Agreement. The Zapatista movement is seen by some in the anti-corporate globalisation movement as a model for resistance and for local democratic organization. Soon after its inception, the EZLN held an international conference in Chiapas called the Intercontinental Encounter for Humanity and against Neoliberalism. It resulted in various other Zapatista groups emerging outside of Mexico, including the West Essex Zapatistas in East London.

Unlike its predecessor, the new Zapatista rebellion is a smaller and more peaceful uprising that has had few serious encounters with the government. A brief spurt of violence accompanied its inception when several thousand peasants seized five Chiapan towns. Hundreds of lives were lost when the military was sent to confront the rebels. Another spate of violence occurred when forty alleged Zapatista sympathizers were killed during the Acteal massacre in 1997.

Presently, the Zapatistas are offering more non-violent resistance. They reject parliamentary elections at the national level because they see such elections as not involving participation by the people in a meaningful way and therefore, as not truly democratic. The Zapatistas have organized a network of grass-roots based democratic village councils in their autonomous region, and have set up schools, courts, and clinics. The most recent large demonstration was a 2001 march to Mexico City with only very scattered episodes of violence. Since the late 1990s, the movement has been involved in an introspective series of Councils of Good Government within their realm of influence. While the rebellion may appear to be in somewhat of a standstill, the people are still very active in their attempts to acquire autonomy. The government remains reluctant to address the rebellion because doing so might lend an impression of political instability. In 2005, the EZLN held a summit, the result of which was the Sixth Declaration from the Lacondon Jungle. This document reflects many Marxist ideas.