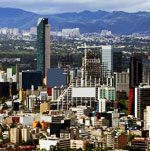 Mexico City skyline




FRONT PAGE
Site Search
About us



Mexico City mayoral elections 2012
Mexico's 2012 elections
Mexico's 2010 elections
Mexico's de facto powers
Mexican Mayors
Interview with Mexico City's mayor
Mayor of Tlajomulco de Zuñiga
Drug war in Mexican cities
Mexico City abortion reforms
Mexico City's Green Plan
Mexico City garbage disposal
Mexico local government


Worldwide | Elections | North America | Latin America | Europe | Asia | Africa |




























Leftwing candidate achieves
stunning victory in Mexico City
By Adriana Maciel, Mexico Editor
2 July 2012: While the candidate of Mexico's leftwing Democratic Revolution Party (PRD) came only second in Sunday's (1 July 2012) presidential elections, the party's contestant for the country's second most powerful office, the governorship of Mexico City, celebrated a stunning victory.

Miguel Angel Mancera, who ran for the Progessive Alliance, which included the PRD, the Labor Party and the Citizens Movement, won 63.6 per cent of the vote. Beatriz Paredes, who competed for a coalition comprising the Institutional Revolutionary Party (PRI) and the Green Party (PVE), was a distant second with some 20 per cent. The candidate of Mexico's current ruling National Action Party (PAN) came third with 14 per cent.

Miguel Angel Mancera, who remained the favourite throughout the election campaign, enjoys an image of a charismatic, honest and hard-working civil servant. He served as Attorney General in the cabinet of Mexico City's current mayor Marcelo Ebrard from 2008 to January of this year, when he resigned to join the battle to succeed his boss. (Mexico City mayors are limited to one six-year term in office.) His career in public service began a decade ago when Marcelo Ebrard invited him to work with him at the Ministry of Public Security as his adviser. Mancera describes himself as a "technical-operational" civil servant, rather than a politician. He distrusts those who use their office to further their own goals.

During Dr Mancera's time as Mexico City's Attorney General, crime fell by 12 per cent in the capital, while the national crime rate rose by more than ten per cent. The city also dropped from third to 20th place among Mexican cities most prone to kidnappings.

During the election campaign the mayor-elect promised that he would continue with the policies of his two predecessors Andres Manuel López Obrador and Marcelo Ebrard, including social programmes for the elderly, single mothers and students. He also supports Marcelo Ebrard's social reforms on abortion and gay marriage. Miguel Angel Mancera will assume office in December.

The Democratic Revolution Party also won 38 out of 40 seats in thye municipal congress and took control of 14 of Mexico City's 16 boroughs. (Report by Adriana Maciel)

Mexico City's mayoral elections
attract three strong contenders
18 April 2012: Mexico's main parties have nominated well-known and respected candidates to succeed Mexico City's current mayor Marcelo Ebrard, who is term-limited. The leftist Democratic Revolution Party named Miguel Angel Mancera, who has served in Mayor Ebrard's cabinet, while the centre-right National Action Party of President Felipe Calderon has fielded Isabel Miranda de Wallace, a well-known social activist. The candidate of the centre-left Institutional Revolutionary Party is Beatriz Paredes Rangel, a past governor of Tlaxcala State.

The mayoral vote will take place on 1 July 2012 alongside presidential and parliamentary elections. In addition to choosing a new mayor, voters in Mexico City will also be asked to elect a new city parliament and 16 district leaders. In the outgoing city parliament the Democratic Revolution Party (PRD) of Mayor Marcelo Ebrardo had 20 seats, Mexico's governing National Action Party (PAN) 10 seats, the Institutional Revolutionary Party (PRI) nice seats, the Green Party (PVEM) six seats, the Labor Party (PT) six seats and the New Alliance two seats.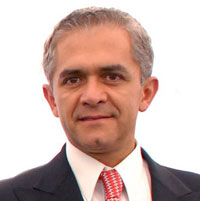 Miguel Angel Mancera
Miguel Angel Mancera is the candidate for the Mexican left, which comprises the Democratic Revolution Party (PRD), the Labor Party (PT), and the Citizens Movement Party. The coalition is called the Progressive Movement.

During his time as a civil servant Mr. Mancera was the most disciplined member of Mayor Marcelo Ebrard's Cabinet and despite the constant accolades he received for his work he did not become full of himself or "lose ground". This was (according to other members of the Cabinet) the main quality observed by Mayor Ebrard, and which convinced him to endorse Mr. Mancera's candidacy.

Mayor Ebrard had been reluctant for Mr Mancera to leave his work as head of the Attorney General's office in favour of the political contest and he kept out until July 2011, when the early polls favoured him. He was then given the green light to become a candidate.

Even with "permission" to work on his possible candidacy, Mr. Mancera did not neglect his work as head of that office, who by then led the actions of the security operation Conago 1, which generated more supporters inside and outside the capital's administration.

His career in public service began a decade ago when Marcelo Ebrard invited him to work with him at the Ministry of Public Security as his adviser. Mr. Mancera describes himself as a "technical-operational" civil servant, rather than a politician. He distrusts those who use their office to further their own goals.

Mr. Mancera is highly regarded by both Marcelo Ebrard and and former Mexico City mayor Andres Manuel Lopez Obrador (AMLO), who regard him as being honourable and honest. Mr. Mancera has proved to be popular with representatives of various sectors of society, as well as the federal authorities.

Miguel Ángel Mancera Espinosa was born in Mexico City in 1966. He gained a PhD in Law at the Universidad Nacional Autonoma de Mexico (UNAM), and has specialised in criminal law at the universities of Salamanca and Castilla-La Mancha. He also holds a Master's degree from the University of Barcelona.

He has worked as a professor at five universities and at the National Institute of Criminal Sciences, and is a member (among other organisations) of the Mexican Bar Attorney College; the Mexican Academy of International Law; and the Mexican Academy of Criminal Sciences.

He has served in the following public offices:
• Adviser in the Administration Commission of Law Enforcement at the Federal District Legislative Assembly
• Director of Investigation and Proceedings; Director of Complementary Police Monitoring; and as Secretary of Public Security to the Federal District
• Adviser to the Secretary of Public Security in Mexico City
• Legal Director to the Social Development Secretary of Mexico City's Government
• Adviser to the Judicial Board of the Federal District
• Process Deputy Attorney at the Attorney General's Office of the Federal District
• Attorney General of the Federal District from 9 July 2008 until 6 January 2012.

His achievements as Attorney General of the Federal District include:
Management Report for 2011 stating that crime fell 12 per cent in Mexico City, while national crime rates rose by 10.4 per cent In the Federal District. Crime decreased by 3.5 per cent on average per annum from 2007 to 2011. The city fell from 3rd place, nationally, in the number of kidnappings to 20th place. Some 179 gangs totalling 706 members were smashed.

The Attorney General's Office gained certification on Public Ethics by the Institute of Access to Public Information of the Federal District, while 26 Crime Prevention Networks were created.

Mr. Mancera is fond of pop and salsa music, and is sporty -.he practises the Israeli self-defence discipline Krav Maga. He is divorced and the father of two children from his second marriage, Miguel, eight, and Leo, five.

Security, infrastructure, culture, science and social issues, including women rights, are among Mr. Mancera's priorities.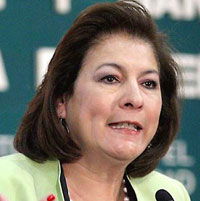 Isabel Miranda de Wallace
Isabel Miranda de Wallace is the centre-right National Action Party (PAN) mayoral candidate. Born in Mexico City in 1951, she is a social activist and president of "Stop Kidnap", which she founded after the abduction and murder of her businessman son, Hugo Miranda Wallace, in July 2005. In 2010 she received the National Human Rights Award from President Felipe Calderon.

A school teacher by profession, she rose from obscurity after the kidnapping. For five years she managed to restrain her son's kidnappers from committing murder, during which time she founded "Stop Kidnap" and proposed a law for the protection of the rights of kidnap victims, which was subsequently approved in the Mexican House of Representatives. Her work has resulted in the gaining of a number of national and international awards, including in December 2010 the National Human Rights Prize for her part in the promotion and defence of the rights of kidnap victims.

Mrs. Wallace is an activist who enjoys great respect, recognition and credibility in Mexico. Who magazine placed her among the 50 most influential people in Mexico, while Time magazine considered her as a finalist in its Person of the Year award.
The tragedy of her circumstances caused her to focus her skills, instincts, tenacity and strength to help not only her own family but thousands of others who have suffered a similar fate.

To establish that her son's kidnapping was one of organised crime, she had to prove the participation of more than three people in more than two kidnappings. She decided on a billboard campaign seeking the help of citizens in denouncing new cases where people would recognise one or more of the six offenders who participated in the kidnapping of her son. The strategy worked and was the watershed for what is now known as the Wallace Case.

Her case received widespread coverage nationally and internationally. The story of a mother willing to do anything to get her son back, facing not only organised criminals but also the apathy, bureaucracy and ineptitude of certain authorities, reflected the despair and experience of thousands of Mexicans. Mrs. Wallace dedicated herself to combating the culture of criminal impunity and to promoting changes in the administration of justice.

As an activist and advocate, she concerned herself in the extradition of the French citizen Florence Cassez, accused of kidnapping Ezequiel Elizalde. Mrs. Wallace sent a letter to President Felipe Calderon asking him not to give in to political pressure. Cassez was extradited and is now in Mexico serving a jail sentence of 60 years for kidnap.

Mrs. Wallace is founder and president of the White Movement, a civil organisation which initially sought to address issues regarding safety, employment and education.

She has participated in various forums, workshops and national and international conferences such as "The Kidnapping": XXI Century Slavery, held in Bogota, Colombia, and in the "The Courage Forum" held in New York by the Americas Business Council.

Mrs. Wallace has been involved in dialogue with civil society on the implementation of the Merida Initiative chaired by the Department of the Interior (SEGOB) and the Secretary of Foreign Relations (SRE), a form of bilateral cooperation between Mexico and the United States aimed at reducing the power of criminal organisations.

She is currently a senior fellow and social witness of the basic rules of security initiated by President Calderón, and a participant in the dialogue on Public Security and Human Rights Approach. She is also a member of Mexico United Against Organized Crime; and a member of the Board of the Investigation of Police. Security, justice administration, human rights, social justice and an end to corruption are among Mrs. Wallace's priorities.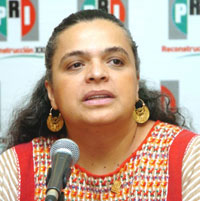 Beatriz Paredes Rangel
Beatriz Paredes Rangel is the mayoral candidate representing Principio del formulario the coalition of the centre-left Institutional Revolutionary Party (PRI) and the Green Party of Mexico (PVEM).

She was born in Tizatlán, Tlaxcala, in 1953. She has been the National President of the Institutional Revolutionary Party, and has previously held positions in the governance and structure of her party, among the most outstanding being: President of the Institutional Revolutionary Party (March 2007 - March 2011); Secretary General of the party's National Executive Committee (April 1992 - March 1993); Governor of Tlaxcala State (1987 - 1992); and President of the House of Representatives of Mexico (September 2001 - December 2002).

Beatriz Paredes is a sociology graduate from the Universidad Nacional Autónoma de México (UNAM). She began her political career at the age of 21, when she was elected Deputy of the Congress of Tlaxcala from 1974 to 1977; afterwards she became a Federal Deputy. In 1982 she was appointed Under Secretary to the Agrarian Reform programme and in 1986 was nominated the PRI candidate for the governorship of Tlaxcala, a post she held from 1987 to 1992 - becoming the first female Governor in that state and the second in Mexico's history. Mrs. Paredes did not complete her term since a few months before its end she resigned to become Secretary General of the PRI's National Executive Committee.

In 1993 Mrs. Paredes was appointed Mexico's ambassador to Cuba, returning home two years later to lead the National Peasant Confederation. In 1997 she was elected senator for the PRI party. In 2000 she was elected federal deputy again and appointed leader of the PRI's bench in the House of Representatives.

In February 2007 she was elected president of the PRI party. During her presidency, the PRI party led an abortion criminalisation campaign in 17 states. Mrs. Paredes attracted criticism from several feminist organisations for her perceived non-support of abortion by keeping quiet on the matter.

In 2008, during the XXIII Congress of the International Socialist held in Athens, Mrs. Paredes was elected vice president of the organisation that identifies social democratic and socialist parties worldwide.

She is keenly interested in water issues, air pollution, saving and transforming green areas, urban planning, public transport, education, health, and security.

Comment on this article
Read comments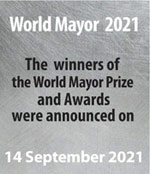 The best Mayors for Stronger | Fairer | Greener cities. Elect your candidate for the 20/21 World Mayor Prize and Honours. The Prize has been awarded since 2004