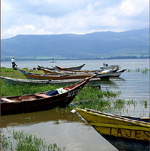 Mayor Alfaro Ramirez plans to boost the tourist and cultural attractions of the lake of Cajititlan





FRONT PAGE
Site Search
About us | Quiénes somos |
A propos de nous | Über uns |
Mayor Monitor
Directories
Events
Debate




Mexico's de facto powers
Mexico's 2012 elections
Mexico City mayoral elections 2012
Mexican Mayors
Interview with Mexico City's mayor
Mexico's 2010 elections
Mexico local government
Direct democracy in South America

Mayors from Latin America (Former mayors in italics)
| Bogota | Buenos Aires | Caracas (Barreto) | Caracas (Ledezma) | Chacao | Curitiba | Florencio Varela | Guatemala City | Guayaquil | Guaymas | Havana | Hermosillo | Ciudad Juárez | Manuas | Matamoros | Mexico City | Montevideo | Nuevo Laredo | Porto Alegre | Puente Alto | Quito | Rio de Janeiro | Sao Paulo | Tlajomulco de Zuñiga | Villa Nueva |





City Mayors reports news from towns and cities around the world. Worldwide | Elections | North America | Latin America | Europe | Asia | Africa |




City Mayors ranks the world's largest, best as well as richest cities and urban areas. It also ranks the cities in individual countries, and provides a list of the capital cities of some 200 sovereign countries. More




City Mayors profiles city leaders from around the world. More




City Mayors describes the history, architecture and politics of the greatest city halls in the world. More




Mayors from The Americas, Europe. Asia, Australia and Africa compete for the World Mayor Award. More




Use Mayor Monitor to rate the performance of mayors from across the world More




In your opinion: Praise Criticise. Write




City Mayors reports political events, analyses the issues and depicts the main players. More




City Mayors describes and explains the structures and workings of local government in Europe, The Americas, Asia, Australia and Africa. More




City Mayors deals with economic and investment issues affecting towns and cities. More




City Mayors describes and explains financial issues affecting local government. More




City Mayors reports urban environmental developments and examines the challenges faced by cities worldwide. More




City Mayors reports on and discusses urban development issues in developed and developing countries. More



City Mayors reports on developments in urban society and behaviour and reviews relevant research. More




City Mayors invites readers to write about the people in their cities. More




City Mayors examines city brands and marketing. More




City Mayors lists and features urban events, conferences and conventions aimed at urban decision makers and those with an interest in cities worldwide. More




City Mayors deals with urban transport issues in developed and developing countries and features the world's greatest metro systems. More




City Mayors examines education issues and policies affecting children and adults in urban areas. More




City Mayors investigates health issues affecting urban areas with an emphasis on health in cities in developing countries. More




City Mayors reports on how business developments impact on cities and examines cooperation between cities and the private sector. More




City Mayors examines the contributions history and culture make to urban society and environment. More




City Mayors examines the importance of urban tourism to city economies. More




City Mayors questions those who govern the world's cities and talks to men and women who contribute to urban society and environment. More




City Mayors profiles national and international organisations representing cities as well as those dealing with urban issues. More




City Mayors reports on major national and international sporting events and their impact on cities. More




City Mayors lists cities and city organisations, profiles individual mayors and provides information on hundreds of urban events. More



Mexican mayors offered little
support when assuming office
By Rodrigo Aguilar Benignos, Senior Latin America Correspondent
3 January 2010: Sometimes in developing countries, like Mexico, the biggest challenges for mayors are not those they may face once in office but those just before taking it. Imagine an mayor-elect about to inherit a city with more than 300,000 people, an annual population growth rate of 14 per cent, severe infrastructure problems, a high poverty index and a history of previous inept administrations. Finally imagine inheriting these responsibilities six days before the end of the year. Where does this mayor start?

Enrique Alfaro Ramirez, the newly elected Mayor of Tlajomulco de Zuñiga, in the state of Jalisco, Mexico, was clear enough when he chose the campaign slogan this year for his mayoral campaign: "Let's clean Tlajomulco, our home". By coincidence Tlajomulco has the same amount of people as the US city of New Orleans and faces the same the same urgent need for reconstruction and revitalisation.

The high level of incompetence and corruption of previous administrations in Tlajomulco was no secret, a sort of "Katrina" of bad practices; bad government and unethical actions have hurt the city in the last twelve years. The preceding mayors were criticized by local newspapers and citizens alike as the most inefficient government of Mexico's second biggest metropolitan area (the last mayor was the worst rated in the metropolitan area with 5.4 in a 10 point scale). What Alfaro probably didn't know 15 days before taking office and still may not know how damaged and filthy his home is. Elected Mayor Alfaro is already struggling to set up a progressive reconstruction agenda but a harsh relationship with his predecessor is forcing him to learn about the state of the public administration in less than a week.

Elected Mayor Enrique Alfaro Ramirez was born in Guadalajara, Mexico, son of a teacher and prominent former dean of one of the most prestigious public universities in Mexico, "University of Guadalajara". He obtained a degree of civil engineering and then a master's degree in urban studies from the college of Mexico (COLMEX). The 38-year old mayor's journey has been a long fought effort to change things and get elected as mayor of Tlajomulco de Zuñiga, a city of the metropolitan area of Guadalajara. He started his political career at the Institutional Revolutionary Party (PRI), a political party that endorsed his for running as candidate for mayor of Tlajomulco in 2003 when he lost the election by a close margin.

He left the PRI due to ideological differences and joined the Party of Democratic Revolution (PRD), a left-wing party with little presence in the metropolitan area or in the State of Jalisco. Elected as a local congressman in 2006 he tirelessly advocated for the rights of the people of Tlajomulco, particularly for the local fishermen in the lake community of Cajititlan whose incomes were affected by a polluted lake and an incompetent mayor reluctant to pay for the cleanup the lake.

Enrique Alfaro was finally elected mayor of Tlajomulco de Zuñiga last July with a wide margin. Alfaro now must deal with internal struggles in his political party (PRD), a US$70-million budget ($20 million less than 2009) and the hope of thousands of citizens not only in Tlajomulco but all over the metropolitan area. He represents in many ways the last chance for the left of Jalisco to prove to citizens they can govern better than the predominant right wing Party (PAN).

The lack of a consistent legal framework or transparency during the transition process in Mexico's cities is a sad reality and some cases elected mayors have few legal resources to force mayors to hand over the city administration properly.

In an effort to clean up the process, Mayor Enrique Alfaro has already instituted measures that will establish a new way of governing this important city. He has started choosing a talented group of young public servants with clean records, committed to reducing their salaries for three years, and putting an end to other bad government practices. As an expert on urban studies, he started with a coherent plan for basic infrastructure in those places were basic needs must be covered and furthermore, he stopped the current Mayor's initiative to modify without reason and irresponsibly land use permits that would complicate the explosive and disorganized growth of social housing construction without the proper infrastructure.

While finding a way to make urban mobility easier he proposed a suburban train that would connect Tlajomulco to Guadalajara and develop new routes of public transportation and he pushed for economic resources in both local and Federal Congress. In a city that has one of the highest growth rates in the country he's also committed to boost the tourist and cultural attractions of the lake of Cajititlan in a sustainable way, working with local communities and their families under an innovative scheme of participation. Above all, the newly elected mayor has an ambitious plan in order to implement the most transparent system of governance and accountability in Mexico.

Aware of the complicated reality of the metropolitan phenomenon in cities of developing countries, elected mayors such as Enrique Alfaro have to work intensively prior to their own elections in all ways possible in order to have the best possible start. Under a 'hit-and-run' and sometimes lawless environment, mayors need to work with their teams and citizens in a new ethical way to deliver proper service to the population. Enrique Alfaro is not only taking over a devastated city but also the hopes of hundreds of thousands of people in the metropolitan area of Guadalajara. A brave, honest and firm government is expected from him.

Cases like Tlajomulco are pivotal to understanding what can be done in cities with such distressed conditions before taking office. They also offer a good opportunity for young vigorous politicians like Enrique Alfaro to innovate and set a progressive agenda with greater potential for success but above all, gives the citizens the chance to work with a mayor committed to cleaning their community and set up an example for the rest of the Metropolitan area and for the State of Jalisco as a whole.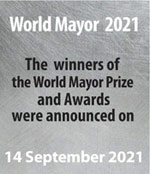 The best Mayors for Stronger | Fairer | Greener cities. Elect your candidate for the 20/21 World Mayor Prize and Honours. The Prize has been awarded since 2004