Antonio Francisco Astiazarán Gutiérrez, Mayor of Guaymas, Mexico





FRONT PAGE
About us | Quiénes somos
How good is your Mayor?
Directories
Events
Debate




World Mayor
World index of mayors
Mayors from The Americas
Mexico's 2010 elections
Mexican Mayors

Mayors from Latin America (Former mayors in italics)
| Bogota | Buenos Aires | Caracas (Barreto) | Caracas (Ledezma) | Chacao | Curitiba | Florencio Varela | Guatemala City | Guayaquil | Guaymas | Havana | Hermosillo | Ciudad Juárez | Manuas | Matamoros | Mexico City | Montevideo | Nuevo Laredo | Porto Alegre | Puente Alto | Quito | Rio de Janeiro | Sao Paulo | Tlajomulco de Zuñiga | Villa Nueva |

Participatory budgeting
Direct democracy




City Mayors reports news from towns and cities around the world. Worldwide | Elections | North America | Latin America | Europe | Asia | Africa |




City Mayors ranks the world's largest, best as well as richest cities and urban areas. It also ranks the cities in individual countries, and provides a list of the capital cities of some 200 sovereign countries. More




City Mayors profiles city leaders from around the world. More




City Mayors describes the history, architecture and politics of the greatest city halls in the world. More




Mayors from The Americas, Europe. Asia, Australia and Africa compete for the World Mayor Award. More




Use Mayor Monitor to rate the performance of mayors from across the world More




In your opinion: Praise Criticise. Write




City Mayors reports political events, analyses the issues and depicts the main players. More




City Mayors describes and explains the structures and workings of local government in Europe, The Americas, Asia, Australia and Africa. More




City Mayors deals with economic and investment issues affecting towns and cities. More




City Mayors describes and explains financial issues affecting local government. More




City Mayors reports urban environmental developments and examines the challenges faced by cities worldwide. More




City Mayors reports on and discusses urban development issues in developed and developing countries. More



City Mayors reports on developments in urban society and behaviour and reviews relevant research. More




City Mayors invites readers to write about the people in their cities. More




City Mayors examines city brands and marketing. More




City Mayors lists and features urban events, conferences and conventions aimed at urban decision makers and those with an interst in cities worldwide. More




City Mayors deals with urban transport issues in developed and developing countries and features the world's greatest metro systems. More




City Mayors examines education issues and policies affecting children and adults in urban areas. More




City Mayors investigates health issues affecting urban areas with an emphasis on health in cities in developing countries. More




City Mayors reports on how business developments impact on cities and examines cooperation between cities and the private sector. More




City Mayors examines the contributions history and culture make to urban society and environment. More




City Mayors examines the importance of urban tourism to city economies. More




City Mayors questions those who govern the world's cities and talks to men and women who contribute to urban society and environment. More




City Mayors profiles national and international organisations representing cities as well as those dealing with urban issues. More




City Mayors reports on major national and international sporting events and their impact on cities. More




City Mayors lists cities and city organisations, profiles individual mayors and provides information on hundreds of urban events. More



Antonio Francisco Astiazarán Gutiérrez
Mayor of Guaymas, Mexico
By Adriana Maciel, Mexico Editor
22 January 2008: Antonio Astiazarán Gutiérrez was born in the State of Sonora, Mexico on 13 July 1971. Since he was a child, he recalls, he wanted to become a lawyer, and he actually did. He has a Bachelor's degree at Law by the University of Hermosillo, Sonora, and later he obtained a Master's degree on Political Theory at Essex University. He was a Constitutional Law Lecturer at the University of Sonora and President of the Student's Society of the University of Hermosillo. The mayor has been short-listed for the 2008 World Mayor Award.

Political career
Among his various jobs as member of the traditional Institutional Revolutionary Party (PRI) are: Municipal Political Consultant of the PRI party in Sonora; State Political Consultant of the PRI party in Sonora; and Federal Deputy of Sonora State (2003-2006).

His formal jobs in government were: Technical Analyst in the Juridical General Direction of the State of Sonora (1993); Technical Secretary of the Social Advancement Secretary in the Department of the federal District (1994); Assistant Secretary in the General Direction of System of Information to the Community of the Department of the Interior (1994); Particular Secretary of the Governor of the State of Sonora (1997-2001); Secretary of Promotion of Tourism of Sonora State (2001-2003).

Mayor
Antonio Astiazarán Gutiérrez took office on 16 September 2006 for a three-year period as Mayor of Guaymas, Sonora, a city 117 kilometers away to the South of the state's capital Hermosillo, with an area of 12,208.18 square kilometers and a population of 101,507 inhabitants according to the 2005 census.

Among his accomplishments since assuming office are:
PUBLIC SECURITY: 10 new police modules have been established in conflict areas. The police technological equipment has been modernized; 10 survey cameras have been installed in the municipality; training programmes as English language and Tourism are given to police officers, since Guaymas is a tourist port; burglary insurance are given to everyone that pays real state tax on time; 19 new sanctions have been established, such as throwing rubbish in public places.
PUBLIC SERVICES: Closing clandestine rubbish dumps and construction of a new one. Clean Beaches Programme has been set; Improvement and increase of street light system to the total of urban and rural areas. Strengthening and supplying works of drinking water and the rehabilitation of the main water pipes.

SOCIAL DEVELOPMENT: 21,000 people have benefited from support on feeding, education, health, aid to the elderly under "Opportunities Program"; 800 families have benefited from the "Housing Improving Program"; 811 families changed their soil floor for a concrete one under "Firm Step Program". Strong campaign against cervical and breast cancer and other ailments, reaching imprisoned women, there is a mobile unit for this purpose; 2,234 medical consults and free medicine to poor people; 10,500 annual minimum basic goods packs are given to 875 poor families. 12,751 school breakfasts are given per month. The municipality has hired 18 disabled people.

URBAN DEVELOPMENT: Total renewal of traffic lights equipment; Construction of a new road to deviate the heavy transport; The creation of a new regulation for ecology including the acquiring of equipment for the control of auditory pollution. Thanks to the ecological measures taken by the Guaymas government Dolphins have returned to Guaymas' Port.

ECONOMICAL DEVELOPMENT: 250 new companies were created; 14 housing developments have been built and 4,600 new jobs have been created; a dock for cruises is being built, which terminal will host 30 shops including restaurants, this will be very important for the entity's economy.

RURAL DEVELOPMENT: "Tu Casa (Your Home) 2007 Programme" of saving, subsidy and credit grant in rural zones as aid to the construction of houses.

ADMINISTRATION AND FINANCE: Modernization and improvement of public administration; Staff cuts; Important results in income collections, obtaining a budgetary surplus of 54%.

In June 2007, the Sonora State Governor Eduardo Bours, granted an Environmental Merit Award to Mayor Antonio Astiazarán for his effort to modernize the garbage management system in the municipality. The Board of Ecology and Sustainable Growth assessed the programmes and actions on environment matters of the different Sonora's municipalities and Guaymas was honoured for the results obtained regarding the rubbish issue.

Also Guaymas is regarded as number one in tax collection, public works and investment and the creation of new jobs in all Sonora State.

Antonio Astiazarán Gutiérrez is married to Patricia Ruibal with whom he has two children.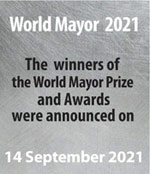 The best Mayors for Stronger | Fairer | Greener cities. Elect your candidate for the 20/21 World Mayor Prize and Honours. The Prize has been awarded since 2004