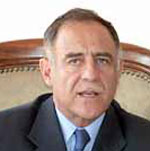 Paco Moncayo, Mayor of Quito, Ecuador





FRONT PAGE
About us | Quiénes somos
How good is your Mayor?
Directories
Events
Debate




World Mayor
World index of mayors
Mayors from The Americas

Mayors from Latin America (Former mayors in italics)
| Bogota | Buenos Aires | Caracas (Barreto) | Caracas (Ledezma) | Chacao | Curitiba | Florencio Varela | Guatemala City | Guayaquil | Guaymas | Havana | Hermosillo | Ciudad Juárez | Manuas | Matamoros | Mexico City | Montevideo | Nuevo Laredo | Porto Alegre | Puente Alto | Quito | Rio de Janeiro | Sao Paulo | Tlajomulco de Zuñiga | Villa Nueva |

Participatory budgeting
Direct democracy




City Mayors reports news from towns and cities around the world. Worldwide | Elections | North America | Latin America | Europe | Asia | Africa |




City Mayors ranks the world's largest, best as well as richest cities and urban areas. It also ranks the cities in individual countries, and provides a list of the capital cities of some 200 sovereign countries. More




City Mayors profiles city leaders from around the world. More




City Mayors describes the history, architecture and politics of the greatest city halls in the world. More




Mayors from The Americas, Europe. Asia, Australia and Africa compete for the World Mayor Award. More




Use Mayor Monitor to rate the performance of mayors from across the world More




In your opinion: Praise Criticise. Write




City Mayors reports political events, analyses the issues and depicts the main players. More




City Mayors describes and explains the structures and workings of local government in Europe, The Americas, Asia, Australia and Africa. More




City Mayors deals with economic and investment issues affecting towns and cities. More




City Mayors describes and explains financial issues affecting local government. More




City Mayors reports urban environmental developments and examines the challenges faced by cities worldwide. More




City Mayors reports on and discusses urban development issues in developed and developing countries. More



City Mayors reports on developments in urban society and behaviour and reviews relevant research. More




City Mayors invites readers to write about the people in their cities. More




City Mayors examines city brands and marketing. More




City Mayors lists and features urban events, conferences and conventions aimed at urban decision makers and those with an interst in cities worldwide. More




City Mayors deals with urban transport issues in developed and developing countries and features the world's greatest metro systems. More




City Mayors examines education issues and policies affecting children and adults in urban areas. More




City Mayors investigates health issues affecting urban areas with an emphasis on health in cities in developing countries. More




City Mayors reports on how business developments impact on cities and examines cooperation between cities and the private sector. More




City Mayors examines the contributions history and culture make to urban society and environment. More




City Mayors examines the importance of urban tourism to city economies. More




City Mayors questions those who govern the world's cities and talks to men and women who contribute to urban society and environment. More




City Mayors profiles national and international organisations representing cities as well as those dealing with urban issues. More




City Mayors reports on major national and international sporting events and their impact on cities. More




City Mayors lists cities and city organisations, profiles individual mayors and provides information on hundreds of urban events. More


Paco Moncayo
Mayor of Quito
By Andrew Stevens, Deputy Editor
12 January 2008: The Ecuadorian two term mayor is known to many not only as the capital's city leader but also as a former General and legislator. The leader of the Democratic Left Party, Paco Moncayo is also a noted historian and played a role in the 2005 ouster of unpopular president Lucio Gutiérrez. In 2007 he was elected to the co-presidency of the United Cities and Local Governments organisation. The mayor has been short-listed for the 2008 World Mayor Award.

Update 1 May 2009: After eight years as mayor of Quito, Paco Moncayo resigned from his function as Mayor of Quito on 29 January 2009 in order to run for election to the Ecuadorian National Assembly. In April 2009 Augusto Barrera was elected as new mayor of Quito.

Moncayo was born in Quito in 1940 to lawyer and teacher parents, though his family relocated to the Andean city of Riobamba at an early age. After moving back to the capital aged 11, he entered the country's military school in 1957, graduating in 1960. A graduate of international sciences, he holds a PhD in economics and has a postgraduate qualification in Andean History. He entered the country's military as a second lieutenant in 1962, later holding a number of teaching posts himself and eventually rising to the rank of General. Moncayo became known to many Ecuadorians for his decorated conduct in the Cenepa War, a localised skirmish with Peruvian forces over two months in 1995 concerning the two countries' decades' long territorial dispute (finally resolved by multilateral talks and agreement in 1999).

On retiring from the armed forces, Moncayo entered politics, successfully contesting the 1998 elections to the National Congress on behalf of the Democratic Left Party. After a short congressional term of two years, also serving on the National Security Council, Moncayo ran in the Quito mayoral race of 2000, taking the city for the Democratic Left. He was then re-elected for a second term in 2004.

Moncayo was instrumental in the actions of 2005 which led to the ouster of bombastic President and former junta member Lucio Gutiérrez, who suspended the constitution and imposed a state of emergency which the army failed to observe, on account of public accusations of corruption and misrule. Moncayo deployed municipal workers and transport to "defend democracy" by keeping pro-Gutiérrez supporters away from the capital. While Gutiérrez initially styled himself as Ecuador's answer to Hugo Chavez, the left in the country immediately fell out of favour with his neo-liberal policies, leaving them searching for an alternative figure, for which Moncayo was briefly in the ascendant as leader of the Democratic Left. Gutiérrez' elected successor is Rafael Correa, the left-leaning former economics minister and US-trained economist.

A UNESCO World Heritage Site, the Quito municipality also serves as the capital seat of the canton which bears its name, one of 199 cantons in Ecuador. The country also has 22 provinces, each with their own prefectural governor, in which Quito is also the capital of the Pichincha province.

Mayor Moncayo is married to wife Martha and they have four children. He is also a member of the Academy of Ecuadorian History and has received the UNESCO Simon Bolivar Award for his role in preserving the Cultural Patrimony of Quito. In 2007 he was elected co-president of the United Cities and Local Governments organisation.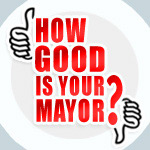 Mayor Monitor allows you to rate the performance of your mayor More


How good is
your mayor?
City Mayors provides Mayor Monitor (MM) to allow residents and non-residents to rate the performance of mayors from across the world as well as highlight their 'best' and 'worst' decisions. Mayor Monitor uses the widely understood one-to-ten rating system, where '1' signifies an extremely poor performance and '10' 'an outstanding one. In addition to rating mayors' performances, citizens are invited to highlight the best and worst decisions by city leaders.

Over time, Mayor Monitor will provide a valuable track record of mayors' successes and failures as well as their popularity among residents and a wider public. The results will be published on the City Mayors website and updated monthly.

Please rate your mayor now.

The ratings will become a contributory factor of World Mayor 2010.