Carlos Richa, former mayor of Curitiba and 2006 World Mayor finalist





FRONT PAGE
About us | Quiénes somos
How good is your Mayor?
Directories
Events
Debate




Brazilian Mayors
World Mayor
World index of mayors
Mayors from The Americas

Mayors from Latin America (Former mayors in italics)
| Bogota | Buenos Aires | Caracas (Barreto) | Caracas (Ledezma) | Chacao | Curitiba | Florencio Varela | Guatemala City | Guayaquil | Guaymas | Havana | Hermosillo | Ciudad Juárez | Manuas | Matamoros | Mexico City | Montevideo | Nuevo Laredo | Porto Alegre | Puente Alto | Quito | Rio de Janeiro | Sao Paulo | Tlajomulco de Zuñiga | Villa Nueva |

Participatory budgeting
Direct democracy




City Mayors reports news from towns and cities around the world. Worldwide | Elections | North America | Latin America | Europe | Asia | Africa |




City Mayors ranks the world's largest, best as well as richest cities and urban areas. It also ranks the cities in individual countries, and provides a list of the capital cities of some 200 sovereign countries. More




City Mayors profiles city leaders from around the world. More




City Mayors describes the history, architecture and politics of the greatest city halls in the world. More




Mayors from The Americas, Europe. Asia, Australia and Africa compete for the World Mayor Award. More




Use Mayor Monitor to rate the performance of mayors from across the world More




In your opinion: Praise Criticise. Write




City Mayors reports political events, analyses the issues and depicts the main players. More




City Mayors describes and explains the structures and workings of local government in Europe, The Americas, Asia, Australia and Africa. More




City Mayors deals with economic and investment issues affecting towns and cities. More




City Mayors describes and explains financial issues affecting local government. More




City Mayors reports urban environmental developments and examines the challenges faced by cities worldwide. More




City Mayors reports on and discusses urban development issues in developed and developing countries. More



City Mayors reports on developments in urban society and behaviour and reviews relevant research. More




City Mayors invites readers to write about the people in their cities. More




City Mayors examines city brands and marketing. More




City Mayors lists and features urban events, conferences and conventions aimed at urban decision makers and those with an interst in cities worldwide. More




City Mayors deals with urban transport issues in developed and developing countries and features the world's greatest metro systems. More




City Mayors examines education issues and policies affecting children and adults in urban areas. More




City Mayors investigates health issues affecting urban areas with an emphasis on health in cities in developing countries. More




City Mayors reports on how business developments impact on cities and examines cooperation between cities and the private sector. More




City Mayors examines the contributions history and culture make to urban society and environment. More




City Mayors examines the importance of urban tourism to city economies. More




City Mayors questions those who govern the world's cities and talks to men and women who contribute to urban society and environment. More




City Mayors profiles national and international organisations representing cities as well as those dealing with urban issues. More




City Mayors reports on major national and international sporting events and their impact on cities. More




City Mayors lists cities and city organisations, profiles individual mayors and provides information on hundreds of urban events. More



Carlos Richa
Former mayor of Curitiba
By Andrew Stevens and Janaina Arruda
27 October 2008: Curitiba is the capital of Parana state in southern Brazil, a city renowned for its higher than average per capita income and innovative approach to planning and public transportation. First elected in 2004, Carlos Richa is one of several city mayors from the diverse immigrant community in the state capital and represents the centrist Brazilian Party of Social Democracy (PSDB). Mayor Carlos Richa has been shortlisted for the 2010 World Mayor Prize.

Update June 2010: Carlos Richa has resigned to run for state governor of Parana. The new mayor is Luciano Ducci .

Born in Londrina in 1965 and of Lebanese migrant descent, Richa hails from a political family as his father served as Mayor of Londrina then Governor of Parana state between 1983 and 1986, during the crucial time for the transition from dictatorship to democracy. Because of his father's political career as a mayor, state governor then federal senator, he spent his early childhood in Brasilia. He then graduated from the Bom Jesus High School in Curitiba and attended the Catholic University of Parana, where he studied civil engineering.

Richa Jr (or 'Beto') entered political life aged 29 in 1994 when he became a deputy for the state of Parana and was re-elected in 1998, doubling his votes. During this time he was able to seek reparations for the families of those imprisoned under the military dictatorship and to legislate for increased public security for those using banks. In 2000 he was chosen as the vice mayoral candidate in Curitiba for the campaign of Cassio Taniguchi, who hailed from the city's Japanese migrant community. Elected as vice mayor, he was made responsible for public works under Mayor Taniguchi's internationally recognised administration.

For the 2002 state elections he ran, unsuccessfully, as the PSDB's candidate for governor of Parana, but then resumed the vice mayoralty. Two years later, in the mid-term elections that saw the governing Workers' Party (PT) routed across Brazil, Beto Richa was elected Mayor of Curitiba aged 39. In 2008 he was re-elected with a massive 77 per cent of the vote.

Richa governs under the holistic belief that "We'll be making a better country every time we make our cities better." Though already picking up plaudits for his administration, Richa is following the pattern set by his predecessors. In 1996 the Habitat II conference of the UN praised Curitiba as the "most innovative city in the world".

A decade later, Curitiba hosted the eighth meeting of the Conference of the Parties on the Convention on Biodiversity, confirming the city's drive to improve its standing internationally. The most immediate challenge facing the city and its administration is increasing capacity on its innovative but ageing public transport system. Recently Mayor Richa gave the go ahead for the constructing of a two-line light rail transit system to relieve congestion on the city's busiest bus routes. His discounted ticket scheme to increase bus travel has already been copied by a number of other cities. He has already introduced sweeping changes to the financial reporting system of his administration to the city council, opening up inspection of the budget on a year-round basis and allowing citizens an input.

Mayor Richa is married with three children.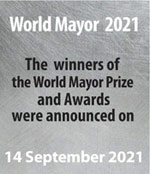 The best Mayors for Stronger | Fairer | Greener cities. Elect your candidate for the 20/21 World Mayor Prize and Honours. The Prize has been awarded since 2004