Some 20 million people were left without adequate food and clean water during the 2010 floods





FRONT PAGE
Site Search
About us | Quiénes somos |
A propos de nous | Über uns |
Mayor Monitor
Directories
Events
Debate




Pakistan's cities left without leaders
Karachi local government structure
Mayor of Karachi
Mayor Monitor for Karachi mayor




City Mayors reports news from towns and cities around the world. Worldwide | Elections | North America | Latin America | Europe | Asia | Africa |




Mayors from The Americas, Europe. Asia, Australia and Africa compete for the World Mayor Award. More




City Mayors ranks the world's largest, best as well as richest cities and urban areas. It also ranks the cities in individual countries, and provides a list of the capital cities of some 200 sovereign countries. More




City Mayors profiles city leaders from around the world. More




City Mayors describes the history, architecture and politics of the greatest city halls in the world. More




Use Mayor Monitor to rate the performance of mayors from across the world More




In your opinion: Praise Criticise. Write




City Mayors reports political events, analyses the issues and depicts the main players. More




City Mayors describes and explains the structures and workings of local government in Europe, The Americas, Asia, Australia and Africa. More




City Mayors deals with economic and investment issues affecting towns and cities. More




City Mayors describes and explains financial issues affecting local government. More




City Mayors reports urban environmental developments and examines the challenges faced by cities worldwide. More




City Mayors reports on and discusses urban development issues in developed and developing countries. More



City Mayors reports on developments in urban society and behaviour and reviews relevant research. More




City Mayors invites readers to write about the people in their cities. More




City Mayors examines city brands and marketing. More




City Mayors lists and features urban events, conferences and conventions aimed at urban decision makers and those with an interest in cities worldwide. More




City Mayors deals with urban transport issues in developed and developing countries and features the world's greatest metro systems. More




City Mayors examines education issues and policies affecting children and adults in urban areas. More




City Mayors investigates health issues affecting urban areas with an emphasis on health in cities in developing countries. More




City Mayors reports on how business developments impact on cities and examines cooperation between cities and the private sector. More




City Mayors examines the contributions history and culture make to urban society and environment. More




City Mayors examines the importance of urban tourism to city economies. More




City Mayors questions those who govern the world's cities and talks to men and women who contribute to urban society and environment. More




City Mayors profiles national and international organisations representing cities as well as those dealing with urban issues. More




City Mayors reports on major national and international sporting events and their impact on cities. More




City Mayors lists cities and city organisations, profiles individual mayors and provides information on hundreds of urban events. More




Pakistan's cities face crisis of the
century without strong leadership
By Qudsia Kadri Khan, Financial Post
6 September, 2010: Since city governments were removed after the expiration of their tenure, Pakistan's provinces and their chief ministers have dilly-dallied the issue of local government and now of course with the flood situation across the country, local government elections cannot be held.

All over the country, the role of Union Council and Tehsil Nazims in all areas of flooding is being remembered. At least these locally elected people would have been present in their areas to prevent much of the mismanagement and inefficiency being faced today. Not only hardships but the attitude, behavior and callousness of Pakistan's parliamentarians and sitting ministers are being witnessed today. In a photograph published in the Financial Post, we have the Home Minister Sindh giving flour bags to the flood affectees, where the lady standing next to him is directly looking into the camera with her hand placed "strategically" on the bag of flour the old man is carrying.!

It is at such moments, that the residents of Karachi think of former City Nazim (mayor) Syed Mustafa Kamal and his team being out on the streets, trying to figure out ways and means of finding solutions and resolving issues. Most of the relief camps set up in Karachi are in a poor condition health wise, with food not being given out in any organised manner. Many of the flood affectees can be seen all over the city, asking for 'rations' and money. They give their pitiful description of the camps they are living in. Most residents are left confused whether to help them or not as they feel that they could be people just out to make money. The point being that if these camps were actually providing, than how could flood-devastated people find their way to different phases of Defence and elsewhere. And the point to be pondered is how, as most of them have come from other provinces such as Punjab and Baluchistan.

The former Muttahida Quami Movement (MQM) Nazim in Karachi has surpassed all previous records of managing the city. People trusted and believed Syed Mustafa Kamal. The Nazims of areas such as Gulshan town, Wasay Jalil is another example of helping people not only from his area but is known to have come to the rescue of people calling from certain other areas which fall under the city government. Many residents he would help out even if one contacted him during the late hours of the night.

Not only at flood time, but even otherwise, areas had regular clean water, garbage collection and some sense of cleanliness existed. Taking a drive around Karachi, one clearly noticed and saw only areas occupied by Ministers in Karachi are swept, several of residents have pointed out that water being provided by the city administration is murky, smelly and clearly not usable for even personal hygiene use. We are sure that the provinces of Punjab and Khyber Pakhtunkhwa are facing similar problems in the administrative set-up. Let Ministers and parliamentarians stop going on about how they are present everywhere. Nobody believes them so why keep ranting?

In Karachi and elsewhere in Sindh the rotting food, the stinking garbage accumulated since many months in some areas including so called posh elite streets and lanes, is an open invitation to disease such as malaria parasite, dengue fever hepatitis C and other water-borne and insect infected diseases.

The environment, the pitiable localities are obviously of no concern to the present city administration. As residents are pointing out regularly all that we are doing is paying bills every month for dirty un-usable water, rotting un-collected garbage, no road cleaning and most importantly nobody in the set-up taking any note. The country and its cities, and its tehsils and its towns can no longer carry on with such malfunctioning at every nook and corner.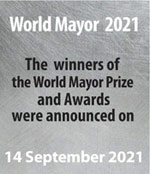 • Poverty is a crime against humanity
• Support mayors who fight poverty
• Nominate the best for the 2020 World Mayor Prize