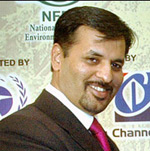 Syed Mustafa Kamal, Mayor of Karachi 2005 to 2010





FRONT PAGE
Site Search
About us | Quiénes somos |
A propos de nous | Über uns |
Mayor Monitor
Directories
Events
Debate




World Mayor
World index of mayors
Mayors from Africa
Mayors from Asia & Australia
Mayors from The Americas
Mayors from Europe
Mayors and political parties
World's largest cities
and their mayors 2010

Mayors from Asia & Australia (Italics indicate ex-mayors)
| Amman | Brisbane | Changwon | Guangzhou | Delhi | Dubai | Hiroshima | Istanbul | Jakarta | Karachi | Makati City | Marikina | Matsuyama City | Mumbai | Naga City | Nagasaki | New Plymouth | Novosibirsk | Osaka | San Fernando | Shanghai | Taipei | Tehran | Tel Aviv | Tianjin | Tokyo | Wellington | Yokohama

Health in growth cities
Pakistan's cities left without leaders




City Mayors reports news from towns and cities around the world. Worldwide | Elections | North America | Latin America | Europe | Asia | Africa | Events |




Mayors from The Americas, Europe. Asia, Australia and Africa are competing for the annual World Mayor Award. More




City Mayors ranks the world's largest as well as richest cities and urban areas. It also ranks the cities in individual countries, and provides a list of the capital cities of some 200 sovereign countries. More




City Mayors reports political events, analyses the issues and depicts the main players. More




City Mayors describes and explains the structures and workings of local government in Europe, The Americas, Asia, Australia and Africa. More




City Mayors profiles city leaders from around the world and questions them about their achievements, policies and aims. More




City Mayors deals with economic and investment issues affecting towns and cities. More




City Mayors reports on how business developments impact on cities and examines cooperation between cities and the private sector. More




City Mayors describes and explains financial issues affecting local government. More




City Mayors lists and features urban events, conferences and conventions aimed at urban decision makers and those with an interst in cities worldwide. More




City Mayors reports urban environmental developments and examines the challenges faced by cities worldwide. More




City Mayors reports on and discusses urban development issues in developed and developing countries. More



City Mayors reports on developments in urban society and behaviour and reviews relevant research. More




City Mayors deals with urban transport issues in developed and developing countries and features the world's greatest metro systems. More




City Mayors examines education issues and policies affecting children and adults in urban areas. More




City Mayors investigates health issues affecting urban areas with an emphasis on health in cities in developing countries. More




City Mayors examines the importance of urban tourism to city economies. More




City Mayors examines the contributions history and culture make to urban society and environment. More




City Mayors describes the history, architecture and politics of the greatest city halls in the world. More




City Mayors invites readers to write short stories about people in cities around the world. More




City Mayors questions those who govern the world's cities and talks to men and women who contribute to urban society and environment. More




City Mayors profiles national and international organisations representing cities as well as those dealing with urban issues. More




City Mayors reports on major national and international sporting events and their impact on cities. More




City Mayors lists cities and city organisations, profiles individual mayors and provides information on hundreds of urban events. More


Syed Mustafa Kamal
Former Mayor of Karachi
By City Mayors' Middle East Correspondent
1 July 2009: The facebook fan page of Karachi's Mayor (Nazim) Syed Mustafa Kamal describes him as the "true working class representative of Pakistan". Western-educated but passionate about his city, Karachi's first citizen uses his considerable online presence and following to keep in touch with the residents of Pakistan's principal urban centre and financial hub. A leading member of MQM (United National Movement), Pakistan's largest centre-left party, he is credited with his attempts to turn the city into the next Dubai, while continuing to speak up for its sizeable underclass. Mayor Kamal was shortlisted for the 2010 World Mayor Prize.

Kamal's facebook site is regularly updated with the minutiae of city administration which most mayors would leave for official minutes, speaking proudly of urban developments in the pipeline and city pride initiatives. The Karachi city chief's achievements in office were singled out by the magazine Foreign Policy in 2008, though his over-zealous supporters in Pakistan were later criticised for their misrepresentation of the accolade by dubbing him the "second best mayor in the world".

Born in 1971, Kamal was first educated in the city before achieving an associate's diploma in business while studying in Malaysia. He later received an MBA while studying at a British university in Wales. Kamal claims that his upbringing, though comparatively middle class, has enabled him to remain conscious of the city's primary needs, particularly around sanitation and street management.

Kamal is supported in his task by his naib (deputy) Nasreen Jalil, a former senator who hails from a family of notable members of the country's governing classes, being educated in Paris and London. Prior to his election as nazim in 2005, Kamal served as minister for information technology in the state government of Sindh (2003-2005), where he received acclaim for his programmes to increase access to jobs in telecommunications among the more illiterate and underclass members of Pakistani society. In doing so, he insisted that ICT courses become mandatory during the compulsory stage of state education while seeking to close down disreputable colleges offering bogus courses.

Karachi's civic ambassador has continued to champion the role of IT in transforming the city's fortunes since his stint in state government, not only envisaging it becoming an Asian super-hub in the next decade but directly borrowing the example of Israel and its leading edge dominance of the regional economy through a highly-educated workforce and available of high living standards in its cities. In addition to the accolades heaped on his administration, both internally and increasingly externally, Kamal is feted by diplomats and international urban policymakers as a young and confident city leader.

While his fans speak of his charisma and dynamism, Kamal also uses his guile and political strategy to make the office of nazim work as the driving force of Karachi's urban development. As nazim (mayor) of Karachi City District Government (CDGK), Kamal is one of only 10 heads of government of upper tier cities in Pakistan and heads its largest metropolitan area, notable for its comparatively cosmopolitan population and linguistic communities. He is Karachi's second nazim since the reform of the city government in 2001.

In March 2009 Mayor Kamal travelled to the US to sign a sister city (twin city) agreement between Karachi and Houston. At the signing ceremony, Houston Mayor Bill White described his Karachi colleague as a man who was striving to make Karachi a modern and well developed mega city which was admired internationally.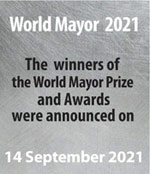 The best Mayors for Stronger | Fairer | Greener cities. Elect your candidate for the 20/21 World Mayor Prize and Honours. The Prize has been awarded since 2004