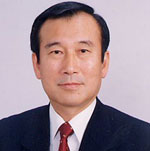 Since taking office in 1999, Hiroshima Mayor Tadatoshi Akiba has become one of the best recognised mayors in the world




FRONT PAGE
SiteSearch
About us
Directories


Japanese Mayors
Japanese local government
Japanese municipal reforms
Hiroshima - 60th anniversary
Mayors for PeaceWorld Mayor
Japan local elections 2007
Matsuyama City

World Mayor
World index of mayors
Mayors from Africa
Mayors from Asia & Australia
Mayors from The Americas
Mayors from Europe
Mayors and political parties
World's largest cities
and their mayors 2010

Mayors from Asia & Australia (Italics indicate ex-mayors)
| Amman | Brisbane | Changwon | Guangzhou | Delhi | Dubai | Hiroshima | Istanbul | Jakarta | Karachi | Makati City | Marikina | Matsuyama City | Mumbai | Naga City | Nagasaki | New Plymouth | Novosibirsk | San Fernando | Shanghai | Taipei | Tehran | Tel Aviv | Tianjin | Tokyo | Wellington | Yokohama




City Mayors reports news from towns and cities around the world. Worldwide | Elections | North America | Latin America | Europe | Asia | Africa | Events |




Mayors from The Americas, Europe. Asia, Australia and Africa are competing for the annual World Mayor Award. More




City Mayors ranks the world's largest as well as richest cities and urban areas. It also ranks the cities in individual countries, and provides a list of the capital cities of some 200 sovereign countries. More




City Mayors reports political events, analyses the issues and depicts the main players. More




City Mayors describes and explains the structures and workings of local government in Europe, The Americas, Asia, Australia and Africa. More




City Mayors profiles city leaders from around the world and questions them about their achievements, policies and aims. More




City Mayors deals with economic and investment issues affecting towns and cities. More




City Mayors reports on how business developments impact on cities and examines cooperation between cities and the private sector. More




City Mayors describes and explains financial issues affecting local government. More




City Mayors lists and features urban events, conferences and conventions aimed at urban decision makers and those with an interst in cities worldwide. More




City Mayors reports urban environmental developments and examines the challenges faced by cities worldwide. More




City Mayors reports on and discusses urban development issues in developed and developing countries. More



City Mayors reports on developments in urban society and behaviour and reviews relevant research. More




City Mayors deals with urban transport issues in developed and developing countries and features the world's greatest metro systems. More




City Mayors examines education issues and policies affecting children and adults in urban areas. More




City Mayors investigates health issues affecting urban areas with an emphasis on health in cities in developing countries. More




City Mayors examines the importance of urban tourism to city economies. More




City Mayors examines the contributions history and culture make to urban society and environment. More




City Mayors describes the history, architecture and politics of the greatest city halls in the world. More




City Mayors invites readers to write short stories about people in cities around the world. More




City Mayors questions those who govern the world's cities and talks to men and women who contribute to urban society and environment. More




City Mayors profiles national and international organisations representing cities as well as those dealing with urban issues. More




City Mayors reports on major national and international sporting events and their impact on cities. More




City Mayors lists cities and city organisations, profiles individual mayors and provides information on hundreds of urban events. More


Mayor of Hiroshima determined to make
his city a symbol of peace and prosperity
21 October 2004: For 60 years the city of Hiroshima has been warning the world about nuclear weapons, but five years ago, with the election of Mayor Tadatoshi Akiba, Hiroshima finally became a player on the international stage. Having graduated from both Tokyo University and MIT in Boston, and having lived nearly 20 years in the U.S., Akiba is a rarity among Japanese politicians: bilingual, and thoroughly cosmopolitan. Equally rare are his commitments to peace, the abolition of nuclear weapons, environmental protection, and open, transparent, democratic government. The mayor was short-listed for the 2008 World Mayor Award.

Update 11 April 2011: In mayoral elections held on 10 April 2011, Kazumi Matsui was elected as new mayor of Hiroshima.

Since becoming mayor in 1999, Akiba has been working hard to help Hiroshima live up to its image as the International Peace Culture City. He has been fighting to make Hiroshima's rivers clean enough to swim in. He has overseen a great improvement in waste management. Today, the people of Hiroshima divide their trash into eight categories, and Hiroshima discards less waste per capita than any other city of similar size in Japan.

Mayor Akiba has devoted a great deal of energy to modernizing government and using information technology to expedite a broad range of procedures. As a result, the city of Hiroshima is among the most advanced local governments in Japan. The improved speed and efficiency are quite popular with residents, and have even earned favourable attention overseas. At the Asia-Pacific Summit in Seattle (U.S.) in 2001, the mayor of the host city commented: "Hiroshima is the city to watch when it comes to the electronic city hall."

Akiba has also been fighting to make city government more transparent and evenhanded. He has been dismantling the back-room machines that have for years been making certain types of city decisions. By implementing a fairer and more effective bidding system for public works projects and by instituting a referendum system for direct citizen participation, he has made municipal decision making more democratic.

Meanwhile, he has greatly reduced gang activity among youth. Mobilizing the police and training volunteers to walk the streets at key times and places, he has enforced discipline, but he has also sought to go to the roots of gang activity. Hiroshima now offers various forms of individual guidance, counselling, and assistance that help many angry young men find more productive ways to relate to their families and the broader community.

Mayor Akiba's greatest achievements, however, lie in the realms of international business and peace. Using his wide network of non-Japanese contacts, as well as his English, he has met with government and business leaders around the world, encouraging economic and cultural interaction. He has greatly strengthened Hiroshima's economic and cultural interaction with its sister cities, and has launched an exciting programme expected to increase the number of foreign and Japanese visitors to Hiroshima from 37 million to 70 million by the year 2010. He has successfully invited numerous companies, including General Motors and Itar Giugiaro Design, to do business with local companies or to actually locate a facility in or near Hiroshima. Further, he pursues economic development without abandoning his environmental protection principles, seeking always to ensure that incoming operations are as clean as possible.

In the nuclear disarmament community, Tad Akiba is becoming a star. Beginning with a speech and a workshop in Geneva at the 2003 preparatory committee for the review of the Treaty on the Non-Proliferation of Nuclear Weapons (NPT), Akiba has inspired a powerful upsurge in anti-nuclear activism. As president of the Mayors for Peace, he has increased by one-third the number of member cities. (Mayors for Peace now boasts 629 city members in 109 countries and regions (as of 19 October, 2004), including the capitals of all the nuclear-weapon states except Islamabad and Washington.) In November 2003, the Mayors for Peace, supported by the cities of Hiroshima and Nagasaki, launched an Emergency Campaign to Ban Nuclear Weapons. This campaign has since received strong endorsements in resolutions passed by the European Parliament, the Conference of U.S. Mayors, International Physicians for the Prevention of Nuclear War (IPPNW), and Abolition 2000. In fact, Mayor Akiba and Mayors for Peace won this year's Global Citizen Award from the Nuclear Age Peace Foundation.

As a part of this campaign, last April Akiba led a delegation of 19 mayors and deputy mayors from 12 countries to the NPT Preparatory Committee Meeting at UN Headquarters in New York. By speaking to national delegates, taking part in NGO lobbying activities, and meeting with Parliamentarians for Peace and the New York City Council, this delegation contributed enormously toward making the nuclear threat an urgent issue. The next goal of the campaign is to bring 100 mayors to New York for the NPT Review Conference in May 2005, and to facilitate anti-nuclear demonstrations in New York and hundreds of cities around the world.

In addition to this campaign, Akiba, a former university professor, is working hard to get Hiroshima-Nagasaki Peace Study courses established in colleges and universities around the world. The atomic bombings have never received the academic analysis they deserve, and with the average age of the A-bomb survivors (hibakusha) now over 72, finding new ways of passing on the A-bomb memory is an urgent task. Akiba has recently traveled to India, Pakistan, England, France, Germany, Russia, the U.S., Canada and China to make personal appeals to university presidents and professors. In nearly every case, he has successfully aroused interest in the Hiroshima-Nagasaki Peace Study Project. Several institutions of higher learning (many universities in Japan; American University in Washington, D.C., Tufts University in Boston, where Akiba taught, and Illinois Wesleyan University in the U.S.; Berlin Technology Institute and Paris Institute of Political Studies in Europe) have already begun offering courses or seminars, and many more are in the planning stages.

Mayor Akiba is a respected leader in the most critical movement of this decade: the campaign to eliminate nuclear weapons. The survival of our civilization may well depend on his success.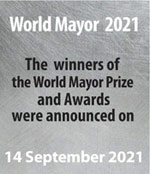 The best Mayors for Stronger | Fairer | Greener cities. Elect your candidate for the 20/21 World Mayor Prize and Honours. The Prize has been awarded since 2004