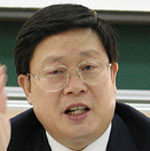 Huang Xingguo, Mayor of Tianjin, China





FRONT PAGE
Site Search
About us | Quiénes somos |
A propos de nous | Über uns |
Mayor Monitor
Directories
Events
Debate




World Mayor
World index of mayors
Mayors from Africa
Mayors from Asia & Australia
Mayors from The Americas
Mayors from Europe
Mayors and political parties
World's largest cities
and their mayors 2010

Mayors from Asia & Australia (Italics indicate ex-mayors)
| Amman | Brisbane | Changwon | Guangzhou | Delhi | Dubai | Hiroshima | Istanbul | Jakarta | Karachi | Makati City | Marikina | Matsuyama City | Mumbai | Naga City | Nagasaki | New Plymouth | Novosibirsk | San Fernando | Shanghai | Taipei | Tehran | Tel Aviv | Tianjin | Tokyo | Wellington | Yokohama




City Mayors reports news from towns and cities around the world. Worldwide | Elections | North America | Latin America | Europe | Asia | Africa | Events |




Mayors from The Americas, Europe. Asia, Australia and Africa are competing for the annual World Mayor Award. More




City Mayors ranks the world's largest as well as richest cities and urban areas. It also ranks the cities in individual countries, and provides a list of the capital cities of some 200 sovereign countries. More




City Mayors reports political events, analyses the issues and depicts the main players. More




City Mayors describes and explains the structures and workings of local government in Europe, The Americas, Asia, Australia and Africa. More




City Mayors profiles city leaders from around the world and questions them about their achievements, policies and aims. More




City Mayors deals with economic and investment issues affecting towns and cities. More




City Mayors reports on how business developments impact on cities and examines cooperation between cities and the private sector. More




City Mayors describes and explains financial issues affecting local government. More




City Mayors lists and features urban events, conferences and conventions aimed at urban decision makers and those with an interst in cities worldwide. More




City Mayors reports urban environmental developments and examines the challenges faced by cities worldwide. More




City Mayors reports on and discusses urban development issues in developed and developing countries. More



City Mayors reports on developments in urban society and behaviour and reviews relevant research. More




City Mayors deals with urban transport issues in developed and developing countries and features the world's greatest metro systems. More




City Mayors examines education issues and policies affecting children and adults in urban areas. More




City Mayors investigates health issues affecting urban areas with an emphasis on health in cities in developing countries. More




City Mayors examines the importance of urban tourism to city economies. More




City Mayors examines the contributions history and culture make to urban society and environment. More




City Mayors describes the history, architecture and politics of the greatest city halls in the world. More




City Mayors invites readers to write short stories about people in cities around the world. More




City Mayors questions those who govern the world's cities and talks to men and women who contribute to urban society and environment. More




City Mayors profiles national and international organisations representing cities as well as those dealing with urban issues. More




City Mayors reports on major national and international sporting events and their impact on cities. More




City Mayors lists cities and city organisations, profiles individual mayors and provides information on hundreds of urban events. More


Huang Xingguo
Mayor of Tianjin
25 June 2010: The mayor was born in 1954 in Xianshang County, a rural area adjacent to Ningbo City. Ningbo, a key port on the East China Sea, has assumed increased importance in the regional economy following the opening of the Hangzhou Bay Bridge in 2008 (the world's longest transoceanic bridge) which has connected it to Shanghai across the bay. Xingguo joined the Communist Party in 1973, rising to local party chief in Xianshang, where he presided over the growth of the tourism and construction sectors. Huang Xingguo has been shortlisted for the 2010 World Mayor Prize.

He was then sent to nearby Taizhou city in 1987 to serve as deputy party secretary, where he again is credited with growth of its economy. Further postings followed as secretary-general and then vice president of Zhejiang Province, before assuming the role of party chief for Ningbo itself.

He was then posted to Tianjin, taking up the post of vice mayor for the city. In 2007 he was selected as mayor by the Standing Committee of the Tianjin Municipal People's Congress, replacing Dai Xianglong, a former governor of the People's Bank of China and now president of the country's Social Security Fund. The sixth largest city in China, Tianjin is one of four top-level (provincial status) municipalities, the others being Beijing, Shanghai and Chongqing.

The mayor of Tianjin remains the figurehead of the city administration but under China's dual system of government between the state and the Communist Party, the party's municipal committee secretary ('party chief') is the political leader of the city. The current CPC Municipal Committee Secretary in Tianjin is Zhang Gaoli, an economist and ascendant member of the party leadership.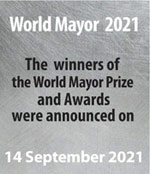 The best Mayors for Stronger | Fairer | Greener cities. Elect your candidate for the 20/21 World Mayor Prize and Honours. The Prize has been awarded since 2004