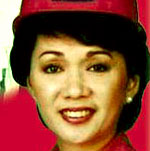 Marides Fernando, Mayor of Marikina City




FRONT PAGE
SiteSearch
About us
Directories


World Mayor
World index of mayors
Mayors from Africa
Mayors from Asia & Australia
Mayors from The Americas
Mayors from Europe
Mayors and political parties
World's largest cities
and their mayors 2010

Mayors from Asia & Australia (Italics indicate ex-mayors)
| Amman | Brisbane | Changwon | Guangzhou | Delhi | Dubai | Hiroshima | Istanbul | Jakarta | Karachi | Makati City | Marikina | Matsuyama City | Mumbai | Naga City | Nagasaki | New Plymouth | Novosibirsk | Osaka | San Fernando | Shanghai | Taipei | Tehran | Tel Aviv | Tianjin | Tokyo | Wellington | Yokohama




City Mayors reports news from towns and cities around the world. Worldwide | Elections | North America | Latin America | Europe | Asia | Africa | Events |




Mayors from The Americas, Europe. Asia, Australia and Africa are competing for the annual World Mayor Award. More




City Mayors ranks the world's largest as well as richest cities and urban areas. It also ranks the cities in individual countries, and provides a list of the capital cities of some 200 sovereign countries. More




City Mayors reports political events, analyses the issues and depicts the main players. More




City Mayors describes and explains the structures and workings of local government in Europe, The Americas, Asia, Australia and Africa. More




City Mayors profiles city leaders from around the world and questions them about their achievements, policies and aims. More




City Mayors deals with economic and investment issues affecting towns and cities. More




City Mayors reports on how business developments impact on cities and examines cooperation between cities and the private sector. More




City Mayors describes and explains financial issues affecting local government. More




City Mayors lists and features urban events, conferences and conventions aimed at urban decision makers and those with an interst in cities worldwide. More




City Mayors reports urban environmental developments and examines the challenges faced by cities worldwide. More




City Mayors reports on and discusses urban development issues in developed and developing countries. More



City Mayors reports on developments in urban society and behaviour and reviews relevant research. More




City Mayors deals with urban transport issues in developed and developing countries and features the world's greatest metro systems. More




City Mayors examines education issues and policies affecting children and adults in urban areas. More




City Mayors investigates health issues affecting urban areas with an emphasis on health in cities in developing countries. More




City Mayors examines the importance of urban tourism to city economies. More




City Mayors examines the contributions history and culture make to urban society and environment. More




City Mayors describes the history, architecture and politics of the greatest city halls in the world. More




City Mayors invites readers to write short stories about people in cities around the world. More




City Mayors questions those who govern the world's cities and talks to men and women who contribute to urban society and environment. More




City Mayors profiles national and international organisations representing cities as well as those dealing with urban issues. More




City Mayors reports on major national and international sporting events and their impact on cities. More




City Mayors lists cities and city organisations, profiles individual mayors and provides information on hundreds of urban events. More


Marides Fernando
Mayor of Marikina City, Philippines
1 April 2008: Marides Carlos Fernando (sometimes known as MCF) was elected mayor of Marikina City in 2001 and re-elected in 2004 and 2007. Her background was in hotel management, having graduated with an undergraduate degree in Hotel and Restaurant Administration from the University of the Philippines in 1978. After stints in Manila hotels and having transferred to the US, she went on to undertake postgraduate study at Cornell University in New York State, graduating with a masters in professional studies in 1980. She then lectured at her alma mater in Manila before joining her husband's company. The mayor has been shortlisted for the 2008 World Mayor Award.

Marides Fernando is a member of the centre-right Lakas-Christian Muslim Democrats party of President Gloria Arroyo. She is married to Bayani ("hero") Fernando (also known as BF), her immediate predecessor as mayor and current Chairman of the Metro Manila Development Authority (himself the son of a former mayor) and Director of the Department of Public Works and Highways in the capital. Marides ran the BF Corporation of property developers during her husband's three-term tenure as mayor (1992-2001), serving as vice president for admin and finance since 1985. In January 2008, BF announced his candidacy for the 2010 presidential elections.

MCF currently serves as the Vice President for the National Capital Region in the League of Cities of the Philippines and was previously Deputy Secretary General for Luzon. The mayor also has a bulging shelf of municipal and other accolades, including her alumni association's 2007 Outstanding Professional Public Administrator Award, the Filipino-Chinese Federation of Business & Professional Women 2007 Woman of the Year award and the Asian Institute of Management's 2006 Person of the Year.

Marikina City is known as the "Shoe Capital" of the Philippines owing to its status as the traditional centre of the country's globally renowned shoemaking industry. It was admitted into the National Capital Region in 1975 and upgraded to first division charter city status under the Philippine constitution in 1996.

The most outlying of the 17 local government units which make up Metro Manila, the city has become a national byword for rapid expansion under both Bayani and Marides Fernando's mayoralties and was granted an additional Congressional seat in 2007 in recognition of its growing population. It has been awarded the Most Competitive Metro City in the Philippines by the Asian Institute of Management.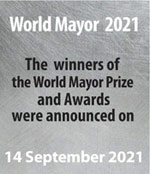 The best Mayors for Stronger | Fairer | Greener cities. Elect your candidate for the 20/21 World Mayor Prize and Honours. The Prize has been awarded since 2004