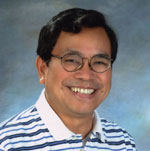 Oscar Samson Rodriguez, Mayor of San Fernando (Philippines), ranked fourth in World Mayor 2005




FRONT PAGE
SiteSearch
About us
Directories


World Mayor
World index of mayors
Mayors from Africa
Mayors from Asia & Australia
Mayors from The Americas
Mayors from Europe
Mayors and political parties
World's largest cities
and their mayors 2010

Mayors from Asia & Australia (Italics indicate ex-mayors)
| Amman | Brisbane | Changwon | Guangzhou | Delhi | Dubai | Hiroshima | Istanbul | Jakarta | Karachi | Makati City | Marikina | Matsuyama City | Mumbai | Naga City | Nagasaki | New Plymouth | Novosibirsk | San Fernando | Shanghai | Taipei | Tehran | Tel Aviv | Tianjin | Tokyo | Wellington | Yokohama




City Mayors reports news from towns and cities around the world. Worldwide | Elections | North America | Latin America | Europe | Asia | Africa | Events |




Mayors from The Americas, Europe. Asia, Australia and Africa are competing for the annual World Mayor Award. More




City Mayors ranks the world's largest as well as richest cities and urban areas. It also ranks the cities in individual countries, and provides a list of the capital cities of some 200 sovereign countries. More




City Mayors reports political events, analyses the issues and depicts the main players. More




City Mayors describes and explains the structures and workings of local government in Europe, The Americas, Asia, Australia and Africa. More




City Mayors profiles city leaders from around the world and questions them about their achievements, policies and aims. More




City Mayors deals with economic and investment issues affecting towns and cities. More




City Mayors reports on how business developments impact on cities and examines cooperation between cities and the private sector. More




City Mayors describes and explains financial issues affecting local government. More




City Mayors lists and features urban events, conferences and conventions aimed at urban decision makers and those with an interst in cities worldwide. More




City Mayors reports urban environmental developments and examines the challenges faced by cities worldwide. More




City Mayors reports on and discusses urban development issues in developed and developing countries. More



City Mayors reports on developments in urban society and behaviour and reviews relevant research. More




City Mayors deals with urban transport issues in developed and developing countries and features the world's greatest metro systems. More




City Mayors examines education issues and policies affecting children and adults in urban areas. More




City Mayors investigates health issues affecting urban areas with an emphasis on health in cities in developing countries. More




City Mayors examines the importance of urban tourism to city economies. More




City Mayors examines the contributions history and culture make to urban society and environment. More




City Mayors describes the history, architecture and politics of the greatest city halls in the world. More




City Mayors invites readers to write short stories about people in cities around the world. More




City Mayors questions those who govern the world's cities and talks to men and women who contribute to urban society and environment. More




City Mayors profiles national and international organisations representing cities as well as those dealing with urban issues. More




City Mayors reports on major national and international sporting events and their impact on cities. More




City Mayors lists cities and city organisations, profiles individual mayors and provides information on hundreds of urban events. More


Oscar Samson Rodriguez
Mayor of San Fernando, Philippines
By Andrew Stevens, Political Editor
In spite of successive political turbulence and natural disasters, San Fernando City has emerged as a resilient and growing regional capital. Possibly giving cause to some confusion, San Fernando is one of seven local government units in the Philippines going under this name. The other San Fernando city is in the La Union province of Ilocos Region, on the North-westerly tip of the country in the Luzon island group. The San Fernando city led by Mayor Rodriguez can be found in Pampanga, also on Luzon. Pampanga has historically been one of the richest provinces in the Philippines, sitting on the north shore of Manila Bay.

Oscar Samson Rodriguez ranked fourth in World Mayor 2005

Local government in the Philippines has received increased autonomy in recent years, having previously languished as an adjunct of the centralised state, particularly during the dictatorship era of Ferdinand Marcos. Today there are 17 regions covering the 7,107 islands in the country, which are then divided into 79 historic provinces. These are then broken down into 115 city areas and 1,496 municipalities, with a further 41,392 sub-municipal units known as barangays beneath this. There is no government at the regional tier, except in two autonomous regions with Muslim majority populations.

San Fernando's mayor, Oscar Rodriguez, can rightly point to both a successful career in politics before assuming mayoral office and having played a key role in transforming San Fernando from a town to a recognised city. The campaign for cityhood commenced in 1997, two years after the volcanic eruption of Mt. Pinatubo nearby and the subsequent Typhoon Mameng. Led by the town's mayor Dr Rey B. Aquino, the campaign achieved its goal in 2000 when Rodriguez, then the area's Congressman, gained legislative backing for his proposal to give the town a city charter.

After graduating from high school in 1963, Rodriguez began his career in law as a stenographer before graduating from Pampanga's Harvardian Colleges in 1969 and with a lawyer's degree from Far Eastern University in 1973. Called to the country's bar a year later, a series of legal posts followed, including professorial roles in local law schools. After serving one year as Pampanga's Provincial Administrator, he was then elected in 1987 to the first Congress to be constituted following the resumption of democracy after the Marcos regime was overthrown in 1986. Having lost his seat, he returned to law, teaching as a professor of contract law and acting as a human rights lawyer. In 1995 he was returned to the House of Representatives, where he sat until 2004. During this time he drafted key legislation and constitutional amendments and served on a number of UN bodies. He is a member of the country's governing party, LAKAS (the Christian and Muslim Democrats).

Prior to becoming mayor, Rodriguez sought the Pampanga governorship but lost out to a party colleague. As mayor, he may be seen to bring the benefit and influence in government that Congressional office carries but Rodriguez has also spelt out his vision for the city's growth, particularly as the driver of the regional economy in Pampanga. In addition to this and his priorities in education and welfare of citizens as being integral to a strong local economy, Mayor Rodriguez has stipulated an eight-point plan to promote the city as a centre of foreign investment in banking, tourism and culture. Most citizens appear to be content with his balancing the budget at city hall, waste management programme and managing the worst excesses of recent natural disasters however.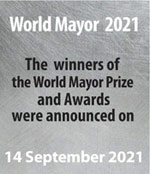 The best Mayors for Stronger | Fairer | Greener cities. Elect your candidate for the 20/21 World Mayor Prize and Honours. The Prize has been awarded since 2004