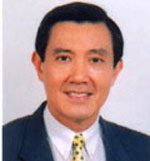 Dr Ying-jeou Ma, former Mayor of Taipei, Taiwan

Taipei City Government
1, Shifu Road
Taipei, 110
Taiwan
Republic of China
Email:
english@mail.taipei.gov.tw
Internet:
http://english.taipei.gov.tw/
TCG/index.jsp



FRONT PAGE
SiteSearch
About us
Directories


World Mayor
World index of mayors
Mayors from Africa
Mayors from Asia & Australia
Mayors from The Americas
Mayors from Europe
Mayors and political parties
World's largest cities
and their mayors 2010

Mayors from Asia & Australia (Italics indicate ex-mayors)
| Amman | Brisbane | Changwon | Guangzhou | Delhi | Dubai | Hiroshima | Istanbul | Jakarta | Karachi | Makati City | Marikina | Matsuyama City | Mumbai | Naga City | Nagasaki | New Plymouth | Novosibirsk | Osaka | San Fernando | Shanghai | Taipei | Tehran | Tel Aviv | Tianjin | Tokyo | Wellington | Yokohama




City Mayors reports news from towns and cities around the world. Worldwide | Elections | North America | Latin America | Europe | Asia | Africa | Events |




Mayors from The Americas, Europe. Asia, Australia and Africa are competing for the annual World Mayor Award. More




City Mayors ranks the world's largest as well as richest cities and urban areas. It also ranks the cities in individual countries, and provides a list of the capital cities of some 200 sovereign countries. More




City Mayors reports political events, analyses the issues and depicts the main players. More




City Mayors describes and explains the structures and workings of local government in Europe, The Americas, Asia, Australia and Africa. More




City Mayors profiles city leaders from around the world and questions them about their achievements, policies and aims. More




City Mayors deals with economic and investment issues affecting towns and cities. More




City Mayors reports on how business developments impact on cities and examines cooperation between cities and the private sector. More




City Mayors describes and explains financial issues affecting local government. More




City Mayors lists and features urban events, conferences and conventions aimed at urban decision makers and those with an interst in cities worldwide. More




City Mayors reports urban environmental developments and examines the challenges faced by cities worldwide. More




City Mayors reports on and discusses urban development issues in developed and developing countries. More



City Mayors reports on developments in urban society and behaviour and reviews relevant research. More




City Mayors deals with urban transport issues in developed and developing countries and features the world's greatest metro systems. More




City Mayors examines education issues and policies affecting children and adults in urban areas. More




City Mayors investigates health issues affecting urban areas with an emphasis on health in cities in developing countries. More




City Mayors examines the importance of urban tourism to city economies. More




City Mayors examines the contributions history and culture make to urban society and environment. More




City Mayors describes the history, architecture and politics of the greatest city halls in the world. More




City Mayors invites readers to write short stories about people in cities around the world. More




City Mayors questions those who govern the world's cities and talks to men and women who contribute to urban society and environment. More




City Mayors profiles national and international organisations representing cities as well as those dealing with urban issues. More




City Mayors reports on major national and international sporting events and their impact on cities. More




City Mayors lists cities and city organisations, profiles individual mayors and provides information on hundreds of urban events. More


Dr Ying-jeou Ma
former Mayor of Taipei
By Jocelyn Chen
17 April 2005: Dr Ying-jeou Ma is Mayor of Tapei City, Taiwan. A graduate of Harvard Law School, Mayor Ma has spent 18 years in Taiwan (ROC) national government, formerly holding the cabinet posts of Minister of Justice (1993-1996) and Minister without Portfolio (1996-1997). Prior to being sworn in as Mayor of Taipei City in December, 1998, he served as Associate Professor of Law at Taiwan's National Chengchi University Law School. Mayor Ma is the author of numerous books and articles, including "The ROC (Taiwan)'s entry into the World Trade Organizations" in The Chinese Yearbook of International Law and Affairs (1998).

Update 22 March 2008: Dr Ying-jeou Ma elected President of Taiwan
Update December 2006: Dr Ying-jeou Ma did not contest the 2006 mayoral elections.

Mayor Ma was born in 1950 in Hong Kong and raised in Taiwan. He speaks fluent mandarin Chinese and English, a little French, Spanish and a few other Chinese dialects.

Think globally work locally
As Mayor, Dr. Ying-jeou Ma is the central figure responsible for Taipei city's overall development. He has focused most of his efforts on improving government services and maintaining Taiwan's global competitiveness by seeking to transform Taipei into a truly "Internet City" of the 21st Century.

In his first eight months in office, he oversaw the creation of an online property and land management system to facilitate the exchange of information among various branches of the city government. In addition, Mayor Ma is also working on a number of programmes to increase technology awareness in Taipei and bring the information revolution to the average citizen. At the WCIT2000 inauguration ceremony in March, 1999, he committed himself to giving every Taipei citizen a free e-mail address and three hours of free Internet training.

Mayor Ma has also initiated much-needed traffic relief systems, removing 45,000 illegal road obstructions and regaining 33,000 parking spaces - all monitored by computer. He has also established the Family and Sexual Violence Prevention Center, and other community projects. In 2003, the world's highest skyscraper---Taipei 101 (508m or 1,676ft tall) - was completed in Taiwan.

At the same time, Mayor Ma is keen to make Taipei "a world-class city" by developing sister-city relationships and developing exchange programmes with other cities in areas such as symphony orchestras and medical establishments. He insists: "I am very eager to make friends in the international community."

Building a cybercity: Will technology make Taipei City a better place?
Mayor Ma's belief in the importance of information technology stems from his view that in providing governmental support to increase the level of public technological awareness, the Internet will work as a resource to be shared by all citizens, regardless of race, social class, age, or sex. On a local level, he feels that e-mail can function as one of the most effective means for the city government to reach out to all of Taipei's citizens, and heed their reactions on important city issues.

Taipei's information industry is growing rapidly. It relies on the support of the private sector with innovative methods for improving the city's programmes. Like many cities, Taipei already has several wireless hotspots located at high traffic areas or in certain commercial locations. Wireless Internet access at these locations, as with all hotspots, is limited to areas that can be reached by a WLAN signal.

Taipei city government is striving to enlarge Taipei's broadband and wireless mobile information infrastructure to enable Taipei residents to gain access to all the information they need. The fact that Taipei will be a truly wireless city before the end of 2005 is of major significance. As an IT capital, Taipei needs a wireless network to help maintain its reputation as one of the world's most connected cities.

New parking solutions in a crowded Taipei
In order to simplify the current manual roadside parking stub-issuing procedure, and to reduce costs, the city government adopted PDAs in a step-by-step rental process that started in September, 2004. It enhances the management of roadside parking fee collection. Using PDAs not only simplifies the manual stub-issuance procedure, reducing costs, but also substantially improves the gathering of real-time parking-related information. Wireless information transmission also markedly enhances communications with the police.

Taipei's Quick Public Transport
Unlike most railways in Taiwan, the conveyance of passengers, mail and freight in Tapei is by trains that run on the right in its public transport system – the MRT (Mass Rapid Transit). Most railways in Taiwan follow the Japanese practice of trains running on the left.

Other Improvements and Aims within Tapei's Administration Advocated by the Mayor
• Kitchen waste recycling – the aim is to abolish landfills and reduce incinerators.
• The Reform of civil medical services - a breakthrough on overall health policy with the aim of making Tapei a healthy city.
• Clearing the lanes to make Tapei a safe city.
• Consolidation of organizations and structural reform.
• Environmental transformation.
• Achievement of a high-tech corridor to create new opportunities for industry.
• The creation of the Blue Highway Project for improved leisure of citizens.
• Encouraging 'green' transport and the increased use of public transport.
• Care for life and welfare by helping the disadvantaged.
• Life-long learning and new deals and ideals for education.

Just a pretty face?
As quoted in AsiaWeek, his film-star good looks have women in Taiwan, Hong Kong and China swooning. That's all very well for the Mayor, but he would prefer to have an effect on politicians in relation to his broader communications goal - improving relations between Taiwan and China.

Tapei is a city for people who dare to make a difference
To meet future challenges, the Taipei city government has established multiple goals. It is already noted for its sustainable industry, progressive health care, advanced infrastructure, cultural events, safety and the welfare of its people. The city government has substantially integrated knowledge-based businesses services, including health care, education, travel, information, transportation, and financial investment. And knowledge-based industries, such as e-commerce and logistics management, will be further incorporated.

Moreover, to meet the expectations of multinational enterprises, Taipei continues to make advances in human resources, infrastructure, the business environment, and quality of life issues which will make Taipei conducive to international industrial development, and to create more investment opportunities.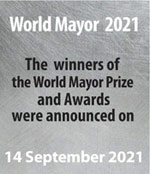 The best Mayors for Stronger | Fairer | Greener cities. Elect your candidate for the 20/21 World Mayor Prize and Honours. The Prize has been awarded since 2004