Campbell Newman, former Lord Mayor of Brisbane





FRONT PAGE
SiteSearch
About us | Quiénes somos
How good is your Mayor?
Directories
Events
Debate




World Mayor
World index of mayors
Mayors from Africa
Mayors from Asia & Australia
Mayors from The Americas
Mayors from Europe
Mayors and political parties
World's largest cities
and their mayors 2010

Mayors of the Month
Mayor of Perth (05/2012)
Mayor of Mazalán (04/2012)
Mayor of Tel Aviv (03/2012)
Mayor of Surrey (02/2012)
Mayor of Osaka (01/2012)
Mayor of Ljubljana (12/2011)

Mayors from Asia & Australia (Italics indicate ex-mayors)
| Amman | Brisbane | Changwon | Guangzhou | Delhi | Dubai | Hiroshima | Istanbul | Jakarta | Karachi | Makati City | Marikina | Matsuyama City | Mumbai | Naga City | Nagasaki | New Plymouth | Novosibirsk | San Fernando | Shanghai | Taipei | Tehran | Tel Aviv | Tianjin | Tokyo | Wellington | Yokohama




City Mayors reports news from towns and cities around the world. Worldwide | Elections | North America | Latin America | Europe | Asia | Africa |




City Mayors ranks the world's largest, best as well as richest cities and urban areas. It also ranks the cities in individual countries, and provides a list of the capital cities of some 200 sovereign countries. More




City Mayors profiles city leaders from around the world. More




City Mayors describes the history, architecture and politics of the greatest city halls in the world. More




Mayors from The Americas, Europe. Asia, Australia and Africa compete for the World Mayor Award. More




Use Mayor Monitor to rate the performance of mayors from across the world More




In your opinion: Praise Criticise. Write




City Mayors reports political events, analyses the issues and depicts the main players. More




City Mayors describes and explains the structures and workings of local government in Europe, The Americas, Asia, Australia and Africa. More




City Mayors deals with economic and investment issues affecting towns and cities. More




City Mayors describes and explains financial issues affecting local government. More




City Mayors reports urban environmental developments and examines the challenges faced by cities worldwide. More




City Mayors reports on and discusses urban development issues in developed and developing countries. More



City Mayors reports on developments in urban society and behaviour and reviews relevant research. More




City Mayors invites readers to write about the people in their cities. More




City Mayors examines city brands and marketing. More




City Mayors lists and features urban events, conferences and conventions aimed at urban decision makers and those with an interst in cities worldwide. More




City Mayors deals with urban transport issues in developed and developing countries and features the world's greatest metro systems. More




City Mayors examines education issues and policies affecting children and adults in urban areas. More




City Mayors investigates health issues affecting urban areas with an emphasis on health in cities in developing countries. More




City Mayors reports on how business developments impact on cities and examines cooperation between cities and the private sector. More




City Mayors examines the contributions history and culture make to urban society and environment. More




City Mayors examines the importance of urban tourism to city economies. More




City Mayors questions those who govern the world's cities and talks to men and women who contribute to urban society and environment. More




City Mayors profiles national and international organisations representing cities as well as those dealing with urban issues. More




City Mayors reports on major national and international sporting events and their impact on cities. More




City Mayors lists cities and city organisations, profiles individual mayors and provides information on hundreds of urban events. More



Campbell Newman
Former Lord Mayor of Brisbane
By Brian Baker, Senior Correspondent
6 September 2010: Campbell Newman is the Lord Mayor of Brisbane, Australia. He was first elected on March 27th 2004 and took office the following month. He was elected for a second four year term in 2008. Brisbane City Council is the largest local government entity in Australia serving a population of 1.04 million people Most city council's in Australia serve only their core city areas but in Brisbane the City Council administers the majority of the urban conurbation. Mayor Newman was awarded fifth place in World Mayor 2010.

Update November 2011: Graham Quirk Brisbane's new Lord Mayor
Update 5 April 2011: Lord Mayor Campbell Newman resigned to run for State Premier


Power is divided between an executive Lord Mayor and a city council made up of 26 councillors. There is a Civic Cabinet comprising the Lord Mayor and the seven standing committee chairpersons of the Council. Only the Lord Mayor is elected city-wide by all of the city's 617,000 registered electors.

This arrangement makes the incumbent the individual candidate voted for by the largest number of people in Australia.

In 2009/10 Brisbane City Council had a budget in excess of $AUD 3 billion.

Supporters of Campbell Newman, who is a member of the Liberal Party, describe him as 'Can Do Campbell' following his use in both 2004 and 2008 of a 'Can Do' campaign slogan.

In his first term Mayor Newman had to work with an Australian Labour Party majority on the City Council. Although he made a lot of the difficulties of this arrangement in the 2008 election campaign there had been few high profile conflicts on budgets or policy.

The popularity of Campbell Newman was, however, demonstrated as he won 60 per cent of the vote to secure a second term and helped lift the Liberal vote in the 26 council ward contests. The Liberals secured an overall majority with 16 seats.

The Mayor's vision for Brisbane is of a smart thinking and easy living city.

His stated priority is to address the heavy traffic congestion in the city by an infrastructure investment programme which will include new roads in tunnels under the centre of the city and enhanced public transport. Dependent on the Federal and State Government's for finance for some of these, the mayor is finding delivery slow. Nonetheless, road capacity has increased significantly on his watch and this has generated considerable criticism from some sections of the population.

Perhaps conscious of that, Mayor Newman has set himself and Brisbane the challenge of introducing "one of the best city cycle hire schemes in the world." Two months before the scheduled October 2010 introduction of the first phase of the scheme it had already won support and sponsorship from major city centre employers including Flight Centre and RBS Morgans.

The scheme will eventually provide 2000 cycles which will be based at 150 different locations. The average distance between cycle stations will be 250 metres. Mayor Newman says" In Brisbane more than 50 per cent of all trips taken by private vehicle are under 5 kms which can easily be cycled in less than half an hour."

Mayor Newman has invested his political capital in energy efficiency efforts notably by setting a target for directly sourcing all of the Council's energy requirements from renewable energy generation.

The most recent staging post in this endeavour came in August 2010 when the mayor persuaded Council to back a plan to secure an energy supplier partner who will build a renewable energy plant in the city. The Council is seeking expressions of interest from the market with a view to finalising a 20 year supply contract in 2011. Mayor Newman says that hydro, solar and wind are all options.

Mayor Newman has also increased the budget for spending on parks significantly since 2008. The $A115 million allocation in 2010/11 was up 23 per cent on 2009/10 and included funding for new parks, enhanced maintenance of trees and streets and green-space and facilities upgrades in parks.

He qualified as a civil engineer at the University of New South Wales and has a Master of Business Administration from the University of Queensland.

Campbell Newman served as an engineer in the Australian Army for 13 years retiring in 1993 with the rank of Major. Subsequently, he had two periods as a business consultant, latterly specializing in bulk commodity logistics. In between these periods of self-employment Mayor Newman worked for Grainco Australia where he was in charge of all the company's operations.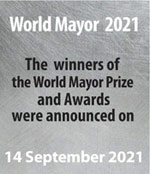 The best Mayors for Stronger | Fairer | Greener cities. Elect your candidate for the 20/21 World Mayor Prize and Honours. The Prize has been awarded since 2004