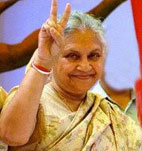 Sheila Dikshit, former Mayor of Delphi





FRONT PAGE
Site Search
About us | Quiénes somos |
A propos de nous | Über uns |
Mayor Monitor
Directories
Events
Debate




World Mayor
World index of mayors
Mayors from Africa
Mayors from Asia & Australia
Mayors from The Americas
Mayors from Europe
Mayors and political parties
World's largest cities
and their mayors 2010

Mayors from Asia & Australia (Italics indicate ex-mayors)
| Amman | Brisbane | Changwon | Guangzhou | Delhi | Dubai | Hiroshima | Istanbul | Jakarta | Karachi | Makati City | Marikina | Matsuyama City | Mumbai | Naga City | Nagasaki | New Plymouth | Novosibirsk | Osaka | San Fernando | Shanghai | Taipei | Tehran | Tel Aviv | Tianjin | Tokyo | Wellington | Yokohama




City Mayors reports news from towns and cities around the world. Worldwide | Elections | North America | Latin America | Europe | Asia | Africa | Events |




Mayors from The Americas, Europe. Asia, Australia and Africa are competing for the annual World Mayor Award. More




City Mayors ranks the world's largest as well as richest cities and urban areas. It also ranks the cities in individual countries, and provides a list of the capital cities of some 200 sovereign countries. More




City Mayors reports political events, analyses the issues and depicts the main players. More




City Mayors describes and explains the structures and workings of local government in Europe, The Americas, Asia, Australia and Africa. More




City Mayors profiles city leaders from around the world and questions them about their achievements, policies and aims. More




City Mayors deals with economic and investment issues affecting towns and cities. More




City Mayors reports on how business developments impact on cities and examines cooperation between cities and the private sector. More




City Mayors describes and explains financial issues affecting local government. More




City Mayors lists and features urban events, conferences and conventions aimed at urban decision makers and those with an interst in cities worldwide. More




City Mayors reports urban environmental developments and examines the challenges faced by cities worldwide. More




City Mayors reports on and discusses urban development issues in developed and developing countries. More



City Mayors reports on developments in urban society and behaviour and reviews relevant research. More




City Mayors deals with urban transport issues in developed and developing countries and features the world's greatest metro systems. More




City Mayors examines education issues and policies affecting children and adults in urban areas. More




City Mayors investigates health issues affecting urban areas with an emphasis on health in cities in developing countries. More




City Mayors examines the importance of urban tourism to city economies. More




City Mayors examines the contributions history and culture make to urban society and environment. More




City Mayors describes the history, architecture and politics of the greatest city halls in the world. More




City Mayors invites readers to write short stories about people in cities around the world. More




City Mayors questions those who govern the world's cities and talks to men and women who contribute to urban society and environment. More




City Mayors profiles national and international organisations representing cities as well as those dealing with urban issues. More




City Mayors reports on major national and international sporting events and their impact on cities. More




City Mayors lists cities and city organisations, profiles individual mayors and provides information on hundreds of urban events. More


Sheila Dikshit
former mayor of Delhi, India
By Andrew Stevens
1 October 2009: The city of Delhi is the world's eighth largest metropolis and is led by Sheila Dikshit. Born in 1938, Dikshit (sometimes Dixit) was educated at Delhi's Convent of Jesus and Mary and the city's Miranda House College, before obtaining a masters degree from the Delhi University. Regarded as close to the Ghandi family, she has a reputation as an avowed secularist and critic of communalism. The mayor was shortlisted for the 2008 World Mayor Award.

Between 1984 and 1989, Dikshit was India's representative to the United Nations Commission on the Status of Women. Following this she was elected to the lower house of the Indian Parliament (the Lok Sabha) for the Congress Party, where she represented the Kannauj constituency of Uttar Pradesh (1984-1989). During this time she sat on the house estimates committee and chaired the fortieth anniversary since independence celebrations committee, as well as twice serving as a minister, first as minister of state for parliamentary affairs and then in the Prime Minister's Office.

Since 1993, the city of Delhi has been specially organised as the National Capital Territory of Delhi (NCT), a state-level entity within India's federal system. In 1998 she was elected by members of the NCT assembly as Chief Minister of Delhi, the second woman to hold the post. She received a second five year term in 2003, the first Chief Minister in the country to do so, notable given the anti-Congress vote elsewhere in the elections. The Congress Party has traditionally been strong in the city, aside from a brief period of Bharatiya Janata Party rule in the mid-1990s, though in recent elections to the lower-tier Delhi municipality the opposition has gained strength and was thought likely to turf Congress out in the December 2008 elections for the NCT. However, Dikshit confounded critics and opponents when she was re-elected for an unheard of third term as chief minister.

Dikshit's decade in power has been marked by an expansion of public transport, including metro rail and natural gas-powered buses, public healthcare, education and sanitation. It is said that her popularity derives as much from her materteral (or 'aunty-like') image as her ability to get things done, with tangible improvements to the cityscape present for all to see. Sheila Dikshit is widowed, with two children.