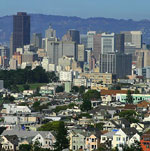 San Francisco boasts a unique mix of architecture including Victorian houses and skyscrapers (Photo: Aaron Logan)




FRONT PAGE
SiteSearch
About us
Directories

San Francisco Mayor in 2006
Profile of Gavin Newsom
Newsom versus Villaraigosa
Power relations in US cities
US elections 2006 - California
Large US cities hardest hit by recession
Urban poverty in the US
US cities in fiscal crisis
LA Mayor Villaraigosa
LA expects


City Mayors reports news from towns and cities around the world. Worldwide | Elections | North America | Latin America | Europe | Asia | Africa | Events |




Mayors from The Americas, Europe. Asia, Australia and Africa are competing for the annual World Mayor Award. More




City Mayors ranks the world's largest as well as richest cities and urban areas. It also ranks the cities in individual countries, and provides a list of the capital cities of some 200 sovereign countries. More




City Mayors lists and features urban events, conferences and conventions aimed at urban decision makers and those with an interst in cities worldwide. More




City Mayors reports political events, analyses the issues and depicts the main players. More




City Mayors describes and explains the structures and workings of local government in Europe, The Americas, Asia, Australia and Africa. More




City Mayors profiles city leaders from around the world and questions them about their achievements, policies and aims. More




City Mayors deals with economic and investment issues affecting towns and cities. More




City Mayors reports on how business developments impact on cities and examines cooperation between cities and the private sector. More




City Mayors describes and explains financial issues affecting local government. More




City Mayors reports urban environmental developments and examines the challenges faced by cities worldwide. More




City Mayors reports on and discusses urban development issues in developed and developing countries. More



City Mayors reports on developments in urban society and behaviour and reviews relevant research. More




City Mayors deals with urban transport issues in developed and developing countries and features the world's greatest metro systems. More




City Mayors examines education issues and policies affecting children and adults in urban areas. More




City Mayors investigates health issues affecting urban areas with an emphasis on health in cities in developing countries. More




City Mayors examines the contributions history and culture make to urban society and environment. More




City Mayors describes the history, architecture and politics of the greatest city halls in the world. More




City Mayors invites readers to write short stories about people in cities around the world. More




City Mayors questions those who govern the world's cities and talks to men and women who contribute to urban society and environment. More




City Mayors profiles national and international organisations representing cities as well as those dealing with urban issues. More




City Mayors reports on major national and international sporting events and their impact on cities. More




City Mayors lists cities and city organisations, profiles individual mayors and provides information on hundreds of urban events. More



Third year in office will be crucial
for popular San Francisco Mayor
By Rachel Gordon*
10 January 2006: San Francisco Mayor Gavin Newsom came into office in January 2004 as a young businessman-turned-politician eager to put his imprint on city government by promising to be a different kind of leader who 'isn't afraid to solve even the toughest problem'. In his inaugural address, the new Mayor even provided a checklist of the problems he vowed to tackle: "homelessness, affordable housing, high wage jobs, safe and stable neighborhoods, clean streets, promoting a creative city, excellent schools, excellent parks and playgrounds, a clean environment and a cleaner city government.''

Law enforcement | Homelessness | Hospitals | Economy | Environment | Politics |

Halfway through his first term, he can show progress in some areas. His administration has created more than 1,000 units of housing for the homeless, reduced the bulging city work force and put out the welcome mat for the growing biotechnology industry.

But there has been backsliding in other areas and, in some cases, inattention. Last year's homicide rate was the highest in a decade. Mayor Newsom failed to mobilize voter support for an affordable housing bond to help the poor and middle class. And he has sidestepped a lot of the turmoil surrounding the public schools, a part of government over which the mayor has no direct control but one in which he could exert more political influence as the city's top elected official.

The real test to show whether he can deliver will come this year. For big-city mayors, governors and presidents, the third year of their first term is a crucial political period if they hope to win a second four years in office. "Inevitably after the second year, people recognize that you no longer inherited problems, you are responsible for the problems. You can't pass the buck,'' Mr Newsom said in a recent interview. "This year, the problems of San Francisco will be exclusively mine,'' he added. Or, as his chief political strategist, Eric Jaye, said of the burden the mayor faces in his third year: "If someone hits a pothole, it's your pothole.''

Even for Gavin Newsom, who has enjoyed sky-high approval ratings in the polls, some of those political potholes will be substantial this year. The Mayor faces a thicket of problems in the Police Department and a high hurdle to cross to obtain voter support for a big bond measure to rebuild San Francisco General Hospital. There are still homeless people camping in the parks and litter and graffiti in the streets, and a perennial fiscal tightrope to walk between business interests and advocates for beefed up government spending.

And the San Francisco Mayor will have to get things done at a City Hall where stringing together a majority of support for his initiatives before the Board of Supervisors can present its own challenges.

Law enforcement
Early in his administration, Mayor Newsom made a big deal about the rash of slayings in the city's southeastern neighborhoods. He made unannounced visits to murder scenes and hammered on police to do more and do better. He pulled together various city departments to overhaul the dilapidated neighborhoods around the violent public housing projects - repairing playgrounds, planting new trees, replacing broken lights and repaving the roads. The efforts seemed to pay off: black-on-black, gang-related killings declined, and so did the homicide rate, for a time.

But by the end of last summer, the good news started turning bad. At the close of 2005, there were 96 homicides recorded in San Francisco, eight more than the year before. It was a mark against Newsom, who promised to do better. "The homicide rate is unacceptably high,'' Newsom conceded in a year-end interview with The Chronicle last month, "and I have an obligation to turn it around as mayor.''

In recent months, he has authorized millions of dollars in police overtime to saturate the most troubled areas with officers and beef up investigations, but a community-policing effort he announced has been slow to take off.

Now the pressure is on Newsom, and more so his police chief, Heather Fong, to reduce the killings. Sharen Hewitt, director of Community Leadership Academy and Emergency Response, an anti-violence project, said that if Newsom is to succeed, the administration must embrace what she described as an integrated approach that deals with the whole family, not just policing strategies focused on the people pulling the trigger. "This has got to be the pre-eminent issue of the day,'' Hewitt said. "People are dying.''

The mayor and chief face other challenges in the Police Department. Hundreds of veteran officers are expected to retire by decade's end. Newsom said he's preparing to hire 850 new officers in the coming years. Given that law enforcement agencies across the country are scrambling to fill their ranks, too, the task won't be easy for San Francisco.

Then there is the fallout from last month's in-house scandal in which two-dozen officers were temporarily suspended for their alleged involvement in a series of videos that Mr Newsom and the chief cast as sexist, racist and homophobic. The Mayor said the tapes made the case for shaking up the San Francisco Police Department culture. He vowed reforms, but the task force he said would be established to offer recommendations has not yet come together. While some applauded the mayor and the chief for their quick response to the videos, others chastised them, saying they overreacted. The lasting impact has yet to be seen.

Homelessness
The centerpiece of Mayor Newsom's mayoral campaign was his agenda to reform the way San Francisco deals with homelessness -- a problem that had vexed the four previous mayors - by moving away from cash handouts and shifting money into housing and rehabilitative services. The Mayor's effort to house the homeless - stabilizing them in refurbished residential hotels with on-site social services - has won praise, even from some of his sharpest critics. "It's refreshing to see the mayor committed to helping the homeless,'' said Juan Prada, director of the San Francisco Coalition on Homelessness. But, Prada said, Mayor Newsom hadn't done enough to help homeless seniors or homeless families and that more was needed to provide indigent health care.

He also doesn't like the Mayor's 'Care Not Cash' program, which helped fund the new housing after it launched his run for mayor. The program reduces the cash stipend for homeless people on welfare in San Francisco and offers them housing or shelter instead. The monthly checks were cut to $59 from as much as $410, with the savings the city reaps ploughed back into expanding the housing supply.

Under Mayor Newsom's watch, some 1,855 units of housing for the homeless have been created; another 632 units are expected to open by April 2006. The goal is to house 3,000 people within 10 years. The administration also has expanded an outreach team of social workers and signed up more than 13,000 volunteers to help homeless people enrol in services. The Mayor hopes to expand the volunteer brigade to work on sprucing up parks, too, and bridging the digital divide between the rich and the poor when it comes to access to and knowledge of computer technology.

Despite all the attention, people continue to sleep in doorways, underneath freeway overpasses, in the parks and on the couches of friends and relatives. And they likely always would in San Francisco, Gavin Newsom said. "It's not a zero-sum game,'' he said. "You can't say that once we house those 3,000 people, there'll be no one else. There is no having made it on the homeless policy. Success is not a place or a definition, it's a direction. I want to keep moving forward, move in the right direction, that's how we can define success.''

Rebuilding the hospitals
Mayor Newsom said at one point during 2005 that his top priority for 2006 was to secure voter approval for funds to rebuild San Francisco General Hospital. "Everything else will be secondary,'' he told the San Francisco newspaper The Chronicle.

The city-run hospital, which serves as the region's trauma center and cares for 88,000 patients a year - many of them uninsured or underinsured, with nowhere else to turn - does not comply with strict state earthquake-safety regulations. If it is not rebuilt, it could be shut down.

The state has given hospital administrators until 2008 to come up with a viable plan to shore up their acute-care facilities and until 2013 to meet the seismic standards. "There's a lot at stake in the question of the future of San Francisco General,'' said Dr. Sandra Hernandez, CEO of the San Francisco Foundation and the city's former director of public health.

Mayor Newsom said the current baseline budget projection for the new San Francisco General starts at US$737 million and reaches as high as $808 million. He said it was essential to get a firm amount before presenting a plan to voters. Officials are looking at a number of funding alternatives, including tapping into money made available through a settlement with tobacco companies and getting other hospitals in the city to pick up part of the tab.

Inevitably, however, voters will be asked to approve a bond measure. The Mayor is eyeing the November 06 ballot. He knows that approval, which requires at least two-thirds support, will be difficult, especially considering the escalating costs in rebuilding Laguna Honda Hospital, the city's long-term care facility. Voters approved funding for that project in 1999, but since then financial realities have forced officials to consider scaling back the size. Rebuilding public trust for San Francisco General will not be easy.

Business and the economy
Gavin Newsom came into office with strong backing from the business community. The endorsement has been tested in the past two years. Over the objections of some business interests, the Mayor supported a pair of new taxes to help balance the budget; voters rejected both measures.

He didn't try to veto Supervisor Chris Daly's legislation to exact unprecedented fees from developers of residential towers in the South of Market, which also drew the scorn of business leaders.

On the other hand, Newsom endorsed a Home Depot store - the company's first in San Francisco - on Bayshore Boulevard. The plan was narrowly approved last year by the Board of Supervisors, which faced opposition to the 'big-box'' project by small business advocates. He also sided with the business community when he raised concerns over Supervisor Tom Ammiano's proposal requiring companies and non-profit organisations with 20 or more workers to provide health benefits.

He triumphed in helping secure for the city the state's new stem cell institute headquarters, which boosters hope will create a hub of biotech companies in San Francisco. As an added incentive, the Mayor signed into law a tax credit for biotech businesses. And he backed another tax credit for renewable-energy businesses.

Over the last year, the city's economy has been on the upswing, which has provided more tax revenue to help officials reduce the chronic budget deficit at City Hall. Mayor Newsom, with the backing of supervisors, has used a combination of service cuts, fee and fare hikes, and departmental consolidations to balance the budget. He also has reduced the city workforce by more than 1,000 positions and looked to reduce expenses by implementing a series of cost-control measures, such as cutting cell phone use by city employees.

Although the municipal budget, at $5.3 billion, is the highest in city history, the Mayor said the bureaucratic ship was slowly turning toward greater government efficiency.

Nathan Nayman, who heads the Committee on Jobs, which lobbies on behalf of large corporate employers, agreed that progress has been made. "One of the things (Newsom) talked about when he came into office was creating a more efficient government,'' Mr Nayman said. "I think he's done a decent job of consolidating departments, using early retirement to reduce the size of the workforce, but there's still some frustration from the business community about the size of government.''

This year, the administration will negotiate new contracts covering 23,000 city employees, or 85 per cent of the workforce, offering an opportunity to put in place some civil service efficiency reforms.

Environment
Mayor Newsom visited Chicago last year to get a firsthand look at the Windy City's nationally recognized initiatives to green the streets. He borrowed some of those ideas and ordered that trees be planted along streets, that medians be landscaped and more 'pocket-parks'' be created on vacant land. New flower baskets hang from the lampposts around City Hall. The changes are noticeable, but not complete.

The Mayor added millions of extra dollars to this year's budget to improve neighborhood parks, playgrounds and playing fields, but there, too, the work is not finished. In the spring 2005, he declared war on litter, making the pronouncement at a dirty street corner in the Mission District. Work crews have been picking up more trash and hauling away more illegally dumped debris and issuing more citations for littering. But the Mayor admits that the problem still persisted.

The special neighborhood tax-assessment districts created last year should start showing results, he predicted, as those areas have more money to pump into street cleaning and other neighborhood improvements.

Gavin Newsom the politician
The Mayor enters his third year in office in an enviable position for a politician. His approval rating stands above 80 per cent, according to a citywide poll conducted last fall, and he has broadened his base of support since he took the oath of office. At 38 years old, he is on the national radar as a rising star in Democratic politics.

Gavin Newsom, who had the strong backing of moderates and the business community when he ran for mayor, has since expanded his popularity with constituents on the political left, starting with his decision in early 2004 to sanction same-sex marriage in San Francisco.

The powerful hotel union, which backed his opponent in the mayor's race, changed its position on the Mayor when he walked the picket line with hotel workers embroiled in a lingering contract dispute.

But David Latterman, a board member of the moderate political group Plan C, which endorsed Mr Newsom's run for mayor, doesn't like the direction the Mayor is headed. "I see now without question the Mayor cares more about the liberal help he'll need in 2007 and subsequent statewide runs than his voting base,'' Mr Latterman said. "He hasn't shown a lot of loyalty to his base or the moderate issues he ran on in 2003.''

The shift, however, may prove smart for Newsom, who faced a much more liberal opponent in the 2003 mayor's race runoff, Matt Gonzalez, a Green Party member and then-Board of Supervisors president. Gavin Newsom captured 53 per cent to Gonzalez's 47 per cent, suggesting a deep political fissure in San Francisco. He promised in his inaugural address two years ago today to build bridges.

"He's tried to find a balance in a genuinely divided city,'' said David Binder, who conducted the poll that showed Mr Newsom's popularity was sky high across all sectors, with the exception of Republicans and conservatives who hold little political traction in San Francisco. But now the Mayor has to show whether he can use that political capital to deliver on his promises and to catapult into campaign mode for re-election, if and when he commits to running. Two years is a long time in San Francisco politics, and a mayor popular today may not be tomorrow.

*Rachel Gordon, a staff writer with the San Francisco Chronicle, has been following Gavin Newsom's activities since he assumed office in January 2004.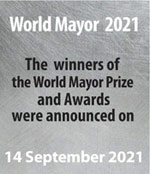 The best Mayors for Stronger | Fairer | Greener cities. Elect your candidate for the 20/21 World Mayor Prize and Honours. The Prize has been awarded since 2004